Evangelicals, catholics, and other proponents of heterosexual marriage in Massachusetts thought they had plenty of time to rally support. They tried to get a constitutional amendment outlawing gay marriage on the ballot in 2002 but were stalled by the commonwealth's legislature.
Still, they expected that as the Supreme Judicial Court considered the issue, it would defer to the voting process. It didn't.
Last November the sharply divided court ruled 4-3 in Goodridge v. Massachusetts Department of Public Health that homosexual couples have a fundamental, constitutional right to obtain marriage licenses. In February, the court said legal recognition of civil unions as an alternative to gay marriage—as done in neighboring Vermont—would not suffice. The ruling, which essentially mandates gay marriage, is set to take effect on May 17.
There is a new sense of unity—and urgency—among defenders of marriage. Across Massachusetts, evangelicals and Catholics have organized rallies and meetings. A February 8 rally at Boston Common, organized by Your Catholic Voice and the Marriage Coalition to support the Marriage Affirmation and Protection Amendment, drew 2,000 to 3,000 people in bitter cold temperatures.
Defenders of marriage fear that if homosexuals are allowed to marry in Massachusetts, those couples could use the Full Faith and Credit Clause of the Constitution to demand that other states recognize their unions. Thirty-eight states have passed laws defining marriage as between a man and a woman.
The Defense of Marriage Act, signed into law by President Clinton in 1996 with strong bipartisan support, is designed to protect those laws. Some legal experts, however, say doma would not survive a constitutional challenge.
Battleground State
People on both sides of the debate see Massachusetts as a key legal battleground—even more than California, where in February the mayor of San Francisco ignored state law to hand out marriage licenses to homosexual couples, or New Mexico, where a county clerk began issuing marriage licenses to homosexual couples.
Tony Perkins of the Family Research Council (FRC) said in a statement, "It is quite clear that the tyranny of four judges in Massachusetts last November has left every state and county in this nation vulnerable to having same-sex 'marriages' forced upon them."
Under pressure from evangelicals, Catholics, and others, the Massachusetts legislature hastily convened in February to consider an amendment defining marriage as involving a man and a woman. Phil Travis, an evangelical Democrat who leads pro-family forces in the Massachusetts legislature, drew up the amendment.
After two days of debate, on February 12 the convention failed to pass an amendment, which would have gone to the voters for ratification in 2006 at the earliest.
The legislature reconvened in March, but the national debate is just getting started. National organizations such as FRC, Focus on the Family, and Concerned Women for America started gearing up last summer, and they were camped out in war rooms in Boston before and during the constitutional convention. They see many of the issues being played out on the Massachusetts stage as setting precedents.
The FRC has been particularly active. The conservative organization held a heavily attended press conference on February 9 to discuss the implications of allowing homosexuals to marry. The FRC attempted to hold a debate at Harvard with homosexual-rights activists, who chose at the last minute to focus their energy on the constitutional convention. The FRC also paid for a series of newspaper ads across the state asking, "Is Your State Legislator Denying You the Chance to Vote on Marriage?"
Rainbow Coalitions
The possibility of state-endorsed gay marriage has mobilized conservative evangelical groups to a degree not seen since the peak of the abortion wars. "I have never seen anything that has energized and provoked our grassroots like this issue, including Roe v. Wade," said Richard Land, president of the Southern Baptist Ethics and Religious Liberty Commission.
The debate in Massachusetts has united an ethnic rainbow of evangelicals. Wesley Roberts, head of the People's Church, the oldest African American church in New England, defended heterosexual marriage amid scorn from The Boston Globe and some state lawmakers. African American pastors united behind Roberts, who also leads the Black Ministerial Alliance. He received support from Eugene Rivers's Ten Point Coalition and the Cambridge Black Pastors Conference. In contrast, Roberts said, African American state representatives are out of step.
"Not one black legislator came out for the marriage amendment," he said. "Seventy percent of our African American population oppose gay marriage. … Gay marriage is wrong, and the black churches have a much stronger voice than the black politicians."
The same could hold true nationally. Maggie Gallagher, president of the Institute for Marriage and Public Policy (MarriageDebate.com), said Democratic politicians are facing a national revolt from African Americans, who are more conservative on social issues and are uncomfortable framing gay marriage as a civil rights issue.
"The gay marriage issue is huge in its impact on the African American community," Gallagher told Christianity Today. "It's dividing the community because it is so against what they stand for."
A Pew public opinion poll recently found that disapproval of homosexual marriage is rising most rapidly among ethnic voters, who traditionally have voted heavily for Democrats.
Ed Gillespie, chairman of the Republican National Committee, told CT that people are beginning to notice the trend among ethnic Americans. "I have been hearing that the gay marriage issue is affecting African Americans and Hispanics."
Back in Massachusetts, evangelical communities of many ethnic groups
are rallying. Roberto Miranda of the Hispanic Alliance of Churches and senior pastor of Congregación León de Judá, held several rallies.
Bob Tanzie is pastor of the predominantly second-generation Asian American New Covenant Presbyterian Church in Boston, which "strives to be nonpolitical" but is now considering a response on homosexual marriage. Christians who attend both the church and Wellesley College reported that an online campus forum received about 130 pages of mostly hateful replies after broaching the subject.
"After about four pages, it got personal," the pastor says. Tanzie invited Roberts to prepare his church for the controversy.
Civil Unions Divide
Pro-marriage alliances at both the national and state levels are fragile, however, and could shatter over the issue of civil unions. The state constitutional convention foundered on the issue. Some local evangelicals want to keep nonmarital civil unions out of the state charter. They believe it would affect marriage and have immense social and economic ramifications.
"[The issue of] civil unions is merely marriage by another name and devalues the institution of marriage," said Ron Crews of the Massachusetts Family Institute. "Some business owners for moral reasons wouldn't want to be required to provide benefits for same-sex partners."
On the other hand, many evangelicals, such as Roberts, want to be fair to homosexuals. "We don't want to stick them with higher taxes," Roberts says.
David Midwood of Vision New England, a multicultural coalition, suggests a middle way. He supports some kind of "domestic partnership to bring health insurance and property rights to homosexual unions as well as to nonsexual, nonmarried relations like a 94-year-old mother being taken care of by her child."
National evangelical leaders face the same dilemma. Last November they held a stormy meeting with Republicans on Capitol Hill. The Republicans, led by Rep. Marilyn Musgrave of Colorado, refused to back an amendment to the Constitution that would ban civil unions. Faced with certain defeat in Congress, most Christian organizations agreed to back Musgrave's version, which leaves the question of civil unions to the states.
In late February, President Bush endorsed the Federal Marriage Amendment, saying that "activist courts have left only one recourse." Likely Democratic nominee Sen. John Kerry of Massachusetts opposes gay marriage but voted against doma. Gay marriage, then, will roil both Massachusetts and the rest of the country at least through November.
Tony Carnes is a senior news writer for CT.
Related Elsewhere:
Christianity Today's past coverage of the gay marriage debate includes:
Civil Unions: Would a Marriage by any Other Name Be the Same? | Some theologically conservative Christians support civil unions and remain opposed to same-sex marriage. (March 08, 2004)
Why Gay Marriage Would Be Harmful | Institutionalizing homosexual marriage would be bad for marriage, bad for children, and bad for society. (Feb. 19, 2004)
Let No Law Put Asunder | A constitutional amendment defending marriage is worth the effort. (Jan. 26, 2004)
Massachusetts Court Backs Gay Marriage | Christians say gay activists will overturn marriage laws (Dec. 10, 2003)
'A Man and a Woman' | Activists say the Federal Marriage Amendment will be the defining issue in the next election. (Nov. 24, 2003)
The Next Sexual Revolution | By practicing what it preaches on marriage, the church could transform society. (Aug. 27, 2003)
The Marriage Battle Begins | Profamily and gay activists agree: Texas decision sets significant precedent. (Aug. 11, 2003)
Canada Backs Gay Marriages | Conservatives say decision could put pressure on dissenting churches. (July 16, 2003)
Marriage in the Dock | Massachusetts case on gay marriage could set off chain reaction. (April 25, 2003)
Christian Conservatives Split on Federal Marriage Amendment | Law would protect marriage from courts, but legislatures could still extend marital benefits to same-sex unions. (July 20, 2002)
Defining Marriage | Conservatives advocate amendment to preserve traditional matrimony. (October 1, 2001)
No Balm in Denver | Episcopalians defer debate over same-sex blessings for another three years. (July 17, 2001)
Marriage Laws Embroil Legislatures | New Englanders push for domestic-partner benefits. (April 26, 2001)
Presbyterians Propose Ban on Same-Sex Ceremonies | Change to church constitution, which passes by only 17 votes, now goes to presbyteries. (July 5, 2001)
Sticking With the Status Quo | United Methodists reject gay marriage, ordination. (May 15, 2000)
Presbyterians Vote Down Ban on Same-Sex Unions | Opponents say vague wording led to defeat. (March 29, 2001)
States Consider Laws on Same-Sex Unions California to vote on 'limit on marriage' in March (Jan. 10, 1999)
Our digital archives are a work in progress. Let us know if corrections need to be made.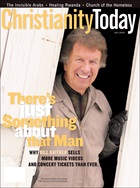 This article is from the April 2004 issue.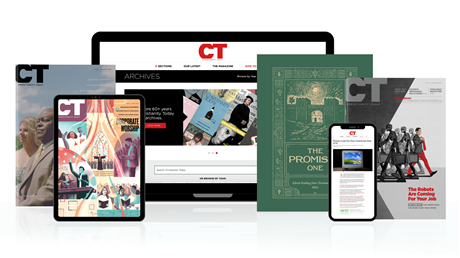 Find hope and historical insight. For a limited time, explore 60+ years of CT archives for free!
Daily devotions from Timothy Dalrymple during this pandemic.
Hundreds of theology and spiritual formation classics from Philip Yancey, Elisabeth Elliot, John Stott, and more.
Thought journalism that inspires you to think more deeply about your faith.
Amending Marriage
Amending Marriage