"Rats on the West Side, bedbugs Uptown/ What a mess! This town's in tatters; I've been shattered," the Rolling Stones sang in "Shattered," the last song on the second side of their 1978 album Some Girls. When the album debuted, there was a legal controversy over the unauthorized use of celebrity photographs on the album package that resulted in a hasty redesign, such that subsequent purchasers of Some Girls pulled out an inner sleeve that had the band's faces pasted over those of Hollywood starlets, and which front and back bore the message, "PARDON OUR APPEARANCE! CONTENTS UNDER RECONSTRUCTION!"
Even those who remember the LP era might be forgiven for forgetting that in 1978, New York itself was in need of some reconstruction, given how completely the city has been transformed during the last decade into a destination for patriotic, consumption-oriented tourism. Viewing the city in its hagiographic mode (a gift shop in my neighborhood sells Christopher Radko Christmas ornaments of the Twin Towers for $52 apiece), it is hard to recall that not so long ago, most Americans regarded New York as distinctly alien, and something other than American.
Perhaps more than any other single event, the New York City blackout of July 1977 was the occasion and confirmation of this widespread conviction. Unlike the quiescent 1965 blackout to which it is often compared, the 1977 blackout resulted in massive looting and destruction of property in the city's poorest neighborhoods, and served to crystallize public debates about poverty and the welfare state.
The journalistic and sociological complexities of this signal event are the subject of James Goodman's new book Blackout. A professor of history at Rutgers and the author of Stories of Scottsboro, Goodman in the book's preface discusses the tendency toward oversimplification in most analyses of the "reasons" for the civil disturbance. While Goodman grants that "[t]here is, of course, a vital place for generalization and for social and cultural synecdoche … [t]here is something to be said for the dizzying accumulation of detail, the highlighting of differences often lost in generalizations based on the categories of census returns, public-opinion polls and shallow social and cultural analysis."
Given this intention, it is therefore all the more curious that Goodman chooses to begin Blackout with just such generalizations, interspersing a few facts about the power failure with tedious, imagined enumerations of New Yorkers' initial reactions, and conjecture about activities in which they were engaging when the failure of the lights took them by surprise.
Here, for example, is the text's opening trope:
Afterward, everyone wanted to know why.
There had to be a reason.
People wanted to know what it was …
which is followed within a few pages with this description of citizens' preoccupations:
Some shot heroin. Some shot hoops.
Some ran from the police.
Some studied: for summer school, the real-estate licensing exam, the LSATS …
Yeah, yeah, yeah. Happily, once Goodman is convinced that the reader has a sense of all the ways that life in New York was rocking along on the evening of July 13, he turns to the stark and compelling accounts that form the bulk of the book, about what occurred after, "at 8:37 p.m.," (and notice the contrast here) lightning "struck a tower carrying conductors between substations in Buchanan and Millwood, 345-kilovolt lines that supplied 1,200 megawatts of power from Roseton, Bowline, and Indian Point." Never mind that the specifics about what, mechanically, really happened may remain somewhat opaque (as they did for many New Yorkers, for many months afterward); the great energy of Blackout is the sense it gives of the human grid, in its hour-by-hour, almost stop-frame account of what went on all night and afterward, all over the city.
In order to provide this "dizzying accumulation of detail," Goodman has surveyed contemporary newspaper, magazine, and other primary source narratives, stripping from them anecdotes and interview snippets that he has then reassembled into a nonfiction narrative that in places recalls Tom Wolfe, Norman Mailer, and Joan Didion.
Page after page, the compelling anecdotes layer one upon the other as the night's crisis deepens: the Con Edison acting vice president for public affairs who comes home late and is just about to climb into the shower when the power goes off and she has to scramble myopically back to work down 29 flights of stairs, having forgotten her glasses. The "nurses, respiratory therapists, and pulmonary residents" at Bellevue Hospital who have to "bag" intensive care patients after the hospital's supplemental generator fails, "squeez[ing] air into and out of their lungs by hand." The Boston businessman climbing up the stairs of the Waldorf Astoria who encounters an elderly lady on a landing, carries her up to her room, and learns that she is the widow of General Douglas MacArthur.
Given the common association of the blackout with urban lawlessness, the majority of the anecdotes focus upon the nature of the widespread looting as it began to arise simultaneously across the city. Goodman attributes the extent of the looting to the paucity of police officers on the street ("[i]n Bushwick, a community of ninety thousand, there were fourteen officers on duty"), and also to policies adopted in the wake of widespread complaints about police brutality during the riots of the Sixties, which mandated restraint in cases of crimes against property. As a consequence, Blackout details numerous instances of store owners left to their own devices to defend their establishments: a quick-thinking husband and wife team in the Bronx who hold off looters outside their grocery store with toy guns smeared in black shoe polish; a Brooklyn A+P store where "the manager, his clerks, and a security guard, a seven-foot-tell Jamaican brandishing a machete," beat back a gaggle of twenty-five teenagers.
Many more proprietors, though, were much less lucky, and the book's most disheartening accounts examine the prevalence of black-owned businesses destroyed by other blacks, a circumstance in contrast to previous civil disturbances where such businesses had been spared.
Blackout also samples the diversity of opinion and commentary about the event: included are the statements of several looters, some of who justify their thefts on the grounds of unemployment, racism, or the high inflation of the Carter years, and others who apologetically identify themselves as simple opportunists. Also included are the testimonies of a variety of horrified New Yorkers, many of them minorities, who are appalled at the actions of their neighbors.
Some of the most fascinating of the book's inclusions are the newspaper op-ed columns that appeared in the early days after power was restored, almost all of them arguing either that the looters' behavior can be excused by socioeconomic disadvantage or racism, or that their actions are an index of advancing social degeneracy. A listing of footnotes is included as an appendix to the text, and to match excerpts from the rightward-leaning columnists is to unearth the early work of the writers, some already well-known, who would become the veritable superstars of the conservative movement during the 1980s: William Safire, Pat Buchanan, George Will, Midge Decter. One of Blackout's great fascinations, therefore, is the way it depicts, through the lens of July 13, 1977, the incipient cultural realignment that three years later would lead to the election as president of Ronald Reagan.
Today, we stand amid what may or may not prove to be another cultural realignment, which may or may not have sprung once more from New York, and which may or may not have begun on September 11, 2001. Although Goodman includes an afterword describing ways in which the August 2003 blackout in New York differed from 1977 (and 1965), 9/11 remains the more inescapable comparison, a comparison to which Goodman makes reference in closing. Whereas 9/11 has, for most, come to represent the nobility of human action in the face of catastrophe, and the 1977 blackout the capacity of citizens to obey the lesser angels of their natures, Goodman reminds readers of the contradictions rife in each event. "A city is large, and it contains multitudes," he states. From beginning to end, Blackout seeks passionately to vivify this explicitly Whitmanian thesis.
Caroline Langston's essay, "The Most Beautiful Form of Longing," recently appeared in the Arkansas Review, and her story, "A World of Infinite Difference," in Image: A Journal of the Arts and Religion. She lives near Washington, D.C., and works for National Public Radio. She is currently working on a novel and a collection of essays.
Related Elsewhere:
Blackout is available from Amazon.com and other book retailers.
Books & Culture Corner appears every Monday. Earlier editions of Books & Culture Corner and Book of the Week include:
A Curious Contingency | Confessions of a wordsmith. (April 05, 2004)
"Trust but Verify" | Ronald Reagan's faith. (March 29, 2004)
Baseball Preview 2004 | Plus a look back with some Negro League veterans. (March 29, 2004)
How Do You Live with a Torturer? | A novel of Haiti by the brilliant young writer, Edwidge Danticat. (March 08, 2004)
God Is in the Details | A scientist affirms his faith. (Feb. 23, 2004)
History Repeats Itself, Sort of | How the fate of Eugene McCarthy's insurgency against LBJ sheds light on the 2004 presidential campaign. (Feb. 16, 2004)
The Worst President Ever? | Former Nixon aide John Dean attempts to rehabilitate the reputation of Warren G. Harding. (Feb. 09, 2004)
Wholly, Wholly, Wholly | Calvinists and conga drums in Grand Rapids: a report from the seventeenth annual Calvin Symposium on Worship and the Arts. (Feb. 02, 2004)
The Doom of Choice | Fate, free will, and moral responsibility in Tolkien. (Feb. 02, 2004)
A Rose Among Thorns | A new novel by the author of Father Elijah illumines the spiritual consequences of our simplest decisions. (Jan. 26, 2004)
Article continues below
Baptized in Fire | A new book on Martin Luther King, Jr., emphasizes his spiritual transformation. (Jan. 19, 2004)
O'Connor v. the Antichrist (Jan. 12, 2004)
Moody, the Media, and the Birth of Modern Evangelism | A cautionary tale. (Jan. 05, 2004)
A Few Coming Attractions from 2004 | Plus: What to buy with those gift cards, and some of the books in my to-read stacks. (Dec. 29, 2003)
The Top Ten Books of 2003 | Plus: The Worst Book of the Year, more good reading, digital books, and a little Christmas music. (Dec. 22, 2003)
Books at Warp Speed | We continue our annual roundup of noteworthy books. (Dec. 15, 2003)
Is "Sensual Orthodoxy" a Contradiction in Terms? | Read this unconventional collection of sermons and judge for yourself. (Dec. 8, 2003)
Books, Books, Books! | We begin our annual roundup. (Dec. 8, 2003)
Urban Eden | In City: Urbanism and Its End, a new history of New Haven, Connecticut, the city (in its late 19th-century form) is an ambiguous heaven-and the suburbs that relentlessly followed are hell. Which leaves us where, exactly? (Dec. 01, 2003)
Cool Drink of Water | A poet's voice in the evangelical wilderness.
Faith, Hope, and Charity in North Carolina | New novels by Michael Morris—whose first novel, A Place Called Wiregrass, was a word-of-mouth hit— and Jan Karon, who continues her beloved Mitford saga. (Nov. 17, 2003)
Remember Afghanistan? | Two inside reports. (Nov. 10, 2003)
The Troubled Conscience of a Founding Father | An Imperfect God examines George Washington and slavery. (Oct. 27, 2003)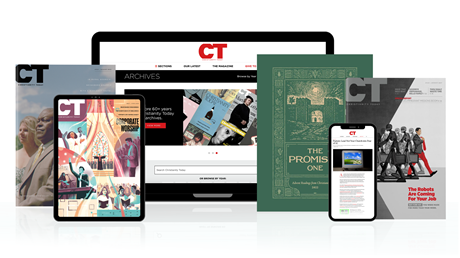 Annual & Monthly subscriptions available.
Print & Digital Issues of CT magazine
Complete access to every article on ChristianityToday.com
Unlimited access to 65+ years of CT's online archives
Member-only special issues
Subscribe
The Naked City
The Naked City