Mayors' Prayer Breakfast canceled after mayors pull out
Last year, the Mayors' Prayer Breakfast of Washington County, Oregon, became a small controversy. This year, it became a much larger one. And while the controversy grows, the prayer breakfast itself is now dead.
At a Beaverton City Council meeting last May, councilor Cathy Stanton noted the prayer breakfast, scheduled two days later. "She explained this was sponsored by a group of businessmen in the area and not by any local jurisdiction," say the minutes for that meeting. "She noted anyone was welcome to attend."
But councilor Fred Ruby found the invitation "concerning," and said it was inappropriate and unconstitutional for city officials to promote attendance at the breakfast. The meeting itself, he said, was "insensitive to non-Christian citizens" and probably illegal.
The following week, after the prayer breakfast had taken place, the debate continued. This time, it was new resident and local United Church of Christ pastor Mary Sue Evers who complained. "She said Jesus offered a whole-hearted inclusion and acceptance, and she believed to exclude others in his name was not to be as Christian as possible," say the minutes. "She suggested in this community many forms of spirituality could be honored, and she hoped events like this would be inclusive of all the diversity in Beaverton."
As it turns out, this had been Ruby's concern all along. Responding to another citizen's challenge to his comments the previous week,
Ruby said he originally was concerned because the Mayor's Executive Assistant was on the planning committee for the event and he observed promotional posters for the event posted in City Hall.  He said he resolved the issues with the Mayor; the Mayor assured him city staff had not worked on the program on city time.  He said the Mayor had instructed staff to remove unauthorized posters.  He said he accepted that the program met the requirements of the Constitution; whether or not it violated the spirit of the Constitution was a subject of principled differences of opinion.  He said the most important issue was that the program should reach out to all faiths in the community.
Let's summarize. Critics of last year's event conceded that the prayer breakfast was not a government-sponsored event. However, they wanted to pressure the Christian group to change its theology, which accepts ecumenical but not interfaith prayer.
Forcing the issue
This year, that pressure escalated. Beaverton Mayor Rob Drake, citing "controversy about the event's inclusiveness last year," invited a local Jewish rabbi to offer the event's opening prayer, and a Muslim leader to offer the closing prayer.
The organizers, the Beaverton-Tigard Chapter of the Full Gospel Businessmen's Fellowship & Concerned Citizens, voted 7-to-1 to rescind the invitation to the Muslim.
"The Muslims are not part of the Judeo-Christian tradition," communications director Peter Reding told The Oregonian. Board members, he said, were uncomfortable with the idea of praying to Allah.
"It's just broken my heart," Drake said. "I thought we had found openness and the ability to honor diversity."
Drake, who was scheduled to speak at the breakfast, said he wouldn't attend at all. This was followed by similar withdrawals from other mayors and city officials throughout Washington County. Another speaker, Oregon Air National Guard Col. Garry Dean, also pulled out.
"The Oregon National Guard does not and cannot support an organization that excludes others based on religion," said spokeswoman Misti Mazzia. "When it comes to any discrimination against anyone, that's a no-brainer in the military."
The third speaker, local business leader Steve Hanamura, said he'd keep his commitment, but reluctantly. "You guys are wrong in what you did, but I'll stand by you," he told the event organizers.
When it became clear that few, if any, mayors would attend, the board canceled the event altogether. "The purpose of the event is gone," explained registrar Roy Dancer. Other prayer events in the city scheduled that day (May 5 is the National Day of Prayer) will continue. It may not happen next year, either, he said. "It's in limbo. If it's going to be held next year, some fences need to be mended."
'Vitriolic' explanations
Drake said he received about 600 responses at City Hall about his decision to withdraw. "And you can count on two hands the negative comments," he said. "I appreciate the community's outpouring of support for diversity, tolerance, and understanding."
Ah, yes. Diversity, tolerance, and understanding. That is, a diversity that doesn't include people who believe the Muslim Allah is not the Christian God, a tolerance that says Christians must pray with Muslims, and an understanding that doesn't see why a non-governmental prayer event sponsored by a Christian organization doesn't include prayers from all faiths.
The controversy will likely continue, since it's clear that this debate got quite heated. When breakfast spokesman Peter Reding explained that "everybody is invited to come to the breakfast," but that the breakfast has a "Jewish-Christian tradition only on the dais," the executive director of Ecumenical Ministries of Oregon called those comments "vitriolic." Diversity, tolerance, and understanding, indeed.
The Oregonian, which has already published many opinion pieces on the debate, piles on in an editorial today. "The event itself was divisive," the paper says. Mayor Drake and others who withdrew "deserve praise. … They have taken a stand for Washington County residents of all faiths."
Well, except for those who believe that not all faiths are equal when it comes to praying to God Almighty.
The paper says the organizers were wrong to call the event a mayors' prayer breakfast "because it gives the erroneous impression that this is an event that has the full support of elected officials, which it plainly does not."
Of course, the organizers may have thought that a breakfast meeting organized with the intent of praying for mayors, with a mayor speaking at the event, might have warranted the title.
Still, The Oregonian (which, by the way, does not have the full support of Oregon's state government, despite its title) says the prayer breakfast organizers are free "not only to worship as they see fit, but also to behave in ways that many others would find offensive, or at least rude."
But apparently the newspaper has absolutely no qualms with government officials telling religious believers how they should pray and to which deity those prayers should be directed. The paper also seems to be untroubled by the fact that Mayor Drake, not the breakfast organizers, took it upon himself to invite the Muslim leader.
One thing is clear: this county and its officials certainly do need prayer.
More articles
Abortion rights activists protest:
Other abortion issues:
Life ethics:
Catholic politicians & communion:
John Kerry & the Roman Catholic Church:
Religion & politics:
Religion & politics in Zambia:
Religion & politics in Europe:
Ten Commandments & the pledge:
Dinner prayer at VMI permanently blocked:
Muslim prayers in Detroit:
Religious freedom:
War & terrorism:
Crime:
Abuse:
Religion & education:
Church buildings:
Church life:
Anglican Communion:
Gay Anglican dean opposed:
United Methodist Church:
Catholicism:
Mormonism:
Prayer for sick illegal?:
Prison ministry:
Missions & ministry:
Missions in Afghanistan:
Nontraditional ministry:
Christian business:
Books:
The Bible:
Left Behind:
The Code breakers:
Music:
Television:
Nigeria bans televised miracles:
Film & art:
The Passion:
Prayer & spirituality:
Search for Noah's Ark:
No impeachment for judge's custody ruling involving former lesbian couple:
Gay marriage:
Gay marriage opposition:
Gay rights:
Homosexuality & religion:
More articles:
Suggest links and stories by sending e-mail to weblog@christianitytoday.com
Check out Books & Culture's weekly weblog, Content & Context.
See our past Weblog updates:
April 27 | 26
April 23 | 22 | 21 | 20 | 19
April 16 | 15 | 14 | 13 | 12
April 8 | 7 | 5
April 2 | 1 | March 31 | 30 | 29
March 26 | 25b | 25a | 24 | 23 | 22
and more, back to November 1999
Weblog
Launched in 1999, Christianity Today's Weblog was not just one of the first religion-oriented weblogs, but one of the first published by a media organization. (Hence its rather bland title.) Mostly compiled by then-online editor Ted Olsen, Weblog rounded up religion news and opinion pieces from publications around the world. As Christianity Today's website grew, it launched other blogs. Olsen took on management responsibilities, and the Weblog feature as such was mothballed. But CT's efforts to round up important news and opinion from around the web continues, especially on our Gleanings feature.
Ted Olsen is Christianity Today's executive editor. He wrote the magazine's Weblog—a collection of news and opinion articles from mainstream news sources around the world—from 1999 to 2006. In 2004, the magazine launched Weblog in Print, which looks for unexpected connections and trends in articles appearing in the mainstream press. The column was later renamed "Tidings" and ran until 2007.
Previous Weblog Columns: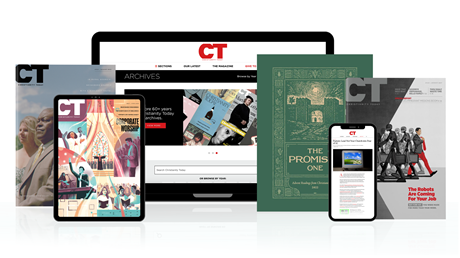 Annual & Monthly subscriptions available.
Print & Digital Issues of CT magazine
Complete access to every article on ChristianityToday.com
Unlimited access to 65+ years of CT's online archives
Member-only special issues
Subscribe
Day of Prayer Breakfast Canceled Over Inclusiveness Debate
Day of Prayer Breakfast Canceled Over Inclusiveness Debate