Among the books piled close at hand in unwieldy stacks in my office are three strong contenders for the end-of-the-year Top Ten. The first is The Divine Voice: Christian Proclamation and the Theology of Sound, by Stephen Webb (Brazos), one of the most stimulating books I've read so far this year—one that generates so many insights in so many different directions, you feel that your mind is about to explode. Webb is professor of religion and theology at Wabash College and the author of many books, including On God and Dogs (Oxford). He has been in the pages of B&C. If you read Jeet Heer's essay on Walter Ong in our July/August issue, you're primed for Webb's book. We'll certainly be reviewing it (along with some other related books) in a forthcoming issue of the magazine.
Another book that rocked me back on my reading heels is The Great Failure: A Bartender, a Monk, and My Unlikely Path to Truth, by Natalie Goldberg. I picked up the galleys several months ago, not sure how interested I was going to be. I'd read some of Goldberg's writing-about-writing and found her refreshing (her best known is Writing Down the Bones—which, the dust jacket tells me, has sold more than a million copies), but I'm suffering from bigtime Memoir Fatigue, and I wasn't eager to wade into another one. Nevertheless I poked a toe in—and didn't stop reading until late that night, when I'd finished the book. That we can "learn" from failure has become a cliché—remember the freshness of The Wounded Healer when it first appeared, and yet doesn't that phrase make you slightly nauseated now? But this is a book which takes that deep truth and makes it real again. Plenty here to argue with—Goldberg practices Zen, and her understanding of the universe is in some ways radically different from mine—but this is a book I'll be buying multiple copies of to give to friends.
The third that's on my current shortlist is David Markson's Vanishing Point (Shoemaker & Hoard), billed as a novel. If you have read some of Markson's earlier books, you'll know that what he means by novel is not what you might otherwise be expecting. This particular novel consists of short passages rather like entries in a commonplace book. Many of them have to do with writers, painters, composers, artists of one kind or another. Certain themes recur: for instance, the scorn with which many great works (as we now regard them) were originally greeted, but also the contempt of Artist X for Artist Y, so that we're not simply getting a skewering of the unenlightened. Another theme is the anticipation, many centuries ago, of complaints that we tend to think of as distinctively modern. And so on. Oddities and ironies are duly noted. The book is wonderfully strange, perfect for bedside reading (several pages each night).
Speaking of books of the year, one of last year's best, George Marsden's biography of Jonathan Edwards, is now out in paperback from Yale. If you haven't caught up with this one yet, now's a good time.
Carl Hiaasen started as a reporter for the Miami Herald almost 30 years ago; for many years he's been a columnist for that paper. He's also a corrosively funny novelist: crude, yes (imagine some equivalent to the movie rating system), and oddly sentimental in his own way, but galvanizing. His recent novel Basket Case was, among other things, the best account I've seen of the stripmining of the newspaper industry; the best novel I've read with an obituary writer for a protagonist (obsessively conscious of his own age); and a darkly hilarious window on the pop music scene (including a song cowritten by Hiaasen and Warren Zevon). Now Hiaasen is back with Skinny Dip (Knopf), a black comedy of marital (attempted) murder and environmental crime, featuring another killer dustjacket illustration by Charles Burns. The wicked get their just deserts (Hiaasen is a moralist according to his lights) and the moderately virtuous are rewarded.
Speaking of funny writing (a perennially underrated art), the September issue of The Atlantic Monthly, which may be the single most impressive issue of a magazine I have seen in a lifetime of reading, includes among its embarrassment of riches an excerpt from Christopher Buckley's novel, Florence of Arabia, due next month from Random House. It is delicious.
Next week: we conclude our interim report with more of the year's best to date, a couple of stinkers, and a look at some coming attractions.
Related Elsewhere:
The books mentioned above are available from Amazon.com, Christianbook.com and other book retailers.
For more books, see Christianity Today's 2004 book awards.
Books & Culture Corner appears every Tuesday. Earlier editions of Books & Culture Corner and Book of the Week include:
We've Got Books | The first installment of our new midyear book report. (Aug. 10, 2004)
'Be Happy!' | How the ancient Olympics differed from the modern spectacle. (Aug. 10, 2004)
Article continues below
Rediscovering 'Husbandry' | What Colonial farmers have to teach us about living with the land. (Aug. 03, 2004)
China's Spiritual Hunger | The lessons of Falun Gong (July 27, 2004)
Ambiguous Redemption | A riveting memoir by the author of Don't Let's Go to the Dogs Tonight. (July 20, 2004)
Tending the Garden | Evangelicals and the environment. (July 07, 2004)
How the Monster Grew | A Pulitzer Prize-winning historian looks at the origins of modern media. (July 05, 2004)
Wasn't That a Mighty Fall | Martha Stewart, VeggieTales, and Narnia revisted. (June 29, 2004)
Insect Theodicy | Who sent the locusts? And who exterminated them? (June 22, 2004)
Telling Lies, Telling Stories | Lars Saabye Christensen's The Half Brother reveals imagination as escape. (June 15, 2004)
The Art of Political War | A veteran columnist urges his fellow liberals to take a lesson from those nasty conservatives. (June 07, 2004)
Thou Shalt Not Swap | The uses and abuses of copyright. (May 24, 2004)
Mystery and Message | Must they compete? (May 10, 2004)
Celebrating Faith in Writing | A dispatch from Calvin College's biennial event. (April 26, 2004)
Shabbos, Sheitels, and Yarmulkes | A novel set in the world of Orthodox Judaism. (April 19, 2004)
The Naked City | The story of the 1977 blackout in New York-the occasion of widespread looting and destruction-has some surprisingly timely lessons for America in 2004. (April 19, 2004)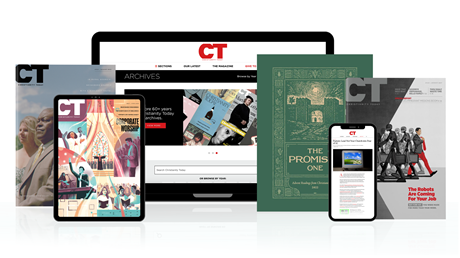 Subscribe to Christianity Today and get access to this article plus 65+ years of archives.
Home delivery of CT magazine
Complete access to articles on ChristianityToday.com
Over 120 years of magazine archives plus full access to all of CT's online archives
Subscribe Now
(Not Just) Summer Reading
(Not Just) Summer Reading