The block that intersected the street where I grew up was called Church Street. On one end was St. Angela's, the Catholic church my friends attended. At the other end was Beulah Baptist, where I first heard the gospel. St. Angela's seemed to be a dark mystery with its statues of Jesus and Mary and its holy smell. Beulah, on the other hand, met in a plain-looking building, with pale walls and blond furniture. It did not smell holy. No statue of Jesus could be found in the place.
One Saturday I walked with my friends to their catechism class. When we arrived at the back door to the church, they told me that I could go no farther because I wasn't a member of the parish. I peered through the glass at the Christ mounted on a pedestal that was attached to the wall. His arms were spread in welcome, but not for me. Instead, he surveyed an empty hall below. His mother hung at the other end. She too had her arms spread, as if inviting an invisible audience to enter their embrace.
I spent several minutes gazing from one to the other, my heart pounding. Surely, at any moment they might climb down and wave me away from the door. I wished I could step into the hall and examine the two figures more closely, but my friends had made it clear: I could not cross the sacred threshold.
When the lesson ended, my friends appeared again in the deserted hallway. They opened the red door and fled the place. The faint scent of holiness escaped with them, clinging like the musty smell on an old woman's wedding dress. I gave the statues one last nervous glance, just to make sure that they had not sprung to life, and went off to play.
Vacation Bible School
Beulah Baptist was at the opposite end of Church Street. I visited there because of a parade that took place during that time of year when summer stretches out like the rest of eternity. I was bored. My friends weren't around, and I couldn't think of anything to do. Suddenly, I heard the sound of music and children's voices. Coming down the sidewalk was a parade made up of wagons, balloons, and someone dressed in a clown suit. A group of children marched behind, waving. One of them ran over to me with a piece of paper inviting me to attend something called vacation Bible school.
This might be a good idea, I thought, though I felt ambivalent about attending. The fact that I didn't attend church didn't make me nervous. The "school" part bothered me. I did not enjoy school. The thought of joining vacation and school into some kind of hybrid seemed perverse, like the pictures one sees in the tabloids of babies reportedly born with the head of a dog and the body of a human. Who wants to go to school on his vacation?
Still, the clown was a hopeful sign. These people seemed to promise that if I attended vacation Bible school I would have fun, an intriguing thought. I had never viewed church as a fun place. Perhaps the Baptist church was more like a circus—all colored lights and sounds and laughter.
Beulah Baptist, however, was all business. On the wall behind the pulpit hung a large metal map of the world, sprinkled with pinpoints of light. I thought this was an odd choice for a decoration, more suited to the United Nations than a church. I learned later that the map served to remind church members of the importance of missions.
The people at Beulah were big on missions. Every day in vacation Bible school, we were treated to a missionary story. I could never remember the names or the locations, but the plot was always the same. Some child realizes that the whole world is going to hell and dedicates himself to becoming a missionary. He leaves his weeping parents behind and goes to a distant jungle land. Communication with the natives is hard because he doesn't know the language. It doesn't help matters that the natives are cannibals. As he tries to tell them about Jesus, whose own story seemed to me to be almost as depressing, the natives capture him, cook him in a pot, and eat him. He is quickly replaced by another missionary who has been inspired by his sacrifice. The moral of the story, as far as I could tell, was: "Come to Jesus and this can happen to you too!"
I did not want to go to a distant country and tell cannibals about Jesus. I didn't even like being more than a block or two from my house. I certainly did not want to be boiled in a pot and eaten.
Beulah also had a weekly children's club, a combination of the Cub Scouts and vacation Bible school. The gospel message, like the church itself, was presented each week in an unadorned, matter-of-fact way. Every Wednesday night we sat on metal folding chairs and listened as one of the leaders described the torments of hell and the beauty of the Cross. The message weighed heavily upon my soul. I knew I was a sinner and destined for hell. My Catholic friends had told me as much. Now, the Baptists were telling me the same.
My own conscience confirmed their accusation. Hadn't I once looked at a picture of Sophia Loren in a negligee? On another occasion, while whirling a jump rope over my head like a helicopter rotor, I struck a sparrow sitting on a fence and watched in horror as its small head sailed across the yard. The headless torso just stood there, frozen in place, and then its little body tumbled to the ground. For these and many other crimes, I knew I deserved to go to hell.
By the end of the lesson, I was sure everyone around me could hear my heart pounding. I knew what was coming. The leader would ask us to "accept Jesus." He told us to lift our hands, "right where we were," and let him know. I was too embarrassed to do it and too afraid not to. What if I was the only sinner in the group? But what if I didn't do it? The speaker had said that this might be my last opportunity. I might walk out the door, die on the spot, and be ushered into a Christless eternity that very night.
In the end, my fear of hell won out over my fear of embarrassment. The metal folding chair groaned slightly as I lifted my hand. The leader asked us to repeat a prayer after him. It was as simple as that. Very neat and businesslike. A few days later, I received a nice letter from the pastor of the church, a man I had never seen, congratulating me on the decision I had made.
I tried to be regular, but I didn't fit in. Most of the kids who attended came for game time. But the only game anybody really wanted to play was dodge ball, and I was terrible at it. Overweight and slow on my feet, I was afraid of the ball. It was more like a half hour of target practice than a game, and it didn't take long for the predators in the group to spot the weak animal in the herd. Eventually, I grew tired of their bullying and stopped attending.
Fast-Food Revelation
Even though I heard the gospel at Beulah Baptist, I encountered Christ—really encountered him—in the back room of a Jack in the Box restaurant. The fast-food joint was a mile from my home, on a block that intersected Church Street coming from the other direction.
I had just graduated from high school and was working the night shift, waiting on customers and cleaning the fryers. I was contemplative by nature, and the midnight shift only intensified my introspective tendencies. The situation in my family was an added burden. My mother was sick, wasting away from an illness that would eventually take her life. My father's long-standing alcoholism was worsening. It did not help matters that my favorite radio station only played the blues after midnight. Before long I felt myself sliding into depression.
At some point my thoughts turned to spiritual matters. I purchased a pack of tarot cards and tried to interpret my future from their obscure symbols. I chanted "Hare Krishna" while scraping the grill, hoping it would give me inner peace. Instead it made me dizzy. I carried on a running conversation with God, muttering to him as I swept. Finally, it occurred to me that the Bible was a spiritual book. My mother had given me one several years earlier while I was attending Beulah Baptist. One evening I dusted it off and brought it to work with me. During my breaks I went into the back room and read the Gospels.
The Jesus I discovered there didn't seem anything like the one I had encountered during my pilgrimage up and down Church Street. This Christ was not perched above the crowd gazing dispassionately at those below. Nor was he like the drab Messiah I had heard about at Beulah. It did not seem to be drudgery to follow him. Indeed, from what I had read, he had promised that it would not be.
"Come to me, all you who are weary and burdened," he said, "and I will give you rest. Take my yoke upon you and learn from me, for I am gentle and humble in heart, and you will find rest for your souls. For my yoke is easy and my burden is light" (Matt. 11:28-30). I sighed with relief as I read these words. Barely 20, I felt like an old soul too weary of the world to go on.
One night as I was cleaning the restaurant and carrying on a silent conversation with God, I complained, "God, if you're up there, I just want you to know that I wish I had never been born!" I didn't really expect him to reply.
As soon as the thought formed in my mind, I noticed someone waiting at the drive-through window. As I came closer, I recognized him as a local "Jesus freak" named Dave. He said very little as I waited on him. When I gave him his change he grinned and handed me a piece of paper.
"If being born hasn't given you much satisfaction," it said, "try being born again."
Soon I started attending church again. This time it was at Glad Tidings, the church Dave attended. Glad Tidings met in a plain brick building that looked a lot like Beulah, only smaller. It had the same blond wood and bare walls, except for the baptistery, which had a picture of the river Jordan in the background. The church's pastor had once been a crane operator, but his real love was studying history. He was a round-faced man who often clapped his hands and stomped his right foot in a sort of "Holy Ghost dance" when he preached. He appeared to be keeping time to angelic music that the rest of us could not hear. Every so often he would cry "glory" with a drawn-out, rumbling conviction that made us think he had seen something that we could not.
He reminisced about the old days, when the Spirit fell and God's people "got the victory." He began every prayer by saying, "Lord, we're a needy people," intoning the words with such gravity, that in that moment we could feel the crushing weight of the congregation's troubles bear down upon us. It took our breath away. We reeled under the weight of it and clutched the pew. We had no idea! We were a needy people. God help us!
I had never witnessed anything like it. He frightened and intrigued me at the same time. He whispered. He shouted. He laughed. He wept. During his message, he displayed the entire range of human emotions. When he finished, we came to the altar and wept copiously, repenting of the same sins we had wept over the previous week.
Coming Home
I have attended many churches since then, both as a member and as a pastor. Down through the years I have made a surprising discovery. Most of the Christians I know are disappointed with their churches, finding them either too traditional or too modern. Their sermons are too theological or not theological enough. The people are cliquish. In the end, the root problem is always the same. It's the people.
Yet Sunday after Sunday these believers return to their pews, expecting God to meet them there once again. Some might view such attendance as an act of futility or an exercise in wishful thinking. I believe it is a work of grace.
The author of The Message and veteran pastor Eugene Peterson has written that when we get serious about the Christian life, we usually find ourselves in a place and among people that we find incompatible. "That place and people," Peterson explains, "is often called a church. It's hard to get over the disappointment that God, having made an exception in my case, doesn't call nice people to repentance."
A few years ago I returned to the neighborhood where I grew up. I drove by St. Angela's and saw the door through which my friends had entered so many times to participate in the sacred mysteries of their faith. It looked like it needed a new coat of paint. I wanted to see if the statues of Jesus and Mary were still in their old place, dispassionately beckoning to the multitudes to enter their cold embrace. I felt the old fear and did not get out of my car. I wondered if the smell of holiness still clung to the place.
When I drove by Beulah Baptist, I decided to stop in. I thought they might like to know how one of their Wednesday night clubbers turned out. It had taken a long time, but the prodigal had finally come home.
The pastor welcomed me with professional friendliness and listened politely as I told my story. He looked tired and distracted, perhaps by the work he could have been doing if his time were not being taken up by this unexpected visitor. When our visit was finished, he thanked me for coming and retired to his study. I found my own way out.
It has been nearly four decades since I first went looking for Christ on Church Street. The place where I worship today is neither mysterious nor drab. Its message, still rooted in the hope of the Cross, is consistently positive. Its décor is corporate, its music unrelentingly chipper. I like it.
There are times, though, when I am filled with a quiet longing for the shadow of mystery and the unsettling scent of holiness. In many ways, I am still waiting for the Spirit to fall and for God's people to "get the victory." Wednesday night's children have all grown and gone and the dodge balls have long since been put away. After all these years, there are still times when I feel like an unwelcome visitor. Nevertheless, I decided long ago to cast my lot with the church. It has probably failed me as many times as I have failed it, but I will not abandon it. I could not, without abandoning myself.
John Koessler serves as chair and professor of pastoral studies at Moody Bible Institute. His most recent book is True Discipleship: The Art of Following Jesus (Moody, 2003).
Have something to add about this? See something we missed? Share your feedback here.
Our digital archives are a work in progress. Let us know if corrections need to be made.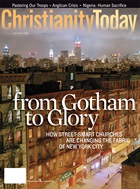 This article is from the December 2004 issue.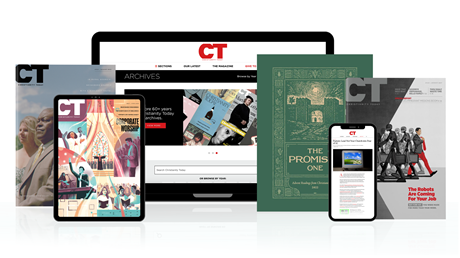 Annual & Monthly subscriptions available.
Print & Digital Issues of CT magazine
Complete access to every article on ChristianityToday.com
Unlimited access to 65+ years of CT's online archives
Member-only special issues
Subscribe
Why I Return To The Pews
Why I Return To The Pews