One night, I found myself alone in a car with an arachnid.
My husband had just walked out of earshot when a movement on the windshield caught my eye. Peering through the shadows, I discovered a ghostly spider creeping along the inside of the glass.
Normally this would evoke a stereotypically feminine overreaction on my part. Like any girly woman, I tend to yelp and hop away from evil-looking bugs (to me, spiders, centipedes, and earwigs fall in this category). Once I almost ran into a parked car when I discovered a tiny black jumping spider on my steering wheel.
Thankfully, now that I'm married, I have a dragon slayer: Sam saunters to my rescue whenever I beckon him, often killing the offending bug with his bare hands. It's a habit I find repellent yet courageous, and I have gotten a jolly laugh out of watching our toddler mimic it whenever he finds an ant on the floor.
But here I was, in the middle of a ShopKo parking lot. My dilemma: Would I stay frozen where I was and let the thing potentially disappear into the vast realms of our Contour—only to drop straight into my hair on our next car ride? Or would I be brave and squash it myself?
The spider's graceful front legs were leading it in gradual circles across the pane, exploring the cool glass. It was the kind of shimmery green spider that I often find in my kitchen after bringing in roses from the garden.
My fear began to dissipate as I marveled at the engineering of this delicate creature. I could never compose such a mechanical or aesthetic masterpiece—yet millions of similar creatures come into being every season, and I destroy them without a second thought whenever they happen to seek shelter in the unused corners of my home.
As I watched the spider dance, I felt another little creature flitter, testing his boundaries—my second child, prodding the edges of his world, my womb. The baby and the spider were linked with a thread of the cosmos, moving together to a tune I rarely stop to listen for.
For the first time, I understood the feelings that compel my more liberal friends to be so goofy around bugs. Like my friend Julie. Once when she was visiting, a spider interrupted our conversation by crawling across the top of my couch. As I drew back in disgust, Julie held out her hand, let the spider tiptoe into her palm, then went to the door. "There you go, little guy," I heard her say as she brushed him off into the breeze.
"Ask the animals, and they will teach you, or the birds of the air, and they will tell you; or speak to the earth, and it will teach you, or let the fish of the sea inform you." Though this sounds like something you'd find on a shampoo bottle at Whole Foods, it's actually a passage in the Book of Job, which concludes, "In his hand is the life of every creature and the breath of all humanity" (12:7-10).
The sanctity of all life, great and small, can be a unifying point in the midst of the polarities of politics. A billboard on the outskirts of our town gives me hope. On it, both the local Humane Society and Crisis Pregnancy Center are advertised, united under the words, All life is precious in his sight.
I recently learned that Orthodox Christianity, of which I am a practitioner, forbids the harm of any creature—even insects—within the church. I pondered this one Sunday as I sang "Holy, Holy, Holy" while watching an ant scurry about my feet. The grace of sanctuary is extended even to life that cannot understand the One who provides it.
Perhaps someday, like my church, I will learn to share my home with little creatures, as I am learning to share it with little people. At any rate, I hope to grow increasingly sensitive to the fullness of Glory manifested in the minute. It is not easily captured with words. It can only be experienced in flashes, in the form of a garden spider's waltz, or a floating baby's kick, or a holy ant.
Which is why, on that dim night in the ShopKo parking lot, I was able to open my door and brush the spider onto the ground (with a piece of paper).
Bethany Torode lives with her husband, Sam, and sons, Gideon and Rilian, in southwest Wisconsin. They recently shared their home with a monarch caterpillar that is now winging its way to Mexico.
Related Elsewhere:
For more on household spiders, myths, facts, webs, and dangers, see The Ohio State University's fact sheet on Spiders In and Around the House.
To answer your questions about spider myths, see the University of California Riverside's spider page.
If you're inspired to take care of your own spiders, especially the big kind, see GiantSpiders.com.
For the wonders of the spider web, Creation Magazine has an article on why the spider's silk overshadows man-made substitutes.
Job 12:7-10 is available from Biblegateway.com.
Have something to add about this? See something we missed? Share your feedback here.
Our digital archives are a work in progress. Let us know if corrections need to be made.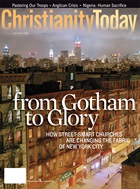 This article is from the December 2004 issue.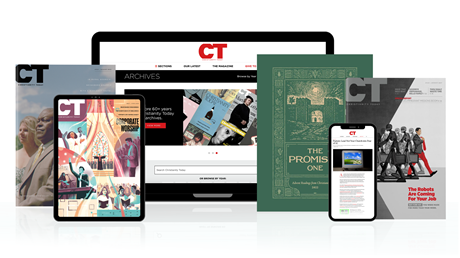 Annual & Monthly subscriptions available.
Print & Digital Issues of CT magazine
Complete access to every article on ChristianityToday.com
Unlimited access to 65+ years of CT's online archives
Member-only special issues
Subscribe
From Ewww ... to Wow!
From Ewww ... to Wow!