Tensions in Jerusalem's Old City have flared following an incident during October in which a Jewish seminary student spat at an archbishop. It happened during a procession from the city's Armenian Quarter to the Church of the Holy Sepulcher, a site commemorating Jesus' crucifixion and burial.
Israeli police arrested the seminary student, but Christian clerics living in the walled Old City say such assaults by ultra-Orthodox Jews are frequent.
"It happens maybe once a week," Armenian Bishop Aris Shirvanian told Ecumenical News International. "As soon as they notice a Christian clergyman, they spit. Those who are 'respectful' turn their backs to us or the large cross that we may carry. But the ones that are daring either spit on the ground or on the person without any provocation."
In the latest incident, a scuffle broke out after the Jewish seminary student spat at the cleric, whose cross was ripped from his neck. The seminary student later told police he saw the religious procession as idolatry. Police said an indictment is pending.
Shirvanian said spitting against Christian clergyman had been going on for years. He said the assailants are religious Jews—men, women, teens, and children. "This shows that it is a phenomenon that is prevailing in their religious education and it should be corrected," he said.
Daniel Rossing, director of the Jerusalem Center for Jewish-Christian Relations, said his organization plans to ask rabbis to teach their congregants to stop such attacks.
"All people are created in the image of God and to spit on another person is to spit on the image of God," Rossing said.
Related Elsewhere:
Articles elsewhere on the incident include:
Chief Rabbi Metzger Apologizing for Spitting Incident | Ashkenazi Chief Rabbi Yona Metzger has invited church officials to meet with him following the spitting incident in the capital earlier this month in which an Orthodox Jew targeted a Catholic clergyman. (Arutz Sheva, Israel, October 24, 2004)
Home of 3 Faiths, Rubbing One Another the Wrong Way | When a young yeshiva student spat at the cross-carrying Armenian archbishop of Jerusalem, Nourhan Manougian, the archbishop struck back, a fistfight broke out, the police were called and a new debate started spinning about the nature of intolerance among the faithful. (The New York Times, October 19, 2004)
Christians urge crackdown on spitting Jews | Christian leaders in Jerusalem have attacked what they say is the increasingly common phenomenon of spitting by ultra-Orthodox Jews on members of their faith. (Washington Times, October 13, 2004)
Article continues below
Poraz 'repulsed' by cases of Jews spitting on Christians | Interior Minister Avraham Poraz issued a strongly worded statement Tuesday against incidents of Jews spitting at Christian clergy in Jerusalem, saying he was "repulsed" by the repeated attacks." (Ha'aretz, Israel, October 12, 2004)
Israel's Christians spitting mad | Christians in Jerusalem have attacked what they say is the increasingly common phenomenon of ultra-orthodox Jews spitting on them. (Telegraph, UK, October 12, 2004)
Christians complain of assaults in Old City | A few weeks ago, a senior Greek Orthodox clergyman in Israel attended a meeting at a government office in Jerusalem's Givat Shaul quarter. When he returned to his car, an elderly man wearing a skullcap came and knocked on the window. When the clergyman let the window down, the passerby spat in his face. (Haaretz, Israel, October 12, 2004)
Other Christianity Today articles about Christians and the Holy Land include:
Speaking Out: The Resolution That Put the 'PC' in PCUSA | In its anti-Israel resolution, the Presbyterian General Assembly isn't speaking on behalf of members. A rabbi's opinion. (Aug. 05, 2004)
O Jailed Town of Bethlehem | How eerily still we see thee lie. (May 11, 2004)
Rush to Judgment? | Israel Antiquities Authority's 'findings' bother many archaeologists. (April 29, 2004)
Listening to the Fifth Gospel | The sun-baked ruins of the Holy Land have a story to tell. (Sept. 25, 2003)
What Do the Stones Cry Out? | Beware of claims that archaeology disproves—or proves—the Bible is true. (Sept. 24, 2003)
Top Ten New Testament Archaeological Finds of the Past 150 Years | How do shrouds, boats, inscriptions, and other artifacts better help us understand the Christ of the Ages? (Sept. 23, 2003)
Bones of Contention | Why I still think the James bone box is likely to be authentic. (Sept. 22, 2003)
Biblical Archaeology's Dusty Little Secret | The James bone box controversy reveals the politics beneath the science. (Sept. 19, 2003)
Uneasy Unity | Christians take different paths as "road map" hits impasse. (Sept. 11, 2003)
West, Meet East | Who Are the Christians in the Middle East? examines millions of forgotten believers. (Sept. 11, 2003)
Row Seethes in Bethlehem Over Keys to the Birthplace of Jesus | Greek Orthodox monks changed locks, refuse to share keys with Catholics and Armenians. (Aug. 14, 2003)
Roadblocks and Voting Blocs | Today's evangelicals are committed to peace—not just security—for Israel. (Aug. 01, 2003)
Opinion Roundup: The Evangelical View of Israel? | Evangelicals are more diverse on the Israeli-Palestinian conflict than we are led to believe. (June 11, 2003)
War Could Reduce Holy Land's Christian Presence | Palestinian bishop fears current hostilities could continue a trend that sees Christians forced out of the area altogether. (March 21, 2003)
Darkness at Jesus' Tomb | A fight breaks out on the roof of the Church of the Holy Sepulchre. (Sept. 12, 2002)
Have something to add about this? See something we missed? Share your feedback here.
Our digital archives are a work in progress. Let us know if corrections need to be made.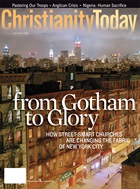 This article is from the December 2004 issue.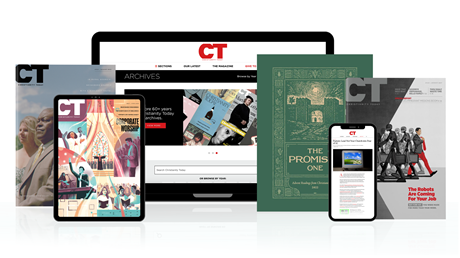 Subscribe to Christianity Today and get access to this article plus 65+ years of archives.
Home delivery of CT magazine
Complete access to articles on ChristianityToday.com
Over 120 years of magazine archives plus full access to all of CT's online archives
Subscribe Now
Spitting on God's Image
Spitting on God's Image