Relations between Jewish leaders and mainline Protestants are seriously strained. In July, the highest legislative body of the Presbyterian Church (U.S.A.), or PC(USA), voted 431-62 to begin a phased, selective divestment in multinational firms said to be contributing to the Israeli occupation of Palestine.
Two months later, leaders of the Episcopal Church USA announced they would study a similar stock-selling plan to protest the "ongoing occupation, home demolitions, settlement building, and the separation wall."
Some Jewish leaders have denounced the divestment strategy as "an assault on the Jewish people."
This is an "act of medieval Christian economic warfare against the Jewish people," said Yehiel Poupko, the Judaic scholar at the Jewish Federation of Metro Chicago. The church decisions go beyond critique of governmental policies in Israel to the "demonization of the Jewish people," Poupko said.
Eric Yoffie, president of the Union for Reform Judaism, a group that backs a two-state solution and a rollback of the Israeli occupation, said the denominations' decisions are alarming because of an apparent imbalance. Yoffie said the word "evil appears with some frequency" in PC(USA) documents on the Israeli occupation, but rarely is applied to acts of terrorism.
The Institute on Religion and Democracy, a mainline renewal group, sides with Jewish critics. On September 27 IRD released a study critical of mainline and ecumenical groups. The report found that more than a third of church criticisms of human-rights abuses focused on Israel, but there were no criticisms for countries such as China, North Korea, and Saudi Arabia.
"Israel is certainly responsible for some human-rights abuses, as are all nations," IRD president Diane Knippers said in a prepared statement. "But an extreme focus on Israel, while ignoring major human-rights violators, seriously distorts the churches' message on universal human rights."
The House of Bishops for the Episcopal Church, in a statement issued October 1, said it is important to distinguish between such prejudice and "legitimate criticism of Israeli governmental policy and action."
Clifton Kirkpatrick, PC(USA) stated clerk, condemned Palestinian terrorism and said the selective divestment is in the interest of Israeli-Palestinian peace.
Senior leaders of the PC(USA) and Jewish communities met in New York in late September for a three-hour summit to discuss these concerns. Few minds were changed, however.
"They certainly did not give us any reason to think there were any second thoughts on the divestment issue," Yoffie said. Plans are in the works, Yoffie said, for future national-level meetings as well as interfaith dialogues between individual churches and synagogues.
But the Jewish Federation of Metro Chicago does not believe future dialogue will be fruitful, Poupko said. His organization is considering a policy of "selective" disassociation from such talks.
The committee within the PC(USA) assigned to develop criteria for divestment will submit a report to the denomination's board of directors—the General Assembly Council—in March. No decision will be made until 2006.
"In the meantime," said Jim Berkley of Presbyterians for Renewal, "we Presbyterians need to make clear what we do believe about sharing the good news of Jesus, while we seek ways to make sociopolitical pronouncements that are far fewer in number, better informed, and more wisely diplomatic and representative of the social consensus of Presbyterians."
Related Elsewhere:
Weblog commented on the report published by the Institute on Religion and Democracy
The National Council of Churches released a statement about its meeting with Jewish leaders, saying "The meeting addressed perceptions of the Israeli-Palestinian conflict and how the Christian and Jewish communities in the U.S. can work together to advance peace."
The NCC also criticized John Leo of U.S. News & World Report for an article on the Presbyterian divestment plan.
The Presbyterian (USA) News Service has an article about the decision to divest.
The statement from the House of Bishops for the Episcopal Church says they will look into the issue and seek a greater understanding.
The Reform Jewish Movement condemned Presbyterians for meeting with the terrorist group Hezbollah.
News elsewhere on divesting from Israel and the meeting between Presbyterians and Jewish groups include:
Protestants consider divestment because of Israeli policies | The idea has floated around for years on the fringes of the Middle East debate: Opponents of Israeli policy in the Palestinian territories should divest from companies doing business there. Now, the concept is gaining ground in the heart of American Protestantism (Associated Press, Oct. 30, 2004)
Progress, Problems On Divestment | Jews, Protestants to travel to Israel together—but they can't agree on a statement condemning terrorism. (New York Jewish Week, NY, Oct 27, 2004)
Article continues below
Presbyterian leaders denounce members' Hezbollah visit | Leaders of the Louisville-based Presbyterian Church (U.S.A.) are distancing themselves from a church-funded delegation's visit to the Hezbollah organization in Lebanon, calling it "misguided, at best." (Louisville Courier Journal, Oct 23, 2004)
Pittsburgh Presbyterian elder scored for remarks in meeting with Hezbollah | Church delegate on fact-finding mission in Middle East (Pittsburgh Post-Gazette, Oct. 22, 2004)
US churches, Jews dialogue on Israel | This week, a delegation of Jewish officials met in Washington with Middle East policy officials from the Presbyterian, Episcopalian, and Orthodox churches in a first-of-its-kind interfaith meeting focused primarily on Israel. (Jerusalem Post, Israel, Oct 21, 2004)
Presbyterian Church May Pressure Israel | The head of a visiting U.S. Presbyterian Church delegation called on Israel to end its occupation of Palestinian territories and said Monday that his church is studying the possibility of withholding investments to increase pressure on Israel. (Associated Press, Oct 18, 2004)
Episcopal Church May Probe Israel Business | An Episcopal committee angered Jewish leaders Friday by recommending that the church research taking action against companies involved in the Israeli occupation of Palestinian territories. (Associated Press, Oct. 1, 2004)
Have something to add about this? See something we missed? Share your feedback here.
Our digital archives are a work in progress. Let us know if corrections need to be made.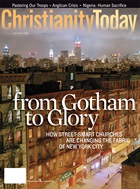 This article is from the December 2004 issue.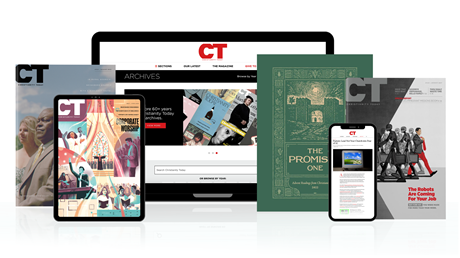 Annual & Monthly subscriptions available.
Print & Digital Issues of CT magazine
Complete access to every article on ChristianityToday.com
Unlimited access to 65+ years of CT's online archives
Member-only special issues
Subscribe
'Assault on the Jewish People'
'Assault on the Jewish People'