It hit me when the Sankofa student drum group started playing during the Scripture reading. The drummers hadn't blown their cue; they were supposed to be playing during the Scripture reading. The moment came during a chapel service on Isaiah 60, and when they stood up and started thumping away, the reader began: "Arise, shine for your light has come, and the glory of the Lord is upon you. … " The driving, growling beat of their congas seemed to punctuate the imminence of the prophecy; their rhythm was arresting, surprising, and fully fitting. I'd never heard the passage read that way before, and never heard its call that way before. It was like Isaiah was trying to get our attention all over again, all these millennia later.
And that's when it hit me: if Calvinists are pounding congas like this in the middle of a reading, worship has come a long way in this place and this faith tradition. The thought recurred throughout the final day of the seventeenth annual Calvin Symposium on Worship and the Arts in Grand Rapids, Michigan, which the chapel opened. Raised in West Michigan in the Reformed tradition, I'm not conditioned to get goosebumps in church. Worship here has long been reverent, formal, solemn, and—at its worst—bloodless. It used to be that you were no more likely to hear banging congas during the Scripture reading than you would be to see elders riding unicycles around the sanctuary. You wouldn't have picked Dutch Calvinists—we who took until the 20th century to agree that speaking English and singing hymns were allowed in church—to call for an international dialogue on cultivating meaningful and refreshing methods and habits of worship.
Yet this past weekend, Calvin College was indeed the destination of world travelers from 30 denominations and as many states and provinces, from Hungary and Hong Kong, convening for reflection, suggestions, and demonstrations of worship that is resonant and not just ritual. The 100-plus seminars gradually seemed to coalesce under one theme, intentionally or not: worship and wholeness. Worship as an integral part of a spiritual life that is whole, and as a celebration of a creation being remade whole.
Such an outlook on worship is an improvement, said Robert Webber in an address, over equating "worship" with "music," as we often do. Shrinking our definition of worship in this way, he said, is a nod to a culture that has "turned inward," reducing sacred activity to the arena of the self, and dilutes praise to the point where it is merely "congratulating God for being God." Even worse, it repeats the Greek mistake of exiling the divine to beyond the world, regarding him as just "an essence who sits in the heavens" rather than the author, intruder, and restorer of the created order. If worship is to aptly laud this God, Webber said, it must go beyond slapping God on the back for his greatness and begin to participate in this creation story.
After that, Kansas City composer Mark Hayes spoke on incorporating musicians and variety into worship in a way that is "seamless," not just a collection of performances but threads in a tapestry. As worship planners, Hayes said, "Our job is to create and hold a sacred container in which the Spirit can move and work … and in which every word sung and spoken contributes to this environment." A church benefits from gathering in as many participants with as many different gifts as are present in the congregation—even, he said, non-singing choir members who serve as planners and coordinators—but it must constantly "guard against worship becoming fragmented." Downstairs, Quentin Schultze, Calvin's resident offspring of Abraham Kuyper and Marshall McLuhan, and author of the new book High-Tech Worship?, was leading a parallel discussion about integrating technology into worship. Integrating—not just plugging in PowerPoint and letting it dazzle us. "Everything must be knit together so that it is whole," Schultze said, "even though it is made of many parts."
Hayes' term "sacred container" was still ringing in my ears as I sat down to hear the gregarious Mark Torgerson, professor of architecture and worship arts at Judson College in Elgin, Ill., speak on "Sixty Years of Change in Worship Space Design," armed with slides of a few sacred containers. If worship is to be seamless, it must be woven into its surroundings, and vice versa. Torgerson flashed a picture of the soaring Gothic interior of Manhattan's Riverside Church, next to a picture of a modest Quaker meeting room with wooden benches around a central table. How would prayers differ in each place? Would not worshipers address an awesome, majestic God in the first, and an immediate, incarnate God in the second? Today, church architects attempt to design shapes for both at once. Some of the most exotic results can be found in the hidden architectural haven of Columbus, Indiana—from the blank expression of Eliel Saarinen's boxy First Church of Christ to his son Eero's tent-like, intimate hexagon of North Christian Church.
Whole worship comes only from people seeking to be whole, said Steven Garber, Fellow at Calvin and the C.S. Lewis Institute in Washington, D.C. As readers of his book The Fabric of Faithfulness know, Garber is prone to quote Bernard of Clairvaux and Bono with the same earnestness. Garber began with a line from Donne: " 'Tis all in fragments." The Fall—and, more recently, the scattered and amorphous nature of modern life—has wrought the "fragmentation of human life," a maddening incoherence, Garber said. Restoring coherence requires "a seamlessness between worship, worldview, and way of life." There was that word again: seamlessness. Garber noted how Leslie Newbiggin's consummate chapter in The Gospel In A Pluralistic Society is entitled "The Congregation as Hermeneutic of The Gospel." The church tells and lives the story of "a coherent cosmos that was badly marred by the fall," and testifies to that story's completion. In the process, worship converts spectators of a ceremony into participants in a story. In an institution long known for liturgical stiffness, that message kept reverberating throughout the weekend like the beating of drums.
Nathan Bierma is an editorial assistant for Books&Culture magazine and a freelance research assistant for the Calvin Institute of Christian Worship.
Related elsewhere:
A Discerning Spirit by CICW director John Witvliet
Reformed, Reforming by Michael S. Horton
Books & Culture Corner appears every Monday. Earlier editions of Books & Culture Corner and Book of the Week include:
A Rose Among Thorns | A new novel by the author of Father Elijah illumines the spiritual consequences of our simplest decisions. (Jan. 26, 2004)
Baptized in Fire | A new book on Martin Luther King, Jr., emphasizes his spiritual transformation. (Jan. 19, 2004)
O'Connor v. the Antichrist (Jan. 12, 2004)
Moody, the Media, and the Birth of Modern Evangelism | A cautionary tale. (Jan. 05, 2004)
A Few Coming Attractions from 2004 | Plus: What to buy with those gift cards, and some of the books in my to-read stacks. (Dec. 29, 2003)
The Top Ten Books of 2003 | Plus: The Worst Book of the Year, more good reading, digital books, and a little Christmas music. (Dec. 22, 2003)
Books at Warp Speed | We continue our annual roundup of noteworthy books. (Dec. 15, 2003)
Is "Sensual Orthodoxy" a Contradiction in Terms? | Read this unconventional collection of sermons and judge for yourself. (Dec. 8, 2003)
Article continues below
Books, Books, Books! | We begin our annual roundup. (Dec. 8, 2003)
Urban Eden | In City: Urbanism and Its End, a new history of New Haven, Connecticut, the city (in its late 19th-century form) is an ambiguous heaven-and the suburbs that relentlessly followed are hell. Which leaves us where, exactly? (Dec. 01, 2003)
Cool Drink of Water | A poet's voice in the evangelical wilderness.
Faith, Hope, and Charity in North Carolina | New novels by Michael Morris—whose first novel, A Place Called Wiregrass, was a word-of-mouth hit— and Jan Karon, who continues her beloved Mitford saga. (Nov. 17, 2003)
Remember Afghanistan? | Two inside reports. (Nov. 10, 2003)
The Troubled Conscience of a Founding Father | An Imperfect God examines George Washington and slavery. (Oct. 27, 2003)
The Year of the Fish | The 2003 baseball season concludes with a bang—and 2004 is just around the corner. (Oct. 27, 2003)
I Shop, Therefore I Am | Critics of "consumer culture" are all wet, Virginia Postrel says. The riot of choices available to us resonates with our deepest aesthetic instincts (Oct. 20, 2003)
Back to the Future | A sprawling new novel by the author of Snowcrash and Cryptonomicon goes to the 17th century to investigate the birth of the modern world. (You won't be surprised to learn that the Puritans are among the Bad Guys.) (Oct. 13, 2003)
Poetry, Prayer, and Parable | The playful provocations of Scott Cairns (Oct. 06, 2003)
Terrorists on Trial | How the nation responded to an earlier attack. (Sept. 29, 2003)
The Contemplative Christian | Eugene Peterson calls believers to a life lived with "wholeness, honesty, without contrivance"-against the grain of much that's currently driving the church in America. (Sept. 29, 2003)
Recalling California | Want to understand what's going on in the Golden State? Toss your newsmagazines and pick up Joan Didion's new book (Sept. 22, 2003)
The Ph.D. Octopus, 100 Years On | How Christians can make a difference in the upside-down world of graduate school (Sept. 15, 2003)
The Difference Between Conservatives and Prolifers | William Saletan unspins, and respins, the abortion debate (Sept. 8, 2003)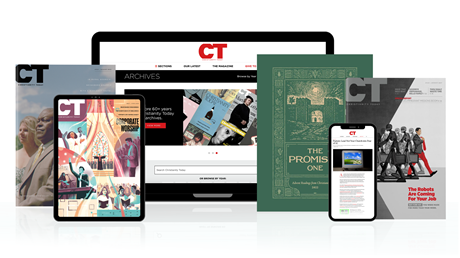 Annual & Monthly subscriptions available.
Print & Digital Issues of CT magazine
Complete access to every article on ChristianityToday.com
Unlimited access to 65+ years of CT's online archives
Member-only special issues
Subscribe
Lessons from a Hostage Pastor in Colombia
Lessons from a Hostage Pastor in Colombia