Given the number of books already published on Tolkien (the last three years have been boom times), one might wonder whether Matthew Dickerson's Following Gandalf is a necessary addition to the field. After all, others have already produced fine treatments of the religious and literary background of Tolkien's work. Just how many studies of Tolkien did we really need?
Answer: at least one more. Following Gandalf is a timely and relevant exploration of how military conflict illustrates the profound inner conflict of moral responsibility. Its basic argument is that Tolkien's restraint in describing battles exalts heroism, not violence; and that heroism is an image of the universal human need to strive for moral victory, which is made possible by real freedom.
Tolkien was reluctant to discuss moral theological matters in his fiction, and had a "cordial disdain" for allegory and heavy-handed literary treatments of religion. He even went over his manuscripts before publishing them in order to remove explicit religion from Middle Earth. His reason for doing so? Not, as we might expect, to expunge religion and morality from Middle Earth, but to give them pride of ubiquitous place. In a letter written in 1953, Tolkien wrote that
The Lord of the Rings

is of course a fundamentally religious and Catholic work … . That is why I have not put in, or have cut out, practically all references to anything like "religion," to cults or practices, in the imaginary world. For the religious element is absorbed into the story and the symbolism.
A casual observer of Peter Jackson's recent films might be excused for missing the religious element and for surmising that Tolkien's world is one where the dominant forces are occult magic, intrigue, and military ...
1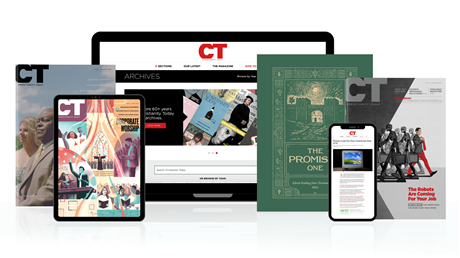 Find hope and historical insight. For a limited time, explore 60+ years of CT archives for free!
Daily devotions from Timothy Dalrymple during this pandemic.
Hundreds of theology and spiritual formation classics from Philip Yancey, Elisabeth Elliot, John Stott, and more.
Thought journalism that inspires you to think more deeply about your faith.
Books & Culture's Book of the Week: The Doom of Choice
Books & Culture's Book of the Week: The Doom of ...