true
This just in: "Religious leaders" have declared Groundhog Day "the most spiritual film of all time."
Perhaps the question should be posed to a larger body of religious leaders. Do you have any better suggestions?
Speaking of "spiritual films," the Promontory Film Critics Circle has voted on the winning films for its Best of 2003 presentation. An association of more than twenty Christian print and online film critics, the PFCC chose the inspiring, heartbreaking documentary Stevie (now available on DVD) as this year's winner of the distinction 'Most Significant Exploration of Spiritual Issues.'
The runner-up for the award was The Lord of the Rings: The Return of the King, which won the honors for Best Narrative Film, while the crowd-pleasing favorite Spellbound (also available on DVD) took the Best Documentary prize. To view the rest of the winners in acting, writing, direction, and other categories, visit the PFCC's home page.
In other news, Mel Gibson's The Passion of the Christ has inspired a campaign to counter its effect. Jews and Christians are setting up lectures and other activities in order to "mute" the film's influence.
Meanwhile, others are discussing whether or not the film should be rated NC-17. Lorenza Muñoz at the Los Angeles Times explains, "The body on the screen is beaten to a blood-drenched pulp—flesh ripped by a cat-o'-nine-tails and rising in welts at the force of the blows. Leather sandals splash and soak in puddles of blood. It is an orgy of pain and violence. A viewing last week of a still-unfinished version suggests it may raise concerns about the unremitting violence of its images."
Saved!—a satire set in a Christian high school
Mary (Jena Malone of Donnie Darko and Cold Mountain) is a senior at American Eagle Christian High School who finds herself stuck in a difficult circumstance. She believes passionately in Jesus. But now it seems her savior might have betrayed her.
Mary believes that she had a visitation from Jesus himself, and that he told her to "convert" her homosexual friend Dean (Chad Faust) into a heterosexual. The way she decides to do this is to seduce him and give up her virginity. Shockingly, this ploy fails. Mary gets pregnant, and Dean is shipped off to a camp where they will try to force the homosexuality out of him. Back in the corridors of the Christian high school, Mary now must face the persecution of her "righteous" classmates—a cruel, judgmental, and gay-hating crowd.
The worst of her persecutors, the prima donna of the school's popular crowd, is Hilary Faye, a ruthlessly manipulative senior played by A Walk to Remember's Mandy Moore. Hilary Faye is the lead singer of the school's popular pop group—the Christian Jewels—and now she has turned against Mary, who is one of her backup singers. Meanwhile, the pop-singing egomaniac's brother Roland (Macaulay Culkin of Home Alone and Party Monster), a cynic confined to a wheelchair, is taking a different path, pairing up with a disliked Jewish girl named Cassandra (Eva Amurri) and looking to rebel against his Christian community.
The situation is made worse by the fact that Mary's mother (Mary-Louise Parker of TV's The West Wing), reportedly the number one Christian interior decorator, has a crush on one of the teachers, Pastor Skip (Martin Donovan of Amateur). But Pastor Skip's son Patrick (Patrick Fugit of Almost Famous) has designs on winning Mary's heart.
Directed by Brian Dannelly from a script he wrote with Michael Urban, Saved! is certain to raise eyebrows and stoke the fires of moviegoer debate. The film reportedly ends up affirming the existence of a benevolent deity, but ends up suggesting that God wants Christians to give up any divisive convictions about sexual orientation and just become a more tolerant community that embraces everybody's differences.
The film itself was embraced by audiences at the Sundance Film Festival. There is no word yet on when it will be distributed to a larger audience.
Mainstream film critics are already giving the film some applause. David Rooney (Variety) says the film "appears bound to ruffle the feathers of religious conservatives—and may have exhausted its Utah audience at Sundance. However, the spirited comedy ultimately kneels before an all-embracing deity, which could appease the God squad provided they get through all the wickedly funny zealot-bashing that comes first."
Duane Byrge (Hollywood Reporter) calls it "an irreverent, punchy jab at the more hideous transgressions of fundamentalist Christianity. Its larkish style, combined with its anti-authoritarian bent should win some enthusiastic teen followers, as well as the Babble-onians of the Upper West Side and Hollywoodland. [But] this comedic jape delivers some sharp jabs at obvious targets, namely the boosterish excesses of American religiosity. Like the best of teen-set comedies, it lashes out at the ruling authority figures conspiring against the kids in this case, the most dominant influence at the Christian high school are the religious leaders. In Saved! … the adults are all idiots."
Don R. Lewis (Film Threat) shows an appetite for religion-bashing satire in his review. He describes Saved as "a sweet and funny movie that starts off with bite but settles into an honest feeling of happiness and acceptance for all types of people and their choices."
He explains that the film offers "a gentle exploration of why the judgments of the Catholic Church are so screwed up. Mary's journey and decisions … make great food for thought … especially for those who feel the need to adhere to many antiquated Christian philosophies. I mean, wasn't Jesus all about loving one another and not judging?"
But Mr. Lewis, haven't you just gone and judged the Catholic Church? If you're going to preach the embrace of everything and everybody, you'd better start practicing it.
He concludes, "[The movie] could change the attitudes of families who feel the need to be good Christians in this world that has drastically changed from when the guidebook was written." (Perhaps Lewis believes that Scripture's instruction— "Speak the truth in love."—has become outdated. Perhaps he would prefer it be revised to say, "Conceal the truth so as not to offend anyone or to imply that some paths might be wiser than others.")
Surely Christian communities have earned some of the jokes made at their expense. Clearly, the church is not entirely innocent on charges of judgmentalism and hypocrisy. But is the world really ready for the consequences of telling the church to surrender God's wisdom—which Christ affirmed—about right and wrong?
Religious press critics have yet to see and review Saved! You can expect a volatile and heated discussion when the film eventually finds a larger audience either on the big screen or on DVD.
The Perfect Scoreflunks the "ethics" test
The Perfect Score, starring Erika Christensen, Chris Evans, Bryan Greenberg, and Scarlett Johansson, was produced by MTV Films and Paramount. This collaboration results in a mix of action, comedy, drama … and poor reviews.
Kyle (Evans) is a high school senior who dreams of being admitted to an esteemed university where she can study to become an architect. But there's this problem, this obstacle, this annoyance called the SAT. To overcome this troubling dilemma, Kyle rounds up a bunch of his peers to help him pull off a heist. If he can break in and "score" the answers to the test, he'll be on his way to success the American way.
Mainstream critics are already slumping into the dullness of the new movie season, and this movie brings them no encouragement. Most religious press critics are even more troubled, complaining that the film glorifies unethical behavior.
Phil Boatwright (Movie Reporter) gives the film some credit. "What starts out as an adolescent Ocean's Eleven soon becomes an impressive comic morality tale. With touching moments sprinkled throughout, this witty, entertaining tale explores ethics and self-discovery. Understand, it doesn't go much deeper than The Breakfast Club, but it is one of the few recent films aimed at teens that doesn't dismiss them."
Michael Elliott (Movie Parables) says, "The film is less about the heist as it is about these six kids helping each other solve their own problems and hangups." But he concludes, "Even if grading on a curve, this one isn't going to pass. It is one of those films where the kids, as messed up and confused as they are, have the insight and awareness to know that they are messed up and confused which makes them much smarter than adults. For the most part, the message to teens seems to be, 'You can work out your own problems and if you can't, get your friends to help you because your parents can't—they're part of your problem.'"
Eddie Turner (Movieguide) calls the film a "Trojan horse" of destructive ideas. "The movie bears all the signs of MTV's tainted vision—a severely immoral, sexually charged world that is presented as normal and desirable. One student is obviously pregnant, and another coolly flashes her underwear at the camera. Is this normal? Is this what we want to promote? [The movie] shows teenagers who cheat, break into buildings, steal, and do drugs. According to the movie, they are not 'bad'—they are fun, popular, and clever."
Loren Eaton (Plugged In) says, "Unfortunately, most of the teens who absorb the lessons taught in The Perfect Score … will leave thinking the best path to superior scores lies not in hardcore studying, but in manipulating the system. Not to mention that standardized testing is cruel, confining, dehumanizing, sexist, racist and little more than a roadblock to future prosperity!"
Annabelle Robertson (Crosswalk) is somewhat impressed. "First of all, the film underscores the nearsightedness of our educational system, which relies on multiple-choice tests that just happen to be a billion-dollar industry. Secondly, it portrays the pressure placed on high school students to perform on that test, sometimes without thought to other academic, athletic or artistic achievements. Third, and perhaps most importantly, it jabs a finger in the chests of parents who have emotionally abandoned their kids." She adds, however, that it suffers from "script problems" and mediocre performances.
David DiCerto (Catholic News Service) says the film is "boring" and fosters damaging stereotypes. Further, the story's undercurrent leads to a "kids-know-better-than-parents message."
Critics toss out The Big Bounce
Owen Wilson stars in the latest adaptation of an Elmore Leonard novel, The Big Bounce. But in spite of his all-star supporting cast, which includes Morgan Freeman, Gary Sinise, Sara Foster, Willie Nelson, Vinnie Jones, and Charlie Sheen, Wilson is stuck in one of this year's first sinking ships.
Wilson plays Jack Ryan (no, not that Jack Ryan), a cool criminal looking for a good bit of trouble. In Hawaii, he finds both a "job" and a romance that lead him deeper into the conviction that crime pays.
Mainstream critics are disappointed to see such a lackluster Leonard adaptation. But religious press critics feel robbed and offended.
"There's absolutely nothing big about this production and certainly no bounce," writes Phil Boatwright (Movie Reporter). "It's flat, crude and boring."
Eddie Turner (Movieguide) is not impressed with the shallow characters. "Everything they do is for sex or money. The elements that made the other Elmore Leonard adaptations successful are absent: the snappy dialogue is dumbed down, the actors are not terribly charismatic, and the story is loose and plodding."
Annabelle Robertson (Crosswalk) speculates, "Maybe this script went through too many rewrites—or maybe it wasn't good to begin with, because the characters are poorly drawn and the plot is virtually non-existent. Nothing happens during the first half of the film except a few petty crimes and Jack lusting after Nancy. When the action finally gets underway, we aren't sure who the real bad guy is."
Steven Isaac (Plugged In) says, "The cast has promise, but the script needs more than just a little work. By the time the 'big twist' comes at the end, you won't much care who makes off with the money. The point … isn't character development, plot points, social commentary or even mystery and intrigue. It's merely to make crime look cool."
David DiCerto (Catholic News Service) calls the caper "cringe-worthy." "More disconcerting than the insipid script is the film's wink-wink assertion that crime not only pays, but on occasion pays quite well. [The characters] not only literally get away with murder, but cut a very sweet profit in the process. Also troubling is the atheistic mantra, 'God is just an imaginary friend for adults,' which is repeated throughout by various characters for supposed comic effect."
J. Robert Parks (The Phantom Tollbooth) is not so troubled by the film. "A good cast and simple direction can make up for a lot of mistakes in a movie. So it is with The Big Bounce. Wilson and Foster have a relaxed chemistry that we don't often see in comedies anymore. Most contemporary comedies are hyper, over-the-top affairs with gross-out gags and worse. The Big Bounce goes for a subtler approach." But he adds, "The entire con makes no sense at all."
You Got Servedgot ignored
Mainstream critics served up the bad reviews for yet another box-office-topping loser this week. You Got Served, a film about breakdancing, hip-hop, and crime was a hit with audiences, but a miss with anybody who stopped to think about it and write down their sentiments.
Religious press critics found some of the film's intentions honorable, but fell short of recommending it.
Movieguide's critic says, "The worldview of You Got Served is very mixed. [The central characters] view their dancing as a way to avoid the violence and profanity of local gangs, [but they] make deliveries for the local crime boss. There are no real consequences to them for engaging in such sinful activity. Other parts of the movie contain similarly mixed messages."
Michael Elliott (Movie Parables) faults a "lame and uninteresting story. The dancers are fantastic. But the excess baggage that the film carries (the romantic love story, a mobster looking for payback, a drive-by shooting) cheapens the film and lowers its appeal."
Anne Navarro (Catholic News Service) says, "High-energy dance scenes will keep a young audience's toes tapping … but the boilerplate script and shoddy direction may have them shimmying for the theater door." Still, she admits, "There is an underlying wholesomeness to this film that is refreshing."
DVD releases offer more highs and lows
Reviewing the DVD release of Secondhand Lions, which he calls a "fantastic family-friendly film," Cliff Vaughn (Ethics Daily) encourages families who missed the film in theatres to catch it as a rental. "Films that defy categorization are often some of the best, and Lions fits this bill. The movie itself is one the family can watch together, and the DVD's special features further enhance its potential for a good addition to the home library. One of the draws of this DVD is the inclusion of the original, scripted ending."
He also writes about the gospel-music-filled flick The Fighting Temptations, released this week on DVD, saying that it "wasn't the film it should have been. This story … just didn't make the grade when the music stopped. Had the acting been as rhythmic as the music, Temptations would have been a lot of fun. While the DVD … sadly doesn't contain a new cut of the film, it does at least contain some extended musical numbers. The DVD gives more of everything—but in this case, less of the dialogue would actually be more in terms of quality."
The nudity issue exposed—again—thanks to Calendar Girls
Kevin Miller (Relevant) reviews Calendar Girls this week, and addresses the moral conflict that the film may pose for viewers. The movie tells the true story of some middle-aged British ladies who posed nude for a calendar that they could sell in order to raise funds for charity, a stunt that eventually won them fame and fortune. The story is not sitting well with many Christian viewers, and Miller explores why that might be.
"Like the women in this film, many Christians have a difficult time distinguishing between pornography and art. Rather than spend time thinking through the issue, however, believers often take the stance that nudity outside of a marital relationship is, by definition, sexual, and thus, bad, because it leads to impure thoughts. This may or may not be true, depending on the eye of the beholder. Does posing nude automatically turn someone into a sex object? These are valid questions, questions that are better addressed out in the open than kept under wraps, so to speak."
Miller's examination recalls the healthy debate on the subject that was featured in Film Forum a couple of years ago. Here is a link to a conversation that gave moviegoers and critics alike good food for thought.
The Butterfly Effect finds a fan
Last week, religious press critics lined up to condemn the new thriller starring That 70s Show's young star Ashton Kutcher.
But this week, The Butterfly Effect found a fan. Gareth Kallenbach (The Phantom Tollbooth) defends the film, calling it "skillfully written … a stunning look into a troubled psyche and a study in the effects of childhood trauma. The film is equally gripping and disturbing, tackling a wide-range of controversial topics. The film [is] one of the best recently-produced dramas. Kutcher is amazing as he handles a difficult and complex role with skill and passion."
Identifying the themes of Oscar nominees
This week at CultureWatch, Dick Staub focuses on the Best Picture nominees for this year's Academy Awards, identifying the themes of each one. His analysis is worth a look.
Next week:Miracle—The U.S.A.'s Olympic hockey victory is re-created in a drama that makes you wonder why they didn't just re-broadcast the game.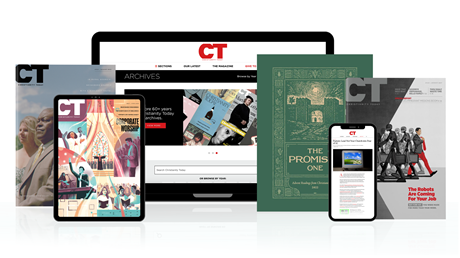 Annual & Monthly subscriptions available.
Print & Digital Issues of CT magazine
Complete access to every article on ChristianityToday.com
Unlimited access to 65+ years of CT's online archives
Member-only special issues
Subscribe
Does Saved! Condemn Christian High Schools?
Does Saved! Condemn Christian High Schools?