When he died on October 30 at age 61, Mike Yaconelli had helped improve Christian youth groups for nearly 30 years. As cofounder of Youth Specialties, founder of The Wittenburg Door magazine (now The Door), and author of the books Dangerous Wonder and Messy Spirituality, Yaconelli inspired thousands of church leaders, seminarians and their professors, and people with a sense of humor about their faith. More than 25,000 people accessed CT's online coverage of Yaconelli in the week after his death. In this essay, Ben Patterson reflects on the gifts left behind by his friend.
Virtually none of the students at the college where I serve as campus pastor know who Mike Yaconelli was, though some may remember my voice growing thick the day in chapel I announced Mike's death and tried to explain why they should care. I told them that if they had been in any kind of youth ministry anywhere in North America, Mike probably had touched their lives. Such is the influence of an outfit called Youth Specialties. The enterprise that began with Mike and his friend Wayne Rice silk-screening the first Idea Book in a garage in San Diego, and that grew into conventions and resource seminars and a crazy little magazine called The Wittenburg Door, has affected a few generations of evangelical youth workers, pastors, and even college professors. All of this happened through God's sovereign and inexplicable grace, and no small amount of chutzpah.
Mike embodied chutzpah. He expected to be listened to, to affect people, and if his expectations weren't met, he found a way to meet them: sometimes through outrageous humor, sometimes through the passion of his convictions. Nothing fired Mike up more than justice for the underdog, the overlooked and the undervalued, especially if that person was a youth worker. You wanted Mike on your side if you were being mistreated. He once devoted an entire Door to answering criticisms aimed at his friend Tony Campolo.
His outrageous humor is legendary, and everyone who knew him has stories to tell. My repertoire includes the time someone unwisely asked him to give thanks for the food set before us in a restaurant. Mike stood atop the chair he was sitting on, raised his arms into the air and began to pray loudly and sonorously. Our faces got red, our ears hot, but we laughed our heads off, and I'm still talking about it.
I loved and hated being with him in public. He mainly loved it. He looked for ways he could create disequilibrium in a room, or in a crowded elevator. Once he spoke to me in confidential tones just loud enough for those around us to think they were eavesdropping on a private conversation. He said, "Ben, when are you going to go back to your wife and family? She's heartbroken and the kids are crying and hungry." The people around me were glowering, and there was nothing I could say to him or them that wouldn't make me seem even more guilty. I wanted to throttle him, but his impish grin saved his life, and I'm still talking about it. And I'm still thinking he was totally out of line.
This Chaos is Called to Order
My involvement with Mike was mainly through The Wittenburg Door. More chutzpah, there. What did we think we were doing, comparing our publication to the place where Martin Luther nailed his 95 theses and touched off a movement that changed history? On some level, maybe what we were doing wasn't much more than what Mike did in that restaurant or elevator, but for more lofty purposes, most of the time. But we misspelled Wittenberg, for heaven's sake!
Besides chutzpah, the one thing we all had in common at the Door was that we were mad about something we thought was wrong in Christendom, and we all liked to laugh. In other words, we were all a little like Mike, or wanted to be. To prepare each Door, we would meet for breakfast at the Hob Nob Hill restaurant in San Diego and blow off steam, complaining and pontificating, cracking jokes and cracking up at each other, while someone took notes. The notes became the magazine. Denny Rydberg, now the president of Young Life, was the editor and note-taker in those days. The 13 years I wrote Door editorials were among the most formative of my life. I wouldn't be a writer today if Mike hadn't pulled me into those brilliantly creative and farcical planning meetings. God, in his providence, knew they were the only way he could get me to write.
Mike's memorial service attracted people from all the decades of his life, young and old. Looking at all of us old folks, I thought of a line that Mike would have liked, I think: After attending his 40th high school reunion, a man told his wife, "Everyone there was so bald and fat they didn't recognize me." I hadn't had a significant conversation with Mike for nearly eight years, and before that, for maybe ten. Listening to some of the things that were said about Mike made me wonder if I would recognize him if he were still alive and we could sit down and have a serious conversation. Would he recognize me?
Clearly he had changed, and so had I. I'm not sure about exactly how and why he changed, but I wonder if it wasn't in some of the ways I have. Mainly, I have bumped up against the hard edge of my limitations and sin, again and again. I am less sure about what's wrong with Christendom, and more sure about what's wrong with me. Just writing that sentence makes me feel silly; who do I think I am, some humbler, older and wiser man, now? A Young Turk knocked down to size?
But when I listened to the way Mike's wife and children talked about him at the service, I heard about a man who had collided with a few of the same hard edges. I heard about a man who was gentle and tenderhearted in ways I hadn't known—even allowing for the way one's reputation can grow and glow in a memorial service. Just listening to his daughter Lisa list in mouth-watering detail all the wonderful foods he loved to eat convinced me that amid all the chutzpah and posturing of the Door years, I had missed something in Mike. His wife and kids loved and respected him, and will miss him dearly. I think that probably means more than all the influence and speaking and conventions and books he ever produced. It's dangerous to speculate about what the Righteous Judge will most commend Mike for, but I think it will be that. Take note, all you Young Turks.
Ben Patterson is campus pastor at Westmont College in Santa Barbara, California.
Have something to add about this? See something we missed? Share your feedback here.
Our digital archives are a work in progress. Let us know if corrections need to be made.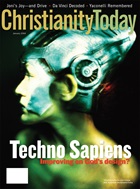 This article is from the January 2004 issue.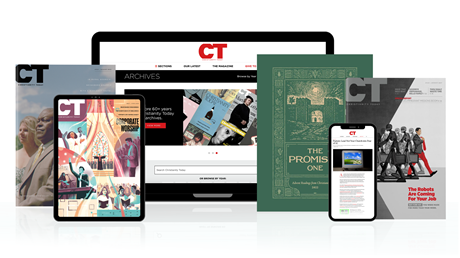 Annual & Monthly subscriptions available.
Print & Digital Issues of CT magazine
Complete access to every article on ChristianityToday.com
Unlimited access to 65+ years of CT's online archives
Member-only special issues
Subscribe
Godly Chutzpah
Godly Chutzpah