Catholic Kerry picks Methodist Edwards as running mate
The religion story in covering the Democratic presidential campaign undoubtedly will continue to focus on John Kerry's Catholicism, and Catholic leaders' responses to it. In fact, that story will explode this week as St. Louis Archbishop Raymond Burke, who has already promised to deny Communion to Kerry and other prochoice politicians, issues a pastoral letter reiterating and detailing his remarks that "knowingly voting for a candidate who advocates abortion" is a mortal sin.
"It is not a matter — as in the case of politicians whose positions are public — of denying Communion to voters who support pro-abortion candidates," Burke told the diocesan newspaper, St. Louis Review. "But Catholics who support such pro-abortion candidates participate in a grave evil. They must show a change of heart and be sacramentally reconciled or refrain from receiving Holy Communion." The St. Louis Post-Dispatch reports that area priests agree with their bishop on this point.
But with today's announcement that North Carolina Senator John Edwards will be Kerry's running mate, there's now another story for political/religion reporters to follow.
Edwards is a United Methodist, as is George Bush, so don't expect there to be any confrontations between this candidate and his church's leadership. Instead, the religion story here may be the way in which Edwards is able to talk about religious and moral issues in a way that other Democrats feel uncomfortable in doing.
So far today, Kerry has mentioned Edwards's family values several times. In a press release, Kerry said, "He is a lifelong champion for America's families who has shown courage and conviction standing up for America's values." In today's speech in Pittsburgh, he used similar language. "I have chosen a man who understands and defends the values of America. … I know his skill. I know his passion. I know his strength. I know his conscience. I know his faith. He has honored the lessons of home and family learned in North Carolina, and brings those values to this struggle to shape a better future for America."
If Edwards's task really is to talk about values and faith, however, it may be a change of pace for him. Several news reports have noted that while Edwards seemed to be the Democratic candidate most likely to attract white evangelicals—especially in the South—he rarely discussed his faith outright. Beliefnet, for example, said Edwards is "more reserved than other candidates in talking about religion and his personal faith."
"I haven't talked about it, because I only usually talk about it when asked," he said in Iowa. He also explained, "'Most people in this country do not want you to be beating them over their heads with your religious views." It's not that Edwards is uncomfortable with religion, Newhouse News Service reporter Mark O'Keefe (recently appointed the new editor of Religion News Service) reported. Edwards, he wrote, "turned to the Bible after his 16-year-old son, Wade, died in a car accident. But Edwards has been uncomfortable talking about this, saying it's a private family matter."
He may not talk about it much, but it's no secret that after the tragedy, as the Des Moines Register reports, "Edwards started going to church again and joined a Bible study group." He said his faith came "roaring back."
He told The Washington Post in 2001 that he doesn't know why God lets bad things happen to good people, but added, "I believe that God answers prayers."
He also rarely talks about his baptism at age 16 at First Baptist Church of Robbins, North Carolina, The Philadelphia Inquirer reported in February. But he does talk about values. At Temple A.M.E. Church, the Inquirer reported,
He spoke of children who go to bed hungry in a rich country, families who live below the poverty line even though both parents work full time, and the multitude of Americans who cannot afford basic health insurance.
"We need to do more than talk about the 35 million Americans who live in poverty every day—we need to do something," Edwards, a Methodist, told the crowd. "Because it is wrong. We have a moral responsibility to raise these families out of poverty."
The value of values
Moral responsibility and values were themes to Edwards's primary campaign, as the senator distinguished himself not only from his competitors, but from the incumbent.
"We cannot concede values to this president, because I think we win a values debate with this president," Edwards told Fox News Sunday in December. "I don't think his values are the values that I grew up with in that small town in North Carolina. And they show in everything this administration does. … We can win this values debate with this president, and we need to take him on in the toughest possible way. His values are not the values of the American people." (In that interview, Edwards also said he was "absolutely not interested in being vice president" and would refuse it if offered.)
Voters, Edwards told The Washington Post in November, "want leaders, particularly a president, who they trust and who they think is a good person. … If you are a person of faith, I think it adds weight to that issue of whether you are a good person."
In 2001, Edwards was even more direct about connecting with voters on issues of faith and values. "I'm a Christian, and I hold my beliefs very, very deeply," the Winston-Salem Journal quotes him saying. "Christ is the savior of the world. … I have a connection with [Southerners'] values, and that includes faith. Do I think I can connect with those people? Of course, I do."
The Journal also notes that for two years Edwards was co-chairman of the Senate Prayer Breakfast, which is "attended mostly by Republicans." Edwards told The Interfaith Alliance, "it played an important part for me because we were able to bring members of the Senate who come from different faith traditions and different faith beliefs together to sort of share our beliefs and outside the partisan atmosphere that sometimes exists in the Senate, in a very healthy way."
It's also worth noting that Edwards serves on the board of directors for urban ministries at his church, Raleigh's Edenton Street United Methodist.
Beyond belief
But Edwards has also said, "I think you have to be very, very careful to not let your own personal faith beliefs, particularly where they may differ with other faith beliefs, to influence national policy." So when it comes to some of the values that Edwards wants to promote, it's not clear that many conservative Protestants will rally to the campaign. He opposed the partial-birth abortion ban (though he supported it in 1998)and the "Mexico City Policy" (a.k.a. the "global gag rule"), and says he opposes both a federal marriage amendment and the Defense of Marriage Act passed in 1996. However, he says he opposes both gay marriage and civil unions, and his opposition to DOMA is because "it took away the power of states." He adds, however, "I do not believe the government belongs in people's bedrooms," and voted to add sexual orientation to definition of hate crimes.
He also opposes Bush's Faith-Based Initiative, saying it promotes discrimination. "The elimination of laws against discrimination based on faith beliefs entirely from the system is a huge mistake," he told The Interfaith Alliance. "I mean, it creates a special category that allows people to discriminate based on religious beliefs. … In addition to that, those who receive service from faith-based groups and faith-based institutions shouldn't be required to abide by a particular faith in order to receive those services."
He has earned a 100% ratings from the National Abortion Reproductive Rights Action League, Human Rights Campaign, and Planned Parenthood, with 0% ratings from the National Right to Life Committee, Family Research Council and (in 2003) the Christian Coalition (though he scored slightly higher with conservative Christian groups before 2003 and with Gary Bauer's Campaign for Working Families in all years). The independent National Journal gave him an 85% rating on liberal social policies, and a 0% on conservative social policies. Bread for the World, however, rated Edwards at 100%.
Family Research Council President Tony Perkins wasted no time in responding to the Edwards announcement, calling the Kerry-Edwards campaign "a solidly pro-abortion team," and saying both candidates "have a history of opposing judicial nominees simply because of their deeply held religious beliefs."
Expect other Christian organizations and religious leaders to respond in the coming days.
Related Elsewhere:
Suggest links and stories by sending e-mail to weblog@christianitytoday.com
Check out Books & Culture's weekly weblog, Content & Context.
See our past Weblog updates:
July 2 | 1 | June 30
June 25 | 24 | 23 | 22 | 21
June 18 | 17 | 16 | 15 | 14
June 10 | 9 | 8 | 7
June 4 | 3 | 2 | 1
May 28 | 26 | 25 | 24
and more, back to November 1999
Weblog
Launched in 1999, Christianity Today's Weblog was not just one of the first religion-oriented weblogs, but one of the first published by a media organization. (Hence its rather bland title.) Mostly compiled by then-online editor Ted Olsen, Weblog rounded up religion news and opinion pieces from publications around the world. As Christianity Today's website grew, it launched other blogs. Olsen took on management responsibilities, and the Weblog feature as such was mothballed. But CT's efforts to round up important news and opinion from around the web continues, especially on our Gleanings feature.
Ted Olsen is Christianity Today's executive editor. He wrote the magazine's Weblog—a collection of news and opinion articles from mainstream news sources around the world—from 1999 to 2006. In 2004, the magazine launched Weblog in Print, which looks for unexpected connections and trends in articles appearing in the mainstream press. The column was later renamed "Tidings" and ran until 2007.
Previous Weblog Columns: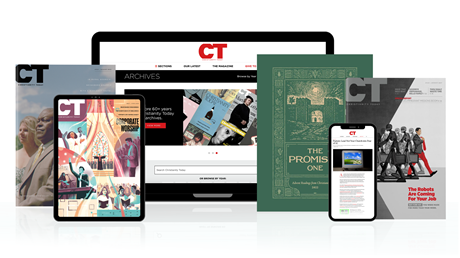 Annual & Monthly subscriptions available.
Print & Digital Issues of CT magazine
Complete access to every article on ChristianityToday.com
Unlimited access to 65+ years of CT's online archives
Member-only special issues
Subscribe
What John Edwards Believes
What John Edwards Believes