Lamar and Theresa Keener know what it's like to go public. As Christian newspaper publishers for more than 15 years, they've written about public issues for a public readership. And the best way to go truly national with their paper, they believed, was to accept a bid by a publicly traded company.
And ever since, their lives have been shaped by public frustration.
In 2000, the Keeners' Christian Times was already the largest Christian newspaper in the country, but their combined 175,000 monthly circulation in eight regional areas was still limited to California.
"It was pretty much a Mom and Pop shop out of the house, with a couple of employees," Lamar Keener recalls.
Then the dot-com bust came knocking. In March 2000, iExalt Inc., a lesser-known Christian company, was one of several Internet-related, small-time stock success stories. The Houston Business Chroniclecalled it "hotter than a burning bush," reporting that "even within the sizzling Internet group, iExalt stands out for its sudden conversion from sleepy bulletin-board stock to an enormously volatile issue active on the radar screens of momentum investors."
That momentum quickly turned, and iExalt's trading high of $18 a share plummeted to below $1 during the April 2000 "market correction" that heralded the end of the dot-com millionaire era. Executives at iExalt, which touted itself as "the Christian's Gateway to the Web," turned to more traditional businesses to reinvigorate the company. They began approaching a series of existing companies, such as the Capital Artist Agency, Alive Communications Speakers Bureau, Life Perspectives and Dawson McAllister Live radio programs, and Rapha Christian Counseling. And the Internet company saw old-fashioned print newspapers as an important part of its new multimedia vision
For the Keeners, the iExalt offer was the fulfillment of a dream. "We wanted to go nationwide," Lamar Keener recalls. All they needed was money—which iExalt promised to raise through sales of stock.
"We sold for stock only, no cash," Lamar said. And it worked. "In the next 18 months, we doubled our circulation to 330,000 copies a month."
More importantly, Christian Times expanded beyond California as existing titles were purchased and renamed, and new editions were launched. By mid-2001, Christian Times was delivering 330,000 newspapers to churches in Texas, Colorado, Oregon, and California. Each edition had its own local content as well as national news.
Bankruptcy and back
But the dream didn't last for long, especially as the tech bubble continued to burst and the 9/11 attacks upended the economy.
"We never did get funded the way we were supposed to," Lamar said. "By 2001, at the end of the year we were way in debt, and we had to lay off half our staff. We shut down several papers because we had to get back to a break-even basis."
Forced into bankruptcy, iExalt began selling its companies until its only remaining asset was Keener Communications, the publishing wing that included Christian Times. The Keeners dreamed of buying their eponymous organization back, but had themselves become debilitated by iExalt's near-worthless stock price.
Then another public company offered a way out.
Kingdom Ventures, iExalt, and the Keeeners agreed to a three-step arrangement in June 2003. Kingdom Ventures would loan the Keeners $100,000 to purchase the company back from iExalt. In exchange, Kingdom Ventures received:
An option to purchase a national license to Christian Times for $50,000.
A later option to buy the Christian Times trademark by canceling the $100,000 loan.
An even later option to buy all the assets of Keener Communications for $500,000.
Kingdom Ventures also shared the Keeners' vision of expanding Christian Times into a truly national Christian newspaper Lamar Keener said.
Gene Jackson, CEO of Kingdom Ventures, said Kingdom hoped to fold Keener's publications into his own, including the South Texas Christian Times (which was licensing the name from Keener Communications).
Getting ugly
Trouble emerged as soon as the arrangement was made in June, with Kingdom Venture's press release titled, "Christian Times to change hands—Kingdom Ventures adds nation's largest regional newspaper chain to its media portfolio."
But Kingdom Ventures hadn't bought the newspaper chain, just a license to call its papers Christian Times.
Keener began to smell trouble. Then, before paying the final installment for the purchase of the Christian Times licenses, Kingdom Ventures asked him to change the terms. "The new agreement was actually going to change the $100,000 deal between us and iExalt to $20,000 cash and 200,000 shares of Kingdom Ventures stock," Keener said.
He'd already sold his company for stock once. And he wasn't willing to do it again.
Further discrepancies
While Keener Communications and Kingdom Ventures deliberated, the latter filed SEC documents in which it claimed to own the trademark and name Christian Times.
Keener disputes the filing, saying the company hadn't even finished paying for the national license yet, and it certainly hadn't exercised the option of purchasing the trademark.
That didn't happen until September 23, when the last payment finally came for the national license (it came via wire transfer from Carson Valley Christian Center, a church pastored by Gene Jackson's brother) and Kingdom Ventures canceled the $100,000 loan. Keener was once again sole proprietor of Keener Communications Group, and Kingdom Ventures had the Christian Times name.
But another press release again startled Keener. "Kingdom Ventures acquires remaining assets of Christian Times," said the mid-October release. "Kingdom Ventures exercised its option provisions to purchase the trademark, trade names and all outstanding assets of Christian Times."
There were other statements in the the press release that upset Keener, but his chief complaint was that Kingdom Ventures claimed to own the assets of his company, including computers, office space, and everything associated with his own Christian Times publications.
A month later, Kingdom Ventures clarified the announcement in another press release. The company, it explained, "did not acquire the publishing assets of Keener Communications, which continues to have the right and responsibility to produce six regional publications of Christian Times." Gene Jackson said the press release was meant to say the same thing as the earlier release, but would clarify Keener's concerns.
Keener didn't see it that way—especially his "obligation" to publish six regional editions of Christian Times. He changed the name of his newspapers to Christian Examiner, explaining that he preferred a name change to paying licensing fees for the Christian Times name.
Gene Jackson was furious, saying his remaining option to buy Keener Communications was undermined by the name change.
"This is what we paid for," he said.
Kingdom Ventures, which is under investigation by the SEC for issues relating to its initial stock launch, is now publishing Christian Times Today as a national Christian newspaper. It claims a circulation of 300,000 to 500,000.
Related Elsewhere:
Click here for related article
See also today's related article on Christian Times Today, "USA Today for Christians."
More information about Kingdom Ventures is available on the company web site.
SEC filings, press release, and stock information on Kingdom Ventures are available from Yahoo finance.
Article continues below
Smartmoney magazine has an article about some of Kingdom Venture's sour business deals.
An Internet Wall Street group has released a report on Kingdom Ventures.
Kingdom Ventures' SEC filings are also available from the SEC web site.
The Christian Examiner has a FAQ, a statement, and more information about its dealing with Kingdom Ventures.
Bill Mann, from the financial web site The Motley Fool, comments, "Given that Kingdom Ventures has been the vehicle for past promotional activity that has run afoul of regulators, one would think that anyone who wishes to keep his reputation intact would stay far away."
The Evangelical Press Association has released a statement saying that Christian Times Today is not an EPA member.
Christian Times Today is available online.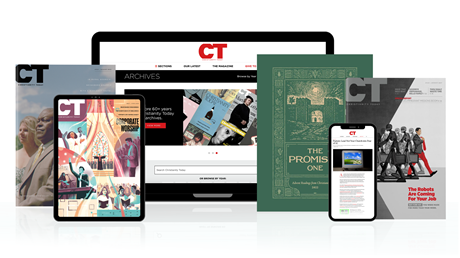 Subscribe to Christianity Today and get access to this article plus 65+ years of archives.
Home delivery of CT magazine
Complete access to articles on ChristianityToday.com
Over 120 years of magazine archives plus full access to all of CT's online archives
Subscribe Now
How Christian Times Traded Its Good Name—Twice
How Christian Times Traded Its Good ...