Some Christians today are nervous about the Atonement. They think that we can know little or nothing about how God has been righteous and yet he "justified the ungodly" (Rom. 4:5) at the same time. Especially because of the doctrine's associations with "the wrath of God" and "punishment" and other harsh language, they would prefer to leave the question of How? in the sphere of theory and speculation, if it is to be handled at all.
About such people theologian James Denney said, "They profess to believe in the fact of the Atonement, but they despair of finding any theory of it. There are even some who glory in this situation; it is not with despair, but with triumph, that they find in the very heart of the gospel a mystery which is simply insoluble, in the very focus of revelation a spot of pure impenetrable black."
Mystery is all well and good, but I fear that the hesitation to be clear in this doctrine robs us of something important. We may not want to go too far, but surely we may go as far as the Bible itself takes us. When we do, we have the joy of learning from the Lord himself something of how the death of his Son has brought forgiveness and redemption. We cannot understand it all, but what he gives us illumines all the rest, and gives us a proper and an amazing sense of satisfaction that at heart of the universe, there is a just and gracious God.
Core words
Let us remember who Jesus is. Paul says that the rulers of this age "crucified the Lord of glory"; they put God to death. We know that the one they crucified was the man Jesus Christ, but we know too that he was both God and man. In his coming and in his life and in his death, we do not see the fragmentation of God but the work of God, the Father and the Son and the Holy Spirit. The Lord who has saved us is the Prince of Peace, mighty to save. It is God himself who has taken this action. He has identified himself with us so absolutely that we see in him the revelation that God understands our sin-induced griefs from within: "A man of sorrows, and familiar with suffering…he took up our infirmities and carried our sorrows" (Isa. 53:3-4).
Then let us note that to describe what he has done, the Scriptures use the category of sacrifice. The old sacrifices of bulls and goats could not take away sin, though they point with utmost clarity to our need to have our sins removed through blood-shedding. But now, "Just as man is destined to die once, and after that face judgment, so Christ was sacrificed once to take away the sins of many people" (Heb 9:27). This was a sacrifice of himself; he made it by his choice; so great and all-sufficient was it that it has never and can never be repeated, not even sacramentally. We cannot add to it or supplement it.
Three great words help us to understand the significance of this sacrifice.
1. Substitution. It was as a substitute that Jesus made this sacrifice; he took the place of those who were condemned. Certainly he acted on our behalf, as our representative in regard to sin. But he acted on our behalf precisely because we are powerless to do it ourselves. In that case, to act on our behalf is to act as our substitute, to act in our place: "Very rarely will anyone die for a righteous man," says Paul, "…while we were still sinners, Christ died for us." To die for another person requires that one must die in the place of that person—it is the only way my death for him or her can make sense. In our case, since the wages of sin is death, and since we are sinners, and since Christ has rescued us, it must be by the exchanging of his death for ours: "One died for all, and therefore all died" (2 Cor. 5:14).
2. Punishment. He endured a punishment by becoming this substitute for us. This of course, was prefigured in Isaiah 53: "He was pierced for our transgressions, he was crushed for our iniquities; the punishment that brought us peace was upon him, and by his wounds we are healed." The New Testament again and again connects the death of Christ to our sins. And when it does, it means that God himself is one who actively punishes; it is not merely a matter of sin being its own reward. Thus the New Testament speaks of Christ "bearing sin," of him "becoming a curse," even of him "becoming sin." There is no doubt as to the significance of these expressions: you "bear sin" by taking the penalty of sin, by paying the price of sin, by being punished for sin: "He himself bore our sins in his body on the tree…. By his wounds you have been healed" (1 Pet. 2:24). It is useless hoping that there is no such thing as punishment in a just universe. It is useless hoping that you will not merit punishment in a just universe. You can only hope that somehow, someone will lovingly bear your punishment, and that the universe will still be just.
When Christ was handed over by his own people to the pagan occupying power, it was understood to be a mark of judgment. He fell under the curse of God. When Israel went into exile, that is precisely what was happening. As the story unfolds, every sign of God's wrath is experienced by Jesus: the betrayal, the abandonment of friends, the twofold negative judicial verdict by those who were God's agents of justice, the darkness at noonday, the great cry of dereliction from the cross. It is important to see here not some heavenly Trinitarian transaction occurring out of our sight, but the actual, in-the-body acceptance of judgment by a totally righteous man for the sake of those who deserved to be forsaken by God: As the old hymn "Man of Sorrows" puts it, "In my place condemned he stood."
3. Propitiation. This is a personal word: it means an action that turns aside anger or wrath from a sinner. I expiate a sin; I propitiate a person. The Scriptures speak of the wrath of God, his holy anger against sin and those who sin against him. His anger is just and thoroughly righteous; it is deserved by us. If there were no anger of God in this universe, we would be living in an unjust and hopeless world. But the fact that we are the enemies of God means that we are by nature the children of wrath. It is this that John means when he writes, "He is the atoning sacrifice for our sins, and not only for ours but also for the sins of the whole world" (1 John 2:2).
Agnostic about sin
As I mentioned, there is some resistance to this way of talking about the death of Jesus. Such resistance is understandable if Christ's sacrifice is presented as the punishment of a loving Son by the angry Father. But such is not the New Testament description.
To quote from Anthony Thiselton's commentary on 1 Corinthians: "Propitiation leads to disastrous distortion only if we fail to emphasize that God himself is the source of the action, not that Christ 'propitiates' an angry and reluctant God." It was the Lord of Glory who was crucified for us; unlike the pagan gods, he provided the propitiation himself, of himself. In the great words of James Denney, some say, "God is love… and therefore he dispenses with propitiation," but "God is love, say the apostles, for he provides propitiation."
Likewise, some people are troubled by penal substitution, asking how one person can be punished in place of another. Once again the answer is to be found in the Person of the substitute, for in God's way of ordering his universe, the actions of one can be made for another. As in the case of Adam, so, too, by his willing choice, the Lord of glory himself may sustain the cost to be paid by his own penalty: "God made him who had no sin to be sin for us, so that in him we might become the righteousness of God" (2 Cor. 5:21).
However, I believe that the difficulties with the doctrine arise from another source still. The New Testament makes the connection between our sin and the death of Christ so frequent and so clear, that when the New Testament doctrine of the death of Christ is doubted, I believe it is almost always because of a failure to perceive the seriousness of sin. We falter at accepting the sheer depth of sin, and its enslaving hold on the human heart. We falter at accepting the judgment of sin, the righteousness of that judgment and the seriousness with which the Lord regards iniquity.
All human beings dream of freedom: it is our great hope and our chief ambition. We want to be free of all outside influence; we want to be so free that we can do whatever we please. Our yearning is so great, we sometimes fool ourselves into thinking we are more free than we are.
The Bible knows nothing of utterly free human beings. It only knows of men and women in bondage to their lords. Jesus himself said, "Everyone who sins is a slave to sin" (John 8:34). That is, we have the status of a slave, unable to be free. The Bible says that we are enslaved by our fear of death, and with good reason. Death is not the natural end of life, an opening to the peace of oblivion. Death is the opening to judgment in which the law of God will condemn the sin of our hearts and tongues and lives: "The sting of death is sin, and the power of sin is the law" (1 Cor. 15:56).
Death itself is God's judgment on our sinfulness, and the law of God reveals to our consciences that beyond death there is a judgment with a God before whose justice we should quail. But this is precisely what few people do any more these days. In the secularist West, unbelief about the gravity of sin, not just unbelief about God, is a major triumph of the Evil One. And when Christians make less of sin and judgment than the Bible does, you may be sure that it will show itself first in the doctrine of the Atonement, and then in the doctrine of justification by faith.
The evangelical theology to which we adhere is of a piece: it is a coherent whole. When we give up, modify, or distort one section, it has unforeseen consequences elsewhere. I believe that we have been too little aware of this important point and too willing to trade away parts of our theological heritage. The doctrine of penal substitution is inherent to evangelical religion; it is part of the logic of it. That is why in days gone by, evangelicals have been in the forefront of the fight to preserve it.
And that is why it is at the very center of evangelical piety. Twice when Paul talked about the love of Christ, he used a very significant past tense. We would say that Christ loves us; he said Christ loved us. He could not graduate beyond the Cross of Jesus as the source and power of his religion, as the place at which he gained assurance, as the demonstration beyond any other need of proof of the grace and love of God.
The biblical doctrine of the Atonement is a continual reminder of just where we stand with God. It puts us in exactly the right place with regard to him: as helpless sinners, saved ever and only by his grace; always in debt to him; always, only able to boast because of him. The consideration of the Cross fills us more and more with the knowledge of the length and height and depth and breadth of the love of God for us, and it makes us love the Lord more and more.
Again, from that old hymn:
In my place, condemned he stood,
Sealed my pardon with his blood!
Alleluia!
Peter Jensen is the 11th Anglican Archbishop of Sydney, Australia. This article is adapted from an address given at the National Evangelical Anglican Congress in September 2003.
Related Elsewhere:
Other articles on the atonement include:
The Disappearance of Punishment | Metaphors, models, and the meaning of the atonement. (

Books & Culture

, March/April 2003)
Violence and the Atonement | by Richard J. Mouw (

Books & Culture

, January/February 2001)
Stephen King's Redemption | The master of horror's latest novels show a rich appreciation of the atonement. (March 6, 2000)
More is available from our theology page.
Have something to add about this? See something we missed? Share your feedback here.
Our digital archives are a work in progress. Let us know if corrections need to be made.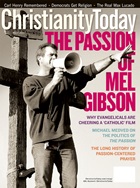 This article is from the March 2004 issue.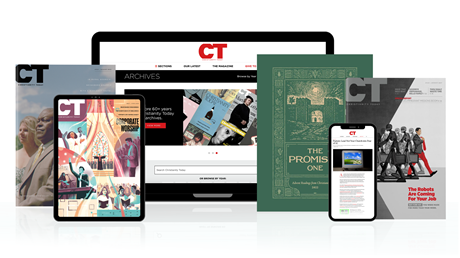 Annual & Monthly subscriptions available.
Print & Digital Issues of CT magazine
Complete access to every article on ChristianityToday.com
Unlimited access to 65+ years of CT's online archives
Member-only special issues
Subscribe
The Good News of God's Wrath
The Good News of God's Wrath