Bush signs Unborn Victims of Violence Act
The president's first bill signing ceremony of the year was for the Unborn Victims of Violence Act.
"Any time an expectant mother is a victim of violence, two lives are in the balance, each deserving protection, and each deserving justice," President Bush said (text | audio | video). "If the crime is murder and the unborn child's life ends, justice demands a full accounting under the law. … With this action, we widen the circle of compassion and inclusion in our society, and we reaffirm that the United States of America is building a culture of life."
"This law does not impinge on abortion rights in any immediate sense," says an editorial in today's Washington Post. "It is, however, part of a long-term pattern in which legal abortion is surrounded by criminal laws and other regulations that protect fetuses and define them in legal terms as separate individuals. This new law will aid criminal enforcement only marginally; it will be another unwarranted step toward making constitutionally protected abortion seem an anomaly in the context of law."
In other words: Gee, it seems a bit incongruous to say that the fetus is "member of the species homo sapiens" while we basically have abortion-on-demand in this country. Anyone disagree?
More news reports on the signing:
Interfaith group gets "scoop" on WMDs
Well, um, you heard it here first. Unless you were at the annual dinner of the Palm Beach (Fla.) Fellowship of Christians and Jews Wednesday night.
John Loftus, the speaker at the interfaith gathering, says he and the U.S. government know the precise location of Saddam Hussein's chemical and biological weapons—and they'll tell the world about them after July 1, when the U.S. turns over control of the country.
Loftus, a former prosecutor for the U.S. Justice Department who claims the Bush family has Nazi connections and that Enron helped the Taliban's 9/11 plans, says weapons stockpiles were moved from Iraq to Lebanon and Syria 10 weeks before the war started.
"These are huge stockpiles, and they are also almost adjacent to Al-Qaeda training camps, Hezbollah, Hamas, Islamic Jihad, he said. "They're buried, but they won't stay buried for long."
Uh-huh. Well, thanks for that. As the Palm Beach Daily News dryly notes, "His statements have not been independently confirmed in the mainstream media."
Clip and save
University of North Carolina sociologist Christian Smith recently complained in Books & Culture (a CT sister publication) about "religiously ignorant journalists." Among his complaints of reporters' phone calls: "Other journalists simply cannot pronounce evangelicals at all. They get confused and flustered, and after a few uncomfortable tries at 'evangelics' and 'evangelicalists' they give up and resort to referring to evangelicals simply as 'them.'"
Ah, but Dr. Smith, "how can they hear, unless someone tells them?" Without guidance, you end up with stories such as Rachel Uranga's in the Los Angeles Daily News this week.
"After centuries of devotion to the Catholic faith, nearly 20 percent of U.S. Latinos have converted to evangelism over the last 10 years," she writes. "Drawn to the no-nonsense sermons on pious, drug- and alcohol-free living, many Latinos say evangelism is a powerful antidote to everyday troubles plaguing their communities. … The shift among many Latino Catholics to evangelism, which started in Central America in the 1960s, is well under way in the San Fernando Valley."
Now here's the problem: Uranga actually has an interesting story here that may or may not be wholly accurate. The thesis is that Latinos, at least those in the Valley, are leaving Roman Catholicism for evangelical Protestant churches (largely of the independent and Pentecostal variety) because they sense that those churches have stronger moral teachings. If true, that's an angle that's gone largely unexplored in these stories.
And Uranga is no slouch: She was informed enough to contact DePaul University's Arlene Sanchez-Walsh, one of the best scholars on Latino evangelicals.
But confusing the universal Christian action of evangelism with the mostly Protestant movement called evangelicalism (here's a good definition of the latter) means that this story simply won't (can't) be taken seriously. And Daily News readers who know the difference—and that will include most Catholics—are going to be more likely dismiss future religion stories in the paper. And since the New York Times News Service picked up this story and it ran in other papers with the evangelism/evangelicalism problem in tact, the credibility problem may not be limited to the Daily News.
Regent College bookstore bans The Glorious Appearing
That's the Canadian home of J.I. Packer, John Stackhouse, Gordon Fee, and Eugene Peterson, not the Pat Robertson school in Virginia Beach.
Bookstore manager Ian Panth says the latest Left Behind book mixes "dangerous theology with politics" and (in the words of U.K.-based Ekklesia), "promoted an American-centric view that suggests that the US is beyond criticism."
That shouldn't keep the book from hitting the bestseller lists this week. And for precisely that reason, the many bookstores around Regent (except for that odd nautical bookstore) will likely carry the title anyway.
More articles
Bioethics council releases report:
Life ethics:
Abortion:
Missionary killed in Uganda:
Church and state:
Pledge:
Religious speech:
Missions & ministry:
Middle East:
Television:
Popular religion:
The Passion:
Spirituality:
Books:
Pentecostal Bishop called heretic:
Church life:
Abuse:
Homosexuality:
Gay marriage:
More articles:
Related Elsewhere:
Suggest links and stories by sending e-mail to weblog@christianitytoday.com
Check out Books & Culture's weblog, Content & Context.
See our past Weblog updates:
April 1 | March 31 | 30 | 29
March 26 | 25b | 25a | 24 | 23 | 22
March 19 | 18 | 17 | 16 | 15
March 12 | 11 | 10 | 9 | 8
March 5 | 4 | 3 | 2 | 1
February 27 | 26 | 25b | 25a | 24 | 23
and more, back to November 1999
Weblog
Launched in 1999, Christianity Today's Weblog was not just one of the first religion-oriented weblogs, but one of the first published by a media organization. (Hence its rather bland title.) Mostly compiled by then-online editor Ted Olsen, Weblog rounded up religion news and opinion pieces from publications around the world. As Christianity Today's website grew, it launched other blogs. Olsen took on management responsibilities, and the Weblog feature as such was mothballed. But CT's efforts to round up important news and opinion from around the web continues, especially on our Gleanings feature.
Ted Olsen is Christianity Today's executive editor. He wrote the magazine's Weblog—a collection of news and opinion articles from mainstream news sources around the world—from 1999 to 2006. In 2004, the magazine launched Weblog in Print, which looks for unexpected connections and trends in articles appearing in the mainstream press. The column was later renamed "Tidings" and ran until 2007.
Previous Weblog Columns: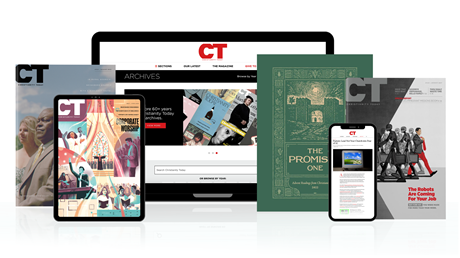 Annual & Monthly subscriptions available.
Print & Digital Issues of CT magazine
Complete access to every article on ChristianityToday.com
Unlimited access to 65+ years of CT's online archives
Member-only special issues
Subscribe
'The United States of America Is Building a Culture of Life'
'The United States of America Is Building a Culture of Life'