Renewed violence against Christians erupted in mid-December when a prominent anti-conversion Buddhist monk, Gangodawila Soma Thero, died suddenly while visiting Russia. Nationalist Buddhist groups allege a "Christian conspiracy" behind his death.
Christians disputed the charge, and the autopsy report confirms the monk died of natural causes.
Still, many churches have been stoned or burned down. Three churches were attacked the night of February 15. Church workers were assaulted and faced death threats; some attackers accused them of seeking "unethical conversions."
According to Christian Solidarity Worldwide, Sri Lankan authorities recorded 91 attacks on Christians and churches last year and 41 incidents so far this year. Christians are especially vulnerable in rural areas. Radicals have been able to shut down 146 churches in a four-month span.
"There is a sense of insecurity and fear," said Godfrey Yogarajah, general secretary of the National Evangelical Alliance of Sri Lanka.
Christians constitute about 8 percent of this prominently Buddhist country's 19.7 million people. Seventy percent are Buddhists. Evangelicals are growing at 11 percent a year, according to Operation World. More than 280 Buddhist monks declared their candidacies in parliamentary elections set for April, many of them pledging to pass an anti-conversion law and make Sri Lanka a "righteous state."
"The fundamentalist Buddhists want to turn Sri Lanka into a Buddhist kingdom and bring [an] anti-conversion law," said Jude Simion, an evangelist in Colombo. "There is tension all around."
Buddhist nationalists are determined to stop conversions. "We will not allow Christians to convert Buddhists to Christianity," said Neville Karunatilake, spokesman for the Sihala Urumaya Buddhist Party. "Conversions are unethical. We will stop them."
"Religious liberty is at stake," Yogarajah replied. "We will fight against the moves to bring [an] anti-conversion law. Choice of faith is a fundamental right."
Said a senior church leader, who asked CT to shield his identity, "The opponents of evangelism are looking for something to incriminate the Christians. As we are evangelizing non-Christian youth, we try to keep a very low profile. They say we are betraying the country."
Said Nimal Mendis, conference secretary of the Methodist Church of Sri Lanka, "We are doing, and should continue to do, evangelistic work, but [we] have to be very careful. We should take care not to hurt others' religious sentiments in any way."
Yogarajah said Christians will not back down. "The violence against us is continuing," he said. "But we are committed to carry the mission of Christ. The gospel will be lived, in a responsible and sensible manner."
Related Elsewhere:
More on Sri Lanka includes:
Renewed Attacks on Christians | Christians continue to suffer in Sri Lanka. (Nov. 19, 2003)
The Joy of Suffering in Sri Lanka | How Christians thrive in the land where ethnic and religious strife is always just around the corner. (Sept. 29, 2003)
A Man of Peace | While other monks march against peace, this fierce-looking cleric seeks accord. (Sept. 29, 2003)
Being the Leaven | Why only a handful of Sri Lankan Christians wage peace via the difficult political process. (Sept. 29, 2003)
Indigenous and Evangelistic | Isolated from the infusion of foreign missionaries by Sri Lankan laws, the island's church knows that to survive, it must focus on evangelism. (Sept. 29, 2003)
Violence Erupts in Sri Lanka as Churches Look to New PM to Bring Peace | The island nation reels from an ethnic conflict which has claimed more than 64,000 lives since 1983 (Dec. 19, 2001)
The Hard-Won Lessons of Terror and Persecution | Overseas Christians reflect on painful experiences (Sept. 26, 2001)
Christians and Buddhists Build Bridges for Peace in Sri Lanka | Religious officials secret meeting with Tamil Tigers draws criticism (Mar. 7, 2001)
Sri Lanka to Investigate Attack on Evangelical Church | Buddhist fervor for tradition and anger at Christian evangelism boils over in church assault (Feb. 28, 2001)
Christians Mediate for Peace | Sri Lanka churches try to reconcile Sinhalese Buddhists and Hindu Tamils. (Apr. 10, 2001)
Sri Lanka's Churches Pray for Peace as War Rages Around Jaffna | Country's Protestants to unify in prayer June 16. (June 5, 2000)
In Sri Lanka's No Man's Land, Churches Provide Some Hope for Refugees | Christians mobilize to help nearly a million left homeless by Tamil conflict (Apr. 18, 2000)
Sri Lanka's People Are Not Divided, Just the Politicians, says Archbishop | Churches call for peaceful end to Tamil fighting (Feb. 28, 2000)
Dispatch From Sri Lanka: Bombs Away | How Western military actions affect the work of the church (June 14, 1999)
Sri Lanka: A Light in Buddha's Shadow | "With no end in sight to the war, we persevere in seeking to be faithful to God." (Nov. 16, 1998)
Dalai Lama, Evangelical Leader Talk | The discussion focused on the persecution of Christians in Sri Lanka by Buddhists (Aug. 10, 1998)
Assemblies of God Church Attacked | There has been a 230 percent increase in anti-Christian incidents on the island nation south of India in the past year (Feb. 9, 1998)
Have something to add about this? See something we missed? Share your feedback here.
Our digital archives are a work in progress. Let us know if corrections need to be made.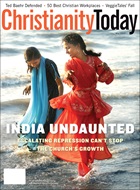 This article is from the May 2004 issue.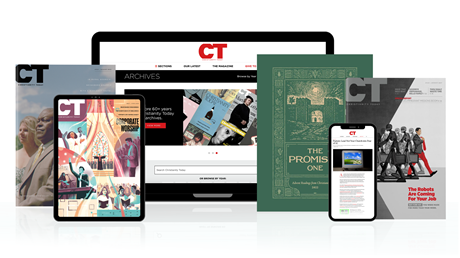 Subscribe to Christianity Today and get access to this article plus 65+ years of archives.
Home delivery of CT magazine
Complete access to articles on ChristianityToday.com
Over 120 years of magazine archives plus full access to all of CT's online archives
Subscribe Now
Anti-Conversion Conspiracy
Anti-Conversion Conspiracy