true
It was early 1992, and Phil and Lisa Vischer were down to their last $10. Phil had quit his job to work on his "big idea"—a video series for kids starring computer-animated vegetables that loved Jesus. But all he had to show for his efforts was a stack of unpaid bills. There was no food in the pantry for their large and hungry dog. The cost of a large bag of dog food: $10.
While Lisa went out to buy dog food, Phil sorted through the bills and pondered what do next. Then he found an envelope containing a cashier's check for $400. An anonymous note inside read, "God laid it on my heart that you might need this."
The next year, a couple in their Bible study lent Phil $60,000, saying, "Go make your movie."
By Christmas 1993, Vischer and two friends completed the first VeggieTales episode, Where's God When I'm S-Scared? Over the next 10 years, VeggieTales sold more than 25 million videos. The Abbot and Costello-like Bob the Tomato and Larry the Cucumber, stars of the series, gained millions of adoring fans. And Big Idea Productions—which Phil started in a spare bedroom—grew to a 210-employee animation studio and entertainment company that he hoped would one day rival the Walt Disney Company.
Whenever there was a need, especially in the early years, something extraordinary happened.
"There were many times Big Idea was dangling on the edge," Lisa Vischer says. "It seemed that every time we were in need of a miracle, we prayed for and got a 'dog food story.' "
Big Idea ran out of miracles last fall. After a series of financial crises, the company filed for bankruptcy, and in December it was sold to New York-based Classic Media.
The low point for Vischer came in April 2003 in a federal courthouse in Dallas. Lyrick Studios, a former distributor, was suing Big Idea for breach of contract. In an attempt to increase revenue, Big Idea had switched to a new distributor, Warner Home Video, in January 2003. Lyrick responded with a lawsuit.
Big Idea offered $400,000 to settle the case, Vischer says. Lyrick refused, he says, and a jury found for Lyrick, awarding the plaintiffs more than $11 million. After hearing the verdict, Vischer knew: "It was over."
Wanna Be Like Walt
It's early December 2003, and Phil Vischer is remarkably happy for a man who has lost everything. The sale to Classic Media will close in just a few days. He's been busy packing up his office at Big Idea Productions' offices at the Yorktown Mall in the west Chicago suburb of Lombard. The remaining 45 or so Big Idea employees will be packing soon as well. This summer the company will move to Nashville. Vischer, 37, will stay behind. He hopes to still work for Classic Media as a part-time writer and director, but that's not been settled yet.
Big Idea already feels like a ghost town. The studio is empty and dark, lit only by a few computer screens. While new Veggie-Tales episodes are still in production, all the animation has been outsourced.
"It was about six years of going up very quickly," Vischer says, "then about three to four years that I have described to people as falling down a flight of stairs in slow motion."
The business side is pretty straightforward. Where's God When I'm S-Scared? had an initial sales order of 400 copies and took off from there. Big Idea sold 50,000 videos in 1994. By 1999, sales peaked at 7 million videos, or about $40 million in revenue.
This was heady territory for Vischer and Mike Nawrocki (co-creator of VeggieTales, writer, and the voice of Larry the Cucumber), who years earlier were asked to leave St. Paul Bible College (now Crown College) for skipping too many chapels.
As Big Idea grew, Vischer began to craft a master plan for its future. He saw two possibilities. He could remain a storyteller like C. S. Lewis, or he could become an "empire builder," like another of his heroes, Walt Disney.
Being the next Walt Disney also felt a lot better than being plain old Phil. A middle child, whose dad left home when he was nine, Vischer felt invisible as a kid. His drive to build Big Idea—a company whose positive messages would strengthen families—was fueled by his childhood experience of loss. Vischer, a natural introvert, figured that through Big Idea he could keep more families together, keep more dads from leaving, and make himself feel important.
"When the first VeggieTales video started to catch on, I remember my sister saying, 'We never thought you'd amount to much'—which was partly joking, but only partly," he says. "I really felt driven, I think, to prove that I actually existed. The bigger it got, the more I felt validated. I am not nobody—I am Mr. Big Idea guy."
But in 1999, everything started going wrong.
Big Idea's business plan projected sales would grow from $40 million in 1999 to $125 million in 2002. So the company expanded, hiring staff and "spending money like mad," Vischer says. It also signed a multimillion-dollar loan agreement with LaSalle Bank, and started work on Jonah, a $10 million, self-financed project, all based on those projections. Unfortunately, the approach was way off.
Instead of growing, sales went flat in 2000. Big Idea suddenly could no longer afford to pay its bills.
"It became clear at that point that [Big Idea] was absolutely going to fall apart unless God intervenes," Vischer says. "Unless God shows up and somehow wipes away those massive mistakes, this was going to crash and burn."
To survive, the company desperately needed to cut costs. That meant layoffs, something Vischer promised himself he would never do.
"I thought—this cannot be God's will," he says. "I can't do that to people."
Searching for a Miracle
The only way to save the company was for Jonah to be a My Big Fat Greek Wedding kind of success. If that happened, God could save Big Idea.
Crendalyn McMath, who teaches in the MBA program at Chicago's North Park University, says that entrepreneurs like Vischer can have a hard time letting go when things go wrong. Instead, McMath says, they respond with what she calls "escalating commitment."
"Everything you see tells you that the ship is starting to sink, but you continue to invest time, energy, and money in it—with the hope that something miraculous will happen," she says. "And usually it doesn't happen."
While Jonah earned $24 million at the box office and sold 3 million copies on DVD, it was not nearly enough to save Big Idea. There were eventually five rounds of layoffs in all, each more painful than the last.
Tom Bancroft, who worked on Jonah and was the supervising director of a VeggieTales spinoff called LarryBoy Adventures, was laid off in October 2002. He knew Big Idea had financial troubles but thought he was safe.
A former supervising animator at Disney, Bancroft came to Big Idea after a life-threatening case of viral meningitis made him rethink his priorities. He quit his Disney job, sold his family's Florida house, moved to the Midwest, took close to a 50 percent pay cut, and came to work for Vischer.
"We radically changed our lives to go to Big Idea," Bancroft says. "We felt passionately about what they were doing."
When he arrived at Big Idea, Bancroft was surprised at the family atmosphere and the company's prayer meetings and after-work Bible studies—something he'd not experienced at Disney.
"But it stopped after the first layoffs. Then it wasn't a family anymore. If you can get laid off, it's just a business."
The heartache of laying off people he loved, and Big Idea's financial woes, took a toll. In three consecutive years, Vischer contracted pericarditis (an inflammation of the tissues of the outer surfaces of the heart), strep throat, and shingles—all stress-induced. He also quit playing music and drawing, the very things that gave VeggieTales life in the first place.
"I was trying to be someone that God didn't call me to be and that God didn't create me to be," he says. "It wasn't working, and I couldn't see a way out without disappointing a lot of people. So I kept beating my head against the Walt door, trying to get in."
When a Dream Dies
Just before the trial with Lyrick Studios began, Big Idea held one of the last all-company prayer meetings. At the end, a woman Vischer describes as an "incredible prayer warrior" came up to him. "I think I am supposed to tell you something," she said. "I don't think this is about Big Idea. I think this is about God and Phil. And before it's over, I think you are going to have to say goodbye to all of us."
Vischer was dumbfounded. "I was just standing there, thinking, That doesn't make sense," he says. "I had built my whole life really to be Big Idea—that was it."
Then, after the trial ended, Vischer's mother returned from a summer Bible conference with a cassette tape from one of the speakers. "I think this tape is for you," she told him.
The speaker was Rich Porter, an old family friend. Porter's message started with this question: What does it mean when God gives you a dream and the dream comes to life, and then the dream dies? Porter said God wants to see if you can live without the dream, depending only on him for meaning.
It was an epiphany for Vischer. For so long he'd been pursuing cultural influence, when he should have been pursuing God.
"He let me fall," Vischer says, "and he is setting me back in a place where I can be creative again."
Lisa Vischer says she's been amazed at her husband's transformation.
For years she'd been telling him, "God can always find another Bob the Tomato—this is his only shot with Phil Vischer." But he wouldn't listen. Now the burden of carrying Big Idea is gone.
"The last six months are the best Phil and I have had in ten years," she says.
Vischer hopes to keep working with the Veggies, if only because of a script called The Bob and Larry Movie. In it, Bob the Tomato tries to convince a father not to leave behind his nine-year-old son and go off to chase his dream of touring the world as a musician.
The dad in the script "has to make a choice," Vischer says. "What does he really want, what is really important to him? And there is a big part of that which is kind of a replaying of decisions my dad made in my childhood."
Vischer received an e-mail recently from the wife of a Big Idea artist. She'd been praying for Vischer when an image flashed into her mind. "I saw you at Disneyland, and you were looking for your father and you couldn't find him," she wrote.
In early December, Vischer visited Disneyland to make his peace with Walt Disney—or at least with his statue. "I am done now," Vischer said. "You can be you, and I will be me."
Because they had poured all of the company's profits into expanding Big Idea, the Vischers (including children, ages 13, 9, and 6) lost everything but their house in Wheaton, an upscale Chicago suburb. There's no guarantee they'll keep even that. It's not paid for, and real estate agents have already been out to discuss the possibility of selling it.
Even so, Vischer says he's never been happier.
The person who's most upset with Phil no longer owning Big Idea is his nine-year-old son, Jeremy, who wanted to be the company's president when he grew up.
Jeremy asked his dad, "Does this mean you can't tell kids about God anymore?"
"No, this is just one way to do it," Vischer told him. "There are a million ways to do it."
"Okay," Jeremy said.
Bob Smietana is features editor of The Covenant Companion, the monthly magazine of the Evangelical Covenant Church, and a freelance religion writer based in Chicago.
Related Elsewhere:
A sidebar to this main article discusses putting Big Idea back together.
Christianity Today has followed Big Idea for years. Here are more articles on the company:
VeggieTales Born Again | Big Idea primes itself for recovery with a new owner. (Jan. 21, 2004)
Weblog: VeggieTales Sold for $19.3 Million (Oct. 31, 2003)
VeggieTales Creators File for Bankruptcy | Bob the Tomato and friends sold to company that already has Lassie, Lone Ranger, and Rudolph. (Aug. 04, 2003)
Weblog: Veggies for Sale | Big Idea Productions says it's looking for a buyer (Jul. 16, 2003)
Big Idea Loses Suit | Jury says creator of VeggieTales owes $11 million to ex-distributor. (June 20, 2003)
Big Idea Responds to CT Article | Phil Vischer, CEO and founder, issues a statement regarding company's financial status. (Oct. 4, 2003)
Big Trouble at Big Idea | Former workers worry that Jonah could sink the company. (Oct. 4, 2003)
The Top Tomato | Phil Vischer's tenacious campaign to dominate family entertainment. (Oct. 4, 2003)
Article continues below
Runaway Asparagus | Big Idea's Jonah is both wholesome and hip. (Oct. 4, 2003)
(The Voice of) Larry the Cucumber Speaks | "Nobody thinks growing up that they're going to be a cucumber." (Oct. 4, 2003)
The Serious Business of Silly Songs | The director of music for the VeggieTales talks about bringing musical depth to the score. (Oct. 4, 2003)
The Serious Business of Silly Songs | The director of music for the VeggieTales talks about bringing musical depth to the score. (Oct. 4, 2003)
Jonah Bags Boffo Box Office | But Big Idea lays off 30 in 'heartbreaking' cuts. (Nov. 01, 2002)
(The Voice of) Larry the Cucumber Speaks | "Nobody thinks growing up that they're going to be a cucumber." (Oct. 04, 2002)
Christianity Today sister publication Books & Culture discussed Big Idea's video series in "What's Cooking When Martha Stewart Meets the VeggieTales?"
Have something to add about this? See something we missed? Share your feedback here.
Our digital archives are a work in progress. Let us know if corrections need to be made.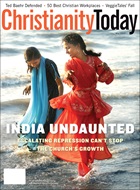 This article is from the May 2004 issue.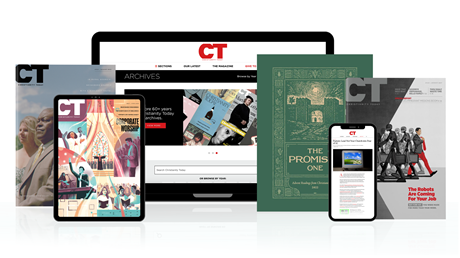 Annual & Monthly subscriptions available.
Print & Digital Issues of CT magazine
Complete access to every article on ChristianityToday.com
Unlimited access to 65+ years of CT's online archives
Member-only special issues
Subscribe
Running Out of Miracles
Running Out of Miracles