Bush campaign attempting to recruit churches
"The Bush-Cheney '04 national headquarters in Virginia has asked us to identify 1,600 'Friendly Congregations' in Pennsylvania where voters friendly to President Bush might gather on a regular basis," a senior Bush election official in Pennsylvania wrote to clergy members and others on Tuesday.
That message, and debate over whether the plan would put participating churches in tax jeopardy, is on the front page of today's New York Times and the subject of an Associated Press story.
Luke Bernstein, coalitions coordinator for the Bush campaign in Pennsylvania, said in his e-mail message that in each "place of worship … we'd like to identify a volunteer who can help distribute general information to other supporters. … We plan to undertake activities such as distributing general information/updates or voter registration materials in a place accessible to the congregation."
If congregations take the Bush campaign up on the request, they could lose their tax-exempt status, say some critics.
"If the church is doing it, it is a legal problem for the church," Former Federal Election Commission chairman Trevor Potter, told the Times. "In the past, the I.R.S. has sought to revoke and has succeeded in revoking the tax-exempt status of churches for political activity."
But not very often, it should be noted. In the 27 years that IRS regulations have banned churches from engaging in electoral politics, only two churches and five religious organizations have lost their tax-exempt status for such a violation. And to date, no church has actually had trouble with "distributing general information" about campaigns or registering voters "in a place accessible to the congregation."
Even less troubling, says Bush campaign spokesman Steve Schmidt, is what Bernstein's message asked for—the names of individuals in various churches who might be interested in volunteering. The campaign isn't asking for endorsements from the pulpit, he said.
"The e-mail is targeted to individuals, asking individuals to become involved in the campaign and to share information about the campaign with other people in their faith community," Schmidt explained. "Yesterday, a liberal judge from San Francisco overturned a partial-birth abortion ban which banned that abhorrent procedure. That is an example of an issue that people of faith from across the United States care about."
Pastors should still be wary about being that individual, said Richard Land, president of the Southern Baptist Convention's Ethics and Religious Liberty Commission. "If I were a pastor, I would not be comfortable doing that," he told the Times. "I would say to my church members, we are going to talk about the issues and we are going to take information from the platforms of the two parties about where they stand on the issues. I would tell them to vote and to vote their conscience, and the Lord alone is the Lord of the conscience."
Still, Bush critics are in a tizzy. The Kerry campaign said the e-mail "shows nothing but disrespect for the religious community. Although the Kerry campaign actively welcomes the participation of religious voices in our campaign, we will never court religious voters in a way that would jeopardize the sanctity of their very houses of worship."
Unless, of course, the churches are predominantly black.
In a press release, Americans United's Barry Lynn called it "the most shocking example of politicizing churches I've ever seen." At least until next week's press release.
More articles
Church & state:
Vicar cross at China church | The vicar of a Clifton church today criticised plans to use it as inspiration for a religious building at the centre of a new English-style town in China (Evening Post, Bristol, England)
At a crossroads for diversity, ACLU helps officials take right path | No one's religious symbol belongs on a public garbage truck or firefighter's uniform (Marjie Lundstrom, Sacramento Bee, Ca.)
Etched in stone | The value of the Ten Commandments is religious. To say otherwise is not only a disservice to the millions of humans who have held them holy over the centuries, but also a clear case of functional illiteracy (Editorial, The Salt Lake Tribune, Ut.)
David Dockery: Bush's faith-based program faces many obstacles | Since he attended the first White House briefing on President George W. Bush's Faith-Based and Community Initiatives in 2001, Union University President David Dockery has noticed a lot of changes in the program (Religion News Service)
Trespassers in the name of heritage | Politicians are wrong to claim Australia is a Christian country, when it is secular (Helen Irving, The Sydney Morning Herald)
Judge refers priest to Bible | A preacher accused of murdering his own son 17 years ago was referred to the bible for guidance on Wednesday by the judge in his Johannesburg High Court trial (SAPA, South Africa)
Religion & politics:
Churchgoing closely tied to voting patterns | Forget the gender gap. The "religion gap" is bigger, more powerful and growing (USA Today)
Conservative opposition leaves U.N. accord in dry dock | The Eagle Forum and others are against such multinational treaties. Their all-out effort has stalled its ratification in the Senate this year (Los Angeles Times)
Christian group protesting Dems also coming to NYC's GOP convention | The Christian Defense Coalition said it will apply this week for a permit to surround Madison Square Garden with a prayer vigil on Aug. 28, two days before the GOP gathering begins there (Associated Press)
Judge Roy Moore:
United or divided? GOP's Moore effect | Some state Republican Party activists have worried that former Chief Justice Roy Moore and his Ten Commandments cause could seriously split the GOP. Others say Moore's partial success in Tuesday's GOP primary, when just one of four major candidates he backed won outright, leaves room for party unity (The Birmingham News, Ala.)
Roy Moore's clout swings high court race | Though outspent 6-to-1 by his opponent, Tom Parker defeated Brown on the religious coattails of ousted Alabama Chief Justice Roy Moore and through some clever ads, political observers said (Birmingham Post-Herald, second item)
Moore's slate makes its mark | To hear Roy Moore's supporters tell it, the primary victory by former aide Tom Parker over an Alabama Supreme Court justice shows Moore can have any statewide office he wants -- from the governor's mansion to his old job as chief justice (Associated Press)
Church allowed to baptize in park:
Parks will not block baptism | Church will be allowed to baptize member at Falmouth Waterfront Park on Sunday (The Free Lance-Star, Fredericksburg, Va.)
Baptism brouhaha soaks park | The scenario outlined in the story that has appeared in newspapers all over the country isn't what happened at all, according to park manager Brian Robinson (Editorial, The News Leader, Staunton, Virginia)
Bush speech edits out 'crusade' in speech:
Bush edits out 'crusade' in quoting Eisenhower | President Bush on Wednesday quoted the famous D-Day words of Gen. Dwight Eisenhower -- all but one of them, "crusade" (Reuters)
Bush skips Eisenhower 'crusade' reference | President Bush deleted the word "crusade" — considered an inflammatory reference by Muslims — on Wednesday as he recalled Gen. Dwight Eisenhower's message to Allied troops before the D-Day invasion at Normandy, France, 60 years ago (Associated Press)
War & terrorism:
Area churches join effort to help soldiers | Sending U.S. soldiers matches and condoms may seem like an odd way to show support, but they are (Elk Grove Times, Ill.)
Chicago group gave early alarm on abuse | Almost a year before photos surfaced of U.S. troops abusing Iraqi detainees in the Abu Ghraib prison outside Baghdad, Christian Peacemaker Teams was giving accounts of mistreatment to middle-level and senior U.S. Army officers and civilian officials of the ruling Coalition Provisional Authority (Chicago Tribune)
Bush to visit Pope:
The campaign comes to Rome | Will President Bush's knees be knocking when he meets Pope John Paul II? (John L. Allen Jr., The New York Times)
Iraq to dominate when Bush sees anti-war Pope | Pope John Paul, who threw the weight of the Catholic Church against the war in Iraq, meets George W. Bush on Friday in an audience some in the Vatican hope will show the U.S. president how right the pontiff was (Reuters)
The accidental pilgrim | Bush stumbles to Rome in search of Catholic votes -- but the pope may give him a much-needed lecture instead (Norman Birnbaum, Salon.com)
Catholics & politics:
Voting 'Catholic' creates a new schism | Can there really be a "Catholic vote" anymore, given the conflicting demands on Catholic voters? (James P. Pinkerton, Newsday)
Catholics try to reconcile faith and political choices | The 2004 presidential election has led a generation of Catholics to grapple - each in their own way - with how to keep their faith when they enter the voting booth (The Cincinnati Enquirer)
Report says Kerry votes with Catholics | Democratic presidential candidate Sen. John Kerry votes more in line with Catholic teachings than his Catholic colleagues, says a survey of votes by U.S. Sen. Richard J. Durbin (D-Ill.) (The Washington Times)
Let bishop guide votes, tithe to IRS | If church leaders want to have a say in government representation, they'd better get ready for taxation (Cindy Rodriguez, The Denver Post)
Closing Boston Catholic churches:
Boston's closing churches cause worry | Officials with the Archdiocese of Boston have pledged to continue the social programs offered by the churches slated for closure, mainly by asking designated "welcoming parishes" to take over administration of the programs (Associated Press)
Against odds, Concord church appeals closure decision | There was no choice to be made, no discussion to be had. At Our Lady Help of Christians Church, the appeal of the decision to close the parish was just assumed (Lowell Sun, Mass.)
Churches wait for closure dates | At Our Lady Help of Christians Catholic Church in West Concord, it was Pentecost Sunday, often called "the birthday of the church," but with little fanfare this time (The Concord Journal, Mass.)
Rome's new cardinal sin | It wasn't enough to evict parishioners from 65 churches in the scandal-stained Archdiocese of Boston? The Vatican had to choose the same week to install the chief architect of this disaster in a Roman basilica? (Eileen McNamara, Boston Globe)
Abuse:
Correction: Church-abuse story | Numbers should have been about allegations, not actual abuses (Associated Press)
Abuse victims seek a dialogue with Paterson's new bishop | The request, made by the Survivors Network of Those Abused by Priests, was seen as less of a red flag over the appointment of Bishop Arthur J. Serratelli, and more as an attempt to determine how the bishop would respond to allegations of abuse in the future (The New York Times)
Woman challenges time bar to sue nuns | A woman who claims to have been abused by nuns at a Catholic orphanage will take her case to court today in a move that could open the floodgates to legal actions worth up to £50 million (The Scotsman)
Ex-priest facing sex charges | The 70-year-old cleric is suspected of molesting a teenage boy in Juvenile Hall. Probation official says he had no access (Los Angeles Times)
People:
George Beverly Shea leaves hospital | He suffered a minor heart attack last week (Associated Press)
Symbol of WNC family's faith, landmark turns 40 this month | Erected 40 years ago this month, the lighted cross on Mount Lyn Lowry has evolved from one family's devotion and faith in God into a symbol best defined by the individuals who gaze upward in its direction (Asheville Citizen-Times, N.C.)
Also: Structure has drawn Billy Graham, spawned several myths (Asheville Citizen-Times, N.C.)
Pope prepares for first trip in 9 months | Watching him slump in his chair, slur his words and gasp for breath during a pilgrimage to Slovakia nine months ago, even close aides of Pope John Paul II wondered whether the most-traveled pontiff in history would travel again (Associated Press)
Archbishop denies approving Prince Charles-Camilla marriage:
Archbishop denies approving Charles-Camilla marriage | The Archbishop of Canterbury denied a media report Thursday that he has given his approval for Britain's heir-to-the-throne Prince Charles to marry his lover Camilla Parker Bowles in church (Reuters)
Lambeth Palace quashes royal marriage rumors | Senior Lambeth Palace sources last night authoritatively denied that the Archbishop of Canterbury, Rowan Williams, has given approval for Prince Charles and Camilla Parker Bowles to marry within the Church of England (The Guardian, London)
Williams 'has not approved Charles wedding' (The Telegraph, London)
Gay marriage & religion:
Episcopal bishop caught amid split over gay marriages | Episcopal Bishop M. Thomas Shaw, caught between his support for gay marriage and the clear prohibition against it in canon law, is facing scattered opposition from liberals and conservatives as he labors to keep both in the diocesan fold (The Boston Globe)
Gays 'commit' amidst marriage debate | Jackie Freeman is an ordained minister who performs commitment ceremonies for same sex couples, often at her Suttons Bay bed and breakfast. Wilma McQueen wants to make sure that the ceremonies performed by Freeman never carry the weight of law (Leelanau Enterprise, Mi.)
Gay marriage:
Has the sky fallen yet? | Gay marriage hasn't destroyed what's left of marriage. But give it some time (W. James Antle III, The American Spectator)
No explanation | Gay marriage has sent the Netherlands the way of Scandinavia (Stanley Kurtz, National Review Online)
Transexual's divorce stalls when she refuses to be he | Original suit sought annulment, citing laws on same-sex marriages (Houston Chronicle)
Gay marriage in France:
'The right to choose' | Mayor Noël Mamere explains why he will perform France's first gay marriage ceremony—and why he has received threats and a parcel of excrement in the mail (Newsweek)
French PM warns over gay marriage | A mayor in south-western France has been warned that he will face legal action if he carries out the country's first gay wedding on Saturday (BBC)
Gay union 'void' | The French prime minister said yesterday that officials performing gay weddings will be breaking the law and will face justice, in his strongest statement so far against same-sex unions (The Scotsman)
Canadian Anglicans retreat from same sex marriage decision:
Canadian church nixes gay marriage issue | But in a surprise move, liberals among the delegates meeting here asked the church to "affirm the integrity and sanctity of committed adult same sex relationships" even without formal blessing rituals (Associated Press)
Canadian Anglicans defer same-sex decision to 2007 | Canada's Anglican church stepped back on Wednesday from a controversial decision on whether to bless same-sex unions, deferring a vote until 2007 in a bid to prevent a split among the world's 70 million Anglicans (Reuters)
Anglicans retreat from conflict | Study sought on same-sex issue; Concern expressed on blessing unions (Toronto Star)
Canadian gay union vote put off | Canada's Anglican Church has delayed until 2007 a decision on the divisive issue of blessing same-sex marriages (BBC)
Anglicans hesitate to bless same-sex unions | Fearing deep fractures, Canadian church votes to send issue for theological study (The Globe and Mail, Toronto)
Schools:
Calif. schools sued for suspending teen | A school district was accused Wednesday of violating the civil rights of a student who was suspended for wearing a T-shirt saying "Homosexuality is Shameful" (Associated Press)
Catholic University tells students they can't start NAACP chapter | Officials cite stand on abortion, overlap with campus groups (The Washington Post)
Graduates pray for guidance | Student group holds the first baccalaureate ceremony at Denfeld High School in a decade (Duluth News Tribune, Minn.)
Church life:
Gender roles, Israel on agenda at RCA Synod | Annual church conference begins today, runs through Wednesday in Wheaton, Ill. (The Holland Sentinel, Mi.)
Anglican church splits | The Anglican Communion in Lagos is divided over a law which bars female worshippers from wearing to church clothes, especially wedding dresses, which expose vital parts of their bodies (P.M. News, Nigeria)
Foursquare sinner forgiven | Former president's investing may have cost church $15 million (San Francisco Chronicle)
Missions & ministry:
Agency sees response role for clergy | Whom do you call in a disaster? While police and fire services are usually first on the list, one Riverside emergency response agency says access to clergy should be somewhere in the mix (The Press-Enterprise, Riverside, Ca.)
Churches heed Africa's pain | Three faith groups launch missions in areas devastated by AIDS (The Press-Enterprise, Riverside, Ca.)
Abortion:
Impeach Judge Hamilton | Her partial-birth abortion ban ruling abrogates the clear will of the majority of American people on the matter, as expressed both in public-opinion polls and the votes of their elected representatives (Editorial, The Washington Times)
Events forcing abortion issue on Kerry | Reticence as much personal as political, his aides say (The Washington Post)
Abortion doctor set to accept plea in case | A doctor who runs several abortion clinics in Orlando and throughout the state has agreed to plead guilty to impeding justice, settling a long-running fight with prosecutors who once accused him of extorting Marion County, court documents show (The Orlando Sentinel)
Culture:
Victorian values back in fashion | Could the next 20 or 30 years see a wholesale change in our cultural values - a return to the morality of the 19th century? Writer and economist Frances Cairncross believes so (Evening News, Scotland)
For many in the West, no religion suits them | The Rocky Mountain West boasts an unusually high proportion of Roman Catholics, Mormons and "nones," or people who claim affiliation with no religious institution but may consider themselves spiritual, a new study has found (The Denver Post)
No support for ban on nudity | Hillsborough County commissioners, except for Ronda Storms, feel it's premature to put a ban before voters (St. Petersburg Times, Fla.)
Television & film:
When creators of 'quality television' try the opposite approach | It is hard to pinpoint exactly when it became safe to be a stupid slut on television (The New York Times)
Gay school for tots row | Parents watching Play School with their infants were shocked to find there was much more than a bear in there this week (Herald Sun, Melbourne, Australia)
Also: Australia government angered by public TV kids' show featuring lesbians | The show "Play School" aired Monday by the publicly-funded Australian Broadcasting Corporation showed a story about a girl going to a fair with her two mothers (AFP)
R.E.M. singer finds his religion with teen comedy | "I would not work on a film that I thought might insult the people in my life," says Michael Stipe, who comes from a long line of church ministers. "I think it challenges certain ideas that are put forward." (Reuters)
Books:
The Bible's most improbable book, Ecclesiastes, gets a new Jewish analysis (Associated Press)
The New York Times converts | The hand of the Almighty strikes the most-watched book section — and we're not talking about Sam Tanenhaus (Ellen E. Heltzel, Poynter.org)
More articles:
Sudanese embrace peace, face further strife | Finally, it seems, something is going right in the world (Bronwyn Lance Chester, The Virginian-Pilot)
Martyrs Day has greater meaning | Today Christians from around the country and the world join together in commemorating Martyrs Day at Namugongo Shrine in Wakiso District, an event we very much identify with (Editorial, The Monitor, Kampala, Uganda)
Philadelphia touted as gay destination | The City of Brotherly Love has launched the first US television advertising campaign to promote a city as a gay destination, officials said yesterday (The Boston Globe)
Related Elsewhere:
Suggest links and stories by sending e-mail to weblog@christianitytoday.com
Check out Books & Culture's weekly weblog, Content & Context.
See our past Weblog updates:
June 2 | 1
May 28 | 26 | 25 | 24
May 21 | 20 | 19 | 18 | 17
May 14b | 14a | 13 | 12 | 11 | 10
May 7 | 6 | 5 | 4 | 3
April 30 | 29 | 28 | 27 | 26
and more, back to November 1999
Weblog
Launched in 1999, Christianity Today's Weblog was not just one of the first religion-oriented weblogs, but one of the first published by a media organization. (Hence its rather bland title.) Mostly compiled by then-online editor Ted Olsen, Weblog rounded up religion news and opinion pieces from publications around the world. As Christianity Today's website grew, it launched other blogs. Olsen took on management responsibilities, and the Weblog feature as such was mothballed. But CT's efforts to round up important news and opinion from around the web continues, especially on our Gleanings feature.
Ted Olsen is Christianity Today's executive editor. He wrote the magazine's Weblog—a collection of news and opinion articles from mainstream news sources around the world—from 1999 to 2006. In 2004, the magazine launched Weblog in Print, which looks for unexpected connections and trends in articles appearing in the mainstream press. The column was later renamed "Tidings" and ran until 2007.
Previous Weblog Columns: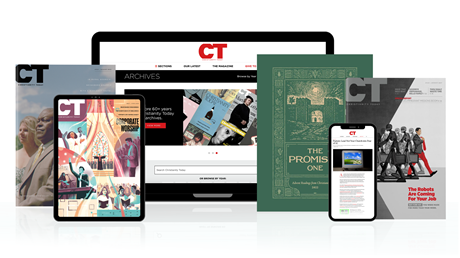 Annual & Monthly subscriptions available.
Print & Digital Issues of CT magazine
Complete access to every article on ChristianityToday.com
Unlimited access to 65+ years of CT's online archives
Member-only special issues
Subscribe
Bush Campaign Seeks 'Friendly Congregations'
Bush Campaign Seeks 'Friendly Congregations'