Unlike many pundits, we're rather keen on the idea of politicians talking about their faith, and of churches taking about public policy. But boy, are we tired of linking to bajillions of news articles and commentaries on the subject, and can't wait until they slow down tomorrow.
Many articles to read today. And you'd better get it all in: Much of this may be obsolete in few hours.
Note: These are stories from Saturday-Monday. We'll be posting Tuesday stories later today.
Religion & politics:
IRS investigating 60 tax-exempt groups | About 60 charities, churches and other tax-exempt groups are being investigated for potentially breaking federal rules that bar them from participating in political activity, the Internal Revenue Service said Friday (Associated Press)
Religion guides minister's liberal causes | Three months ago, the Rev. Brenda Bartella Peterson was preaching on a national stage — appointed to advise Democrats in their attempt to close a much-publicized "God gap," or the tendency of regular churchgoers to vote Republican. But within days of her appointment, Peterson, a former Kentuckian, resigned amid an outcry over her earlier call for the U.S. Supreme Court to remove the phrase "under God" from public school recitations of the Pledge of Allegiance (The Courier-Journal, Louisville, Ky.)
Shades of theocracy | Is it healthy for a secular democracy to have religious voting blocs? (M. Zuhdi Jasser, The Arizona Republic)
When priests play politics | The political actions of Protestant black and evangelical pastors and those of Catholic bishops are not the same (J. Douglas Allen-Taylor, AlterNet)
When you pray, go into the Oval Office and shut the door | The U.S. Constitution bars religious test for office, but that doesn't mean politicians don't pander to it or that voters don't pay attention to it (Randolph D. Brandt, The Journal Times, Racine, Wi.)
Voting according to one's faith? | There exists a huge differential between the principles and practice of faith in America, according to theologian Thomas C. Oden, a leader of the confessional movement within the United Methodist Church. The question is how this chasm will influence Tuesday's presidential election (Uwe Siemon-Netto, UPI)
Faith, values rise above hot election | Candidates love to quote the Bible during campaigns, but here's a verse from Proverbs that you won't hear from their lips: "A gentle answer turns away wrath." (Terry Pluto, The Beacon Journal, Akron, Oh.)
How many gays do you know? | Socially conservative Democrats could determine this election (Fred Barnes, The Wall Street Journal)
Election spins not only facts, but faith | As this maddening presidential election whirls toward its conclusion, our ever-spinning candidates -- and the dizzy media tracking them -- have put God on the agenda (Donna Britt, The Washington Post)
Many elected officials cite religious faith as a guide | The ways legislators use their faith in their daily lives has been a more frequent topic of conversation in St. Louis ever since earlier this year (St. Louis Post-Dispatch)
Where religion, politics and acceptability messily collide | Bush and Buttiglione share views but not political fates (Duncan Hamilton, The Scotsman)
Battle over religion in American presidential election | Politicians should follow their convictions and state them publicly. But those with religious faith should also be able to say, "I am pro-life and pro-family - but not because my religious leaders tell me to think this way. I think this way because these are my own personal convictions. If all the bishops, rabbis and imams in the world changed their minds, I would not change my mind." (Joe Babendreier, The Nation, Kenya)
Faith politics could tip vote | Republicans and Measure 36 supporters pray for a big turnout of conservative Christians (The Oregonian)
Voting & religion:
Hubbard tells Catholics to vote with conscience | Bishop urges those at annual parish convening to view morality of issues (The Times-Union, Albany, N.Y.)
People who 'pray the vote' lean both ways | "For the Lord God omnipotent reigneth." Whatever our votes, that's the single issue that unites us (Ruth Ann Dailey, Pittsburgh Post-Gazette)
Voters view election through prism of faith | People sometimes snicker when George Bush mangles the language. But in West Virginia, when Bush uses words like "prayer" and "God" and "born again," residents understand (The Charleston Gazette, W.V.)
Faith and the ballot box | Pastors use the pulpit to remind voters of church values (Rocky Mountain News, Denver)
James Dobson pushes Christians to vote | The head of a conservative Christian ministry has been using his nationwide radio program in recent days to call on millions of Christians to "vote your values" on Election Day (Associated Press)
On the final Sunday, sermons pulse with the power of spiritual suggestion | A presidential campaign striking for its divisive religious issues and recurring themes of faith and morality harvested a final weekend in America's churches, synagogues and mosques as spiritual leaders urged worshipers to vote - and some delivered barely veiled endorsements (The New York Times)
Preachers urge worshippers to vote | From pulpits around the country Sunday, preachers spoke of voting as a moral as well as civic duty in a final push to rally worshippers ahead of Election Day (Associated Press)
In church bulletin, some voting advice from Wisconsin bishop | Green Bay's influential Bishop David A. Zubik issued a note in church bulletins this week urging Catholics to vote in the presidential election and to base their vote foremost on opposition to abortion and same-sex marriage (The Washington Post)
Evangelicals & politics:
God is not a Republican | Some fundamentalist conservatives have hijacked personal religiosity for partisan politics in this presidential election (Cynthia Hall Clements, Lufkin Daily News, Tex.)
Born-agains for Sharon | Savvy salesman Rabbi Eckstein has convinced evangelicals to support Israel -- and he's hobnobbing with the likes of Pat Robertson and Ralph Reed. But what will he do if Kerry wins? (Max Blumenthalm Salon.com)
The godly must be crazy | Christian-right views are swaying politicians and threatening the environment (Glenn Scherer, Grist)
Bush & religion:
Evangelicals see Bush as one of them, but will they vote? | The election results could determine the power of conservative Christians in the Republican Party for years to come (The New York Times)
Jewish leaders assail Bush ad quoting them | Pamphlet features a photo of President Bush and Israeli Prime Minister Ariel Sharon standing shoulder to shoulder on the front, and on the back it lists quotations from four well-known Jewish figures who praise the president's commitment to Israel and the war on terror (The New York Times)
Black pastor takes stand for Bush | The Rev. Ralph Bradley said that when he planted a "Bush/Cheney 2004" sign in his front yard, a neighbor who is also a minister asked him, "Are you crazy?" (The Canton Repository, Oh.)
Some clergy: Bush isn't our chosen one | To some clergy, the key religious issues in this year's presidential campaign are not gay marriage, abortion rights or stem cell research. Rather, it's war, poverty and tax cuts (The Miami Herald)
Kerry & religion:
Kerry reaches out to black voters in tight race | Liberally quoting from the Bible and opening his brief remarks by intoning "through many dangers, toils and snares I have come, it is grace that brought me safe thus far and tis grace will bring me home," a reflective Kerry told the congregation: "These have been long months" (Reuters)
Kerry finds no Camelot in courting Catholic voters | Illinois has the country's seventh-highest concentration of Catholic voters, with almost one in every three voters members of the church (The Daily Herald, Chicago suburbs)
Kerry: 'I believe in faith-based efforts' | "I think I'll actually get further in terms of leveraging faith-based efforts than George Bush" (Reuters)
Harkin campaigns for Kerry, Pettengill, says Kerry's rise in polls is what God wants | Iowa Senator credits God for numbers (Cedar Valley Daily Times, Ia.)
Religion & local politics:
Ky. senator deflects Commandments charge | Fighting to keep his seat in a bitter contest, Sen. Jim Bunning on Saturday tried to deflect criticism from his Democratic opponent that recent rhetoric from his campaign broke two of the Ten Commandments (Associated Press)
Keyes rips Obama, says he'll stay | "In all that we do, we must be in the name of the Lord," Keyes told a crowd of more than 600 at Crusader Ministries International Church (Chicago Sun-Times)
Senate hopefuls worship, make final push for votes | Tenenbaum visits AME church in Charleston; DeMint attends service with Upstate Baptists (The State, Columbia, S.C.)
Churches & politics:
Politics and the church: A bully pulpit? | Things can get complicated when politics goes to church. (Muskegon Chronicle, Mi.)
Religion and politics | Valley clergy of all denominations step onto a spiritual tightrope as they stand before their congregations this weekend (Valley News Dispatch, Tarentum, Pa.)
Activism of churches considered questionable (Arkansas Democrat Gazette)
Churches take note of voter decisions | While not giving out endorsements, some refer to major issues (Winson-Salem Journal, N.C.)
Messages from pulpits are divided | Last Sunday of presidential campaign (The Toledo Blade, Oh.)
Evangelicals expanding in NH, election impact unclear | You won't catch Pastor Donald E. Littlefield preaching to his evangelical Christian congregation on who should get their vote Tuesday. But if you spoke with people leaving Shiloh Christian Fellowship any given Sunday, you would be hard-pressed to find someone supporting a candidate who favors abortion rights (The Union Leader, Manchester, N.H.)
Sermons focus on election | Many stand on issues, others less outspoken (The Atlanta Journal-Constitution)
Church & statesmen | Never before has faith been such an issue in a presidential election (The Sacramento Bee, Ca.)
Clergy walk carefully on political minefield | Local pastors and priests are walking a careful line between encouraging parishioners to vote and violating their tax-exempt status by actively participating in partisan politics (The Capital Times, Madison, Wi.)
Politics makes its way into pastors' pulpits | Election-year issues like stem cell research are part of church sermons (The Star-Ledger, Newark, N.J.)
Pulpits ring with election messages | On a day usually given over to reflection and introspection, millions of Americans attended church services Sunday that galvanized them politically and underscored the nation's divisions on the eve of a bitterly contested presidential election (Los Angeles Times)
Battle cry of faithful pits believers against the rest | Conservative churches and Christian groups are rallying their members with a singularly intense battle cry: that this presidential race, more than any before, is a contest pitting faithful of all kinds against unbelievers (The New York Times)
The devout need not fear an audit | It's an outrage! Or is it? (The Washington Post)
Judges & religion:
Even with changes, court's shift might only be marginal | Despite talk of changes on the Supreme Court stirred up by the news that Chief Justice William Rehnquist has cancer, many court observers believe the sheer intensity of confirmation battles in the Senate in recent years would make it difficult for any president to put an ideological stamp on what is now a moderate-to-conservative court (The Boston Globe)
A bench tilting right | The average vote of a federal judge has been growing much more conservative (Cass R. Sunstein and David Schkade, The Washington Post)
Following Rehnquist | Chief justice's illness brings questions on court's transition (The Washington Post)
Homosexuality & politics:
Gay ministers 'a risk for Kirk', says moderator | The appointment of openly gay ministers would "rip apart" the Church of Scotland, the Church of Scotland's incoming moderator said yesterday (The Times, London)
Clinton talks about guns, gay marriage in Arkansas | "Let's be frank about it. Out in the country, they are wearing us out with guns and gay marriage. It's a load of bull," Clinton said (Reuters)
Same-sex marriage:
Altar issue could alter race | Gay marriage has potential to sway Bush vs. Kerry (Chicago Tribune)
Same-sex marriage becomes issue late in several campaigns | The debate over same-sex marriage is reverberating through a handful of swing states and at least five Congressional races where campaign advertisements are attacking Democratic candidates for supporting for gay rights (The New York Times)
Few same-sex couples saying 'I do' | On Monday, Somervilleissued its first same-sex marriage license in over a month (The Boston Globe)
Put sacred institution beyond courts' reach | Marriage is neither defined nor given to us by the government, but rather has been given by civilizations and, as most people of faith believe, by God himself (Dan Wolfe, The Atlanta Journal-Constitution)
Homosexuals must share their stories | Gays and lesbians, we need to talk about the effects of discrimination (Emily Saliers, The Atlanta Journal-Constitution)
Reject my mother's bigotry | I am the daughter of Sadie Fields, president of the Christian Coalition of Georgia (Tess Fields, The Atlanta Journal-Constitution)
The struggle | It was hard to find anyone at the recent anti-gay-marriage rally in Washington, D.C., who had a bad word to say about gays (Margaret Talbot, The New Yorker)
Same-sex marriage ban:
Issue 1 divides religious leaders | While some crusade, others are troubled (The Columbus Dispatch, Oh.)
Bible's view of homosexuality is part of marriage amendment debate1 | Not all religious leaders view scriptural passages the same way (Lexington Herald-Leader, Ky.)
Voters to consider marriage amendments | Local religious community speaks on issue (Ledger-Enquirer, Columbus, Oh.)
35 faith leaders oppose amendment | Thirty-five religious leaders, including Jews, Muslims and Protestants, have signed a statement opposing Amendment 3, calling the measure "bad law" and urging voters to think carefully before casting a vote (Deseret Morning News, Ut.)
Same-sex nuptials in danger | It appears that proposed state constitutional amendments to ban same-sex marriage in Utah and 10 other states have strong backing, with only a few races expected to be close (Deseret Morning News, Ut.)
Same-sex marriage issue fires up gays | Human Rights Campaign, the nation's largest gay, bisexual and transgender political organization, is part of the largest get-out-the-vote operation Nevada has ever seen (The Washington Post)
11 states to vote on same-sex marriage | Rarely in American history have so many voters — close to one-fifth of the electorate — had a chance on a single Election Day to express themselves on such a highly contentious social issue (Associated Press)
Gay marriage ban faces some unlikely foes | Top Republicans, labor groups and the state's AARP chapter oppose the wording that will appear on Ohio's ballot on election day (Los Angeles Times)
Marriage & family:
A new marriage proposal | How a controversial program promotes matrimony as a way to tackle poverty (Time)
Walking the walk on family values | The state with the lowest divorce rate in the nation is Massachusetts (William V. D'Antonio, The Boston Globe)
Vatican sex guide urges Catholics to do 'it' more often | A Vatican-sanctioned sex guide is encouraging churchgoers to make love more often in an effort to offset "impotence and frigidity" and address papal concerns over declining birth-rates among Italian Roman Catholics (The Telegraph, London)
Anglicans & homosexuality:
Hawaii Episcopalians seek to clarify their policies concerning homosexuals | Changes urged in church structure (Honolulu Star-Bulletin)
The Archbishop who opted for trial by media | In this extract from his forthcoming biography of the Archbishop of York, Rob Marshall tells the untold story of what really happened when gay protestors tried to "out" him in 1994 (The Times, London)
The Anglican Church should be one, holy, catholic and apostolic | The Windsor Report offers Anglicans — and indeed all who seek to live together in communion and fellowship — a reminder of the cost of discipleship and the cost of true life together (Geoffrey Rowell, The Times, London)
African Anglican bishops meeting:
African bishops break from west seminaries | Widening the growing global Anglican rift over homosexuality, Anglican bishops in Africa said Monday they would stop theological training of African clergy in Western institutions (Associated Press)
African hardliners set deadline in gay bishop row | Conservative Anglican Archbishops in Africa have set a February deadline for the liberal American Church to "repent" for consecrating a homosexual bishop (The Telegraph, London)
African Anglicans bishops' bold statement on gay marriages | Apparently motivated by Nigeria's President Olusegun Obasanjo's charge to African Anglican bishops to prosecute the war against homosexuality in the church to a logical conclusion, the 12 primates last Thursday expressed their resolve to hold tenaciously to the biblical doctrine of marriage between a man and a woman, giving another terse warning to their American counterparts to repent or be prepared to go it alone (Vanguard, Nigeria)
African bishops loosen Western ties | Anglican bishops in Africa have vowed to end theological training in the West at the end of their first meeting (BBC)
Women in Church of England:
Hewitt gives backing for female bishops | Women vicars held back by 'stained glass ceiling' (The Observer, London)
Church of England moves a step closer to accepting women bishops | Proposals that could see the first female Archbishop of Canterbury will be unveiled on Tuesday, as the Church of England reopens the decade-long controversy over the ordination of women priests (The Independent, London)
Anglicans told to accept women bishops or leave | Traditionalist Anglicans have been warned by a senior bishop that they should consider leaving the Church of England if it backs the ordination of women bishops (The Times, London)
Church life:
Puppeteer ministers to faith, seeks it | Sara Peattie, puppeteer in residence at Emmanuel Church of Boston on Newbury Street, worked this week on her unusual ministry in the church basement (The Boston Globe)
At a Park Ave. church, a 'nice, friendly face' | George W. Rutler, pastor of the Church of Our Saviour, has installed a twenty-four-foot version of the icon "Pantocrator" behind the altar (The New York Times)
Nation's unchurched doubled in decade, poll finds | The proportion of those saying they had no religious affiliation rose to 16%. But theologians say they've noticed an increase in spirituality (Los Angeles Times)
Church going for the 'green' | Saint Mark Presbyterian hopes for high rating from a coalition of building-industry leaders who back structures that respect the environment (Daily Pilot, Newport Beach, Ca.)
The simplest life | Why Americans romanticize the Amish. (The Washington Monthly)
Urban renewal | An aging congregation and a new minister transform a dying church (The Dallas Morning News)
Revering saints is a corporate job | When push comes to shove faith is not "personal", but relational, not private but corporate (Judith Maltby, The Guardian, London)
Lutheran and Catholic bishops celebrate Reformation together | Lutheran and Roman Catholic bishops joined in a Reformation worship service here to mark the start of a series of campus discussions about faith (Grand Forks Herald, N.D.)
Two faiths unite to learn | A church and a synagogue have joined forces to dissect the differences as well as the common threads in Judaism and Christianity (The Miami Herald)
Missions & ministry:
Oliver Gospel keeps the faith | A group of business leaders wants the Oliver Gospel Mission to relocate, with numerous other service organizations, to an all-in-one homeless shelter (The State, Columbia, S.C.)
Faithful and funny | Christian comedians bring their brand of humor to Solano County (The Reporter, Vacaville, Ca.)
Missionaries tend to tasks | Clash of cultures incubates (John Terry, The Oregonian)
Deep in jungle, a prayer is answered | Dominican villagers marvel at treasures from St. Alphonsus (The Boston Globe)
Suffering the pornographers | Two young pastors from California started an online ministry, XXXChurch.com, to battle what they see as a scourge on modern society: Internet pornography. (The New York Times)
Church van crashes along Texas highway | A church van carrying mostly teenagers from a birthday party flipped over and crashed when its driver swerved along an East Texas highway, injuring 14 passengers (Associated Press)
Korean missionaries carrying word to hard-to-sway places | South Korean Christian missionaries have become known for aggressively going to the hardest-to-evangelize corners of the world (The New York Times)
Undoing the damage to sacred banks | Interfaith effort plans revival of the Anacostia River, replenishment of its neighborhoods (The Washington Post)
Salvation Army may cut jobs to plug £9.6m hole | A spokeswoman denied an allegation put to the Guardian anonymously by a member of staff that at least 200 job losses had already been agreed at its London headquarters (The Guardian, London)
Gangs call truce in church:
Md. gangs ready to leave strife behind | Truce by Pr. George's rivals formalized in rousing church ceremony (The Washington Post)
Taking anti-gang effort to community | Pastor arranges summit, reaches out to parents (The Washington Post)
Life ethics:
Gene therapy is just an expensive myth, claim scientists | The "biotech revolution", which has been acclaimed by scientists as the path to miracle cures, has not delivered genuine improvements, according to an official study published this week (The Telegraph, London)
Cancer-free 'designer babies' get approval | People with inherited forms of cancer have won the right to select embryos free from genes that might trigger the disease in future generations (The Times, London)
Embryos to be screened for cancer | Scientists have been granted permission to screen test tube embryos for an inherited form of cancer (BBC, video)
Bowel cancer test for embryos | Four couples with inherited forms of bowel cancer have won the right to choose embryos free from genes which may trigger the disease in future generations, it emerged last night (The Guardian, London)
Scientist warns disabled over having children | Britain's leading geneticist is set to outrage disabled couples by arguing that they should choose not to have children if they know they will be born disabled (The Times, London)
Abortion:
EU court abortion challenge | Woman sues government over 'inhuman' ban (The Times, London)
More 13-year-olds to get morning-after pill | The public furor over Scotland's sexual health strategy has been reignited by a scheme to extend the provision of the morning-after pill to girls as young as 13 without their parents' consent (The Times, London)
Three on committee oppose picket law | Three members of the committee appointed to study the town's ban on residential picketing say the ban should be allowed to expire in January and the town should find other ways to protect doctors who perform abortions from being harassed at home (The Boston Globe)
Church demands abortion inquiry | Health ministers should hold an inquiry into the abortion industry, the Catholic Church said, after two federal MPs raised concerns about an "abortion epidemic" in Australia (The Age, Melbourne, Australia)
Let's have debate on abortion: Anderson | Acting prime minister John Anderson believes there should be a wide-ranging debate on late-term abortion but any change in the law would have to reflect community attitudes "from the bottom up" (The Australian)
America decides | Countdown starts for Roe v Wade (The Observer, London)
New fight for the unborn | The politics of abortion is set to be Americanised in Australia (Emma-Kate Symons, The Australian)
Abortion: the swing issue? | In Pennsylvania, the votes of pro-life Democrats may prove a powerful force on Nov. 2 (Paul Kengor, Pittsburgh Post-Gazette)
Late-abortion report 'by year-end' | An inquiry into how the British Pregnancy Advisory Service has been helping women to have illegal abortions is to report before the end of the year and will clarify the law on late terminations (The Telegraph, London)
Laying down the law | Pro-choice doctors and lawyers in Ireland have long been hoping to bring a test case to Europe (The Times, London)
Abortion needs new laws | The abortion debate will always cause bitter divisions but those divisions will be made worse if Irish politicians do not face up to their responsibilities (Editorial, The Times, London)
Terri Schiavo allowed to live, for now:
Ruling extends life support for Schiavo | The brain-damaged woman must be kept alive until her parents exhaust appeals for a new trial (The Orlando Sentinel)
Schiavo's parents win again in court | Terri Schiavo's parents won an indefinite ban on the removal of their daughter's feeding tube Friday, prompting their son-in- law's attorney to ponder ending their fight (The Tampa Tribune)
Catholicism:
Diocese says `hola' to Hispanic Catholics | Spanish Mass helps area newcomers experience God in their first (and sometimes only) language (The Charlotte Observer, N.C.)
Wash. bishop: Diocese may face bankruptcy | If attorneys for the Roman Catholic Diocese of Spokane do not reach a settlement with dozens of alleged victims of clergy sex abuse, the diocese may be forced to declare bankruptcy, the bishop said (Associated Press)
Celibacy talks are favored | Phoenix priests back 'discussion' (The Arizona Republic)
Dearth of priests forces Dublin parishes to merge | Ireland's largest archdiocese, serving more than 1m Catholics, is to "cluster" some of its 200 parishes and cancel Masses because of declining priest numbers and low Mass attendances (The Times, London)
Pope to meet with Iraqi PM at Vatican | Iraqi Prime Minister Iyad Allawi is to receive an audience with Pope John Paul II at the Vatican on November 4, Vatican sources said (AFP)
A nun's tale | Day-to-Day life in a silent, Catholic nunnery (Lauren Gelfond Feldinger, The Jerusalem Post)
Will church admit its priests want celibacy to be optional this time? | Last week, The Irish Catholic published a survey which "revealed" that a majority of Irish priests want celibacy to be made optional. It was described as "the first of its kind for this country" (Sue Denham, The Times, London)
Church fears rosary fashion craze | A fashion craze for rosary beads has been criticised by the Roman Catholic Church in England and Wales (BBC)
Closing Catholic parishes:
A cause for celebration | Parishioners gather for church's anniversary, supporting the fight to keep it open (The Boston Globe)
At churches, an 8th sit-in begins amid hope, closing | Anger, hope, and sadness pervaded at Boston-area Catholic churches yesterday, where parishioners staged more sit-ins at closing churches, prayed to stave off shuttering at another, and accepted the inevitable ending at a third (The Boston Globe)
Hope fading at Wellesley church | The church sanctuary is chilly Tuesday morning as Father Daniel Crowley shows a reporter around the premises of St. James the Great Catholic Church (The Boston Globe)
Parish may try vigil protest | But pastor, others are not inclined to fight decision (The Boston Globe)
Abuse:
Church abuse focus of database | Dallas lawyer completes national list of 2,600 'priest perpetrators' (The Dallas Morning News)
Lawyer to post list of accused priests | A lawyer has compiled a list of 2,600 Roman Catholic priests nationwide who have been accused of sexual misconduct against children and plans to post it online by early next year (Associated Press)
With abuse came theft from church | Priests accused of stealing money to lure in victims (Seattle Post-Intelligencer)
Cases around country show theft-abuse link | Alleged victims say they often received lavish gifts from priests (Seattle Post-Intelligencer)
Few safeguards made it easy to skim from the collection | Financial practices common in Roman Catholic churches around the country before the 1980s left plenty of opportunity for theft (Seattle Post-Intelligencer)
Ex-priest accused of diverting funds | former Roman Catholic priest ousted from the ministry for allegedly molesting boys diverted thousands of dollars of church money toward personal expenses, in some cases showering his alleged victims with gifts, according to a Seattle Archdiocese investigation (Associated Press)
Religious riots in Liberia:
Fresh religious rioting grips Liberian capital | One person was killed on Sunday when mobs of youths rioted on the streets of the Liberian capital, carrying out apparent revenge attacks for killings during religious sectarian violence on Friday, witnesses said (Reuters)
U.N. troops arrest dozens in Liberia | Armed U.N. troops arrested dozens of men Sunday in a sometimes bloody conclusion to a countrywide disarmament program, days after a fresh burst of violent in the war-battered West African nation (Associated Press)
Religious freedom:
Student sues N.Y. district for barring religious message | Fourth-grader claims officials violated free-speech, equal-protection rights by refusing to allow her to distribute 'personal statement' fliers to other children (Associated Press)
Does accommodating religious practice violate First Amendment? | Case involving prisoners' religious practices is crucial to protection of everyone's religious rights (Charles C. Haynes, First Amendment Center)
Haiti's new government accused of rights violations | Father Gerard Jean-Juste was feeding children at his church in Port-au-Prince when hooded police burst in, firing shots, smashing windows and throwing him to the ground (Reuters)
Catholic tombs vandalized again in France | In the second cemetery attack in a single weekend, vandals smashed vases and tipped over crosses on Roman Catholic tombs in central France, an act the prime minister condemned Sunday as "scandalous" (Associated Press)
Plateau CAN wants end to emergency rule | "Extension of the emergency rule will lead to unnecessary restlessness and questioning of motives," says group (This Day, Nigeria)
Islam:
Muslims, schools draw up prayer deal | Muslim students in Gwinnett County schools would be excused for Friday afternoon prayer under a tentative compromise reached Wednesday by Muslim leaders and officials in Georgia's largest school system (The Atlanta Journal-Constitution)
Police investigate 2 Canadian Muslims over comments about Jews | A statement on a Web site by a Muslim cleric from Vancouver calling Jews "the brothers of monkeys and swine" was perceived as particularly disturbing, especially after Russia reported that one of his followers had left Canada to join rebel forces in Chechnya and had been killed in combat (The New York Times)
War & terrorism:
Iraq's forgotten Christians | To those who like immemorial liturgy in an ancient tongue and the witness of centuries of martyrs, the Chaldean Church is a marvel (Christopher Howse, The Telegraph, London)
Hope professors sign petition challenging 'theology of war' | Three Hope College professors are among more than 200 theologians nationwide who signed a recently released petition questioning what they call a "theology of war" promoted by politicians (The Holland Sentinel, Mi.)
Hitler was evil. Our bombs were not | The Queen cannot apologise for acts of war Britain was forced to use against Nazism (Tony Rennell, The Observer, London)
Church & state:
Christianity has long believed in democracy | "Is democracy actually a Christian notion? Is it found in the Bible?" "Yes and no," said the Rev. Stephen Noll, a U.S. Episcopalian who is vice chancellor of Uganda Christian University (Associated Press)
Rising activism of religious tests church/state wall | For the growing number of Americans, some 16 percent, who identify themselves as religiously unaffiliated, the rising activism of churches and pastors feels threatening (Judy Ettenhofer, The Capital Times, Madison, Wi.)
Church & state in Europe:
Analyse this: Devil worship | England expects every Satanist to do his duty (Darian Leader, The Times, London)
Germany's churches bear a financial cross | Taking care of people's souls can take a lot of money, and Germany's Catholic and Protestant churches, funded mostly by taxes, are joining the nation's 4.25 million unemployed in praying for economic recovery (Deutsche Welle, Germany)
The new crusade | Fighting for God in a secular Europe, conservative Christians, the Vatican and Islamic militants find a common cause (Newsweek International)
EU Constitution:
Europe's constitution | Document includes right to life, freedom of religion, and "integrity of the person" (The Washington Post)
Nations of EU sign its first constitution | The document has to be ratified by each country. Critics say it is watered down (Los Angeles Times)
Pope asks EU to recall Christian roots | Pope John Paul, reflecting Vatican disappointment that Italy's nominee had to step down from the EU executive because of his religious beliefs, has repeated his call for Europe to remember its Christian roots (Reuters)
EU Commission:
Buttiglione won't seek EU justice post | Under attack for calling homosexuality sinful, Christian Democrat and papal confidant Rocco Buttiglione said Saturday he was abandoning efforts to become European Union justice commissioner, a bid that had kept the new EU Commission from taking office (Associated Press)
Also: Italy's Buttiglione stands aside to ease EU crisis (Reuters)
EU row candidate stands down (BBC)
Italian bows out in Euro gay row (The Observer, London)
Science:
'What does it mean to be human?' | Anthropologist Desmond Morris suggested the discovery of a human "hobbit" on Flores would force many religions to examine their basic beliefs (BBC)
Scientific progress can't be put back in the box | With two days to go before the election, talk of God, genes and of ideology versus empiricism resounds in a political season in which science has become as much a hot-button issue as it was in Galileo's day (David Ewing Duncan, San Francisco Chronicle)
Halloween:
At Halloween, a church's ghostly tale | As legend goes, St. Mary's Episcopal Church is haunted by the ghost of the Rev. Henry David Jardine, a 19th-century priest whose footsteps still echo through the Gothic-style sanctuary (The New York Times)
For Christians, Halloween need not pose a problem | Don't fret about goblins sullying Sabbath; have fun (Ken Garfield, The Charlotte Observer, N.C.)
Better the devil you know | Why Hallowe'en upsets those who believe in 'proper' religions | (Muriel Gray, The Herald, Glasgow, Scotland)
Trick or treat Inc | Guy Fawkes has been left out in the cold now that Hallowe'en is big business in Britain. Be afraid, warns David Thomas, be very afraid - it's going to cost you (The Telegraph, London)
Secular meets sacred | Regardless of the timing, Halloween serious fun at 2 churches (Times Leader, Wilkes-Barre, Pa.)
Bring back Halloween in schools | Halloween, one of childhood's most innocent and delightful holidays, now is falling victim to the petty tyranny of political correctness (Editorial, Grand Forks Herald, N.D.)
Thousands gather for Reformation Day | Hispanics pray and sing at a festival billed as an alternative to Halloween activities (The Orlando Sentinel)
Peorians treated to a holy Halloween | Church offers a taste of heaven, no treats (Peoria Journal-Star)
Halloween: A victim of our culture wars? | Halloween as we celebrate it today is not satanic (Susan Brooks Thistlethwaite, Chicago Tribune)
Give up the ghosts | Halloween is now a multimillion-pound industry and one of the biggest social events of the year (Stuart Jeffries, The Guardian, London)
Big sell puts Hallowe'en boom next to Christmas | This year, thanks in part to a vigorous drive by supermarkets to import America's Hallowe'en traditions and rituals to Britain, it has become the second biggest seasonal event after Christmas (The Telegraph, London)
Halloween hits streak of bad luck in school | Wash. city joins others to ban costumes, parties (The Washington Post)
Hell House:
'Hell House' in Hollywood | For a decade, Christian fundamentalist groups have used a kit designed by a Colorado pastor to battle sin with performances of "Hell House." Now a Hollywood producer is using the script in a satirical show (Weekend Edition, NPR)
Meet Mister Hell House | Pastor Keenan Roberts blazes trail with scary youth outreach (The Daily Camera, Boulder, Co.)
Faith through fright | Depictions of death and hell aim to save (The Washington Post)
Money & business:
Insurer bought tributes to ex-chief's parents | Blue Cross paid $10,000 for two stones etched in the names of ousted President Ronald A. Battista's parents at St. Francis Chapel in Providence (The Providence Journal, R.I.)
Forgive the debtor, if not the debt | I recently asked readers to write to me about their experiences with people who had borrowed money but hadn't paid it back. The responses were overwhelming and sad (Michelle Singletary, The Washington Post)
Clerics speak out on Wal-Mart | Some parishioners complain to Cardinal Mahony, saying that vocal opposition to discount store has no place in church (Los Angeles Times)
Witches & pagans:
Pagan rituals on website rile Episcopalians | A druidic "women's eucharist" and a "divorce rite," both posted on the Episcopal Church's official Web site, have outraged Episcopal conservatives (The Washington Times)
Salem mayor considers witch pardons | Mayor Stanley Usovicz is intrigued by a Scottish township's plan to pardon 81 people who were executed for witchcraft there and said he will consider issuing similar pardons in Salem (The Salem News, Mass.)
Theater & film:
Questions of faith and fate | Paul Rawlings's play on faith and fate at the Players Theater offers limited insights into the cosmic questions it seeks to explore (The New York Times)
Hollywood, embracing a once-taboo bi-product | Sexually ambidextrous roles draw attention -- and plenty of A-list actors (The Washington Post)
D.C. Cardinal Hickey:
Cardinal Hickey mourned at D.C. funeral | The poor and the powerful came together Saturday for the funeral of Cardinal James A. Hickey, a champion of the poor who served 20 years as the archbishop of Washington (Associated Press)
Masses, mighty mourn cardinal | Thousands of people filled the Basilica of the National Shrine of the Immaculate Conception in Northeast yesterday to say goodbye to Cardinal James A. Hickey, a champion of the poor who served 20 years as the Archbishop of Washington (The Washington Times)
Cardinal James Hickey | The cardinal was much admired as a man who shunned the temptations of power in the nation's capital in order to help the capital's poor (Editorial, The Washington Post)
Hickey honored as friend of poor | 2,000 gather at funeral mass for former archbishop of Washington (The Washington Post)
Music:
The gospel according to Mavis | With her 'Faith' CD, the robust voice of the Staple Singers calls forth her family's spirit (The Washington Post)
Travis not just 'passing through' Christian label | After three successful gospel collections, Randy Travis returns to his first love -- country music -- on "Passing Through" (Billboard)
Never on a Sunday? | Religion is irrelevant to modern life, says Marilyn Mason. Not so, says Andrew Shanks, it is now more needed than ever (The Guardian, London)
Christian singers among "most beautiful" | Nicole C. Mullen, tobyMac on Nashville Lifestyles 25 Most Beautiful People (The Tennessean)
More articles of interest:
Canon attacks soaps for fostering binge-drinking | One of Scotland's leading churchmen has demanded a clampdown on drinking shown in television soaps, claiming it encourages alcohol abuse among teenagers (The Times, London)
In World Series win, some players and fans see the hand of a higher power | For this achievement, say many Sox players, give God the glory (Religion News Service)
Confronting evil -- and steering clear of it ourselves | It's not easy talking about evil these days (Chi-Dooh Li, Seattle Post-Intelligencer)
Outdoor shrine inspires visitors | Whether devout or merely curious, hundreds of thousands from around the world flock each year to the Cross in the Woods in the village of Indian River, population 2,000 (Associated Press)
Love thine enemy | Not long ago, humanists could feel that theirs was the way of the future. But now, Dave Belden argues, we will need to relearn how to make common cause with religious progressives (New Humanist, U.K.)
Religious leaders divided on executing Rodriguez | Alfonso Rodriguez Jr.'s would be the state's first capital punishment case in a century (Minneapolis Star-Tribune)
Some justice comes before Judgment Day | When Jesus comes back to judge the quick and the dead, I'm sure he'll stop by and ask me for some advice before he hangs up the "Going Out Of Business" sign on planet Earth (Michael Riley, Asbury Park Press, N.J.)
Darfur rebels split over secular state demands | Darfur's main rebel group insisted on Sunday religion and state should be separated in Sudan, a demand rejected by Khartoum and which has divided the two rebel groups at peace talks in Nigeria (Reuters)
Related Elsewhere:
Suggest links and stories by sending e-mail to weblog@christianitytoday.com
Check out Books & Culture's weekly weblog, Content & Context.
See our past Weblog updates:
October 29 | 28 | 27 | 26 | 25
October 22 | 21b | 21a | 18b | 18a
October 15 | 13 | 12 | 11
October 8 | 7 | 6 | 5 | 4
October 1 | September 30 | 29 | 28 | 27
September 24 | 23 | 22 | 21 | 20
September 17 | 16 | 15 | 13
September 10 | 9 | 8 | 7
Weblog
Launched in 1999, Christianity Today's Weblog was not just one of the first religion-oriented weblogs, but one of the first published by a media organization. (Hence its rather bland title.) Mostly compiled by then-online editor Ted Olsen, Weblog rounded up religion news and opinion pieces from publications around the world. As Christianity Today's website grew, it launched other blogs. Olsen took on management responsibilities, and the Weblog feature as such was mothballed. But CT's efforts to round up important news and opinion from around the web continues, especially on our Gleanings feature.
Ted Olsen is Christianity Today's executive editor. He wrote the magazine's Weblog—a collection of news and opinion articles from mainstream news sources around the world—from 1999 to 2006. In 2004, the magazine launched Weblog in Print, which looks for unexpected connections and trends in articles appearing in the mainstream press. The column was later renamed "Tidings" and ran until 2007.
Previous Weblog Columns: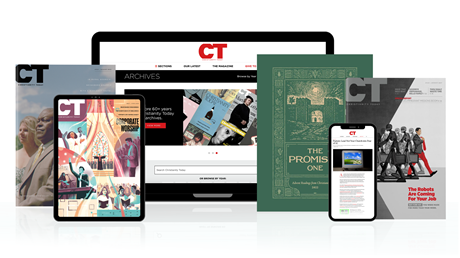 Subscribe to Christianity Today and get access to this article plus 65+ years of archives.
Home delivery of CT magazine
Complete access to articles on ChristianityToday.com
Over 120 years of magazine archives plus full access to all of CT's online archives
Subscribe Now
IRS Investigating 20 Churches, 40 Other Non-Profits for Illegal Campaigning
IRS Investigating 20 Churches, 40 Other ...