The New York Times Magazine: Workers can be religious? At work? Really?
The New York Times Magazine: Workers can be religious? At work? Really?
God bless Russell Shorto: In this week's New York Times Magazine cover story, "Faith at Work," you can tell that he's really, really trying to present a fair, understanding, even sympathetic portrait of marketplace ministry. But he really never gets beyond being agape that some businesses, CEOs, and workers wear their beliefs on their sleeve—and that it's all so … legal!
"This is strange-sounding stuff," he writes. "To someone unfamiliar with marketplace Christianity, the questions pile up. Is this legal? Aren't there separation-of-church-and-state issues here somewhere? What about discrimination?"
It's a long piece—7,777 words, to be precise—but the basic structure goes like this:
Astonishing anecdote about religion in the workplace.
Reminder that it's all above board.
Note that it's still a bit strange.
Another andecdote about strangeness.
Disclaimer about it being legal and, in some ways, positive.
Acknowledgement that being legal and, in some ways, positive, doesn't stop it from being odd and, in other ways, troubling.
Repeat.
Shorto, whose writing style is a true delight, is up front about his biases and intent:
My own orientation is secular but that I also believe that all religions have more or less equal dollops of spiritual truth in them, which become corrupted by personal and cultural dross. …
My task … was to try to understand a phenomenon that has, from my perspective, an inherent conflict in it. One of the movement's objectives is to give Christians an opportunity to ''out'' themselves on the job, to let them express who they are, freely and without feeling persecuted. Few would argue with such a goal: it suits an open society. And if it increases productivity and keeps C.E.O.'s from turning into reptiles, all the better.
Then again, the idea of corporations dominated by a particular religious faith has a hint of oppressiveness, a ''Taliban Inc.'' aspect. … There is probably no more insidious form of bullying than religion.
It's important to note that Shorto's point isn't that religious expression should be banned from private workplaces. Instead, it's that such expression is surprising to him. His bottom line (literally) is, "It feels weird."
The article's repeated assurances that companies like Riverview Community Bank aren't breaking any laws are probably more directed at readers who think that such businesses must be. But the path Shorto takes goes through some troubled territory.
One of the more problematic paragraphs is this one:
As it happens, thanks to the value American law places on religious expression, proselytizing on the job is perfectly legal, even in a government workplace, even when it's the boss who is doing the pushing. If the legal aspects of the Christian-workplace phenomenon seem bewildering, it may be because, while the United States has always been a deeply religious nation, until recently it has also been fairly resolute about keeping faith out of the public sphere. Thomas Jefferson's famous metaphor of a wall of separation between church and state has long been a part of the national psyche. The historical reasons for erecting that wall are worth restating. The European experience of the 16th and 17th centuries, the effects of which carried over into the 18th, was of state-sponsored religious warfare, of populations decimated and minorities oppressed in the name of one branch of Christianity or another. Part of the genius and daring of the framers of the American system was in their decision to break with the European tradition of establishing a national church, in their conviction that religion was too combustible a material to be fused with political power.
Well, no, the country hasn't been resolute about keeping faith out of the public sphere—that is, keeping religious belief private, with no public consequences in the areas of business, family, public policy, community building, social services, ethnic and racial relations, promoting justice, et cetera.
The historical reasons for erecting Jefferson's wall are worth restating—for exactly the opposite reason that Shorto does so. It wasn't religion that was so combustible—it was the state's abuse of power that caused great concern. Jefferson's letter to the Danbury Baptist Association, where that phrase was first used, was intended as a political statement against George III and the Tories. Jefferson was far more concerned about the state telling people how to worship than about worshipers telling the state how to rule. (Again, for those interested in how the phrase got turned on its head, check out Philip Hamburger's Separation of Church and State, recently published in a paperback edition from Harvard University Press.)
The king is dead, however. Shorto repeatedly suggests that America has more to fear from church than from state, warning of "recent religion-inspired violence," "Islamic terrorism," "a rippling of Christian muscle," "aggressive [Christians] pushing a religious agenda on social issues," "religious harassment," "discrimination," and that loaded word, "proselytizing."
The implication throughout the piece is that, while we probably shouldn't actually pass laws stopping religion in the workplace, believers should voluntarily lay off the God-talk until they're by themselves, at home, in their closets.
"As Christianity moves into a broader arena, directly confronting some of the social mores that an open, secular society is built on, it presents a new challenge," Shorto writes. "A question that will probably be asked as the movement grows is, This is legal, but is it right? Protecting religion and religious expression is one hallmark of American society. Another is protecting [religious] minorities."
It's encouraging to see The New York Times asking, "This is legal, but is it right?" (Would that it do so more often.) But it's a pity that Shorto sees those two hallmarks as competing principles: One expects that those he interviewed do not see such a dichotomy—both are rooted in "the rights of conscience." And the right of belief is worthless without a concomitant ability to share that belief.
Shorto believes, "There is probably no more insidious form of bullying than religion." Does such "bullying" include a Christian telling a Hindu, "You are worshiping a false god, and risk eternal damnation"? What if a Christian told a Muslim, "You should not practice your religion here"? Is that bullying? What if a secularist who believes all religions are corrupted told religious believers, "It is wrong to share your religion at work." Is that bullying?
Strange-sounding stuff, indeed.
The idiot and theodicy
The idiot and theodicy
New York University's religion blog, The Revealer, says it has found "a succinct, perversely funny, brilliantly-narrated, near-perfect piece of religion journalism." Weblog wouldn't go quite that far (it's more a tale of a psychopath than it is of religion). But we urge you to read "Death Is Result of Debate About God," from last Thursday's Detroit Free Press. Here's how it begins:
A Taylor police dispatcher took the call at precisely 12:44 p.m. on Oct. 18.
A 49-year-old man said he'd just blasted a man with a revolver and a shotgun because the man said he didn't believe in God.
Read it all the way through. And if you're into such terrible stories, then you can also read "Baptism Becomes Violent" from today's News-Herald of Willoughby, Ohio.
More articles
Religion & politics:
New black church on Election Day | The new black church is helping the black community rise above the devalued lover syndrome by recommending that she end her longstanding, tawdry affair with the Democratic Party (Harry R. Jackson Jr., New York Sun)
SC voters may have gotten incorrect info from pro-choice rights group | Emily's List calling Bush supporters and telling them to go to wrong polling stations (WIS, Columbia, S.C.)
Culture of life | President Bush's respect for human life is central to the war on terror (David B. Rivkin Jr., National Review Online)
U.S. presidential candidate has single plank: No booze | Gene Amondson doesn't mind news media that poke gentle fun at a temperance oddball in a 12-pack nation (Seattle Post-Intelligencer)
IRS to churches: wink, wink … nudge, nudge | When you're a non-profit, you're safe from the IRS if you're behind a pulpit, but not from behind a plain ol' podium (Ken Schram, KOMO, Seattle)
John Kerry & religion:
Playing politics with God | John Kerry's insulting campaign (Leonard A. Leo, National Review Online)
Another JFK? | No, history is not repeating itself in John Kerry (Brian P. Golden, National Review Online)
Faith and works | Responding to the Bishops' questions (Justin Katz, National REview Online)
Taking Kerry on faith | John Kerry uses articles of his faith to inform nearly every political position he takes--except when it comes to abortion (Terry Eastland, The Weekly Standard)
The future of marriage | Injudicious consequences of a Kerry vote (Robert P. George & David L. Tubbs, National Review Online)
Mel Gibson opposes cloning research:
Braveheart stands athwart a brave new world | Mel Gibson takes on government-funded Twilight Zone research (Q&A by Kathryn Jean Lopez, National Review Online)
Focus on the Family broadcast to feature Mel Gibson on stem-cell ballot issue | Actor opposed to taxpayer-funded human cloning (Press release, audio)
Life ethics:
When parents deserve the right to choose | As the frontiers of medicine are pushing at the boundaries of moral philosophy, some of the biggest dilemmas society faces are occurring at the extreme ends of life (Gillian Bowditch, The Scotsman)
Meeting told support for euthanasia growing | A Melbourne Uniting Church minister has told a public meeting in Adelaide that high numbers of people from all religious denominations support the idea of voluntary euthanasia (Australian Broadcasting Corp.)
Science & health:
In search of the 'God gene' | Dr. Dean Hamer, a molecular geneticist, argues persuasively that genes predispose humans to believe that "spirituality is one of our basic human inheritances," and that, indeed, there is a specific individual gene associated with faith (The New York Times)
Scientists working on ways to deny death | Cambridge University biogerontologist Dr. Aubrey de Grey reckons "we have a 50-50 chance of developing a human rejuvenation therapy that works" (David Yount, Scripps Howard News Service)
Abortion in Australia "out of hand":
Abortion out of control, says minister | Acting Prime Minister John Anderson says the number of abortions in Australia has "got out of hand" and it is time for a broad community debate (The Age, Melbourne, Australia)
Cut the talk and ban late abortion says MP | A Liberal MP has added fuel to the abortion debate by declaring the time for talking was over (The Advertiser, Adelaide, South Australia)
Late terminations a minority, but rising | Abortions late in pregnancy have risen in Victoria in recent years but the vast majority - about 99 per cent - is carried out before 13 weeks (The Age, Melbourne, Australia)
Abortion:
The word of Tim | Pastor Tim Groves felt slighted when he didn't get a chance to comment last week in a column about the big stir in little LeClaire, Iowa, over his blown-up photo depiction of a full-term abortion (The Quad-Cities Times, Davenport, Ia.)
Anti-abortion pamphlet given out with candy | Police Chief Mark Marshall says police received more than ten calls last night and this morning from upset parents (Associated Press)
Abortion activist immolates herself:
Abortion activist dies after act of protest | A 53-year-old College Park woman who was immersed in gasoline and lit on fire in front of a Berwyn Heights abortion clinic died Saturday at 1:20 a.m. (The Gazette, Frederick, Md.)
Suicidal protester dies in gas blaze | Woman set self on fire next to Rt. 193 abortion clinic (The Diamondback, U. Md.)
Baby screening:
Critics attack landmark decision on gene screening | A momentous decision that could lead in time to wholesale screening of embryos for diseases they may develop as adults was made in an undemocratic manner by an unelected authority behind closed doors, it was alleged yesterday (The Guardian, London)
Watchdog faces questions about approval for 'designer baby' tests | The chairwoman of the Human Fertilisation and Embryology Authority is to be called before a House of Commons committee to explain her failure to consult Parliament or the public before allowing a London clinic to screen embryos for inherited bowel cancer (The Times, London)
Church life:
Thou shalt not … bore thy congregation | First it was Kim and Aggie, then The Dinner Party Inspectors. Now, a group of worshippers have gone undercover to pass judgement on our church services. Is nothing sacred? (The Independent, London)
Church of the Apostles reaches out in Columbia | Members of Anglican Mission in America congregation hope to foster ancient tradition of worship (The State, Columbia, S.C.)
Missions & ministry:
Local church helps build new houses in Mexico | In the wealthy city of Indian Wells, Southwest Community Church members hammered out a way to help the less fortunate (The Desert Sun, Palm Springs, Ca.)
Rally prays for city's repentance | 'Thou Art Loosed' leaders want to break down racial barriers (The Birmingham News, Ala.)
Adventists plan 10,000-man march to rebuild family unity | While some spiritual leaders are calling out for peace, the Seventh Day Adventists believe that it is the rebuilding of family unity that will make the difference in stilling the murderous violence wracking the country (The Jamaica Observer)
Christian missionary group returns home after close call in Iraq | The government thinks the five Christian leaders might attempt to enter Iraq again and is considering taking measures to ban them from leaving Korea (The Chosun Ilbo, South Korea)
Anglican Communion:
Archbishop's despair over Anglican infighting | David Hope says row over gay issue is thwarting the church's mission (The Guardian, London)
'Men-only branch' plan for Church | A new branch of the Anglican church with only male clergy has been proposed in a report aimed at ending the row over whether women can be bishops (BBC)
New liturgy marks milestones in women's lives | The Episcopal Church noticed that absence of rituals marking very important milestones in women's lives and plans to do something about it. (Shirley Ragsdale, Des Moines Register)
Catholicism:
Archbishop raps priests on wealth | The Apostolic Nuncio in Uganda, Archbishop Pierre Christophe, has cautioned the Catholic clergy against greed for money and power (New Vision, Kampala, Uganda)
Vatican says Padre Pio center can't hold Mass | The Vatican recently upheld the Archdiocese of Allentown's ban on all Masses at the National Centre for Padre Pio (The Mercury, Pottstown, Pa.)
Sunday Mass disrupted as bishop shuts church | Archbishop Laborius Nashenda ordered the church locked to avoid "scandal, violence and damage" (The Namibian)
Target boots Salvation Army:
Salvation Army: Bell may toll for a tradition | The "army of compassion" says it is moving in the direction of replacing its red kettle-guarding ground troops - a tradition since 1891 - with "virtual kettles" on the Internet. The charity cites a Target Corp. decision to prohibit bell ringers from its stores this year as part of a trend pushing it online (The Sacramento Bee, Ca.)
Target kicks Salvation Army's kettle | The Salvation Army has lost one of its top Greater Sacramento locations for its annual red kettle drive, making the charity wonder if it can make up the difference elsewhere to fund its community service programs (Sacramento Business Journal)
Religious freedom:
Religious tolerance in Lebanon's schools | On the face of it, the National Evangelical School in south Lebanon is just like any other school (BBC)
At least 18 dead, 250 arrested after Liberia riots | Mobs of Christian and Muslim youths armed with sticks and knives fought running battles in a suburb of the capital Monrovia on Sunday, carrying out revenge attacks for deaths in riots there on Friday (Reuters)
Man arrested after bulldozing church:
Miss. man arrested for bulldozing church | A man was arrested on vandalism charges after police said he drove a bulldozer into a church, an attack parishioners claim was racially motivated (Associated Press)
Bulldozer attack on church may have been racially motivated, members say | Warren County man arrested for allegedly striking church with bulldozer (Associated Press)
Homosexuality & religion:
Gay blacks feeling strained church ties | Same-Sex Marriage Debate Has Put 'Don't Ask, Don't Tell' Relationship Under Scrutiny (The Washington Post)
Priest raps homo critics | A UK-based Anglican priest has criticised the Church of Uganda for defrocking the retired Bishop of West Buganda Diocese, Dr. Christopher Ssenyonjo, over his association with homosexuals (New Vision, Kampala, Uganda)
Education:
Onward Christian lawyers | Our reporter gets kicked out of Jerry Falwell's new law school (Geoffrey Gagnon, Legal Affairs)
Family sues Liverpool schools over flier | Girl wants to distribute handout about how Jesus helps her and her parents. (The Post-Standard, Syracuse, N.Y.)
A walk on the 'other' side | To instill values, teach children how to empathize with opposing views, speaker says (Ventura County Star, Ca.)
Spanking in Britain:
MPs due to vote on smacking ban | Proposals to limit - but not ban - the right of parents to smack their children are back before MPs (BBC)
Blair acts to rule out a total ban on smacking | The campaign to ban parents from smacking children was on the verge of collapse today (The Evening Standard, London)
More articles of interest:
Amish families open homes to tourists | Although their faith requires a distance from the outside world, a dozen Amish families in northeast Ohio welcome visitors to their homes to give them a taste of their culture (Associated Press)
Modern China rethinks Confucianism | The once-reviled teachings of the ancient Chinese sage and statesman Confucius have made a comeback and are being taught to some five million students across the country (The Straits Times, Singapore)
The God bug | Where Mark C. Taylor should be pulling together all the disparate threads of his book, Confidence Games, he instead descends into a rant about American conservative Christianity (The New York Sun)
New Bedford priest faces child porn investigation | A New Bedford priest who allegedly stored child pornography on his personal computer was recently placed on leave from his parish while authorities investigate the electronic obscenities, officials from the Catholic Diocese of Fall River and the Bristol district attorney's office said yesterday (The Boston Globe)
A veteran finds an ally in his inner war | Ralph Burkhardt, a veteran fallen on hard times, comes home each night to the sight of the man who reminds him to keep smiling (The New York Times)
Related Elsewhere:
Suggest links and stories by sending e-mail to weblog@christianitytoday.com
Check out Books & Culture's weekly weblog, Content & Context.
See our past Weblog updates:
November 1
October 29 | 28 | 27 | 26 | 25
October 22 | 21b | 21a | 18b | 18a
October 15 | 13 | 12 | 11
October 8 | 7 | 6 | 5 | 4
October 1 | September 30 | 29 | 28 | 27
September 24 | 23 | 22 | 21 | 20
Weblog
Launched in 1999, Christianity Today's Weblog was not just one of the first religion-oriented weblogs, but one of the first published by a media organization. (Hence its rather bland title.) Mostly compiled by then-online editor Ted Olsen, Weblog rounded up religion news and opinion pieces from publications around the world. As Christianity Today's website grew, it launched other blogs. Olsen took on management responsibilities, and the Weblog feature as such was mothballed. But CT's efforts to round up important news and opinion from around the web continues, especially on our Gleanings feature.
Ted Olsen is Christianity Today's executive editor. He wrote the magazine's Weblog—a collection of news and opinion articles from mainstream news sources around the world—from 1999 to 2006. In 2004, the magazine launched Weblog in Print, which looks for unexpected connections and trends in articles appearing in the mainstream press. The column was later renamed "Tidings" and ran until 2007.
Previous Weblog Columns: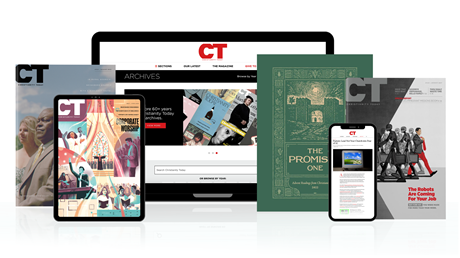 Subscribe to Christianity Today and get access to this article plus 65+ years of archives.
Home delivery of CT magazine
Complete access to articles on ChristianityToday.com
Over 120 years of magazine archives plus full access to all of CT's online archives
Subscribe Now
Separation of Church and Store
Separation of Church and Store