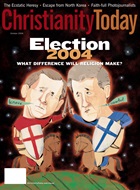 This article is from the October 2004 issue. Subscribers can read all of CT's digital archives.
Christianity Today's profiles of this year's election candidates will continue today with an article on George W. Bush. Yesterday, we profiled John Kerry.
"Let me give a big introduction to our brother," said an ebullient Herb Lusk as President George W. Bush walked into a room of Christian leaders in Philadelphia. Lusk, a leading evangelical in Pennsylvania, was welcoming Bush to People for People, a faith-based community service organization, at a midsummer rally.
"Let's not hold back anything in our welcome!" said the man known as the "praying tailback" in his NFL days. Bush's eyes responded, looking bright with the pleasure of friendship. In turn, he saluted Lusk as "a general in the army of compassion." Bush was clearly reaching out to his faith-based supporters.
As well he should. Bush's re-election strategy rests on a high turnout of pro-Bush churchgoers. Christian radio talk-show host Kevin McCullough says, "The church community is more strongly supportive of this President than any other I can remember in my lifetime."
Matthew Dowd, a Bush campaign strategist, told CT that their polling in July indicated 91 percent support from evangelicals.
But top GOP leaders believe that not all evangelicals share equal fervor for the President. They agree with research from presidential adviser Karl Rove, who said nearly 4 million evangelicals did not cast ballots in the 2000 election. That may have cost Bush the popular vote victory.
Dowd, who did that original analysis, told CT that evangelicals as a voting bloc underperformed by 15 percent to 20 percent of what the GOP anticipated in 2000. "There will be a concerted effort to make sure Bush partisans turn out," he said.
The "concerted effort" turned into a highly controversial ...
1
Wooing the Faithful