Ask Graham Taylor how success has changed his life, and he's got a simple answer. He no longer has to worry when his car, a 15-year-old rusty Vauxhall sedan, breaks down.
Taylor, an Anglican priest from Yorkshire whose novel, Shadowmancer, was a bestseller in both the United Kingdom and the United States (with 600,000 copies sold), says success has a price—at least when it comes to depending on God.
"In many ways," Taylor says, "it's taken away the elements of faith I used to enjoy—like praying for the money to fix the car."
Wormwood, his second novel—which the Guardian hails as "breathtaking in scope" and "an extraordinary achievement"—is due at American bookstores in October. With screen rights for both books sold to Hollywood, Taylor recently thought about upgrading to a Bentley, or even a Mercedes.
Then he asked his wife, Kathy.
"Graham," she told him, "people are starving in Africa."
Taylor, 46, credits his wife for keeping him on the straight and narrow despite his newfound celebrity and wealth. "It's like having the Archangel Gabriel around," he says.
This month, Taylor finishes ministry as a vicar in the village of Cloughton. A heart condition and a case of pneumonia earlier this year convinced him that he couldn't be both pastor and author.
He sees his work as a writer as a different kind of ministry, one that takes place at bookstore appearances, arts festivals, and television studios instead of in the pulpit. He's surprised how many secular interviewers have asked him about God.
"Once you are in the position of being seen as a celebrity, their barriers come down," he says. "It's like you are part of the club. And so they will talk to you about things which they wouldn't talk to a normal pastor or minister about."
Not much about Taylor's life has been normal. He ran away from home at age 16. Then he worked in bars in London, where he carried equipment for bands like the Sex Pistols, and reveled in sex, drugs, and rock & roll. Taylor left London at 21—dissatisfied with his life, he'd heard an inner voice telling him to go home. While working at a social service agency, he met a group of Christians. Little by little, he turned his life over to Christ.
"It took many years for God to sort me out," Taylor says, "to take from me all the trash I'd filled my life with. But over the many years I've been a Christian, he completely transformed me as a person. … It was not overnight. It wasn't in the twinkling of an eye. But it's gone deep, and it's stayed."
His first parish was at St. Mary's in Whitby, a church that appears in Bram Stoker's Dracula. Thousands of Goths and vampire enthusiasts visit Whitby each fall. Taylor, who was fascinated by the occult as a teenager, says he welcomed them to church services.
Taylor worries about occult themes, and the absence of God, in books for children and young adults. Taylor was angered by His Dark Materials, Philip Pullman's young-adult trilogy. Pullman, who has said he despises C. S. Lewis's Narnia books, reworks Milton's Paradise Lost so that Satan is a hero—and God is senile. (Taylor wrote Shadowmancer on a lark after publicly criticizing the occult themes in Harry Potter and Pullman's works, saying they contribute to growing interest in the occult among U.K. teenagers.)
Taylor believes even many Christians in the United Kingdom have a view of God more in line with Pullman. "A lot of the liberal churches have neutered, they have castrated, God. They've taken all the power away from God," he says. In contrast, the New Testament shows a God who is "powerful and willing to get involved" in people's lives.
Taylor's faith was tested earlier this year. He sank into a deep depression, sure that his heart trouble and pneumonia would kill him. In the hospital, he began looking over his life. "I thought, God has really had his hand over my life, all the way through," he says.
Since recovering, he's been relishing the small graces of life—like watching Lydia, his six-year-old, wander around the house making up songs about Jesus. And being content with his old car.
"It's a bit like me," he said, "covered in rust and got a few dents but the engine still runs sweet as ever. What's the point of changing it?"
Bob Smietana is features editor of The Covenant Companion, the monthly magazine of the Evangelical Covenant Church, and blogger of the "god-of-small-things" site (http://god-of-small-things.blogspot.com).
Related Elsewhere:
Shadowmancer and Wormwood are available from Christianbook.com and other book retailers.
Other Christianity Today articles about Graham Taylor and his books include:
A Christian Harry Potter? | Shadowmancer, Britain's hit fantasy novel, conjures darkness so the light will shine brighter. (June 17, 2004)
The Dick Staub Interview: G.P. Taylor, Dracula's Former Vicar | The author of Shadowmancer talks about his early interest in the occult, and his later transformation into a clergyman. (June 17, 2004)
Have something to add about this? See something we missed? Share your feedback here.
Our digital archives are a work in progress. Let us know if corrections need to be made.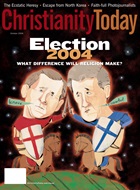 This article is from the October 2004 issue.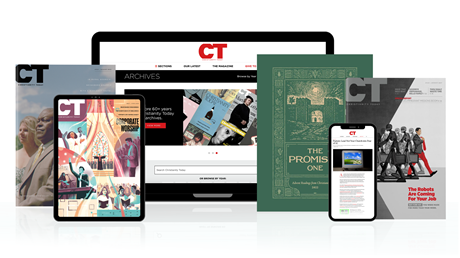 Subscribe to Christianity Today and get access to this article plus 65+ years of archives.
Home delivery of CT magazine
Complete access to articles on ChristianityToday.com
Over 120 years of magazine archives plus full access to all of CT's online archives
Subscribe Now
From Sex Pistols to Shadowmancer
From Sex Pistols to Shadowmancer