North Korean refugees rarely tell their stories. They are too busy ducking, whispering, and running.
The wrong word finding its way to the wrong person could be disastrous. As a North Korean woman attending university in South Korea explained, "I fear my family will be harmed if I speak."
In July, more than 430 North Koreans were airlifted to Seoul from an undisclosed Southeast Asian nation, possibly Vietnam. News reports called it the largest-ever movement of refugees into South Korea. Seoul is normally wary of accepting North Korean defectors for political and economic reasons, but apparently officials helped pave the way for these refugees.
The number of defectors from North Korea to South Korea has been steadily growing, according to news reports. Last year, it reached 1,285. It was 1,140 in 2002 and 583 in 2001. As many as 30 Koreans sought asylum with the United States over the past decade.
No one knows with certainty, but an estimated 300,000 North Korean refugees may now be hiding in China. As a North Korean ally, however, the Chinese government pays informants 500 yuan (US$62) to track down these refugees.
China marches 5,000 North Korean defectors a month back to their country across the Tuen Bridge in the northwestern Jilin Province, sometimes with wire passed through wrist and nose, according to rights groups.
"The police beat us," a 2002 victim told Voice of the Martyrs. "Some had their heads cracked open, some had their teeth broken, and some could not walk again because their arms and legs were so injured."
To avoid political confrontation directly with North Korea, regional democratic countries like Japan receive defectors in their China-based embassies, then reroute them to a third country. Nearly 3,000 North Koreans have applied for asylum in Japan through its embassy in China since 1982, according to the European Council on Refugees and Exiles ledger. Last year alone, 353 applied; at last count, only 12 had been granted asylum.
Political tensions were on display in May 2002 when a group of North Korean defectors crashed the gates of the Japanese Embassy in Shenyang, China. Several men in the group made it through, but Chinese police violated the 1963 Vienna Convention on Consular Relations by reaching inside the Japanese Embassy gate to drag two women and a child, kicking and screaming, into custody. Two others, both men, had 10 minutes of refuge inside the embassy before Chinese police forcibly removed them.
The entire episode was caught on videotape by South Korean media and paraded before the Asian world. A nongovernmental organization (NGO) that helped orchestrate the defection had tipped off the media. The images are included in the documentary film "Seoul Train," to be released this fall (see www.seoultrain.com).
Previously, three other North Korean men had entered the U.S. consulate in Shenyang, then departed for South Korea. Two more North Koreans had sought help at the Canadian Embassy in Beijing. In March, 25 North Koreans took refuge in the Spanish Embassy in Beijing, all assisted by NGOs.
Defectors rarely trek south directly to South Korea, where passage is more perilous. The three-mile wide, 150-mile long demilitarized zone (DMZ) separating the two countries has 1 million land mines, razor wire stretched between observation posts, and approximately 2 million troops on either side.
Fleeing Evil
North Koreans take flight for some combination of three reasons.
Famine. Ten percent (2.2 million) of North Korea's population of 22 million people have died of starvation, according to the Seoul daily Korea Herald, although the Communist regime lops the figure to 220,000.
The South Korean National Intelligence Service reported one example. A North Korean couple defected with their starving two- and four-year-olds to China in the bitter cold of November, where they logged the forest for money. They survived the dual threats of starvation and deportation after they encountered a Christian church in China. Through the church they found that Christianity was not the "fearsome religion" the regime had told them it was.
Economic Stagnation. North Koreans are still reeling from the severe famine of the mid-1990s, despite sharing the same type of arable land—about the size of Indiana—as that of South Korea, whose gross domestic product is among the world's
top 15. Ironically, a 2003 report by South Korea's Ministry of Government Administration and Home Affairs noted that "the amount of food-waste dumped in South Korea was more than enough to feed North Koreans."
North Korea also faces severe medical care challenges. Norbert Vollertsen, a German medical doctor who spent 18 months working in North Korean hospitals, reported to Voice of the Martyrs that children underwent surgery "with no scalpels or antiseptic," and there were "drip lines attached to patients via beer bottles."
Brutality. According to Article 47 of the 1987 North Korean Criminal Code, defectors "shall be committed to a reform institution for not less than seven years." More than 150,000 returned runaways reside in such "Enlightenment Centers," according to the U.S. Committee for Human Rights in North Korea.
The code continues with pointed punishment for vague crimes: "In cases where the person commits an extremely grave concern, he or she shall be given the death penalty."
Native North Koreans aren't the only ones seeking creative passages to South Korea. Last year about 30 ethnic Koreans native to China obtained education visas to take a 12-week hair designer training course in Seoul. They never returned.
Reaching Out
The Koreas present a paradox: Bordering one of the world's neediest populations are some of the kingdom's brightest ministries, but the wall between them is great.
The largest church in history, Yoido Full Gospel in Seoul, boasts 800,000 members. It has planted 680 branch congregations; operates a university, a daily newspaper with circulation of half a million, and a job-training complex; and owns a mountain where buses shuttle prayer warriors every hour, every day.
Presbyterians thrive in South Korea with 7 million members. Two of their largest churches in Seoul are bursting with 35,000 and 20,000 regular attendees, respectively.
The Church of the Nazarene's largest district on the planet is South Korea, with 259 churches across the peninsula. It operates a university and seminary, and ministers in numerous orphanages. With 20,000 members, it is growing at an annual rate of 8 percent.
The Christians in these South Korean churches reach out to the refugees as they can. Art Kinsler, an American-born missionary to South Korea since 1972 for the Presbyterian Church (USA), says the denomination reaches out to "some 5,000 North Koreans" who have come south in the past few years. But to explain the ministries in print, he says, "might result in no longer being able to visit [North Korea] and send help there."
Stephen Bong Lee, pastor of a Korean Nazarene church in California, believes Christians could follow the example of Korean Americans in California. They donate money to establish noodle factories in North Korea to help alleviate the brutal poverty.
But the regime's sticky fingers may weaken these efforts, says Tim Mercer, Nazarene field director of the Korea National District and a 30-year missionary in South Korea.
"Reliable sources here in the South," Mercer says, "indicate that not all the money given for noodle factories really ends up there." As a show of what donors help provide, he says, North Korean officials present them with pictures of a noodle factory that it passes off as many such plants. "The money is then diverted to other purposes," Mercer says.
Pastor Lee also suggests smuggling Korean Bibles into China. "I met a Korean man doing evangelism in China to North Koreans," Lee says. "He said they don't have enough Bibles, so each person tears out one page of a Bible to share it."
Mercer again cautions, though, that such efforts can backfire. "We have to remember," he says, "that any Bible or portion thereof found in the possession of a person returning to North Korea will condemn them to death."
Word on the ground, Mercer says, is that Scripture is imported into North Korea orally—"via one's memory, a few verses at a time."
Gregg Chenoweth is professor of journalism at Olivet Nazarene University. Tricia Miller is a congressional intern for Rep. Jerry Weller (R.-Ill.).
How to Help Korean Refugees
To contribute to North Korean refugee relief, contact:
Korean Peninsula Peace Project 11901 E. 176th St., Ste. 144 Artesia, CA 90701. dougeshin@yahoo.com
Save North Korean Refugees Inc. 737 Amsterdam Avenue New York, NY 10025 212.749.3790 content@snkr.org
See www.chosunjournal.com and www.nkfreedom.org for more information.
Related Elsewhere:
Yesterday Christianity Today posted a firsthand account of escape from North Korea The Nightmare of North Korea | One man's story of brutality, courage, love, and freedom.
Other Christianity Today articles on North Korea include:
Criminal Faith | Going nuclear, North Korea allows worship only of its dictator. (July 08, 2003)
Helping Refugees Run Roadblocks | No nation wants North Koreans, but Christians rally to their cause. (March 17, 2003)
Fleeing North Korea | Christians among the thousands making their way to China. (Oct. 7, 2002)
Persecution Summit Takes Aim at Sudan, North Korea | Christian leaders issue second "Statement of Conscience." (May 2, 2002)
South Koreans Help Neighbors (Aug. 9, 1999)
Famine Toll Exceeds 1 Million (Oct. 5, 1998)
Editorial: North Korea's Hidden Famine | The poor and the weak should not have to starve due to the policies of their government. (May 19, 1997)
Evangelicals Plead for Korean Aid (April 7, 1997)
Bearing the Cross focused on North Korea in 2001.
Have something to add about this? See something we missed? Share your feedback here.
Our digital archives are a work in progress. Let us know if corrections need to be made.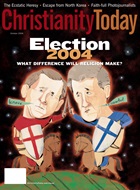 This article is from the October 2004 issue.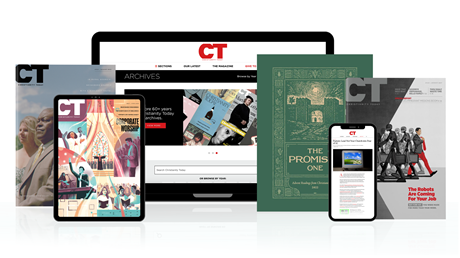 Subscribe to Christianity Today and get access to this article plus 65+ years of archives.
Home delivery of CT magazine
Complete access to articles on ChristianityToday.com
Over 120 years of magazine archives plus full access to all of CT's online archives
Subscribe Now
A Heartless Homeland
A Heartless Homeland