November's presidential election has become a values tug of war. Democratic Sen. John Kerry hardly evokes the typical "I Vote Values" crowd, but in July he explained his campaign this way: "In the end, it's about values." He is using values to change his public image just as President Bush used compassion in 2000.
That both candidates are appealing to values should be encouraging to evangelicals. With up to 40 percent of the American population, evangelicals are in every region and both major parties. Granted, 80 percent of evangelicals voted for Bush in 2000, but up to 4 million didn't bother to vote at all.
Values matter deeply to all Christians, but not just any values. The National Association of Evangelicals' recent draft commentary on civic responsibility advises Christians "to vote to communicate biblical values to their government representatives." The modifier makes all the difference. With that in mind, here are six areas of urgent concern:
Export Religious Freedom
We must not sacrifice human rights—especially religious freedom—on the altar of security. Free expression of faith is not uniquely American, but is enshrined in Article 18 of the Universal Declaration on Human Rights. It should have a hallowed place in the laws of every nation.
In Iraq and Afghanistan, the Muslim majority seeks to create an Islamic state. But as we've seen in Saudi Arabia, Nigeria, and Sudan, repressive interpretations of Shari'ah law deny religious freedom for minorities. America's leaders should fully affirm the central place of religious freedom in our foreign policy.
Follow the Roadmap to Peace
The Bush administration's roadmap to peace in the Middle East holds much promise for a durable settlement. The winner of the November election should walk alongside Israel as it follows through on its commitment to withdraw from Gaza. At the same time, the next President should assist the Palestinian Authority in eliminating terrorist cells, rampant internal corruption, and its own human-rights abuses.
Nothing will stifle militant Islam like a viable, independent Palestine living peacefully next to its Israeli neighbor.
Expand Access to Health Insurance
The Bible makes clear a society's responsibility to care for its poor. As the NAE statement points out, "God measures societies by how they treat the people at the bottom." Access to affordable health care must become a higher priority in Washington.
Kerry makes the compelling case that all Americans deserve access to the health insurance that's available to members of Congress. The Bush administration's addition of a prescription drug benefit to Medicare is a step forward. But beyond President Bush's efforts to shield doctors from frivolous malpractice suits, his achievements and plans on the health-care front have been too slow and not ambitious enough.
Some 40 million Americans lack health insurance. Both parties must persist in finding a viable way to br /idge this gap, while safeguarding the market forces that stimulate innovation and economy.
Fight Aids Wisely
In 2003, Bush pledged $15 billion for the HIV/AIDS fight during the following five years. But the President will need to ramp up spending sharply to meet that goal. More alarmingly, however, by next year we will have treated only 200,000 patients—far short of the goal of 2 million.
Treatment alone will not defeat HIV. Abstinence and behavior change will save countless lives. Kerry proposes doubling U.S. spending against HIV/AIDS to $30 billion. Half that money would be earmarked for the controversial Global Fund. Unfortunately, the Global Fund's advocacy for needle and condom distribution is ineffective against the global spread of HIV. It militates against public policies designed to save families.
Take the 'Culture of Life' to Court
No Supreme Court justices have stepped down during the last four years. Our next President will almost surely have the opportunity to replace at least one. Future Supreme Courts will rule on the partial-birth abortion ban and many other vital matters.
Kerry has said he believes life begins at conception, but he has failed to follow the obvious moral implications of that belief. If life begins at conception, then abortion, destroying human embr /yos for research, and abortifacient birth control are morally bankrupt practices. Both candidates must connect science with conviction and support Supreme Court nominees who share a commitment to protect the unborn.
Stand Up for Marriage
The gay marriage debate exposes the serious problems threatening all marriages. Our commitment to traditional marriage must transcend the politics of sexual orientation. The positives of traditional marriage stand in stark contrast to the problems experienced by divorced adults, children of divorced couples, and never-married parents, as well as unmarried, cohabiting or homosexual couples. It has long been recognized that divorce and cohabitation contribute to the feminization of poverty.
A political stance favoring the Federal Marriage Amendment is good but not enough. The Institute for American Values has pointed out that the Healthy Marriage Initiative (HMI), which President Bush proposed, has its wellspring in the 1996 welfare reform bill, signed by Bill Clinton. Healthy marriages are a key ingredient in the fight against poverty. It's not too late to rediscover the bipartisan spirit of the welfare reform bill and approve spending $1.5 billion through the HMI.
All Christians can make an invaluable contribution to the political process by grounding policy debates in the Bible's vision of human well-being. Our responsibility far surpasses voting. Even after November 4, stay engaged. Keep our elected officials focused on values-driven politics.
Related Elsewhere:
More Christianity Today articles on from our Election 2004 Hot Topic includes:
A Question of Faith | Top Democrats have much work ahead to convince voters of their religious sincerity.—A Christianity Today editorial (March 03, 2004)
The Politics of Communion | Church leaders who admonish politicians on moral issues are doing their jobs. —A Christianity Today editorial (May 26, 2004)
Bush Calls for 'Culture Change' | In interview, President says new era of responsibility should replace 'feel-good.' (May 28, 2004)
Weblog: Kerry Touts His Sleeveless Faith | Plus: Mugabe's demand for church support, Economist predicts a new golden age of giving, new claims about the Dead Sea Scrolls, and other stories from online sources around the world. (July 30, 2004)
Weblog: Boston or Bust | Plus: Vonette Bright, a homeschool lawsuit, and a dearth of other religion stories from online sources around the world. (July 29, 2004)
Weblog: Worshiping an 'Awesome God' at the Democratic National Convention | Plus: Amish in the City premieres tonight, challenging Sri Lanka's anti-conversion bill, Christians accused of bad motives in Sudan activism, and other stories from online sources around the world. (July 28, 2004)
Religion at the Democratic National Convention | Plus: Who's talking religion at the Democratic National Convention, council vows to keep praying in Jesus' name, and other stories from online sources around the world. (second item) (July 27, 2004)
Weblog: Why Kerry Is Sincere When He Says He Believes Life Begins at Conception | Plus: AmeriCorps loses suit on Catholic school placements, U.K. considers new religious hate law, Portland's Catholic archdiocese declares bankruptcy, and other stories from online sources around the world. (July 07, 2004)
Article continues below
Weblog: What John Edwards Believes | John Kerry's Methodist running mate oversees his church's urban ministries, but can he win evangelicals' votes? (July 06, 2004)
Weblog: Bush Wants Church Support, Opponents Cry Foul | Plus: Taliban kills Christian in Afghanistan, court rejects judge's ruling in lesbian custody case, and more articles from online sources around the world. (July 02, 2004)
Weblog: Kerry Told to Speak Up, Shut Up About Religion | Plus: British government debates spanking, Pope laments EU Constitution, and other sources from online sources around the world. (June 22, 2004)
Weblog: Bush Campaign Seeks 'Friendly Congregations' | Plus: Canadian Anglicans put off vote on gay marriages, George Beverly Shea leaves hospital after heart attack, Eisenhower's 'crusade' omitted, and other stories from online sources around the world. (June 03, 2004)
Bishop Bans Pro-choice Voters From Communion | Votes may be considered sin if cast for politicians who support abortions. (May 14, 2004)
Weblog: Catholic Life Group to Spend $500,000 Denouncing Kerry-friendly Bishops | Plus: Southern Baptists propose public school boycott, more on the possible Methodist church spilt, death toll rises in Nigeria, faith in China, and more articles from online sources around the world. (May 07, 2004)
Weblog: Kerry's Religion Is Today's Big Politics Story | Plus: Partial-birth abortion ban goes to court three times today, remembering Rwanda's genocide, Moscow bans Jehovah's Witnesses, and other stories from online sources around the world. (March 29, 2004)
'Swing Evangelicals' | Democrats seek to show that they also have faith-based values. (Jan. 09, 2004)
The Southern Baptist Convention has voter guides at its ivotevalues site.
For Roman Catholics there's the United States Conference of Catholic Bishops guide, which has been countered by the Voter's Guide for Serious Catholics.
More of faith and politics is available on our Politics & Law page.
Have something to add about this? See something we missed? Share your feedback here.
Our digital archives are a work in progress. Let us know if corrections need to be made.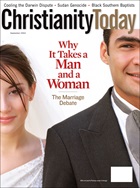 This article is from the September 2004 issue.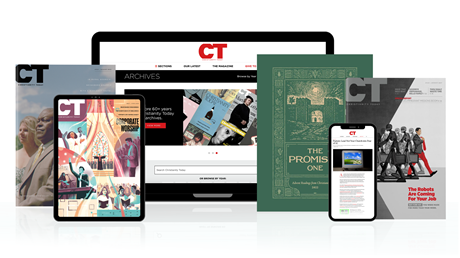 Annual & Monthly subscriptions available.
Print & Digital Issues of CT magazine
Complete access to every article on ChristianityToday.com
Unlimited access to 65+ years of CT's online archives
Member-only special issues
Subscribe
The Values-Driven Voter
The Values-Driven Voter