Federal judge in Nebraska: "No reasonable person" could support Partial-Birth Abortion Ban Act
Their ultimate judgment was the same—the Partial-Birth Abortion Ban Act is unconstitutional because it doesn't have a "health of the mother" clause—but the tone is radically different between today's federal court decision and last month's similar decision by a judge in New York. In the latter, U.S. District Judge Richard C. Casey made his decision with dragging feet, calling partial-birth abortion "a gruesome, brutal, barbaric, and uncivilized medical procedure" and many of the arguments against it "theoretical or false."
Today's decision from U.S. District Judge Richard Kopf, however, slams Congress for saying that the procedure is never necessary.
"According to responsible medical opinion, there are times when the banned procedure is medically necessary to preserve the health of a woman and a respectful reading of the congressional record proves that point," he wrote. "No reasonable and unbiased person could come to a different conclusion. … The long and short of it is that Congress arbitrarily relied upon the opinions of doctors who claimed to have no (or very little) recent and relevant experience with surgical abortions, and disregarded the views of doctors who had significant and relevant experience with those procedures. It is unreasonable to ignore the voices of the most experienced doctors and pretend that they do not exist."
Don't bother reading the 474-page decision, however. (Kopf begins his opinion with an apology for its length, saying, "I pity the poor appellate judge who has to slog through this thing.") Ultimately, while it's disappointing that three out of three federal judges ruled the ban unconstitutional, this is just one more stepping stone on the way to the Supreme Court.
"No one expected the constitutionality of the ban on partial-birth abortion to be decided at the federal district court level," American Center for Law and Justice chief counsel Jay Sekulow says in a press release. "The stage is now set for a lengthy and critical legal battle that ultimately will end up at the Supreme Court of the United States."
Sekulow, who called the decision "disappointing but not surprising," says it's wrong for the court to reject testimony on abortion from anyone but an abortionist. "In the opinion, the court refused to consider the expert testimony of well-recognized and highly respected medical experts simply because they had not performed abortions. This conclusion is not only legally flawed but shows the hostility the court exhibits to medical experts who have respect for human life."
More press releases from pro-life groups will be posted at Word of Mouth's website. (Yeah, the site is overly political in this season, posting even Bush radio addresses on job creation and the like, but it's the only place Weblog knows about that compiles press releases from religious conservative groups. If you know another places, let me know.)
More on abortion:
Glenn Wagner resigns, admits sermon plagiarism
Sad news out of North Carolina over the weekend: E. Glenn Wagner, the former Promise Keepers vice president who pastored Charlotte's massive Calvary Church, resigned over ongoing depression and sermon plagiarism.
In a letter to the church, Wagner (a contributor to Christianity Today sister publication Leadership Journal) talked of
a downward spiral, emotionally and mentally, which left me very tired and discouraged and fighting a losing battle with depression. … On a number of occasions, when I felt literally empty and devoid of any creative ability, I used material from the sermons of some of my brother preachers, in part or in whole, for my sermons, and did not give them credit. This was wrong. It is difficult to admit this failure, but now I ask for your forgiveness. Never before in my almost 30 years of ministry have I done anything like this. … . I believe that God continues to call me to ministry for the gospel. And I am hopeful that after we pass through these deep waters our ministry will, by God's grace, be stronger, and very honest.
An editorial in today's Charlotte Observer shows grace—neither letting Wagner off the hook for plagiarizing nor attacking a fallen leader. Wagner's confession, the paper says,
is only the latest reminder that preachers aren't immune to the pressures and temptations that afflict the rest of us. … When preachers cheat, it's often because they don't do what they tell their congregation to do. Acknowledge your struggles. Admit you're a flawed vessel -- after all, God already knows it, and your congregation probably does, too. Do your best and trust God -- and the congregation -- to say that's enough. The preacher and congregation share the responsibility for building that honest relationship.
The New York Times gets on the religious schools beat
The New York Times has published two excellent articles on Christian higher education this week. The first, a Times Magazine profile of Biola University, is a slice-of-life-ish examination of how the neoevangelical rejection of fundamentalist isolationism—something that saw its largest battles in Billy Graham era following World War II—is playing itself out today. The cover kicker gets it wrong: "Fast Times at Fundamentalist U." But inside, writer Samantha Shapiro gets credit for using the F-word in its proper historical context.
Not even Bob Jones uses the term fundamentalist any more, but there has been a 50-year struggle going on in conservative Protestantism between this group and neoevangelicals—now just called evangelicals. The battle hasn't been over theology proper, but over cultural engagement vs. cultural withdrawal. Here's Shapiro:
Over the last 50 years, evangelical Christianity in the United States has moved away from fundamentalism, which is still dedicated to the idea of separation from an ungodly world. Evangelicals believe that the way to change culture is to participate in it, albeit with caution. Particularly in the last decade, as the movement has matured, intellectual institutions -- journals, scholarly presses and advanced academic work -- have quietly budded within evangelical circles. Biola's evolution from a Bible college to an accredited liberal-arts university offering advanced degrees is just one manifestation of this change.
Sure, there are things one imagines Biola marketers wish were different about the article. (A little less about the gay students and a little more about the philosophy department, for example.) But for the rest of us, it's a true look at sometimes awkward life on Christian college campuses. (There's a notable difference, however, in the way that Biola students are portrayed here and the way Wheaton students were portrayed in Alan Wolfe's 2000 Atlantic Monthly piece. Is the difference accurate? The result of perspective? The result of Wolfe's sitting in on an upper-level political science class vs. Shapiro's visit to "Intro to Mass Media"?)
Today, the Times hits what's probably the biggest news story in Christian higher education right now: the Battle for Baylor. And again, the paper avoids caricaturing the debate as one of fundamentalists vs. progressives. Instead, it's pretty straightforward. Christianity Today readers won't get much news here, but they'll appreciate the approach:
Baylor is trying to buck the conventional wisdom, which states that when a religious college tries to raise its academic standing, its religious mission inevitably takes a backseat to other concerns, like recruiting big-name professors or adding to its endowment.
The paper also notes that "among Protestant schools that are serious about their religious identity, Baylor is rare in its willingness to hire Catholics and Jews — as long as they, too, can explain how their faiths impact their teaching and research."
Somewhat surprisingly, those quoted as raising eyebrows at Baylor's effort to be a top-tier evangelical research institution are dyed-in-the-wool leading evangelical thinkers—Alvin Plantinga (who puts Baylor's chances at "less than half" but applauds the effort) and Calvin College president Gaylen Byker (who says the historically Baptist school "cannot succeed as a generically Christian university. … Christianity-in-general is a way-station on the road to secularity").
More articles
Education | Tariq Ramadan | Islam | War & terrorism | Ministry to Beslan victims | Crime | Abuse | Religious freedom | Headscarves | India | Church & state | Sudan | Life ethics | Politics | Homosexuality | Marriage & the family | Anglican Communion | Church life | Catholicism | Hurricane Frances | Missions & ministry | Spirituality | Theology | History | Books | Music | Television | Hollywood Hellhouse | Beyers Naude | People | More articles
Tariq Ramadan and Notre Dame:
Islam:
War & terrorism:
Ministry to Beslan victims:
Catholic pub attacked in Ireland:
Murder:
Romero murder:
Crime:
Fraud:
Abuse:
Religious freedom:
Veils & headscarves:
India:
Church & state:
Sudan:
Life ethics:
Catholicism & politics:
Politics in church:
James Dobson:
Democrats & religion:
Republicans & religion:
Religion & politics:
Alan Keyes:
Homosexuality:
Same-sex marriage:
Same-sex marriage ban struck (again) in Washington:
Marriage & the family:
Sexual ethics:
Anglican Communion breakup:
Anglican Communion:
Church life:
Southern Baptists leader preaches across U.S.:
United Methodist bishops:
Church buildings:
Minimalist monastery:
Closing Catholic churches:
Hurricane Frances:
Missions & ministry:
Spirituality:
Theology:
History:
Books:
Music:
Television & sex:
Hollywood Hellhouse:
Beyers Naude obituaries:
People:
More articles:
Related Elsewhere:
Suggest links and stories by sending e-mail to weblog@christianitytoday.com
Check out Books & Culture's weekly weblog, Content & Context.
See our past Weblog updates:
September 7
September 3 | 2 | 1 | August 31 | 30
August 27 | 26 | 24 | 23
August 20 | 19 | 18 | 17 | 16
August 13 | 12 | 11 | 10 | 9
August 6 | 5 | 3 | 2
July 30 | 29 | 28 | 27
and more, back to November 1999
Weblog
Launched in 1999, Christianity Today's Weblog was not just one of the first religion-oriented weblogs, but one of the first published by a media organization. (Hence its rather bland title.) Mostly compiled by then-online editor Ted Olsen, Weblog rounded up religion news and opinion pieces from publications around the world. As Christianity Today's website grew, it launched other blogs. Olsen took on management responsibilities, and the Weblog feature as such was mothballed. But CT's efforts to round up important news and opinion from around the web continues, especially on our Gleanings feature.
Ted Olsen is Christianity Today's executive editor. He wrote the magazine's Weblog—a collection of news and opinion articles from mainstream news sources around the world—from 1999 to 2006. In 2004, the magazine launched Weblog in Print, which looks for unexpected connections and trends in articles appearing in the mainstream press. The column was later renamed "Tidings" and ran until 2007.
Previous Weblog Columns: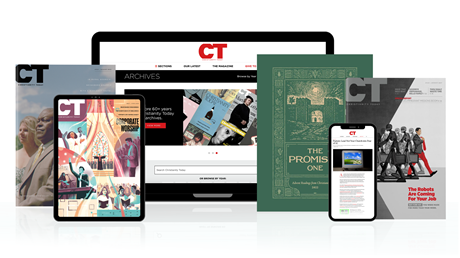 Annual & Monthly subscriptions available.
Print & Digital Issues of CT magazine
Complete access to every article on ChristianityToday.com
Unlimited access to 65+ years of CT's online archives
Member-only special issues
Subscribe
Third of Three Federal District Courts Calls Partial-Birth Abortion Ban Unconstitutional
Third of Three Federal District Courts Calls ...