The U.S. House of Representatives passed a bill in February that would make it harder for asylum seekers to gain their freedom. Supporters of the "REAL ID" bill, introduced by Judiciary Committee Chairman James Sensenbrenner, R-Wis., say it will help keep would-be terrorists out. If ratified by the Senate and signed by President Bush, it will also block illegal immigrants from gaining driver's licenses.
Dori Dinsmore, executive director of World Relief-Chicago, agrees that "the current system is broken" but says targeting asylum seekers is unfair. (World Relief settles more refugees in the United States than any other agency.)
Dinsmore said the bill would increase the burdens asylum seekers face. The bill would require a refugee to prove the "central" reason for his or her persecution.
Even if refugees testify credibly, they could be denied asylum if they can't produce documents to the satisfaction of an asylum officer or judge. But Dinsmore said family members remaining in the home country could place themselves in jeopardy by trying to get a birth certificate or other documents out of the country.
Mark Krikorian, executive director of the Center for Immigration Studies, a D.C.-based think tank, told ct that detention is necessary to protect America's borders. "Every asylum case should be detained in humane circumstances until the case is approved," he said. Krikorian added that the problem is a lack of resources.
Only days before the House passed the bill, the bipartisan U.S. Commission on International Religious Freedom (USCIRF) issued a 500-page report detailing serious failings in the U.S. treatment of refugees who apply for asylum.
The federal agency's study concluded that the Department of Homeland Security's system often unnecessarily treats asylum seekers as criminals, frequently detaining them in jails or jail-like facilities. People seeking asylum sometimes have been strip-searched, shackled, and handcuffed in their cells.
The uscirf study found that asylum is granted arbitrarily, "depending on where the alien arrived and which immigration inspectors addressed the alien's claim".
Michael Cromartie of the USCIRF told CT the study aims to help ensure "the system is fair and just for people without jeopardizing security concerns for the U.S.
Edward Neepaye knows the situation firsthand. He escaped from war-torn Liberia and landed in Newark, New Jersey, seeking refuge. Neepaye had been senior pastor of a large church in Liberia's capital and an outspoken human-rights advocate.
He ministered to more than 500 youth, many of whom were forcibly recruited as child soldiers for President Charles Taylor. Taylor's security forces targeted Neepaye for death.
However, when he arrived in the United States in April 2003, Pastor Neepaye was promptly locked in a detention center for three months while his case was decided.
The Department of Homeland Security oversees 19 facilities—including 6 county jails—to process asylum claims. Applicants sometimes live alongside inmates facing criminal prosecution.
Human Rights First (formerly the Lawyers Committee for Human Rights), a Washington-based advocacy and legal group that matches asylum seekers with pro-bono attorneys, helped Neepaye. "If I didn't know I would be killed back at home, I would never have submitted to such humiliation," he told CT.
The bill faces an unknown fate in the Senate. Last year similar asylum provisions were stricken from an intelligence-reform bill.
Related Elsewhere:
CT senior associate news editor, Stan Guthrie commented on REAL ID and a U.S. Commission on International Religious Freedom report on immigration. His article is available on our website.
SPEAKING OUT
Aliens in Our Midst | Attaining asylum in the land of the free is harder than you'd think—and it may be costing people their lives. (Feb. 10, 2005)
The United States Commission on International Religious Freedom's report on asylum seekers is available from their website.
Information on the REAL ID Act of 2005 is available from the Library of Congress.
News elsewhere includes:
House approves 'real ID' bill | Udall, Wilson vote against act, which disallows N.M. licenses (Scripps Howard News Service, Feb. 11, 2005)
Real ID Act spawns debate | Driver's license restrictions hot topic among immigrants (Bradenton Herald, Fla., Feb 12, 2005)
Guarding Against Mistaken Identity | The House of Representatives has decided that the passport to American society must meet federal standards, and at least two courts have said a driver's license is not a constitutional right. (Investor's Business Daily, Feb 22, 2005)
House Approves New Rules for Asylum Seekers | Foreigners could have a harder time seeking asylum in the United States and illegal immigrants would be barred from getting drivers licenses under a bill approved on Thursday by the U.S. House of Representatives. (Reuters, Feb 10, 2005)
Other Christianity Today articles on immigration include:
Article continues below
Security Gaffes | Evangelical schools worry over post-9/11 visa rules. (Oct. 08, 2004)
'The Peoples Are Here' | Record immigration pushes American Christians out of their comfort zones. (Feb. 12, 2003)
Give Me Your Muslims, Your Hindus, Your Eastern Orthodox, Yearning to Breathe Free | Immigration's long-ignored effect on American religion is garnering much attention from scholars. (July 9, 2001)
European Churches Declare Immigrants Are Not 'Potential Criminals' | Petitions submitted to the European Union for more protection, aid. (June 13, 2001)
Separation Anxiety | Haitian immigrants are less welcome than Cubans, but Florida churches are filling the hospitality gap.(April 24, 2000)
Saving Bodies, Rescuing Souls | Chechen Muslims find Salvationist care has compassionate accent. (April 24, 2000)
In Sri Lanka's No Man's Land, Churches Provide Some Hope for Refugees | Christians mobilize to help nearly a million left homeless by Tamil conflict (April 18, 2000)
The Torture Victim Next Door | Hidden victims of religious persecution find refuge in America (Mar. 6, 2000)
Church Aids Refugees Despite Violence | The Catholic church has been a place of refuge and reform for those opposing the Indonesian government. (October 25, 1999)
Churches Reach Out to Refugees | In many cases, the groups are relying on churches to help provide temporary housing, furniture, clothing, language training, and money for rent. (June 14, 1999)
Have something to add about this? See something we missed? Share your feedback here.
Our digital archives are a work in progress. Let us know if corrections need to be made.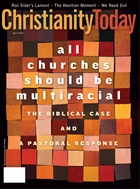 This article is from the April 2005 issue.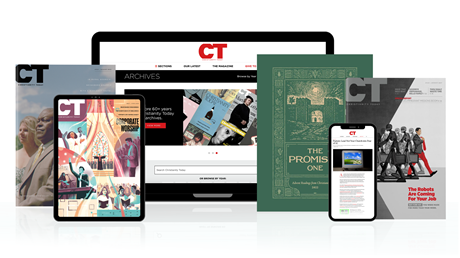 Annual & Monthly subscriptions available.
Print & Digital Issues of CT magazine
Complete access to every article on ChristianityToday.com
Unlimited access to 65+ years of CT's online archives
Member-only special issues
Subscribe
Death Sentence?
Death Sentence?