The day before Roman Catholic Cardinal Joseph Ratzinger became Pope Benedict XVI, he declared in a public Mass that a "dictatorship of relativism" threatens the absolute truth claims of the church.
That statement could easily have been made by conservative evangelical leaders in the United States. Despite theological differences, they're cheering the choice of a pontiff who seems to speak the same moral language they do.
"Relativism, pluralism and naturalism are the three main foes of evangelicalism today and they're the main foes of conservative Roman Catholics," said Norman Geisler, president of Southern Evangelical Seminary in Charlotte, N.C., and co-author of Roman Catholics and Evangelicals: Agreements and Differences.
"We rejoice in the choice because he's going to hold the line and he's not going to allow the liberal element in the Catholic Church to reverse any of those things."
Richard Land, president of the Southern Baptist Convention's Ethics & Religious Liberty Commission, said Ratzinger will be an ally of U.S. religious conservatives on a litany of moral issues such as abortion, gay rights, cloning and physician-assisted suicide.
"This is a reaffirmation of … Pope John Paul II's policies in all those areas," said Land, who described Ratzinger as "a known quantity."
The Southern Baptist leader said he isn't bothered "in the least" by Ratzinger's writing in the 2000 document Dominus Iesus, which calls non-Catholic churches "gravely deficient" and says Catholics alone have the "fullness of the means of salvation." That document was prepared by the Vatican Congregation of the Doctrine of the Faith, which Ratzinger headed.
"His views have no authority over us and I realize that it's an official opinion in Catholicism, but for us, it's just one guy's idea," Land said.
"I can disagree with that theological statement and I can at the same time work with them as I would with people of other denominations on issues where we find common cause, like fighting the culture of death and fighting for the culture of life."
Prison Fellowship Founder Chuck Colson, an original participant in the 1994 "Evangelicals and Catholics Together" document, which aimed to foster cooperation between the two groups, hailed Ratzinger's election as "a great choice."
"The College of Cardinals has opted for orthodoxy over geopolitical considerations," said Colson in a statement. "Cardinal Ratzinger is strong, solid, and will carry on the tradition of John Paul II. That is very good news indeed for Catholics, for all Christians and for the world."
John Witvliet, director of the Calvin Institute of Christian Worship at Calvin College in Grand Rapids, Mich., said the choice of the new pope is likely to hearten those still involved in the "Evangelicals and Catholics Together" movement as well as evangelical opponents to abortion and euthanasia. But he said his writings on Christ also will appeal to those outside the Catholic world.
"The vast majority of his writings are about the person and nature of Jesus, the beauty of God, and the nature of the church as source of healing and mission in the world," he said in a statement. "Those, of course, are all topics that resonate not just with Catholics, but with Protestants as well."
Related Elsewhere:
Cardinal Joseph Ratzinger, a German, Is Pope Benedict XVI | "Simple and humble worker" had served as head of the Vatican office on church doctrine.
Speaking Out
Upright But No Panzer Pope | Why he was chosen—and why he's no narrow-minded blockhead. By Uwe Siemon-Netto
From 'Erstwhile Liberal' to 'Vatican Enforcer | A review of John Allen's Cardinal Ratzinger: The Vatican's Enforcer of the Faith.
Earlier articles on Cardinal Ratzinger and Pope John Paul II include:
The New Pope's Relationship with Protestants | In this 1998 Christianity Today article, Richard John Neuhaus examined Joseph Ratzinger's dialogue with the Reformation traditions and his vision for Christianity in the new millennium. (May 18, 1998)
The Pope We Never Knew | The unknown story of how John Paul II ushered Campus Crusade into Catholic Poland. (April 19,2005)
Pope's Funeral Spotlights Kinship Between Catholics and Evangelicals | Once antagonistic communities are now on the same side of several cultural issues. (March 08, 2005)
Christian History Corner: Signs of the Reformation's Success? | Reformation scholar Timothy George discusses Pope John Paul II's historical significance and this 'momentous' era of Catholic-evangelical dialogue. (March 08, 2005)
Pope Gave Evangelicals the Moral Impetus We Didn't Have | Timothy George discusses how "the greatest pope since the Reformation" changed evangelicalism without us knowing. (April 06, 2005)
Pope 'Broadened the Way' for Evangelicals and Catholics | Theologian Tom Oden sees continued cooperation ahead. (April 05, 2005)
How the Pope Turned Me Into An Evangelical | A Christianity Today associate editor recalls growing up Catholic in John Paul II's Poland. (April 04, 2005)
Pope John Paul II and Evangelicals | Protestants admired his lifelong admonition to "Be not afraid! Open the doors to Christ!" An interview with George Weigel. (April 04, 2005)
A collection of earlier coverage of Pope John Paul II is available online.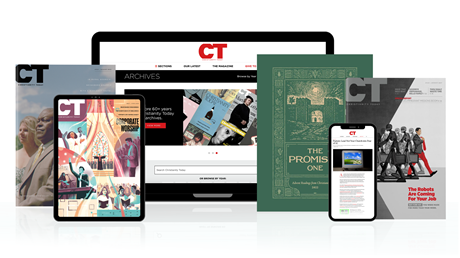 Annual & Monthly subscriptions available.
Print & Digital Issues of CT magazine
Complete access to every article on ChristianityToday.com
Unlimited access to 65+ years of CT's online archives
Member-only special issues
Subscribe
Conservative Evangelicals Say New Pope Speaks Their Moral Language
Conservative Evangelicals Say New Pope Speaks ...