On a famous day in Houston 45 years ago, presidential candidate John F. Kennedy, a Catholic, had to assure a skeptical audience of evangelical clergy that his presidency would not be controlled by the Vatican.
On Friday, a U.S. president who is a favorite of evangelicals and two former presidents—one a Southern Baptist—attended a pope's funeral, signaling an enormous shift in the American religious landscape over the past two generations.
In part, scholars say, President Bush, his father and former President Bill Clinton attended Friday's funeral recognizing that Pope John Paul II's record as an advocate for human rights transcends politics. But President Bush's personal admiration for John Paul also illuminates the fact that over the past 25 years millions of like-minded evangelicals have forged alliances with conservative Catholics on a host of hard-fought cultural issues.
Common opposition to abortion, same-sex marriage, research on embryos, and doctor-assisted suicide combined with John Paul's robust anti-Communism to reduce, although not eliminate, historic animosities between the two groups, scholars said.
This time last year, a poll by Religion and Ethics Newsweekly and U.S. News & World Report found that rank-and-file evangelicals held John Paul in higher regard than Jerry Falwell or Pat Robertson.
The two groups' shared values were once again vividly on display last month as evangelical and Catholic organizations provided much of the public advocacy on behalf of Terri Schiavo, the brain-damaged Florida woman whose feeding tube was removed after a long court fight.
While Florida's Catholic bishops supported Schiavo's parents and a Franciscan friar acted as the family spokesman, Bush flew from Texas to Washington specifically to sign a customized bill to send the Schiavo case into federal courts for review.
"In the whole trajectory of the last 20 years, Catholics and evangelicals have found themselves as foxhole-mates on a lot of key values," said Larry Eskridge of the Institute for the Study of American Evangelicals at Wheaton College.
The overlap is not perfect. Not all Catholics are conservative on the social issues that matter to evangelicals. Indeed, Al Gore carried Catholics in the 2000 presidential election, although Bush won them in 2004.
But overall, "evangelicals feel more kinship with conservative Catholics than with some of their brothers and sisters in parts of mainline Protestantism, that's for sure," said Richard Cizik of the National Association of Evangelicals.
To be sure, evangelicals' relatively new regard for the Vatican—or at least their regard for John Paul II—does not completely explain the extraordinary weight of the United States' delegation to his funeral. Clinton, for instance, a Southern Baptist who attended a Methodist church as president, does not line up with the Vatican or most evangelicals on abortion. In addition, Friday's was the first papal funeral since President Ronald Reagan opened diplomatic relations with the Vatican in 1984—making this delegation the first to honor the pope as a head of state.
Even so, the presence of Bush, first lady Laura Bush, two former presidents and Secretary of State Condoleezza Rice far outweighed the United States' delegation to the last papal funeral.
In 1978, the American delegation to the funeral of Pope John Paul I was led by President Jimmy Carter's mother, Lillian. A month earlier, the White House sent first lady Rosalynn Carter to the funeral of Pope Paul VI.
That carefully limited response recognized not only the Vatican's diplomatic position as a non-state, but distantly echoed the historic antipathy between established Protestant Americans and immigrant Catholics.
Before the reforms of the Second Vatican Council in the 1960s, Catholics were forbidden to attend Sunday services in a Protestant church and were discouraged from taking up personal Bible study.
Evangelicals, meanwhile, still honored the furious rhetoric of the Protestant Reformation. Martin Luther, John Calvin, and John Wesley, founders of the Lutheran, Presbyterian and Methodist churches, respectively, all denounced contemporary popes as the anti-Christ.
"In the early 1940s, the director of this office used the terms Catholic and communist in the same breath, describing both as threats to the religious freedom of evangelicals," said Cizik, who heads his association's office of government affairs.
Important differences between the two communities remain, from the doctrinal to the hard-boiled. Evangelicals still generally disapprove of Catholics' devotion to Mary and abhor hierarchy. And they have remained conspicuously aloof from Catholic bishops' growing effort to end the death penalty in the United States.
But over time, the shift of Catholics out of immigrant status matched up nicely with growing prosperity among evangelicals to narrow old class differences, Eskridge said. That set the stage for mutual support through decades of cultural conflict over abortion and other issues, Cizik said.
John Paul's comprehensive "culture of life" arguments helped provide an important intellectual framework knitting together Bush's own positions on abortion and other life issues, said Deal Hudson, a former Southern Baptist who converted to Catholicism and helped lead the White House's political outreach to Catholics in 2004.
Evangelicals and Catholics quickly linked up on related life issues: euthanasia, embryo research, gay marriage, and doctor-assisted suicide. "Then it became the overall issue of moral decline in the United States," Hudson said. "The symbol for that became Hollywood. This is something that really energized the evangelical community, as it energizes grass-roots conservative Catholics."
"John Paul's emphasis on the role of media, that they can play more positive roles in the nurturing of families and children, really brought those communities together," he said.
Cizik, however, emphasized that evangelical regard for John Paul was focused on him individually, and his record of leadership. "It's not necessarily that evangelicals feel this way about popes. It's just this one," he said. "We'll have to see who comes next."
Bruce Nolan is a staff writer for The Times-Picayune of New Orleans, where an earlier version of this story first appeared.
Related Elsewhere:
Weblog earlier rounded up evangelical responses to the pope's death.
Focus on the Family Broadcast a program remembering the legacy of John Paul II.
Evangelicals and Catholics Together has released several statements regarding theological areas in which evangelicals and Catholics are also on the same side. Our coverage includes:
A Distinctive People | A new document from Evangelicals and Catholics Together challenges narcissism, individualism, and spiritual sloth. (March 03, 2005)
Churchly Holiness: An Evangelical Response | Even as Jesus loves all human beings, he will judge all human works. (March 03, 2005)
What I'd Like to Tell the Pope About the Church | Responding to the main criticism Catholics have against evangelicals: that we have no doctrine of the church. (June 15, 1998)
Evangelicals and Catholics Together: A New Initiative | "The Gift of Salvation" A remarkable statement on what we mean by the gospel. (Dec. 8, 1997)
Evangelicals, Catholics Issue Salvation Accord | The Gift of Salvation," a document expressing significant theological agreement between evangelicals and Roman Catholics, is drawing mixed reactions from leading evangelicals. (Jan. 12, 1998)
Article continues below
Betraying the Reformation? | Two responses to R. C. Sproul's critical assessment of the ecumenical document "Evangelicals and Catholics Together." (Oct. 7, 1996)
More recent coverage of the John Paul II's death include:
Christian History Corner: Signs of the Reformation's Success? | Reformation scholar Timothy George discusses Pope John Paul II's historical significance and this 'momentous' era of Catholic-evangelical dialogue. (March 08, 2005)
Pope Gave Evangelicals the Moral Impetus We Didn't Have | Timothy George discusses how "the greatest pope since the Reformation" changed evangelicalism without us knowing. (April 06, 2005)
Pope 'Broadened the Way' for Evangelicals and Catholics | Theologian Tom Oden sees continued cooperation ahead. (April 05, 2005)
Pope Saw His Final Pain as Public Suffering | John Paul II embodied the "culture of life." (April 05, 2005)
How the Pope Turned Me Into An Evangelical | A Christianity Today associate editor recalls growing up Catholic in John Paul II's Poland. (April 04, 2005)
Pope John Paul II and Evangelicals | Protestants admired his lifelong admonition to "Be not afraid! Open the doors to Christ!" An interview with George Weigel. (April 04, 2005)
He Was my Pope, Too | Now that John Paul II is gone, I am even more of an orphan than the Christians in the Roman church. (April 04, 2005)
Protestants Laud Pope for Ecumenical, Social Stands | He was 'unquestionably the most influential voice for morality and peace in the world during the last 100 years,' says Billy Graham. (April 04, 2005)
Pope John Paul II, Leader of World's 1 Billion Roman Catholics, Is Dead at 84 | Third-longest papacy marked by a passion to evangelize the whole world. (April 04, 2005)
More about Ecumenism is available on our website.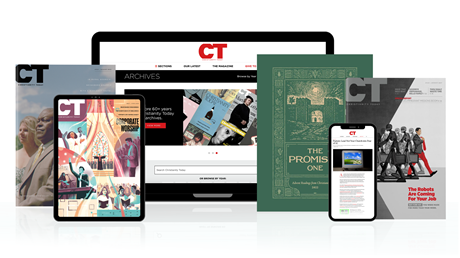 Subscribe to Christianity Today and get access to this article plus 65+ years of archives.
Home delivery of CT magazine
Complete access to articles on ChristianityToday.com
Over 120 years of magazine archives plus full access to all of CT's online archives
Subscribe Now
Pope's Funeral Spotlights Kinship Between Catholics and Evangelicals
Pope's Funeral Spotlights Kinship Between ...