Eighteen-year-old Lauren Tomasik had a vision. This Wheaton Academy senior wanted to see her Christian high school raise $75,000 to build a medical clinic in Zambia to combat HIV/AIDS. And she wanted the money to come from the pockets of her 575 fellow students.
This was no ordinary vision. But lately this had been no ordinary school, considering that in the past three years these students in Chicago's western suburbs raised nearly $250,000 for HIV/AIDS relief in Africa. Most of it came out of their own pockets.
"God has called this school to do this project," said Tomasik, describing a student body whose members encourage each other to forgo movies, Starbucks runs, and even Christmas presents and prom dresses in order to use that money to provide Zambian peers with education and food. "Living in Wheaton, it's so easy to be focused on your own needs and live in the Wheaton bubble," she said of life in her affluent town, well known for its evangelical subculture. "But I have been blessed so that I can bless others."
Few might expect to find simplicity, sacrifice, and compassion among teenagers. "To me, these are difficult things for a Christian suburban teenager to grasp," said Academy chaplain Chip Huber. "We are a blessed people on our campus, no doubt about it. But instead of soaking it up, we're doing something—taking our faith and making it active."
Sacrificial Giving

The story that transformed an upper-middle-class high school into a model for sacrificial giving began on a retreat in the Colorado mountains in summer 2002. Student leaders gathered to plan how to guide their campus spiritually that school year. They tossed around familiar ideas—prayer groups and breakfasts. Something was lacking.
"We knew what was expected of us. But we really felt that God wanted us to do something more," said alumna Christy Peed, "something that people would really see God in and know that we couldn't have done it without God."
The group prayed for such an opportunity. In October, they encountered the One Life Revolution project, a World Vision and Youth Specialties initiative to involve students with AIDS relief in Zambia. It felt perfect. The students were dismayed by opinion polls revealing that American evangelicals put a low priority on ministry to people with HIV/AIDS. Peed, whose parents are missionaries, grew up in Zambia and saw firsthand the devastating effects of AIDS on families. Zambia has more than 630,000 children orphaned due to HIV/AIDS. About 1.1 million are infected with the virus.
The One Life program offered a catalog showing ways students could assist an African village by raising money. Opportunities ranging from an $8 chicken to a $53,000 schoolhouse were included. Even though the schoolhouse cost $45,000 more than the second-most-expensive item, Academy students were convinced the school should be their goal.
The student leaders presented the Zambia project to their schoolmates in mid-November along with 10 ways individuals could contribute through personal sacrifice. "We didn't want this project to be something where people's parents wrote checks," Peed said. "We wanted it to be something where students were sacrificing."
During the initial pitch, the student leaders said if every one of the Academy's students that year gave $100, they would more than reach their goal of paying for the $53,000 schoolhouse. But at first, practically no one was enthusiastic. It seemed unlikely they would raise even $10 from each student, and some were strongly opposed to this big ministry dream. Some students felt this new "God-sized" goal was sudden, unreasonable, and driven by guilt. Others asked why their resources should go to Africa, and especially to fighting a sexually transmitted disease like AIDS. Debates after chapel would often leave Peed in tears.
They launched fundraiser after fundraiser. But money was slow to come in. When Tony Frank, executive director of World Vision Chicago, first visited Wheaton Academy in the winter, the students had raised $5,000 toward their vision of a Zambian schoolhouse. "Honestly, I thought, Maybe they'll make it to $10,000," Frank said. "I really had no confidence."
By spring break, the total was $20,000. Student leaders were stunned to realize they had to raise $33,000 in nine weeks to meet their goal. Desperate for a new approach, they turned to one of their adult mentors. He challenged them, saying the project would not succeed until they were fully devoted in prayer. "Each of us committed to pray every single day about it," Peed said, "and that's when the money started coming in."
Those prayers changed not only their attitudes of fear and doubt toward the project, but also attitudes within the entire school—students, teachers, and administrators. The arguments ceased and a potent passion for Zambia ignited as hundreds of students mobilized to raise funds. Chaplain Huber said the cash poured in so quickly from so many different sources that he still to this day doesn't know where it all came from.
On May 2, the 2003 Zambia project reached its $53,000 goal. But funds from students continued to pour in the door. By May 22, they had $77,000—an increase of $24,000 in 20 days. Donations cleared $80,000 by the end of the project year, enough to pay for the schoolhouse and every other item in the One Life Revolution catalog. And on the day Peed graduated from Wheaton Academy, construction workers in the northern Zambian village of Kakolo began to lay the foundation for the new school.
'It's About Relationship'

The following academic year, student leaders attempted the impossible once again, continuing the project with the goal of raising $54,000 to feed the children of Kakolo for an entire year. They succeeded, raising almost $60,000. More students participated in a bigger way.
Zambia, all of Africa, and the AIDS pandemic became urgent concerns for Wheaton Academy's students. "The Zambia project has become very much a part of the fabric of campus life," said Huber, who estimates 90 percent of the student body has participated in the project financially. "We've fallen in love with the people. It's about relationship now—it's not just about a project."
Students now sense a connection to their Zambian peers, as well as a responsibility. Some sponsor Zambian children through agencies like World Vision. Others display pictures from Zambia as daily reminders of what life is like for children in Kakolo, and many students have dramatically changed their spending and giving habits.
The project's original team has graduated. But they are bringing to their college campuses the message of world needs as well as evidence that students can make a difference right now. "You always hear that. But you don't really buy into it until it's happened to you," said alumna Natalie Gorski.
"How awesome a God we have. He was able to use us as his instruments and say, 'Look at what I did through Wheaton Academy. I can do that all over the United States.'
"Anyone can do what we did with God's help."
World Vision's Frank said, "This thing has really grown my faith." Frank often sees youth get involved in humanitarian work, but never before to this degree. "I see them as a shining example of what's happening in their generation."
An Infectious Dream

In the summer of 2004, another piece of the dream fell into place. A team of students visited Kakolo to see the schoolhouse and its impact firsthand. While there, students discovered new ways to support the village.
The 2004-05 project—a maternity ward—was more ambitious, requiring from students more funds, more sacrifice, and, ultimately, more faith.
But a funny thing happened on the way to surpassing their goal and raising $110,000 for the clinic. Grown-ups were getting in on the action. The "Zambia Meltdown" campaign resulted in 14 Academy teachers and administrators losing 460 pounds in 100 days, raising an additional $19,000 in pledges for lost weight. The headmaster and principal each lost 70 pounds.
The clinic is under construction this summer. "We can't wait to visit that ward, where babies will be born healthy and free of HIV," Huber said.
For the 2005-06 school year, Wheaton Academy students have launched AIDS Student Network (www.aidsstudentnetwork.org), aiming to recruit 1,000 American high schools in the fight against HIV/AIDS in Africa.
"It is a huge vision," Huber said, admitting that his July 2004 visit to Kakolo rocked his world. At a May chapel service, he told students, "I love the fact that the God of the universe loves to do the unthinkable."
Jeremy Weber is a freelance writer and a 2005 graduate of Wheaton College in Illinois.
Related Elsewhere:
The AIDS Student Network has FAQs about the project, photos and videos, and fundraising information.
The One Life Revolution website has facts about AIDS and materials for youth leaders to participate in the One Life program.
Wheaton Academy's website has more information about the school.
Have something to add about this? See something we missed? Share your feedback here.
Our digital archives are a work in progress. Let us know if corrections need to be made.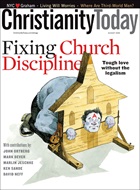 This article is from the August 2005 issue.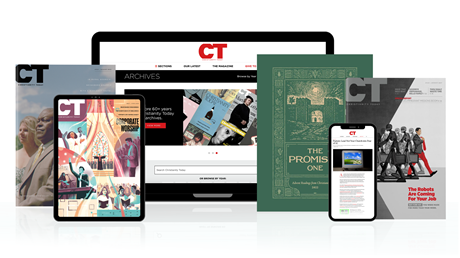 Annual & Monthly subscriptions available.
Print & Digital Issues of CT magazine
Complete access to every article on ChristianityToday.com
Unlimited access to 65+ years of CT's online archives
Member-only special issues
Subscribe
Raising the Compassion Bar
Raising the Compassion Bar