A 2004 survey of religion and politics revealed a religious minority that constitutes at least 7.5 percent of the American population. It referred to this informal denomination as "Secular."
Sponsored by the Pew Forum on Religion and Public Life, the poll shows the fairly uniform political orientation of secularists: Only 21 percent regard themselves as politically conservative. A large majority, 79 percent, favor what the survey terms "gay rights" and support legal abortion.
For each element in the Judeo-Christian family of faiths, secularism has its counterpart: a strict ethical code, albeit focusing on health issues ("Thou shalt not smoke," etc.); the use of shame when individuals disregard ethical rules (e.g. fat people); a related promise of eternal life through medical advances; a creation story (Darwinian evolution); and so forth. All that's missing is a deity, but not every religion has one, as the case of Zen Buddhism attests.
The secular church is populous and dynamic, with a membership far exceeding that figure of 7.5 percent. Many individuals who identify nominally as Jews or Christians in fact are devout secularists.
All this would be fine—after all, America is a big country with plenty of room for every spiritual predilection—but for the tendency of secularists to use aggressive means in advancing their political agenda and spreading their faith.
Consider state education, where the secular church has ensured that its creation account alone be taught. According to the Discovery Institute, Ohio, Minnesota, and New Mexico are exceptions to this rule, now requiring students to know about scientific evidence critical of Darwinian evolution. Everywhere else, evangelism for this secular doctrine is a staple of 10th-grade biology class.
The prejudice on behalf of the secular faith emanating from the media is likewise hard to ignore. HBO's Bill Maher, raised Catholic but later converted to a harsh secularism, is among the frankest of news and entertainment industry figures in his contempt for competing religions, notably Christianity. The host of Real Time with Bill Maher speaks of himself as "spreading the anti-gospel."
Americans outside the secular fold need to develop responses to the encroachments of secularism in the public square. Mutual understanding is key. Many secularists live in isolated enclaves (Beverly Hills, San Francisco, certain New York City neighborhoods, etc.) with few members of other faiths present. Some sort of interfaith dialogue, matching representatives of secularism with believing Jews, Christians, and members of other religions, would do some good.
But it's not the entire solution. So that everyone can know where everyone else stands, it's time to start identifying the secular faithful as such. The word Secular should be capitalized, indicating a distinctive philosophical orientation. So, just as Mel Gibson is always referred to as a Catholic filmmaker, Michael Moore should be identified as a Secular one.
The influence of Secular institutions on education needs to be reexamined. Young children are plainly being targeted for conversion to Secularism, whether in schools or otherwise. The Anti-Defamation League—a group that is Jewish only in the sense that bagels are Jewish—has been advocating a reading list of books for children of kindergarten age through sixth grade. While the emphasis is ostensibly on "anti-bias education," any child who takes to heart the message of these books would be adopting, among other things, a bias in favor of the Secular teaching on homosexuality.
Two of the recommended books, for third-graders and under, are Gloria Goes to Gay Pride ("A young girl participates in the Gay Pride Day parade," as the ad's website summarizes the book) and My Two Uncles ("A young child's grandfather has trouble accepting the fact that his son is gay"). This amounts to targeting kids for conversion to the Secular teaching on homosexuality. Incidentally, "targeting for conversion" is what the ad charges that Christian missionaries want to do to Jews.
Finally, since raising public awareness is the best way to counter conversionary efforts, it would be helpful if a nonprofit organization were established to educate the citizenry about the tendency of the Secular Church to overstep that precious line that is supposed to keep our public institutions free of undue church influence. Such an organization would be dedicated to protecting American civil liberties. You could call it the American Civil Liberties Union.
Oh wait, no, that's taken.
David Klinghoffer is a columnist for the Jewish Forward. His new book, Why the Jews Rejected Jesus: The Turning Point in Western History (Doubleday), will be published in March.
Related Elsewhere:
Articles elsewhere by David Klinghoffer include:
The Jewish-Friendly Koran | A whole new context. (National Review, Dec. 19, 2002)
Religious Wars | U.S. Jewish groups and their anti-Christian hostility. (National Review, Sept. 6, 2002)
Article continues below
A Passion for Censorship | Mel Gibson's 'Passion' is no more inflammatory than the Gospels themselves--and it's unlikely to incite violence. (Beliefnet, no date)
Conservatism's Mensch | William F. Buckley, Jr., who founded the National Review and retired this week, leaves an important spiritual legacy. (Beliefnet, no date)
Other Christianity Today articles on secularism include:
Misfires in the Tolerance Wars | Separating church and state now means separating belief and action. (Feb. 24, 2004)
One Nation Under Secularism | France's peculiar aversion to public religiosity is rooted in a sordid history of sectarian violence. (Feb. 13, 2004)
The Wages of Secularism | New laws won't prevent another Enron. (June 04, 2002)
Have something to add about this? See something we missed? Share your feedback here.
Our digital archives are a work in progress. Let us know if corrections need to be made.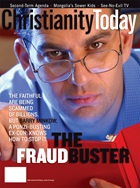 This article is from the January 2005 issue.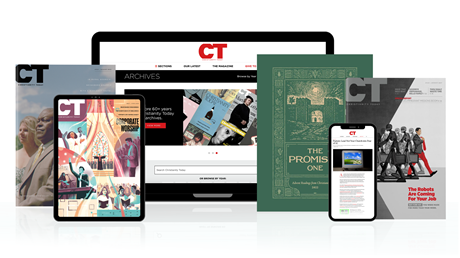 Subscribe to Christianity Today and get access to this article plus 65+ years of archives.
Home delivery of CT magazine
Complete access to articles on ChristianityToday.com
Over 120 years of magazine archives plus full access to all of CT's online archives
Subscribe Now
That Other Church
That Other Church