Church life:
Defrocked gay minister to appeal conviction by peers | A Methodist minister who was defrocked last month for declaring herself a lesbian said yesterday that she will appeal the decision through church courts. (Washington Post)
Patriarch visits Astoria | His All Holiness Ecumenical Patriarch Bartholomew I visited the community of St. Demetrios Cathedral in Astoria last Friday. (Western Queens Gazette, Queens, NY)
Survey: one-third of Kentuckians 'unchurched' | A new survey commissioned by the Kentucky Baptist Convention shows that about one in three Kentucky adults are ''unchurched,'' meaning nearly 1 million residents have no meaningful connection to any of the thousands of churches in this Bible Belt state. (Associated Press)
Two arrested in protest at Mass. church | Police arrested two parishioners who attempted a vigil to keep the Roman Catholic Archdiocese of Boston from closing their 114-year-old parish, one of 83 churches slated to be shut down or consolidated by year's end. (Associated Press)
Dobson warns Senate on judicial nominees:
Evangelical leader threatens to use his political muscle against some Democrats | James C. Dobson, the nation's most influential evangelical leader, is threatening to put six potentially vulnerable Democratic senators "in the 'bull's-eye' " if they block conservative appointments to the Supreme Court. (New York Times)
Conservative warns senate on nominees | James Dobson, the conservative leader who used his radio program to call on millions of Christians to vote in the November election, warned in a letter that some senators "will be in the 'bull's-eye'" if they block President Bush's judicial nominees. (Associated Press)
James Dobson threatens six senators | Evangelical leader James C. Dobson is threatening six Democratic senators if they block conservative appointees to the U.S. Supreme Court. (UPI)
Conservative Warns Senate on Nominees | James Dobson, the conservative leader who used his radio program to call on millions of Christians to vote in the November election, warned in a letter that some senators "will be in the 'bull's-eye'" if they block President Bush's judicial nominees. (ABC News)
Religion & politics:
Hoosier is Bush's lifeline to evangelicals | In his first visit to the White House after President Bush's re-election, the head of the National Association of Evangelicals congratulated Hoosier Tim Goeglein. (The Indianapolis Star)
Marriage and homosexuality | Christians rallied to defend marriage, and members of Fred Phelps' Westboro Baptist Church in Topeka came to Newton in protest of a comment made by First Baptist Pastor Timothy Conner. (The Newton Kansan, Kansas)
GOP's soft sell swayed the Amish | Unlikely voters cast lot with Bush (Washington Post)
Pipeline to the President for GOP conservatives | Give and take flows through public liaison aide (Washington Post)
Religion & pop culture:
Congregation of church in state | Religion takes to the streets, big screen and voting booths (Religion News Service)
U.S. pop culture seen as plague | If there is one proposition on which Western European elites and radical Islamists, American social conservatives and snobby latte town aesthetes all seem to agree, it is this: American popular culture is a subversive thing. (Washington Times)
The year in movies | The two most controversial movies of 2004—and to many the most important—were Mel Gibson's ''The Passion of the Christ" and Michael Moore's ''Fahrenheit 9/11." (Ty Burr, Boston Globe)
Education:
'Floating holidays' urged for schools | Muslim activists lobby Md. panel (Washington Post)
Jewish holidays to stay in school calendar | Religious holidays can be a touchy subject in government, as Anne Arundel school board member Paul G. Rudolph discovered last week. (Washington Post)
Nepal Christians to renew ties with Bengal college | Christians in Nepal can reaffirm their faith by choosing to join a degree course in divinity to be introduced for the first time in this overwhelmingly Hindu nation. (New Kerala, India)
Sudan:
Sudan and southern rebels sign pact to end civil war | The government of Sudan signed a preliminary peace accord on Friday night with a rebel group from the country's impoverished south that could end one of Africa's longest-running civil wars, even as the conflict in the western Darfur region continued. (New York Times)
Sudanese accept permanent cease-fire | Government and rebels OK plan to end 21-year war (Associated Press)
Muslims and Christians clash in Egypt:
One dead, two injured in Egypt sectarian clash | One man died and two others were injured in uncertain circumstances in southern Egypt, a police source said on Thursday, in the latest in a series of clashes between Muslims and Christians in Egypt. (Reuters)
Arrests and curfew after fatal clashes over Egyptian church | Egyptian police have arrested 80 people and imposed a curfew in a town in upper Egypt following clashes between Muslims and Christians during which one Muslim youth died. (AFP)
Books:
Notes from 2004 | At the beginning of December, it was announced that George M. Marsden's "Jonathan Edwards: A Life," published in 2003 by Yale University Press, had won the 2005 Louisville Grawemeyer Award in Religion. This award, given jointly by Louisville Presbyterian Theological Seminary and the University of Louisville, bestows not only prestige but also a tidy $200,000 in cash. (New York Times)
'Da Vinci Code' crosses theological spectrum | Lectures on the best-selling novel about the Catholic Church draws legions from all faiths. (Times Leader, Penn.)
Translator takes the Word at its word | In the beginning, God did not create the heavens and the earth. The King James Bible puts it too neatly: "In the beginning" could mean that the creation was God's first act, or that the creation was itself the beginning, but wasn't something there before? (New York Times)
Theology:
You don't have to be Christian to respect Christianity | People of different faiths coexist respectfully and have much in common; shared moral, ethical and religious values transcend religious labels. (Eric Mink, Post-Dispatch, Saint Louis)
While some religions exalt alcohol, others eschew it | In the sixth century, St. Bridget of Ireland wrote a poem describing heaven as a lake of beer. The Holy Family resided on its shore, able to lap the frothy drink through all eternity. In the seventh century, Muhammad understood Allah to reveal that strong drink was "Satan's handiwork." He set down in the Quran the prohibition against booze for the billion Islamic believers today. (Newhouse News Service)
When fish control the world | Fish didn't become powerful symbols in beliefs ranging from the Zodiac, to far eastern representations of wish-granting golden fish to western Christianity's Jesus Fish without reason. (Daytona Beach News-Journal)
Free speech:
Beyond belief | On the conflict between religion and free speech (Ian Jack, The Guardian, UK)
Talks with Sikhs backfired on theatre: actress | The violent protests that led to the closure of the controversial play Behzti were the result of a failed attempt to work with Sikh community leaders, a leading actor of the play has claimed. (New Kerala, India)
Plan for Muslim cemetery met with fear | Muslims planned to turn an old sod farm near Memphis into a cemetery, but angry neighbors protested, complaining that the burial ground could become a staging ground for terrorists or spread disease from unembalmed bodies. (Associated Press)
War & terrorism:
Head scarves now protective accessory in Iraq | They want to be invisible, these young women at Baghdad University explained. They were sitting in a small group _ five students with pale head scarves pulled tightly around their somber faces. (Associated Press)
Letter from Syria: Minority activists see beacon in a new Iraq | The Iraqi election later this month may be evoking skepticism in much of the world, but here in northeastern Syria, home to concentrations of several ethnic minorities, it is evoking a kind of earnest hope. (International Herald Tribune)
People:
Israel indicts 4 in 'brother of Jesus' hoax and other forgeries | The Israeli police filed criminal indictments on Wednesday against four antiquities collectors, accusing them of forging biblical artifacts, many so skillfully that they fooled experts. Some were even celebrated briefly as being among the most significant Christian and Jewish relics ever unearthed. (New York Times)
Northpoint chaplain experiencing 'most blessed ministry' | The Rev. Fred Coburn has preached in front of many pulpits but he's gotten much more reward out of preaching from behind bars. (Advocate-Messenger, Kent.)
Trial of ex-chief of HealthSouth is set to open | The trial of Richard M. Scrushy, the charismatic founder and former chief executive of HealthSouth who is being charged with fraud, opens next week in a federal district court in Birmingham, Ala. (New York Times)
Reggie White:
Reggie White remembered as man of goodness | Reggie White was remembered as a man of goodness and humor Thursday at a private funeral attended by many current and former NFL players. (Associated Press)
Tributes to Reggie White show incomplete picture | Reggie White's death on Sunday prompted a case of one-sided history on the CBS and Fox pregame shows, which remembered him as a great football player but an even greater man, and a man loved by everyone. (New York Times)
Mourners pay last respects to White | They came in business suits and sweatsuits, Philadelphia Eagles shirts and Green Bay Packers jerseys. They were old and young, black and white. (New York Times)
Teammates lay NFL great to rest | Flowers in the green and yellow of the Green Bay Packers and portraits of Reggie White flanked the NFL great's coffin during a private church funeral Thursday. (Associated Press)
Death teaches us of life | The death of Reggie White at 43 is one of those that seem especially incomprehensible. Here was a larger-than-life figure, a man of deeply religious principles, compassion and charity, an ordained minister who was aptly known as the NFL's "Minister of Defense." (Associated Press)
More articles of interest:
Watch Night: Time of remembering, time of renewal | More than 140 years ago, black Americans gathered in churches, meeting places and homes to watch for news of their emancipation from slavery. The Dec. 31, 1862, gathering—also known as "Freedom's Eve"—inspired many of the Watch Night services held in black churches today. (Herald Sun, NC)
Let's work together to unite our people | The year 2004 was a truly challenging and crucial year for us the Filipino people. It was another time in our history when we experienced an alarming degree of disunity brought about by one of the most bitterly contested presidential elections, and when our faith in God and resilience as a people were stretched and severely tested as we suffered serious threats to political and economic stability and a series of lethal typhoons that ravaged our nation and crushed our spirit. Nevertheless, it was likewise a victorious year for us (Bishop Efraim M. Tendero, Manila Bulletin, Philippines)
Public Christian symbols backed | American Christians increasingly want their religion reflected in public symbols and language, they overwhelmingly reject homosexual clergy, and the largely unchurched West Coast is showing signs of spiritual growth, evangelical Christian pollster George Barna says. (Washington Times)
Related Elsewhere:
Suggest links and stories by sending e-mail to weblog@christianitytoday.com
Check out Books & Culture's weekly weblog, Content & Context.
See our past Weblog updates:
December 23 | 22 | 21
December 17 | 14b | 14a
December 10 | 9 | 7 | 6
December 3 | 2 | 1
November 24 | 23 | 22
November 19 | 18 | 17 | 16
November 12 | 11 | 10
Weblog
Launched in 1999, Christianity Today's Weblog was not just one of the first religion-oriented weblogs, but one of the first published by a media organization. (Hence its rather bland title.) Mostly compiled by then-online editor Ted Olsen, Weblog rounded up religion news and opinion pieces from publications around the world. As Christianity Today's website grew, it launched other blogs. Olsen took on management responsibilities, and the Weblog feature as such was mothballed. But CT's efforts to round up important news and opinion from around the web continues, especially on our Gleanings feature.
Ted Olsen is Christianity Today's executive editor. He wrote the magazine's Weblog—a collection of news and opinion articles from mainstream news sources around the world—from 1999 to 2006. In 2004, the magazine launched Weblog in Print, which looks for unexpected connections and trends in articles appearing in the mainstream press. The column was later renamed "Tidings" and ran until 2007.
Previous Weblog Columns: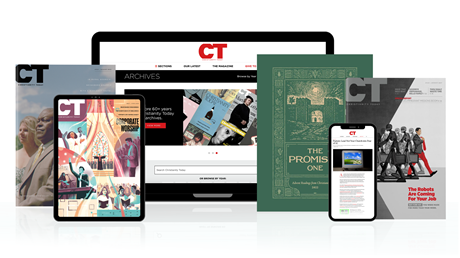 Annual & Monthly subscriptions available.
Print & Digital Issues of CT magazine
Complete access to every article on ChristianityToday.com
Unlimited access to 65+ years of CT's online archives
Member-only special issues
Subscribe
News You May Have Missed
News You May Have Missed