For the first time ever, public high school administrators addressed students specifically about Intelligent Design as an alternative to evolution. The Dover, Pennsylvania, school district mandated that students be taught that evolution is a theory, "not a fact." The revised biology curriculum says, "Students will be made aware of gaps/problems in Darwin's Theory and of other theories of evolution including, but not limited to, Intelligent Design."
The case, along with a similar case in Georgia, is raising comparisons to the 1925 Scopes trial in Dayton, Tennessee. In response to the changed curriculum, 11 parents are suing the district. Before the trial starts in September, however, the school is continuing with its revised program of study.
All but one of the district's science teachers refused to read the required statement that said evolution is only a theory. "We believe that reading the ['Intelligent Design'] statement violates our responsibility as educators as set forth in the code," science teacher Jen Miller said. "Students are allowed to opt out from hearing the statement. We should be allowed to opt out from reading it."
So today, administrators read the statement while teachers and a handful of students decided to opt out. The statement says:
The Pennsylvania Academic Standards require students to learn about Darwin's Theory of Evolution and eventually to take a standardized test of which evolution is a part.
Because Darwin's Theory is a theory, it continues to be tested as new evidence is discovered. The Theory is not a fact. Gaps in the Theory exist for which there is no evidence. A theory is defined as a well-tested explanation that unifies a broad range of observations.
Intelligent Design is an explanation of the origin of life that differs from Darwin's view. The reference book, Of Pandas and People, is available for students who might be interested in gaining an understanding of what Intelligent Design actually involves.
With respect to any theory, students are encouraged to keep an open mind. The school leaves the discussion of the Origins of Life to individual students and their families. As a Standards-driven district, class instruction focuses upon preparing students to achieve proficiency on Standards-based assessments.
"Biology students in this small town received perhaps the most balanced science education regarding Darwin's theory of evolution than any other public school student in the nation," said Richard Thompson, president and chief counsel of the Thomas More Law Center, who is defending the school in against the parents' suit. "This is not a case of science versus religion, but science versus science, with credible scientists now determining that based upon scientific data, the theory of evolution cannot explain the complexity of living cells."
After administrators read the statement, they left the classroom without answering any questions. "I feel that, if they are for something, then there should have been discussion allowed," said Jessica Arruda, a biology student. "I was wondering why we weren't allowed to ask questions." Other students told the York Daily Record they weren't paying attention during the reading or that the school should also teach Rastafarianism. The statement will also be read in classes today and won't come up again until May or June.
Even Intelligent Design supporters weren't happy with the way ID was taught. John West, a spokesman at the Discovery Institute, which is an ID proponent, said, "Some of the language isn't particularly helpful. As a statement about Intelligent Design, it leaves it hanging."
The Institute is opposed to teaching ID in public schools, West told the Daily Record. "This is not a particularly coherent way of going about it. It is confusing."
More Articles:
More on Intelligent Design in Dover, Pa.:
In defense of intelligent design | Human DNA contains more organized information than the Encyclopedia Britannica. If the full text of the encyclopedia were to arrive in computer code from outer space, most people would regard this as proof of the existence of extraterrestrial intelligence. But when seen in nature, it is explained as the workings of random forces. (Bruce McLarty, Searcy Daily Citizen, Ark.)
2 school boards push on against evolution | A school district in Pennsylvania and another in Georgia have pressed ahead with their challenges to the teaching of evolution in their public schools. (New York Times)
Pa. students learn 'intelligent design' | High school students heard about "intelligent design" for the first time Tuesday in a school district that attracted national attention by requiring students to be made aware of it as an alternative to the theory of evolution. (Associated Press)
Education:
ASU continues fight over CLS lawsuit | ASU, student club pledge to carry out legal battle. The club said the non-discrimination clause discriminates against its beliefs. The CLS asks all members to sign a statement of faith before they can join, which it feels non-Christians and homosexuals cannot abide by. (ASU Web Devil, Arizona State University)
CLS showdown has plenty at stake | We hope this strong performance by President Michael Crow and his legal team will set a precedent against discrimination of all types, not just against non-Christians and homosexuals. (Editorial, ASU Web Devil, Arizona State University)
Religious group, IRCC spar over ban of 'Passion' | School says it's being sensitive to its high school-age students. (Palm Beach Post)
Muslims seek school recognition of holidays | Hillsborough schools are considering allowing absences for Eid al-Fitr at the end of Ramadan. (St Petersburg Times, Fla.)
Faith schools in Britain:
Muslim schools undermining society, alleges school chief | Muslim leaders are livid. On the heels of the report that a state-funded Islamic school in Bradford topped the league table of school with the best growth of their people, the head of Ofsted, David Bell accused Muslim faith schools of failing to prepare pupils for life and undermining British society. He claimed that the growth of schools offering an Islamic education posed a threat to stability. (Hindustan Times, UK edition)
'Faith schools not breaking Britain' | Muslim leaders, in Birmingham, have criticised the Chief Inspector of Schools for claiming Islamic schools could undermine Britain's "coherence as a nation". (Birmingham Post, UK)
What our children need | Muslim schools must be brought into the state sector (Osama Saeed, The Guardian, UK)
Muslim schools intolerant? 'But we are taught about Judaism and Christianity' | "Yes, I'm Muslim but I'm also British," said Asilah Khan, 15. She is proud to be both. Asilah goes to the 700-pupil Leicester Islamic Academy - one of the first independent Muslim schools to be established in the UK. (Independent, UK)
Praise God and put me on the waiting list | Scheming to get my children a better education isn't really the only thing that now draws my family to the Sunday morning service (Urban Fox, Times, London)
Free speech:
Faith no excuse for attacking artists | If Jesus really saves, why would Christians care that the BBC has televised a musical that depicts him wearing a diaper and admitting to being "a bit gay?" If Mohammed is Allah's ultimate messenger, surely his message is powerful enough to withstand some criticism from a minor Dutch filmmaker? If Sikhs are dedicated only to their relationship with God, why are they so distracted by a play that depicts rape and murder in a Sikh temple? (Kate Taylor, The Globe and Mail, Canada)
Swedish gay hate priest launches appeal | A priest who was sentenced to one month in prison for making offensive remarks about gay people is appealing against the verdict, reigniting a debate that has pitted freedom of expression against the rights of minorities. (The Local, Sweden)
Earlier: No free speech in preaching | Swedish pastor sentenced to jail for blasting homosexuality. (Christianity Today)
164 Myanmar activists arrested for illegal protest | More than 160 Myanmar nationals were arrested on Monday for holding an illegal protest against the Yangon government outside its embassy here, Malaysian police said. The 164 protesters, mainly minority Christians and including three women, carried banners and shouted for justice and a change of government in Myanmar, which is ruled by the military. (AFP/AP)
Iraqis to vote in U.S.:
Iraqis abroad confirm appeal of elections | Christian Iraqis who live west of the Mississippi accusing the Geneva-based International Organization for Migration of inconveniencing them in favor of Kurds. Why would the 40,000 Iraqis in California's Central Valley and the 25,000 in San Diego - both groups predominantly Chaldo-Assyrian Christians -not rate a polling place while Nashville, with its 3,000 mostly Kurdish voters, be designated as a site? (Rocky Mountain News, Co.)
Iraqis in U.S. register to vote | Election: Hundreds travel to Maryland to register for the first time as an Iraqi. (Baltimore Sun)
Iraqi Christians:
Iraqi American Christians censure voting program | Tens of thousands of Iraqi Americans in areas distant from Los Angeles may not be able to vote in the first Iraqi election in decades as a result of the decision by an intergovernmental body to limit polling places in the United States. (Assyrian International News Agency)
The pious hope plan has been tested to destruction. Anarchy reigns in Iraq | It was reported at the weekend that this "God-guided" invasion has driven a quarter of Iraq's Christian population, some 300,000 people, into exile. This is worse than anything they suffered under Saddam. Why are we not protecting these Christians, whose leaders admitted yesterday to making regular ransom payments just to survive? (Simon Jenkins, Times, London)
Letter from Baghdad | The kidnapping of Archbishop Basile Georges Casmoussaof of Mosul by armed gunmen in front of his church Monday caused uproar in the West but was largely seen in Baghdad as another step taking the country deeper into the turmoil that's been brewing for months. The sudden release of the Syrian Catholic Church Tuesday afternoon left even more questions unanswered. (United Press International)
War & terrorism:
Captors free Catholic prelate seized in Mosul | No ransom was paid, the Vatican says. A video given to the media shows eight Chinese hostages. Bombs target embassy and police in Baghdad. (Los Angeles Times)
28 religious leaders appeal to Bush for special envoy to push for Mideast peace | The leaders of 28 major Christian, Muslim and Jewish groups have signed an appeal to President Bush urging him to appoint a special presidential envoy to work full time on peace negotiations between Israel and the Palestinians. (New York Times)
Catholic archbishop kidnapped, freed:
Archbishop freed in Iraq, but 8 Chinese are captives | Insurgents on Tuesday released a Syrian Catholic archbishop they had snatched from the streets of Mosul the day before, but a few hours later a new hostage drama opened when eight Chinese construction workers were shown forlornly staring at a video camera with masked men pointing guns at their heads. (New York Times)
Analysis: Mohammed wouldn't have approved | The prophet Mohammed's admiration for the Christian monks of his time may have indirectly caused the quick release Tuesday of Mosul's Archbishop Georges Casmoussa by his radical Muslim abductors. (Uwe Siemon-Netto, UPI)
Freed archbishop says kidnappers didn't realize who he was | The Vatican didn't view the kidnapping as an anti-Christian act but part of the general climate of violence in Iraq. He said the archbishop was well-loved in the community. Nevertheless, Christians tens of thousands of whom live in and around Mosul have been subjected to attacks in the past. (Associated Press)
Pope stepped in to secure release of Catholic bishop in Iraq | A kidnapped Catholic archbishop was released in Iraq yesterday, less than 24 hours after he was abducted, and said the pope's intervention had led to his freedom. (Irish Examiner, Ireland)
Kidnapping of Catholic archbishop highlights Christians' plight | Iraq's Roman Catholic Archbishop Basile Georges Casmoussa has been released following his abduction yesterday in the northern city of Mosul. The cleric was the highest-ranking Catholic prelate to be targeted in Iraq. But his abduction was only the latest in a series of attacks against Iraq's Christians, who make up less than 3 percent of the country's population but an important part of its culture and society. (Radio Free Europe, Czech Republic)
N.J. Copts recover after murders:
Feeling of fear returns for cabbie | Jersey City's Coptic Christian community is nowhere more visible than at Journal Square, where Egyptian-born cab drivers sit idling in yellow taxis adorned with rosary beads and pictures of the Virgin Mary. (The Jersey Journal)
NJ Muslims, Christians to show interfaith solidarity | On Wednesday, January 19, the New Jersey office of the Council on American-Islamic Relations, along with other local Christian and Muslim groups, will hold a noon news conference in Jersey City to issue a call for interfaith solidarity following the brutal murder of an Egyptian Coptic Christian family. (Press release)
Religious tensions still boiling over slain Muslim family | As religious tension continued to boil following the murder of an Egyptian Christian family, Muslim groups denounced the killings and prayed for the victims. (Associated Press)
New Jersey murders prompt Arab group condemnation | A leading Arab-American group on Tuesday tried to defuse tensions between Egyptian Christians and Muslims in the New York metro area following the murder of a family of four last week in Jersey City, New Jersey. (Reuters)
Grief, rage at funeral for murdered family | Grief and rage erupted Monday during the funeral for an Egyptian Christian couple and their two young daughters who were tied up and stabbed to death last week. Mourners fought in the street, pushing, shoving and punching each other as many blamed Muslims for the killings. (1010 WINS, Jersey City, N.J.)
Amid simmering religious tension, Muslims denounce killing of Christian family | As religious tension continued to boil here following the murder of an Egyptian Christian family, Muslim groups denounced the killings and prayed for the victims. (Associated Press)
Sudan:
U.N., Sudanese rebel talks postponed | The top United Nations envoy to Sudan postponed talks Wednesday with rebel officials in southern Sudan until he can meet with their leader to negotiate the deployment of up to 10,000 peacekeepers to monitor an accord aimed at ending Africa's longest-running conflict. (Associated Press)
Large UN force for southern Sudan | An international force of almost 10,000 could be deployed in southern Sudan by August after last week's peace deal. (BBC)
Religion & politics:
Mormons saddle up for Bush's second coming but hope for a little humility | Religious right in Utah rein in their enthusiasm as inauguration nears (The Guardian, UK)
Among lobbyists, a few focus on religious and moral issues | Like hundreds of other lobbyists homing in on the 2005 General Assembly, C. Douglas Smith has been scanning proposed legislation for bills that could benefit his narrow special interest. But few of his colleagues search as Smith does: through a lens of faith that hopes to achieve God's will through public policy. (The Virginian-Pilot)
Bush rewarded by black pastors' faith | His stands, backed by funding of ministries, redefined the GOP's image with some clergy. (KTLA, Calif.)
Bush's strong faith draws praise and criticism | But he is clear his role is 'commander-in-chief, not chaplain-in-chief,' one of the president's pastors says. (St. Petersburg Times, via Detroit News)
Bush inauguration:
Christian conservatives set for inaugural revelry | Role in Bush re-election gives activist groups status and access lacked in 2001. (Baltimore Sun)
For Bush's prayer, an uncommon pick | Political differences aside, Episcopal priest a trusted friend of the president. (Baltimore Sun)
Atheist asking Supreme Court to bar prayer at Bush inaugural | The atheist who tried to remove "under God" from the Pledge of Allegiance asked the Supreme Court yesterday to bar the saying of a prayer at President Bush's inauguration. (Associated Press)
Church & state:
Bible back in school's reading program | Test to be available on computers (Joplin Globe, Mo.)
Plan would revive religious display | Montgomery County officials were considering a plan to sell a portion of land in front of its courthouse to a private company that would display a monument of the Ten Commandments. (Associated Press)
Atheist tries to block inauguration prayers | Every four years, a president puts his hand on a Bible and takes the oath of office. And every four years, a minister prays at the inauguration. That doesn't sit well with Blair Scott. (WHNT, Al.)
County looks to reinstall 10 Commandments monument | Montgomery County Commissioners heard a proposal from Crawfordsville-based Myler, a church planning, designing and building firm, who suggested the county sell a portion of land, through a bidding process, to display a monument of the Ten Commandments. (Crawfordsville Journal Review, Ind.)
Arguments complete in Ten Commandments lawsuit | Judge to rule on case in February (WBAL, Md.)
Same-sex marriage:
Bush upsets some supporters | President is urged to press ban on same-sex marriage (Washington Post)
Speaking softly | Marriage-amendment supporters have no cause for disappointment in the president. (Justin Katz, National Review Online)
The ongoing struggle over gay marriage | President Bush campaigned for reelection last year vowing to press for passage of an amendment to the Constitution banning same-sex marriage. He is changing strategy. (James Ahearn, The Record, New Jersey)
Honduras measure to ban same-sex marriage mobilizes rights groups | Sponsor of the proposal, backed by a burgeoning evangelical movement, slams acceptance of gay unions in parts of the U.S. and Europe. (Los Angeles Times)
Block gay marriage, Catholics tell Martin | Cardinal wants notwithstanding clause invoked to allow for national discussion (Globe and Mail, Canada)
Sex trafficking:
Leaving the brothel behind | A year ago, a pimp handed me a quivering teenage girl. Her name was Srey Neth, and she was one of the hundreds of thousands of teenagers who are enslaved by the sex trafficking industry worldwide. Then I did something dreadfully unjournalistic: I bought her. Now I've come back to find out how they coped with freedom. (Nicholas D. Kristof, New York Times)
2 charged in scheme to recruit prostitutes | They met her in a restaurant, told her she was "really cute," and offered her a chance to make easy money, police said. Within weeks, she was visiting a Salem apartment, watching videos about prostitution. And soon afterward, she found herself on a Boston street, using the name "Lovey" and getting into the car of a man who wanted to pay her for sex. (Boston Globe)
Abuse:
Tenn. court allows church suit to proceed | The state Supreme Court says a $68 million lawsuit alleging that the Roman Catholic diocese of Nashville covered up child sex abuse by a former priest can go forward. (Associated Press)
Defrocked Catholic priest faces accuser | The criminal case against a defrocked Roman Catholic priest at the center of the Boston Archdiocese sex scandal now hinges on the allegations of a single accuser. (Associated Press)
Jury selection begins in abuse case against priest | Paul Shanley, defrocked amid charges of child rape, will soon face his one remaining accuser. (Los Angeles Times)
Social justice:
Faith leaders raise their voices to address social-justice issues | Two new local coalitions of liberal people of faith are taking their messages public. (Seattle Times)
Churches join Bell boycott | With the growing recognition that Florida has become, as one Justice Department official puts it, "ground zero for modern slavery," people of faith from many denominations are uniting in protest once again. This time around, our target is Taco Bell. (Rev. Lou Snead and the Rev. Tom Heger, Daily Texan, Texas)
Let us pay our faith forward | Tonight, people from many faith traditions will gather at Seattle's Town Hall to raise the many moderate and progressive voices of faith -- voices that seek to answer the cries of pain, privation and cynicism that pervade our nation and our world. We call ourselves Faith Forward. (Robert V. Taylor and Daniel Weiner, Seattle Post Intelligencer, Was.)
Racial reconciliation:
King exemplified change among faiths | I was a theological school student drawn to Martin Luther King Jr.'s public ministry. He addressed the sins of racism, economic injustice and war. He had become famous with the March on Washington in 1963. Changes were under way. (Vern Barnet, Kansas City Star)
Race forum revisits past, weighs future | Visibly shaken, Rocky Mount City Councilwoman Chris Miller recalled an incident from her youth when four black men came to her whites-only church on a Sunday and sat down in the back row. (Rocky Mount Telegram, N.C.)
Church life:
Interim pastor helps guide church in transition | Melding new ways with old is part of Rev. Ron Cook's mission at St. Paul United Church of Christ in Saline (The Ann Arbor News, Mich.)
Christianity is not found just at church | This past Sunday morning, I went in search of how true Christianity looks on the faces of others and how the faithful demonstrate the love of Christ with their actions. What I discovered was a worship service organized by Love in the Name of Christ, or Love INC, held at its joint facility with Christian Information and Service Center on Angelina Street here in Lufkin. (Cynthia Hall Clements, The Lufkin Daily News, Texas)
Ecumenical service Sunday | The ecumenical service will mark the Week of Prayer for Christian Unity, January 18 to 25. The service has been conducted annually in Lindenhurst since 1986 and is rotated among the various Christian congregations. (South Bay News, N.Y.)
Missions & ministry:
Colorado evangelical group's power grows | In the second of two reports on the strong presence of evangelical Christianity in Colorado Springs, Colo.: How the organization Focus on the Family went from a small radio program dealing with family issues to an influential organization with its own political lobbying arm. (All Things Considered, NPR)
Social agency appeals for funds | Saying their organization needs critical state funding increases in order to keep up their current level of services, representatives of Lutheran Services in Iowa (LSI) sat down with area state legislators at a Monday morning forum to express their concerns and work on political strategies. (Muscatine Journal, Iowa)
First Presbyterian of Bonita lends Habitat a helping hand | It was the parishioners of First Presbyterian's gift of money, time and hard labor that will provide the Deleons with a home in just a few months. (Bonita Daily News, Fla.)
Living the 'Wyldlife': Organization for middle-schoolers a popular choice | WyldLife is the little brother of Young Life, a popular non-denominational Christian program that allows young people to get together at night — from 6 to 7 p.m. — in a non-school but nevertheless supervised environment. While Young Life is designed for high school age kids, WyldLife is for middle school age children. (Southern Pines Pilot, N.C.)
Church helps with heating-bill fund | Organizers of a little-known program to help people with heating bills are celebrating the windfall of $1,100 raised by a recent spaghetti supper at Immaculate Heart of Mary Church. (The Republican, Mass.)
Tsunami aid:
Aid effort may help ties with Indonesia | U.S. battles image problem in largest Muslim nation (Dallas Morning News)
Religions battle for souls on Sumatra | Muslim radicals are handing out Qurans with the bags of rice and sugar they distribute to tsunami victims. Christian aid groups have also rushed in, quietly promising salvation in this predominantly Islamic region but fearful their presence could spark sectarian violence. Across the Indian Ocean basin, dozens of faith-based groups have joined relief efforts in the wake of last month's tsunami, which killed more than 155,000 in 11 countries and left millions homeless. (Associated Press)
Generosity's downside | When it comes to tsunami relief, Mattress Mack learns that no good deed goes unpunished. K.A. Paul, a Houston minister leading a 60-volunteer mission to the disaster zone, delayed the takeoff of the relief flight from Ellington Field. Although Paul gave several reasons for the delay, he eventually directed some blame toward McIngvale for failing to cover a $200,000 shortfall in his fund-raising effort. (Houston Chronicle)
Aid flight suffers new delay | Evangelist's 747 flown to Dallas for fuel system repairs (Houston Chronicle)
Father fears daughters abducted by U.S. group | Part-time lecturer Syed Nasarudin Abu Bakar, who lost his wife and two children to the tsunami in Aceh, fears his two remaining daughters may have been spirited out of Indonesia by missionaries. (Malay Mail, Malaysia)
Tsunami & faith:
Mosques stand alone amid tsunami damage | The white Ulee Lheu mosque gleams defiantly on the tide line of the worst-hit stretch of Indonesia's devastated coast, nearly pristine despite a buffeting by last month's tsunami that turned villages behind it into a dead zone of corpses and splintered wood. (Associated Press)
Role of God in tsunami disaster sparks emotions | How much, exactly, do you figure God cares? Indeed, how often does he actually dip in his finger - you know, take sides and really stir the pot? (Bill Johnson, Rocky Mountain News, Co.)
Local clergy soothe parishioners trying to understand disaster | Tsunami tragedy triggers goodwill around the world (Post-Crescent, Wis.)
Faith lifts former Lodi priest, who lost 22 family members in tsunami disaster | The Rev. Jesu Velichore sits in his office at Our Lady of Fatima Church in Modesto, scanning online photos of the Asian tsunami disaster with his eyes. (Lodi News-Sentinel, Calif.)
Catholicism:
Top Vatican liturgy official to address event | The top Vatican liturgy official, Francis Cardinal Arinze, highlights the 43rd annual Southwest Liturgical Conference this week at the Adam's Mark Hotel in downtown Dallas. (Star-Telegram, Fort Worth, Texas)
Postwar Catholics, Jewish children, and a rush to judgment | Pope Pius XII never told Catholic groups to keep 'hidden' Jewish children from their families after World War II. (Ronald J. Rychlak, Beliefnet)
Catholic church shifts policy on condoms | In a substantial shift from traditional policy, the Catholic Church in Spain has said it supports the use of condoms to prevent the spread of AIDS. (Associated Press)
Life ethics:
Birth-control notice laws faulted | Laws that require parents to be notified when teenagers seek birth control would do little to curb underage sex and could cause more girls to engage in unsafe intercourse, a survey of teenagers in 33 states suggests. (Washington Post)
66-year-old defends right to give birth | The Romanian woman who underwent fertility treatment to become the world's oldest first-time mother at the age of 66 defended her actions yesterday. (The Telegraph, UK)
'World's oldest mum' raps critics | A 66-year-old Romanian woman thought to be the oldest recorded mother has dismissed concerns that she is too old and frail to bring up a child. (BBC)
Helping women oppose choice | Abortion foes are putting a moderate face on their first San Francisco march in memory (San Francisco Bay Guardian, Calif.)
Parents acquitted 19 years after son's death:
Michigan judge clears Muslim woman in death that cost her three children | A Muslim immigrant from Lebanon has been cleared of responsibility for her 2-year-old son's 1985 death, which led Michigan authorities to give her three young children for adoption by an evangelical Christian couple. (Associated Press)
19 years later, pair cleared in son's death | Tearful Dearborn parents want to reunite with 3 kids taken from them.
Crime & fraud:
Colo. church urges investigation of theft | A former church treasurer took $777,000 without authorization and invested it in the construction company where he worked, the Denver regional office of the Presbyterian Church (USA) has concluded. Church officials asked prosecutors to investigate. (Associated Press)
Scam artists target black churches | Bishop Edwin J. Derensbourg thought the new parishioner with the Rolls Royce and flashy clothes would bring a measure of prosperity to his modest United Christian Fellowship church in Palmdale, Calif. A few months later, the minister said, the money petered out, Smith became hard to find and his conscience was troubled by the belief that he had become an evangelist for a scam. (Los Angeles Times, via Twin Falls Times-News, Id.)
Paper admits misrepresenting Archbishop:
Telegraph admits it misrepresented Archbishop of Canterbury | The editor of a major newspaper, the Sunday Telegraph in the UK, has admitted that his paper misrepresented the opinions of the Archbishop of Canterbury, Dr Rowan Williams, by falsely claiming that the tsunami disaster had made the Archbishop doubt whether God exists.
People with Andrew Pierce | Telegraph takes blame for Archbishop's loss of faith (Times, London)
People:
Keeping the faith at Seton Hall | Like other college basketball coaches, Louis Orr prepares a play card before each Seton Hall game. But there are more than plays on Orr's card. Usually written on the back are 12 to 15 verses of Scripture. Sometimes Orr refers his team to one of the Bible verses during a game. Orr likes to have the Scripture around because his faith comforts and strengthens him. His faith has defined who he is as a coach, a father and a husband. (New York Times)
Motivational evangelist T.D. Jakes jets in today | Bishop Thomas Dexter (T.D.) Jakes is a versatile man known the world over. But when he started preaching at the young age of 22, it was hard to believe he would one day be one of the world's most celebrated preachers. His first church - Greater Emmanuel Temple of Faith - was a small storefront with only 10 members. (The Nation, Nairobi)
Bible:
Ad for a Bible doesn't fit | Rock magazine: 'Thou shalt not push religion in our pages' (USA Today)
Two passages, three versions | Here's how two passages from Today's New International Version compare with earlier Bible translations. (USA Today)
Faithfully yours | I believe that ever since creation, God has been trying to reveal his goodness and love to us human beings, and that one of the ways God does this—although not the only way—is through the Bible. (Loudoun Times-Mirror, Va.)
Other religions:
Rabbis ban Jews from holy mount | Israel's leading rabbis have issued a ruling forbidding Jews from entering the disputed Temple Mount in Jerusalem, amid concerns about desecration of the sacred site. (Telegraph, UK)
Trouble in a one-synagogue town | Until recently, this old whaling village had a small Jewish population with a simple story. Over the years, Jews arrived as shopkeepers or bought summer homes and eventually settled here. They carried Torah scrolls from home to home, before building a small synagogue in 1903. The high point every year was a September dinner party and fund-raiser. But 18 months ago, a new rabbi came to town. His arrival set off a small-town debate between stasis and change that soon mushroomed into a battle between the rabbi and his congregation. (New York Times)
Spiritual center fosters harmony of beliefs | Where can one find Christians, Jews, Buddhists, Hindus, neo-pagans, and Sufis all worshipping together? The Foundation of Light. (Ithaca Journal, N.Y.)
Circle of Bahá'í followers in Winchester area gets bigger | There were people praying together, reading, and discussing selections from the holy writings of several world religions, including Christianity, Islam, Judaism, Sikhism, and their own. (Winchester Star, Va.)
Hajj to Mecca:
Millions throng Mecca for Haj | More than two million Muslim pilgrims began streaming out of Mecca towards Mena today, the first day of a Haj pilgrimage marked by grief over the Asian tsunami disaster and security fears. (The Hindu, India)
Arafat standing to mark Haj climax | The valley of Mina reverberated with the chants of the talbiyah as more than three million pilgrims prepared for their journey today to the Plains of Arafat to bring this year's Haj to a grand climax. (Arab News)
Muslim pilgrims prepare for Hajj rite | Chanting, "Oh Allah I'm here," hundreds of thousands of pilgrims draped in white streamed into this mammoth tent city for the night to prepare their minds and spirits for Wednesday's prayers at Mount Arafat, the central rite of the annual hajj. (Associated Press)
Pilgrims reach out to Iraqi brethren | They are in every pilgrim's prayer. The pilgrims from Iraq are finding sympathy for their plight and the plight of their war-ravaged country. (Arab News)
Pilgrims stream into tent city | Hundreds of thousands of pilgrims began streaming into Mina yesterday turning the tent city into a vast white canopy symbolizing their seamless dress and sense of sublime piety as this year's Haj began in an atmosphere of peace and tranquility. (Arab News)
What is the Hajj? | The Hajj is one of the pillars of Islam, which every adult Muslim must undertake at least once in their life if they can afford it and are physically able. (BBC)
Film:
Forget mom and apple pie, it's all you-know-who | "With God on Our Side: George W. Bush and the Rise of Religious Right" contemplates the climatic changes over the last 45 years, during which evangelical Christianity has moved steadily from the margins of politics into Congress and the White House. (New York Times)
The far-right stuff | With God On Our Side: George W. Bush And The Rise Of The Religious Right. New Yorkers still won dering how President Bush got re-elected may learn something from this comprehensive British TV documentary, which is receiving a one-week booking at the Pioneer to coincide with the inauguration. (New York Post)
Media:
NBC News calls Muslim Tablighi 'evangelicals.' Not!! | Are Muslim devotees the same as Christian "evangelicals"? Of course not. Yet "evangelical" was used in the introduction to NBC Lisa Myers' report on Muslim murderers. (Magic City Morning Star, Me.)
Also: FBI monitors Islamic group for terror ties | The FBI and the Pentagon are keeping a close eye on an Islamic missionary group with thousands of U.S. members. In a secret intelligence document obtained by NBC News, terrorism analysts say members of the evangelical movement are ideal recruits for terrorist organizations inside the United States. (MSNBC)
History:
Image of Crusaders in Latvian culture | Crusades of the 13-14th centuries changed the course of history and development of Baltic nations. (Pravda, Russia)
In Rome, hints of buried treasure | City unveils art found in infamous Emperor Nero's entombed palace (Washington Post)
Other articles of interest:
Prayer meet won't be banned: Dharam | Declining to buckle under pressure, chief minister N. Dharam Singh on Tuesday ruled out banning controversial evangelist Benny Hinn's three-day event in Bangalore, even as the BJP demanded the pastor's arrest. (Times of India, India)
Christians in Manila decry mall's Muslim prayer room | To some residents of this wealthy Christian area of Manila, any hint of a mosque in their neighborhood was tantamount to a Muslim takeover. They lobbied the mall owner to drop his plans, invoking visions of rising crime, fleeing homeowners, and sliding property values. A residents group said it was the "first step in an economic hara-kiri." One newspaper column was entitled "A Jihad In Greenhills." (Christian Science Monitor)
Ohio-bred pop-punk Christians more gallant than goofus | Relient K's Mmhmm (Village Voice, N.Y.)
Speaker's apology to LDS stirs up fuss | In the two months since a leading evangelical Christian apologized, on behalf of his fellow believers, to Latter-day Saints for mischaracterizations of their faith, several conservative Christians have voiced their displeasure with his remarks. (Deseret Morning News, Utah)
Related Elsewhere:
Suggest links and stories by sending e-mail to weblog@christianitytoday.com
Check out Books & Culture's weekly weblog, Content & Context.
Last week's tsunami blog:
January 11 | 7 | 6 | 5 | 4
See our past Weblog updates:
January 18 | 17
January 14 | 13 | 12
January 7 | 6 | 5 | 4
December 23 | 22 | 21
December 17 | 14b | 14a
December 10 | 9 | 7 | 6
December 3 | 2 | 1
November 24 | 23 | 22
November 19 | 18 | 17 | 16
Weblog
Launched in 1999, Christianity Today's Weblog was not just one of the first religion-oriented weblogs, but one of the first published by a media organization. (Hence its rather bland title.) Mostly compiled by then-online editor Ted Olsen, Weblog rounded up religion news and opinion pieces from publications around the world. As Christianity Today's website grew, it launched other blogs. Olsen took on management responsibilities, and the Weblog feature as such was mothballed. But CT's efforts to round up important news and opinion from around the web continues, especially on our Gleanings feature.
Ted Olsen is Christianity Today's executive editor. He wrote the magazine's Weblog—a collection of news and opinion articles from mainstream news sources around the world—from 1999 to 2006. In 2004, the magazine launched Weblog in Print, which looks for unexpected connections and trends in articles appearing in the mainstream press. The column was later renamed "Tidings" and ran until 2007.
Previous Weblog Columns: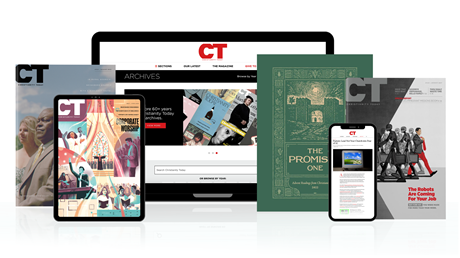 Subscribe to Christianity Today and get access to this article plus 65+ years of archives.
Home delivery of CT magazine
Complete access to articles on ChristianityToday.com
Over 120 years of magazine archives plus full access to all of CT's online archives
Subscribe Now
Pennsylvania Students 'Taught' Intelligent Design
Pennsylvania Students 'Taught' Intelligent Design