true
Years ago, back in my sportswriter days, I did a special investigative report called "Body and Mind," examining the relationship between academics and athletics for high school athletes. One thing that stood out in my study was the fact that sports kept many "borderline" kids in school—students who might otherwise drop out and hit the streets. Sports was an incentive to stay in school and make decent grades.
That thinking certainly applied at Richmond (CA) High School in 1999, though it played out in stark ways—and before a national spotlight—when boys basketball coach Ken Carter adopted a tough shape-up-or-ship-out academic policy for his players. There's nothing unusual about coaches, schools and/or school districts setting minimum academic standards for athletic eligibility, but Carter took it a unique—and controversial—step further: He demanded that every member of his team hold at least a 2.3 grade-point average, or he wouldn't let any of them play.
The players thought it was an idle threat until their report cards came in, and several of them fell short of the 2.3 minimum. Even though the team was undefeated (13-0) and one of the best in the state, Carter stuck to his word: He called off practice, locked the gym, and canceled all future games until every player had reached the standard. The players were shocked, and the community was in an uproar. Even Carter's colleagues at the school—his fellow educators—thought he'd gone too far. Word spread, and eventually the national media picked up the story. Carter was both lauded and lambasted for his refusal to budge.
And with that, you pretty much know the story of Coach Carter, a stirring film starring Samuel L. Jackson in the title role. But even though you know how it turns out—and I haven't given away anything here that the film's promotional materials and trailers don't already tell you—it's well worth watching to see the portrayal not only of a man who sticks to his principles, but of life at a struggling inner-city high school, complete with all of its typical disadvantages—truancy, gangs, drugs, poverty, low graduation rates and even lower academic expectations. It's also an honest, in-your-face look at the teenagers involved—from the few high achievers who can't wait to go to college and get a head start on a better life, to the many who are resigned to the endless cycle of poverty, crime, and the streets. Director Thomas Carter (Save the Last Dance) did a fine job capturing that difficult environment and the almost hopeless despair it often brings.
Jackson excels in his portrayal of a man who is the walking definition of "tough love." It's clear that Carter—who had been a star player himself at Richmond High—is doing more than just demanding decent grades of his players. He wants to give them opportunities they wouldn't otherwise have-to go to college, to escape poverty and a troubled neighborhood, to make something of their lives. He wants them to respect one another—and to respect themselves. He calls each of the players "Sir," and insists on the same respect in return. He wears a tie every day, and insists his players wear ties on game days. He preaches the concept of "team," and eventually the players—many of them naturally selfish and egotistical—get it. We see the essence of "team" played out not just on the basketball court, but off it as well, as the players band together and look out for each other.
In an interesting cast choice, one of Richmond's star players, Keynon Stone, is played by Rob Brown. It's essentially a role he's played before—high school hoops star who is also academically gifted, wants to go to college, and leave poverty in his rearview mirror. Where have we seen Brown play this role before? In the little-known gem Finding Forrester (2000), where he's mentored by an eccentric writer (Sean Connery). In Coach Carter, Brown's character is involved in a gut-wrenching subplot: He has big aspirations post-high school, but his girlfriend, Kyra (the radiant R&B singer Ashanti) is holding him back: She's content to stay where they are, doesn't really want him to go off to college—and she's pregnant. She's simply resigned to continuing the cycle, but Kenyon would like to find a way to work it out—to have the baby and go to college and start anew. You'll have to watch to see how that subplot turns out.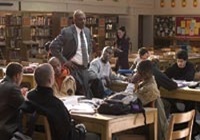 Another intriguing subplot involves another player, Timo Cruz (Rick Gonzalez, The Rookie). Cruz has the biggest "attitude" on the team, and even challenges Carter to a fistfight on the first day of practice. Carter kicks him off the team, and Cruz reverts to a life of drugs and the streets. But when he sees his old buddies on the team doing well and getting their acts together, he realizes he's made a bad choice and begs Carter to let him rejoin the team. Carter lays down some nearly impossible conditions for Cruz to come back, but the kid is willing to give it a try—and leave his street gang behind. It's moving to watch Cruz battle his personal demons throughout the film, and to see how it plays out in the end.
Perhaps the most interesting—and disturbing—subplot is how the other adults in the story react to Carter's tough stand. The players' parents, adults in the community, and even his fellow educators—including the school's principal—are almost unanimous in urging Carter to drop his idea and let the boys play ball. For them, education seems secondary—if it has any meaning at all. The principal even says, "For some of these kids, this basketball season will be the highlight of their lives." To which Carter replies, "Well, I think that's a problem. Don't you?" Apparently, she doesn't think so—and therein lies much of Carter's problem: He's essentially standing alone, without much support. By the end of the film, it's quite revealing to find out who exactly ends up standing up for the coach.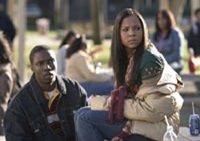 In the film, Carter is, for the most part, is a decent role model. But his character isn't without flaws: In his my-way-or-the-highway stubbornness, he sometimes lacks grace. And he unfortunately resorts to using much of the same bad language that his players use—he preaches the qualities of respect and acting like gentlemen, and yet he sometimes cusses a blue streak. Hmmm . . .
The movie's main flaws are an overabundance of sports-movie clichés and hackneyed phrases, and over-the-top scripting of the on-court action. One game must've featured at least twenty slam dunks, as if everybody could play above the rim. Nobody gets a rebound, because there are no missed shots. Give me a break; it's just not like that, not even in the NBA. But at least the film's final game doesn't have a predictable ending; I'll give it that much.
Overall, it's a pretty good sports movie, made a little better—and more interesting—by the knowledge that it's a true story. Hoosiers is still the best high school sports movie ever, and last year's Friday Night Lights wasn't far behind that. If both of those films get an A, I'd give Coach Carter a solid B—which would be more than good enough to play on his basketball team.
Talk About It
Discussion starters
What did you think of Coach Carter's rule that every player had to meet the minimum GPA for the team to continue playing? Was it fair to everyone? Why or why not?


What did you think of Coach Carter's disciplinary tactics, especially by punishing with so many push-ups and "suicide" running drills? Was he fair?


The film portrays the vicious cycle of poverty and a community's low expectations—as if it's almost impossible to break free from such circumstances. Was Coach Carter's method the best way to help kids break free? What other methods might have worked?


Coach Carter puts a high priority and respect and acting like gentlemen, and yet he uses bad language. Does that make him a hypocrite? Why or why not?


If sports is the only reason some kids stay in school, is it ever right to take a sport away? Why or why not?


The Family Corner
For parents to consider
Coach Carter is rated PG-13 for violence, sexual content, language, teen partying and some drug material. There is a shooting fatality. There's no nudity, but there's some suggestive clothing and booty shaking. There's plenty of bad language. There's depiction of gangs and gang lifestyle. Young teens would have to be very mature before seeing this film, and it's probably better to limit it to high school students and older.
What Other Critics Are Saying
compiled by Jeffrey Overstreet
from Film Forum, 01/20/05
According to The San Francisco Chronicle, Samuel L. Jackson has surpassed Harrison Ford to become the highest-grossing actor in movie history. Having recently participated in 2004 box office giants like Kill Bill, Vol. 2 and The Incredibles, and with a part in the upcoming Star Wars, Episode Three: Revenge of the Sith, Jackson seems content to play supporting roles in one blockbuster after another.
But in this week's box office champion, Coach Carter, Jackson has the lead, playing Ken Carter, the controversial high school basketball coach who set an example for the world of sports in 1999 by shutting down his own undefeated team because of how poorly they were performing in school.
Mark Moring (Christianity Today Movies) says the film is "well worth watching to see the portrayal not only of a man who sticks to his principles, but of life at a struggling inner-city high school, complete with all of its typical disadvantages—truancy, gangs, drugs, poverty, low graduation rates and even lower academic expectations." Moring, who also interviews the real Coach Carter here, says the film is "a pretty good sports movie, made a little better—and more interesting—by the knowledge that it's a true story."
Josh Hurst (Reveal) is not quite so impressed. "Jackson gives one of the finest performances of his career. He is commanding, magnetic, and suitably inspiring. Unfortunately, he's also stuck in an otherwise lousy film. The rest of the Coach Carter crew seems content to settle for mediocrity by giving us lackluster, workmanlike storytelling, hardly a fitting tribute to the great man for whom the film is named."
Article continues below
Michael Elliott (Movie Parables) argues differently, saying that the supporting characters are portrayed more effectively than Carter himself. He writes that Carter "is perhaps drawn to be a bit too saintly to be believed, but the strength of Jackson's performance overcomes the one-dimensionality and formulaic nature of the script. The screenwriters … do a better job with the supporting characters. The various players and their girlfriends are clearly delineated and given decent backstories to add depth and flavor to the otherwise predictable plot."
Marcus Yoars (Plugged In) says, "While Carter's homilies are terrific and the on-court drama rocks, this film plays to the MTV faithful with salaciousness that knocks it out of bounds. A party features alcohol, cheap hookups and kids stripping to their underwear for a scandalous swim. Teens grind suggestively at a dance, and a pregnant girl makes the 'brave' choice to redeem her future by having an abortion. Add nearly 100 profanities (two dozen s-words) and this well-intentioned film fouls out."
Cliff Vaughn (Ethics Daily) argues that this discomforting portrayal is necessary. "Coach Carter isn't as squeaky clean as some other recent sports movies, but not every story or situation can honestly be told that way. Ken Carter's task was different from Jim Morris' in The Rookie or Herb Brooks' in Miracle. An extreme situation called for an extreme approach, and Ken Carter's approach will inspire anyone to muster courage in the face of adversity."
Shannon Hammell (Christian Spotlight) points out, "The objectionable content seemed to be condemned more than condoned, which is a good thing. The movie teaches that in life we will always have obstacles. It's up to us to overcome them and be successful. I recommend this film, though I would suggest that parents go see it with their teen-age kids … and afterward talk about what transpired and the lessons that can be learned."
from Film Forum, 01/27/05
Harry Forbes (Catholic News Service) says the film is "reasonably absorbing, and Jackson gives a compellingly tough and unsentimental performance. Though some parents may feel it's important for inner-city kids to see this inspiring story with its message extolling academic achievement and teamwork, be warned that there's a good deal of crude language … [and an] abortion subplot with its questionable moral implications."
Article continues below
Mavin Olasky (World) says that unlike Hoosiers, this film is "planted in today's urban culture rather than 1950s rural Indiana, which means it realistically includes bad language and dirty dancing, as well as scenes with drug dealing (including a murder) and others with sexual overtones. All that, plus an abortion subplot that takes a wrong turn and the absence of a Christian witness, will lead some parents to just say no. Others, however, will welcome a film with so much emphasis on education, hard work, and discipline."
from Film Forum, 02/03/05
Steven D. Greydanus (Decent Films) compares it to Million Dollar Baby (and gives away the ending to that film, so beware!). He says, "Coach Carter is definitely rougher around the edges, but it just might inspire some young viewers to think about improving their lives."
from Film Forum, 02/10/05
Denny Wayman and Hal Conklin (Cinema in Focus) give the film four stars. "The happy ending of Coach Carter is not that these boys become basketball heroes, but rather that they become men of self discipline, motivation and integrity, who go on to accomplish far more than they—or anyone—thought possible."
Copyright © 2005 Christianity Today. Click for reprint information.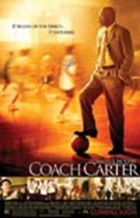 Browse All Movie Reviews By: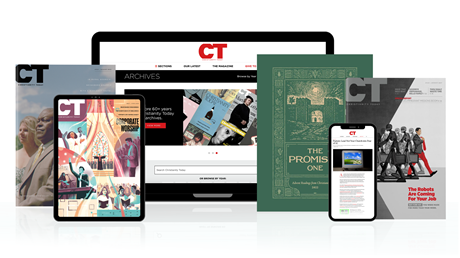 Subscribe to Christianity Today and get access to this article plus 65+ years of archives.
Home delivery of CT magazine
Complete access to articles on ChristianityToday.com
Over 120 years of magazine archives plus full access to all of CT's online archives
Subscribe Now
Coach Carter
Coach Carter