true
"I'm at a crossroads waiting for a sign … I'm no stranger to this place/Where real life and dreams collide/And even though I fall from grace/I will keep the dream alive." — from "Keep the Dream Alive"
Most rock fans would likely agree that Oasis is one of the last bands you'd expect to read about in a column called "Glimpses of God." But despite the Gallagher brothers' reputation for fighting with each other and other bands, for their drug use and slew of promiscuous relationships, Noel and Liam seem to be growing up (a little, at least) and exploring the real meaning of life on their latest disc, Don't Believe the Truth.
Interestingly enough, Noel has been asking his friend Bono, U2's frontman, about spiritual matters, particularly faith in Christ. In an interview with London's Sunday Times Magazine, Gallagher said he told Bono, "I'm Catholic same as you. Can you explain it to me?" He told the Times that Bono sat down for two hours and explained his faith. Gallagher even later asked Bono how a wealthy rock star prays. While it hasn't been stated exactly what Bono said during the conversation, Gallagher remarked that, "He made tons of sense."
Then, according to Gallagher, Bono sent a package a few days later to Noel and his girlfriend Sara that included Philip Yancey's book, What's So Amazing About Grace? "And [Bono's] dad had just died," Gallagher said. "How difficult must that be? Takes time out because two people were interested. What a guy."
The story would later take a interesting turn, however, when Noel's brother Liam slammed Bono's attempts to convert him to Christianity, dubbing his efforts "boring." Despite his brother's recent admission that he regularly goes to church to confess his sins, Liam isn't ready to be part of it and insists that he is his own God in this story
Liam says, ""What can Bono tell me that I don't know? I'm not looking for guidance. There are days I believe and days I don't … I don't need his guidance. He'd talk a glass eye to sleep."
And while we don't know exactly where the Gallagher brothers stand today in terms of a relationship with Christ, the duo's lyrics on Don't Believe the Truth, while ambiguous at times, continually point out that the band seems to be on a search for something deeper.
In "Mucky Fingers," Noel postures, "I know you think you deserve/an explanation on the meaning of life/But what you think that you heard/slipped away out of the back of your mind." Later he adds, "You'll get your mucky fingers burned/You get your truth from the lies you learned/When all your plastic believers will leave us/They won't return." Then he concludes, "I'm fed up with life in the city/All the phonies have blown my mind/When I'm gone, you look like you'd miss some/So come along with me, but don't ask why."
"On the Importance of Being Idle," Noel later claims, "I sold my soul for the second time/'cos the man don't pay me." In "The Meaning of Soul," Liam almost seems to be sending a message Bono's way: "Get out of my way, yeah man/I dig what you say/But that ain't enough, alright." On the next track, "Guess God Thinks I'm Abel," Liam attempts to link the Genesis reference with what sounds like relationship woes: "You could be the enemy/I guess there's still time/I'd get round to loving you/Is that such a crime."
But in "Part of the Queue," Noel offers a more hopeful look at life: "I'm having trouble finding my soul in this town/But I'll keep on trying, I keep on trying." Reaffirming that more positive perspective in the closing track, "Let There Be Love," he adds, "Who kicked a hole in the sky so the heavens would cry over me?/Who stole the soul from the sun in a world come undone at the seams?/Let there be love."
Could this be the beginning of a new era for the infamous Gallagher brothers? Only time will tell, but for now, they've provided much food—and some of it spiritual—for thought.
Unless specified clearly, we are not implying whether this artist is or is not a Christian. The views expressed are simply the author's. For a more complete description of our Glimpses of God articles, click here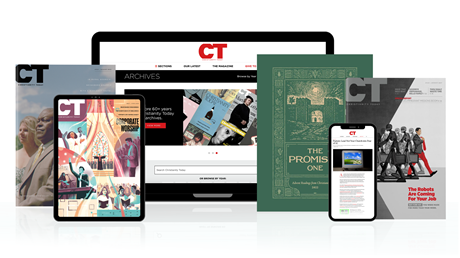 Subscribe to Christianity Today and get access to this article plus 65+ years of archives.
Home delivery of CT magazine
Complete access to articles on ChristianityToday.com
Over 120 years of magazine archives plus full access to all of CT's online archives
Subscribe Now
Don't Believe the Truth
Don't Believe the Truth