After the nomination of John Roberts to fill the Supreme Court vacancy left by Sandra Day O'Connor, politicians, political groups, and the press went hunting for where the nominee stands on hot-button issues, particularly abortion. Roberts left little paper trail in his two years as an appellate court judge, but first the Los Angeles Times, and then other papers reported that Roberts's wife, Jane Sullivan Roberts, is affiliated with the pro-life group Feminists for Life.
Roberts currently serves as legal counsel to Feminists for Life of America, and from 1995 to 1999 was executive vice president on the board of directors. Because of her affiliation with Feminists for Life, Roberts has been called "an ardent pro-life activist."
But while pro-life groups say they're on the same team as Feminists for Life, there are important differences between it and traditional anti-abortion organizations.
Women deserve better
Feminists for Life is nonsectarian and nonpartisan, and while overturning Roe v. Wade is a goal of the organization, president Serrin Foster has said that is "not enough."
Feminists for Life goes beyond mainstream pro-life groups on issues like welfare reform that don't directly involve abortion, says Wendy Wright, senior policy director for Concerned Women for America. "They join with more modern feminists groups on other issues like violence against women and child support and some of these issues that the pro-life movement doesn't get involved in," says Cathy Cleaver Ruse, senior fellow for legal studies at the Family Research Council.
Feminists for Life is where the policy meets the pavement, Foster told Christianity Today. By addressing the forces that push women toward abortion, Feminists for Life tries to make abortion "unthinkable," not just illegal. Whether lack of support from a father, the need to work full-time, or a lack of resources on a college campus to care for a child, their feminist concern for the vulnerable motivates their concern for both the baby and the woman. Major legal pushes recently have included passage of the Violence Against Women Act, fighting the family cap on welfare, and supporting laws enforcing child support.
Feminists for Life sees itself as an extension of the first wave of American feminists who sought voting rights for women to, among other things, protect their children and pass anti-abortion legislation. "Without known exception, the early American feminists condemned abortion in the strongest possible terms," Foster says in her anthologized speech, "The Feminist Case Against Abortion."
"The early feminists understood that, much like today, women resorted to abortion because they were abandoned or pressured by boyfriends, husbands, and parents and lacked financial resources to have a baby on their own.
"Ironically, the anti-abortion laws that early feminists worked so hard to enact to protect women and children were the very ones destroyed by the Roe v. Wade decision 100 years later—a decision hailed by the National Organization for Women (NOW) as the 'emancipation of women.'"
Feminists for Life's campaign Women Deserve Better is an indication of their belief "that abortion is a reflection that our society has failed to meet the needs of women."
"One of the most successful things they've done is the Women Deserve Better campaign," says Wendy Wright. Feminists for Life "breaks the stereotype that pro-lifers are only a certain kind of person. They're highly educated, professional, and may not agree with other pro-lifers on a variety of other issues."
Their emphasis on eliminating the reasons why women choose abortion has influenced the whole movement. "If you focus only on trying to convince people that the unborn child is a human being, then you may not get as far as you would like," says Ruse. "There is a broader drama going on." Many young people, Ruse says, choose abortion because they don't have the resources or support to care for a child and because society views abortion as an acceptable alternative to an unplanned pregnancy.
Feminists for Life works hardest to address this problem on college campuses. Foster says colleges will provide women with information about sexually transmitted diseases, contraception, gay rights, and violence against women, but no resources for pregnant women such as child care or maternity leave. Even married undergrad and graduate students who inquire about pregnancy resources are greeting with "I'm sorry" and the phone number to an abortion clinics, Foster told CT. "That's not 'choice'," she says.
In addition, Foster cites a Gallup poll which found that 73 percent of women leave college pro-choice, while 37 percent of high school graduates are pro-choice. "Women in college are having their first abortions," Foster says. And that's where our future politicians, lawyers, jurists, and businesswomen are being educated.
Feminists for Life also addresses intellectually pro-life arguments that are often left out of the classroom. "They do a lot of speaking on college campuses, where students will not hear any of [the pro-life views of early feminists] in their women's studies classes," Ruse says.
Addressing the working woman
Many women don't feel abortion is a "choice," but rather something they are forced into if they want to continue an education or career. "Feminists for Life does generally agree with what would traditionally be thought of as women's rights issues, or the concerns of career and professional women," says Wright. "They bring support to women along that college-career track, looking at what these women need in order to not be pressured into having an abortion."
"The pro-choice feminist line that's becoming increasingly dominant is, 'Of course women will use abortion because they want to have true vocations, they want to pursue education,'" says Amy Laura Hall, an ethicist at Duke Divinity School and 2004 recipient of Feminists for Life's Remarkable Pro-Life Woman in the Academy award.
Women "have to make a choice between motherhood and forgoing school and work outside the home, or choosing school and work outside the home and aborting," says Hall. "It's as if we completely lost the original effort of the feminist movement to bring the needs of mothers and children into the public sphere."
"People think [abortion] is necessary for women's advancement," says Foster. "Women have got to stop settling for less. Women have children. Get over it," she says. "It's a goal that most women share. They want to be able to work. It's exciting, but they want to be able to also have a child. It's about balancing work and family."
Although women have been welcomed into the workplace, children are not, Hall says. Modern feminists see abortion as a backup to contraception so that they can compete in their careers. In an article on the rise of abortion rates in Britain, Hall quotes one abortion advocate who says, "Women today want to plan their families and, when contraception fails, they are prepared to use abortion to get back in control of their lives. Motherhood is just one among many options open to women, and it is not surprising that younger women want to prioritize other things. We should stop seeing abortion as a problem and start seeing it as a legitimate and sensible solution to the problem of unwanted pregnancy."
"We say women ought not to have to chose abortion" if they want or need to work, Hall says. "Educational institutions ought to have true maternity leave, and ought to have childcare on campus, and ought to have simple things like high chairs in the school cafeteria in order to make it more possible for women to chose life."
The Christian roots of pro-life feminism
Early feminists fought to earn a voice in society, but once they got there, Hall says, they didn't want to risk their positions by making the changes they had earlier called for. Feminists for Life looks to early feminists who worked on behalf of the most vulnerable members of society.
"Their mission is to stand with and lift the burden of women and children who do represent the most vulnerable people on earth," says Mimi Haddad, president of Christians for Biblical Equality. "Early American feminists had a three-pronged focus: suffrage, abolition, and temperance. The focus represented women's most vulnerable place in culture. They had no political voice. They owned nothing. They didn't have legal say over their children."
They fought for the right to vote in order to protect their children, Haddad says. "If their husband abused alcohol, they had no way, politically and legally, of protecting their children. They wanted their Christian ideals expressed in the public square. They were abolitionists because they did what President Lincoln could not do. They connected to the Christian values of women south of the Mason-Dixon Line."
Feminists for Life builds upon the work of the early American feminists who found their feminist moorings in the Bible, says Haddad. "Secular feminists often place their feminist convictions above the authority of Scripture. The early feminists were suffragists because they believed their Christian voice had an important place in the public square."
Their stance has earned Feminists for Life respect inside and outside the pro-life movement. "They've been able to get into arenas that pro-lifers are generally barred from, particularly universities," Wright says.
Because of their unique approach, Feminists for Life doesn't fit squarely into the pro-life movement. So, John Roberts's wife may not be who pro-lifers suppose if they only read news reports. According to Ruse, "It would not be fair to say that she is in the mainstream pro-life movement."
Related Elsewhere:
Feminists for Life has more information about their work on their website. They also have the Women Deserve Better campaign, including provocative ads, their newsletter The American Feminist, feminist history starting with pro-lifer Mary Wollstonecraft, author of A Vindication of the Rights of Woman and mother (who died from childbirth) of Mary Shelley, author of Frankenstein. They also have information on their college outreach program.
Article continues below
Recent news elsewhere about Feminists for Life and Jane Sullivan Roberts includes:
The faith of John Roberts | Judge John G. Roberts Jr. has been called the stealth nominee for the Supreme Court — a nominee specifically selected because he has few public positions on controversial issues such as abortion. (Jonathan Turley, Los Angeles Times, July 25, 2005)
Santorum: Mrs. Roberts' work not relevant | "My wife has opinions on things that may or may conform with mine and I think most couples are in that situation," Santorum said on NBC's "Today" show (Associated Press, July 25, 2005)
Anti-abortion advocacy of wife of court nominee draws interest | Mrs. Roberts has led an independent and unapologetic life that defies any attempt at pigeonholing (The New York Times, July 23, 2005)
Wife's role in women's group now in focus | As US senators and their interest group allies engage in an intense guessing game over how Bush's first Supreme Court pick would rule in cases involving Roe v. Wade, the 1973 decision creating a right to abortion, his wife's role in the Washington-based Feminists for Life is emerging as a point of scrutiny. But the story is a complex one. (TheBoston Globe, July 22, 2005)
Wife's role in women's group now in focus | Jane Sullivan Roberts's story is a complex one (The Boston Globe, July 22, 2005)
Poll: Roberts' abortion stance of interest | Just over half of all Americans — and a solid majority of women — want to know John Roberts' position on abortion before the Senate votes on whether to elevate him to the Supreme Court (Associated Press, July 21, 2005)
Nominee's wife is a feminist after her own heart | Those scouring the writings of John G. Roberts to assess how he would vote on future Supreme Court cases involving abortion will not find much clarity from his wife's record. Like him, she seems unequivocally antiabortion in her personal views, but from there she does not follow the usual path (The Washington Post, July 21, 2005)
More CT articles on abortion are available on our Life Ethics page.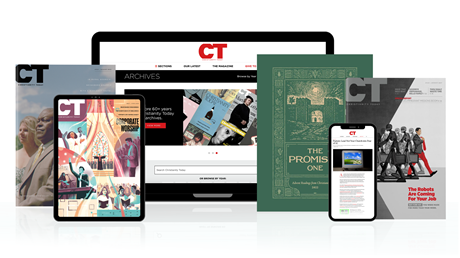 Subscribe to Christianity Today and get access to this article plus 65+ years of archives.
Home delivery of CT magazine
Complete access to articles on ChristianityToday.com
Over 120 years of magazine archives plus full access to all of CT's online archives
Subscribe Now
Where Does Feminists for Life Fit in the Pro-life Community?
Where Does Feminists for Life Fit in the Pro-life Community?