Billy Graham had never met a pope until John Paul II invited him to Rome in 1981. Ushered into the papal apartments by the Vatican's famous Swiss Guard, Graham marveled at the pomp. He and the pope chatted like long-lost friends for half an hour, swapping photos, gifts, and travel stories. Before Graham left, John Paul II reached over, clutched Graham's thumb, and told him, "We are brothers."
Graham revealed nothing of the pope's message in 1981. At the time of their meeting, John Paul II had been pope less than three years. An assertion of spiritual kinship would have been ill received by the bulk of both their constituencies. But by 1990, when Graham related this story to Time journalist David Aikman, the climate had changed considerably. Key to the thaw were John Paul II's efforts to beat back communism worldwide.
Fifteen years later, the late Pope John Paul II has been lionized in evangelical eulogies and lauded by President Bush as a "humble, wise, and fearless priest who became one of history's great moral leaders" and a "hero for the ages."
Why the sudden change? John Paul II offered a winsome face of Christianity to the world and leaves behind a Roman Catholic Church firmly opposed to moral relativism. He reinforced the Second Vatican Council's commitment to seek renewal in the sources of classic Christianity—Scripture and the church fathers. And while significant differences remain—examples include ecclesiastical authority, the means of grace, and the relationship of justification to sanctification—evangelicals can confidently engage a Catholic Church committed to fundamental Christian truths.
Sporadic but Significant

While we may not discount the singular importance of John Paul II, change has been in order since the 1960s, when the Second Vatican Council opened the door for discussion with "separated brethren." But even when Catholicism showed surprising signs of changing, there was no guarantee Protestantism would reciprocate.
Fundamentalist leader Carl McIntyre wrote in 1945, "As we enter the post-war world, without any doubt the greatest enemy of freedom and liberty that the world has to face today is the Roman Catholic system." After generations of mistrust, few Protestants grasped the significance of Vatican II, even when the Catholic Church accepted partial blame for the Reformation. This crucial admission preceded the council's calls for change, which edged remarkably close to some key Reformation arguments, including the centrality of Christ for salvation.
In 1964, Richard Cardinal Cushing, the renowned archbishop of Boston, shook up the Catholic Church by praising Billy Graham. Encouraging Catholics to hear the evangelist, Cushing remarked that he would stop worrying about the Catholic Church's future in America if they had half a dozen men like Graham.
Catholic and evangelical efforts toward fellowship have largely followed the Cushing-Graham model: unofficial, individual, and sporadic meetings. For this reason, John Paul II's encyclical Ut Unum Sint (That They May Be One) is so important. Released in 1995, this teaching fueled the ecumenical momentum started at the Second Vatican Council by inviting debate about Catholic doctrine. The document acknowledges for the first time in papal history that Vatican authority hinders cooperation between church traditions.
John Paul II believed that truth would emerge through engagement. "By engaging in frank dialogue, communities help one another to look at themselves together in the light of the apostolic tradition," he wrote in Ut Unum Sint. "This leads them to ask themselves whether they truly express in an adequate way all that the Holy Spirit has transmitted through the apostles."
Strength in Unity

Representatives from both sides of the Reformation divide have drawn encouragement from Jesus' prayer in John 17, and view engagement within the broader context of reaching the world: "May they be brought to complete unity to let the world know that you sent me and have loved them as you have loved me" (John 17:23).
With this challenge in mind, 15 evangelical and Catholic leaders collaborated in 1994 to produce "The Christian Mission in the Third Millennium," the first installment from Evangelicals and Catholics Together. Numerous factors converged to create favorable conditions for this achievement. Having already fought together to defeat communism, Protestants and Catholics now turned inward to combat the decadence of secularism. Abortion became a potent rallying point. Finding enemies in their own respective camps, kindred spirits reached across the theological front to arrange new alliances.
Unlike so much mid-20th-century ecumenism, recent Catholic-evangelical efforts acknowledge the lingering hurdles. The motto of John Paul II's papacy—Totus Tuus (Totally Yours)—highlights his disturbing embrace of Marian devotion. Evangelicals and Catholics have made little progress on the central issue of ecclesiology, especially in areas of papal authority and infallibility, notions repugnant to most Protestants. Megachurches swell their numbers significantly from the ranks of nominal Catholics. They will continue to do so absent concerted re-evangelization efforts from the Catholic leadership.
Thankfully, evangelicals can receive as good as they give. Fulfilling John Paul II's vision for dialogue, evangelicals have new appreciation for the role of community. With newfound political influence, evangelicals have supplemented their meager public ethic by learning from Catholic social teaching. So long as the Catholic Church adheres to John Paul II's firm orthodoxy, evangelicals will gain from this ecumenical effort.
Have something to add about this? See something we missed? Share your feedback here.
Our digital archives are a work in progress. Let us know if corrections need to be made.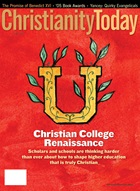 This article is from the June 2005 issue.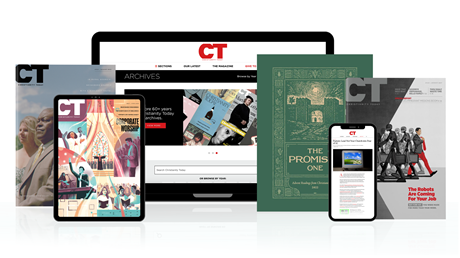 Annual & Monthly subscriptions available.
Print & Digital Issues of CT magazine
Complete access to every article on ChristianityToday.com
Unlimited access to 65+ years of CT's online archives
Member-only special issues
Subscribe
We Are Brothers'
We Are Brothers'