In yet another sign of Anglican fracture, six conservative Episcopal priests in Connecticut face possible suspension from their pulpits after defying a bishop's order to submit to his authority. The pastors, and their congregations, oppose Andrew Smith, bishop of the Episcopal Diocese of Connecticut. Smith backed the 2003 consecration of V. Eugene Robinson, an openly practicing homosexual.
Smith told ct that while he has offered to arrange alternate supervision, he cannot allow the congregations to effectively secede from the diocese. "The relationship to the whole diocese is fundamental for the Episcopal Church, no matter what the time or situation or issue."
However, the six said in a statement, "We do not understand how we have in any way 'abandoned the communion of this church.'" They have asked for "oversight as called for by the primates of the worldwide Anglican Communion in their statements of October 2003 and February 2005."
While this case has drawn national and international attention, it is symptomatic of widespread battles over orthodoxy in the denomination of 2.3 million members. In the last year, about a dozen churches nationwide have broken with the Episcopal Church usa, and more are discussing the matter. Other churches have split or joined theologically conservative Anglican movements.
One of the dissident priests, Allyn Benedict of Christ Church in Watertown, told the New Haven Register, "This is a question for the church around the world. We have to decide to walk together or walk apart."
During an April 21 meeting for Episcopal clergy in Hartford, the bishop laid out his position.
"His intention … was to name his charge against us and argue his case in order to gain support from diocesan clergy," Christopher Leighton, rector of St. Paul's, Darien, said in a statement. "Once more, however, his accusation of abandonment of communion remains unfounded, and he has still offered no evidence."
Besides Leighton and Benedict, the priests are Mark Hansen of St. John's Church and Donald Helmandollar of Trinity Church in Bristol; Ronald Gauss of Bishop Seabury Church in Groton; and Gilbert Wilkes of Christ and the Epiphany Church in East Haven.
Related Elsewhere:
News elsewhere includes:
Episcopal Priests Protest Bishop's Support for Gay Clergy | Six Episcopal priests in Connecticut are refusing to pay their church dues in defiance of their bishop, who is threatening to remove them for insubordination. The dissident priests disagree with their bishop's support for consecration of gay clergy. (All Things Considered, NPR, May 2, 2005)
Article continues below
Six embattled Episcopal priests get support from colleagues | Six Episcopal priests in Connecticut who could be removed from their parishes are getting support from colleagues around the country. (WTNH, Conn., April 17, 2005)
Bishop delays action on six priests | Connecticut Episcopal Bishop Andrew D. Smith withdrew from the brink Friday, at least temporarily, opting not to remove six priests who openly disagreed with his support for the consecration of the Episcopal Church's first openly gay bishop, pending a meeting Monday. (Bristol Press, Conn., April 16, 2005)
Episcopal priests face possible discipline in dispute with bishop | Six Episcopal priests face possible discipline after failing to reach an agreement with a bishop they oppose for his support of gay clergy. (Associated Press, April 19, 2005)
Priests' fate still in doubt after latest meeting | A closed-door meeting of 184 clergy from the Episcopal Diocese of Connecticut on Thursday resulted in neither a resolution nor a deadline for action against six priests who have been at odds with Bishop Andrew D. Smith for two years over Smith's support of an openly gay bishop. (New Haven Register, Conn. April 22, 2005)
A collection of all Christianity Today's coverage of the Anglican Communion is available on our website, including:
Moratorium Mess | U.S. Anglican leaders evade request. (April 07, 2005)
Canterbury Crackup | Eschewing church discipline has come back to haunt Anglicans. (Dec. 03, 2004)
In Anglican Report, There's Something for Everyone, Once Again | But can Via Media approach continue to keep the churches together? (Feb. 28, 2005)
Anglicans Sanction Episcopalians Over Gay Bishop, Gay Unions | U.S. and Canada churches asked to "voluntarily withdraw" from panel. (Feb. 28, 2005)
Conservative Anglicans Elated and Cautious | Withdrawal request welcomed, but some wish statement had been stronger. (Feb. 28, 2005)
Advice Rejected | Lambeth Commission report leaves church in disarray. (Nov. 10, 2004)
'African Church Has Come of Age,' Say African Anglican Bishops | It now faces the dual threat of Western heresy and militant Islam. (Oct. 27, 2004)
N.T. Wright: Anglican Report Is 'Fireproofing the House' | Top theologian on Lambeth Commission talks about what happened behind the scenes, whether the report should have been tougher, and why it's critical of some conservative bishops. (Oct. 21, 2004)
Article continues below
Windsor Report Leaves Conservative Episcopalians Hopping Mad | Conservative network leader: "The disease of the U.S. church has found its way into this report." (Oct. 19, 2004)
Stronger Action Needed, Say Global Anglican Leaders | "The primates will add teeth" to Windsor Report, conservatives predict, hope. (Oct. 19, 2004)
Disappointed Anglican Conservatives Mull Options, Threaten Revolt | Americans must belong to Episcopal Church, report says. (Oct. 19, 2004)
Report Rebukes Episcopalians for Disunity but Declines Sanctions | U.S. church in limbo as conservative dissidents mull their options. (Oct. 18, 2004)
Weblog: Anglican Report Treats Conservatives Harsher than Liberals | News, predictions that commission would sanction Episcopal Church were greatly exaggerated. (Oct. 18, 2004)
Have something to add about this? See something we missed? Share your feedback here.
Our digital archives are a work in progress. Let us know if corrections need to be made.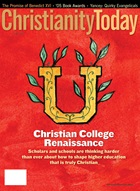 This article is from the June 2005 issue.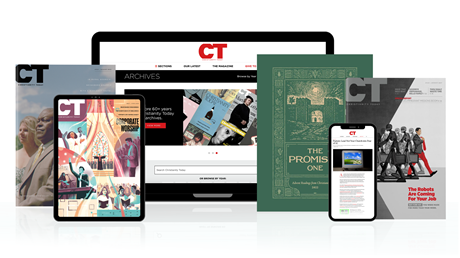 Annual & Monthly subscriptions available.
Print & Digital Issues of CT magazine
Complete access to every article on ChristianityToday.com
Unlimited access to 65+ years of CT's online archives
Member-only special issues
Subscribe
Six Priests Face Suspension
Six Priests Face Suspension