Give people a taste of freedom and they will never tolerate tyranny again. On this belief rests the fate of democracy in the Middle East. A taste of freedom was not enough to woo Iraq's once powerful Sunni Muslims into wider participation in the recent national elections. But Kurds and Shiite Muslims jumped at the chance to shape their nation's future.
The world cannot afford to let this historic opportunity to grow robust democracy in the Middle East slip away. If freedom fails, the people of this troubled region will remain enslaved by fear, shut out of a globalized economy, tempted to violence, and resistant to the gospel.
From Fear to Freedom

Critics, mostly isolationists on both the Right and Left, doubt that democracy can thrive in the Muslim-majority Middle East. The crucial conditions that encourage self-government include an educated populace, a strong middle class, and a robust civic ethic. But the Middle East lacks all these necessary conditions. Even more troubling is the lack of tolerance for dissent. In declaring an all-out war against democracy, terrorist Abu Musab al-Zarqawi clarified the stakes for his followers: "Democracy is also based on the right to choose your religion," he said, and that is "against the rule of God."
Natan Sharansky, in his The Case for Democracy, argues that societies are based on either fear or freedom. A free society allows for public protest without fear of punishment. Fear societies do not. As a result, fear societies subdivide three ways: there is a small minority of true believers in the totalitarian regime, another small minority of dissidents, and a vast middle of "doublethinkers." Doublethinkers publicly toe the repressive party line but inwardly yearn for freedom.
Sharansky knows doublethink. Born in Joseph Stalin's Soviet Union, he and his family feigned admiration when "Uncle Joe" died. As an adult, Sharansky shed his doublethink for dissidence, suffering nine years in a KGB prison until his 1986 release. Now he champions democracy, and bases his optimism today on the Soviet Union's collapse. "The peoples behind the Iron Curtain yearned to be free, to speak their minds, to publish their thoughts, and most of all, to think for themselves," Sharansky writes. "We dissidents were certain that freedom would be seized by the masses at the first opportunity because we understood that fear and a deep desire for liberty are not mutually exclusive." Middle Eastern people share that same longing to be free.
Iraq's newly elected officials are beginning the tough task of crafting a constitution and representative government. But as long as doublethink rules, Iraq will remain a fear society. Such societies typically justify ongoing repression by pointing to "external threats." (In Iraq's case, the American occupiers and their "Zionist allies.")
Credit to the Cause

We believe, then, that the American-led coalition should continue to motivate Iraq's doublethinkers to embrace freedom, not violence. But freedom by itself is not enough.
When the walls of Soviet-style communism fell in 1991, worthless consumer goods, pornography, and other Western cultural dross flooded through freedom's gates. Is it possible that Iraqis too have seen this kind of "freedom"-delivered to the doorstep of their mosques and beamed from the West to their televisions-and looked away unimpressed?
President Bush, in his second inaugural address, issued a powerful call to freedom. Less discussed, however, was his call to the individual responsibility that undergirds our liberty. "In America's ideal of freedom," Bush said, "the public interest depends on private character-on integrity, and tolerance toward others, and the rule of conscience in our own lives. Self-government relies, in the end, on the governing of the self. … In America's ideal of freedom, the exercise of rights is ennobled by service, and mercy, and a heart for the weak."
This American ideal of freedom finds its source in Scripture. "You, my brothers, were called to be free. But do not use your freedom to indulge the sinful nature; rather, serve one another in love. The entire law is summed up in a single command: 'Love your neighbor as yourself'" (Gal. 5:13-14).
But increasingly in the West, freedom has been divorced from responsibility, and we find ourselves in the midst of a culture in which liberty often becomes little more than license for sin, selfish individualism, or institutional corruption. The terrorists' version of Islam may know nothing of freedom, religious or otherwise-but if dishonoring elders, rampant materialism, and sexual license are the fruits of freedom, they will never want to know about it. Nor will the doublethinkers.
"From the viewpoint of centuries," Bush said in his inaugural address, "the questions that come to us are narrowed and few. Did our generation advance the cause of freedom? And did our character bring credit to that cause?"
As such, the domestic situation, not the terrorists, may be the ultimate undoing of the Bush foreign policy. What role government can and should play in building up the character of the American people is a complex matter in a nation that prides itself in the separation of church and state. But unless Americans' exercise of freedom becomes more responsible, we will increasingly end up exporting not liberty but anarchy. This would not be a gift to the world, and it would be an everlasting blight on this generation.
Related Elsewhere:
Christianity Today covered the election in the U.S.: Iraq's Christians Disenfranchised at Home and in U.S. | Assyrians are fighting for survival in a region that has long sought their ouster. (Jan. 31, 2005)
In a CT column, Charles Colson argued that America's immorality is giving aid and comfort to terrorists.
Our earlier coverage of the war in Iraq includes:
The Evil In Us | Prisoner torture in Iraq exposes the ordinary face of human depravity.—A Christianity Today editorial (June 10, 2004)
Vanity Watch | We can do better than merely mirror the naïveté of our enemies.—A Christianity Today editorial (May 28, 2003)
Apocalypse Again and Again | The Bible doesn't tell us when to go to war but how to live in a war-ridden world. (April 16, 2003)
Why We Are in Iraq | Michael Kelly, R.I.P. (April 07, 2003)
Are Prayers in a Time of War Really About Comfort? | In part. But their main purpose is about much, much more than that. (March 28, 2003)
War Could Reduce Holy Land's Christian Presence | Palestinian bishop fears current hostilities could continue a trend that sees Christians forced out of the area altogether. (March 21, 2003)
Have something to add about this? See something we missed? Share your feedback here.
Our digital archives are a work in progress. Let us know if corrections need to be made.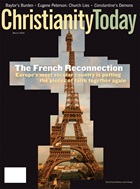 This article is from the March 2005 issue.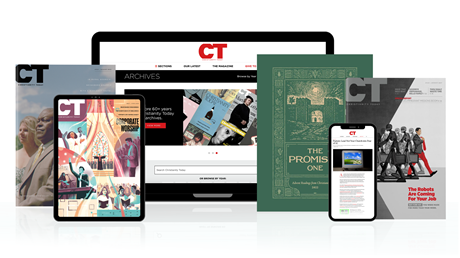 Annual & Monthly subscriptions available.
Print & Digital Issues of CT magazine
Complete access to every article on ChristianityToday.com
Unlimited access to 65+ years of CT's online archives
Member-only special issues
Subscribe
Voting Against Anarchy
Voting Against Anarchy