Eugene Peterson has retired to a place that is as still and rich as his inner life. The water of Flathead Lake, Montana, is deep, clear blue—deep because the blue is so rich; clear because you can see the bottom for some ways out. His home sits on a hill just above the lake, in a cove, and you can hear the water lap the shore as the wind hums through the trees.
Peterson is thin, with an even thinner hairline, and he speaks with a gravelly voice. His handshake is like a hug and his smile inviting. He walks a bit stiffly, but his knobby-kneed legs have a tensile strength from all his hiking. When he smiles, his teeth are broadly exposed, and his eyes squint almost shut.
During the interview ("Spirituality for All the Wrong Reasons"), he often paused after a question. He paused so long, I sometimes thought I must have stumped him, or embarrassed him. But I soon discovered he just has the self-confidence to let silence hang in the air (though I find myself uncomfortable with it) until he has something to say.
His wife, Jan, arrived about an hour into the interview, with a couple of white plastic sacks of groceries. She said she was very glad to meet me, and though I know she has to entertain gobs of people visiting Eugene, she said it in such a way that I believed her. Her handshake was even warmer than Eugene's. I got the distinct impression that she was ready to give me a hug, but my Midwestern reserve demurred, and I stuck out my hand quickly. But the sense of welcome was unmistakable. This woman has the gift of hospitality, I thought.
Nothing in the next couple of hours tarnished that assessment. "Mark, you must be starving," she said. "Do you want me to fix something quickly?" It was about 12:30 p.m., and we had scheduled lunch at one.
The meal was served with a casual elegance, or was that elegant casualness? A simple fare of chicken wings, scones, and cucumber soup was obviously prepared with love and attention to detail. I felt like I was sitting with family.
Eugene said the grace, grabbing my hand with a kind of holy firmness, addressing God as both omnipotent master and intimate friend.
Throughout our time together Eugene kept mentioning his wife. "I thought you and I might have lunch together in town, but Jan insisted we eat here." "Jan made these scones." "Jan made this sauce." He spoke of her and to her in such caressing tones, I would have thought they'd just gotten married.
After two days of interviews, it was time to go. This was the only time Eugene didn't seem to know what to do or say. He fumbled as he expressed his thanks for my coming (odd, since I thought I was the real beneficiary). His eyes darted around the room, searching. Suddenly he turned to a bookshelf full of his publications and said, "Here. Would you like any of these?"
This was the only time I think Eugene Peterson may have been serving the Evil One. To offer a bibliophile a choice of books from his favorite author—this was cruel and unusual temptation. Fortunately, my Midwestern reserve kicked in again, and I pulled but one thin volume from the shelf. But I kicked myself as I drove away, because I was the guest and should have brought them a gift.
• • •
Next Issue: Bill Hybels and others believe your church should become multiracial, Lauren Winner considers chastity as a spiritual discipline, and Ron Sider says evangelical morality is a scandal.
Related Elsewhere:
Spirituality for All the Wrong Reasons | Eugene Peterson talks about lies and illusions that destroy the church.
Peterson's latest book, Christ Plays in Ten Thousand Places, is available from Christianbook.com and other book retailers. More information is available from the publisher.
Eugene Peterson's books, available from Christianbook.com and other book retailers, include: The Message Bible, Five Smooth Stones for Pastoral Work, Run with the Horses, A Long Obedience in the Same Direction, and The Contemplative Pastor.
Other CT articles on or by Peterson include:
The Contemplative Christian | Eugene Peterson calls believers to a life lived with "wholeness, honesty, without contrivance"—against the grain of much that's currently driving the church in America. (Sept. 29, 2003)
'I Didn't Want to Be Cute' | Author Eugene Peterson describes what drove his writing of The Message. (Oct. 23, 2002)
Holy Saturday | Part three of "The Great Reversal," a CT Classic article By Eugene H. Peterson (April 20, 2000)
You've Got Mail | To the Suburban Church of North America, by Eugene Peterson (Oct. 25, 1999)
What's Wrong with Spirituality? | The Gospel of Mark's prescription for spiritual sanity. By Eugene H. Peterson (July 13, 1998)
Articles on Peterson and his books from our sister publications include:
The Message | One could do worse than emulate Eugene Peterson. His 35 years as a pastor have honed and polished an ability to boil a thing down to its essence, to really get it right, with a few vivid words. (Books & Culture, Sept/Oct. 2002)
Messengers of God | Calvin Miller is one of the funniest, most perceptive, serious, and passionate preacher/pastor/professors in the country. In The Sermon Maker, Miller takes on a huge subject that vitally concerns every preacher and every Christian who slips into a pew—the sermon. (Leadership, Summer, 2002)
The Business of Making Saints (Part 1) | People want us to meet their needs. But if we give in, we abandon our true work (Leadership, Spring, 1997)
The Business of Making Saints (Part 2) | An interview with Eugene H. Peterson (Leadership, Spring, 1997)
Have something to add about this? See something we missed? Share your feedback here.
Our digital archives are a work in progress. Let us know if corrections need to be made.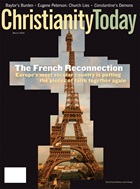 This article is from the March 2005 issue.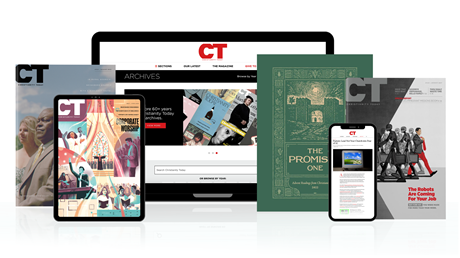 Subscribe to Christianity Today and get access to this article plus 65+ years of archives.
Home delivery of CT magazine
Complete access to articles on ChristianityToday.com
Over 120 years of magazine archives plus full access to all of CT's online archives
Subscribe Now
Hospitality Incarnate
Hospitality Incarnate