GILEAD: A Novel
Marilynne Robinson
Farrar, Straus, and Giroux,
256 pp., $23
Of Fathers and Sons

The sometimes-fractured relationships between fathers and sons are the heart of this stellar second novel from Marilynne Robinson (Housekeeping, 1981).
In finely crafted prose, Robinson unfolds the first-person ruminations of 76-year-old John Ames of Gilead, Iowa, the son and grandson of pastors. Knowing that his heart is failing, Ames attempts to write down his thoughts for his 6-year-old son to read when he is grown.
Set in 1956, the story offers many historical reflections as Ames looks back on the Civil War and abolition. Ames recalls the rifts between his father and grandfather: "In a spirit of Christian forgiveness very becoming to men of the cloth … they had buried their differences. It must be said, however, that they buried them not very deeply, and perhaps more as one would bank a fire than smother it."
Gilead brims with all the love, misunderstanding, joy, and frustration that can characterize father/son relationships. This luminous novel glows with imagery and insight, and it's rich with meditations on the life of faith.
THE SCANDAL OF THE EVANGELICAL CONSCIENCE: Why Are Christians Living Just Like the Rest of the World?
Ronald J. Sider
Baker,
144 pp., $12.99
Challenging Cheap Grace

American popular culture is "sick, sick unto death," and scandalous behavior is rapidly destroying American Christianity, asserts Evangelicals for Social Action president Ronald Sider (Rich Christians in an Age of Hunger).
"By their daily activity, most 'Christians' regularly commit treason," Sider writes. "With their mouths they claim that Jesus is Lord, but with their actions they demonstrate allegiance to money, sex, and self-fulfillment." If vital Christianity is to survive, Sider believes we must understand the crisis we are in, figure out why it happened, and develop correctives.
Sider looks at numerous statistics comparing Christian behavior (divorce, abuse, premarital sex, materialism) to the general population. (He later distinguishes between these statistics and those of "committed Christians.") He then contrasts contemporary Christian obedience with New Testament teaching and practice, including concern for the poor and overall social holiness.
Sider doesn't mince words. He eschews cheap grace: "When Christians today reduce the gospel to forgiveness of sins, they are offering a one-sided, heretical message that is flatly unfaithful." Calling for accountability, he also takes a few shots at parachurch organizations and independent congregations.
"Few things are more urgent today than a recovery of the New Testament understanding and practice of the church."
YOU'RE NOT ALONE: Healing Through God's Grace After Abortion
Jennifer O'Neill
Faith Communications,
240 pp., $14.95
Hope for the Hurting

More than 70 percent of women who say they've had abortions also claim some sort of religious affiliation. Yet these women often come to believe that abortion is an easy fix with no negative fallout. After abortion, Christian counselors, family members, friends, and pastors may not know how to offer practical help.
Actress and pro-life spokeswoman Jennifer O'Neill offers this deeply compassionate, healing book for women who have had abortions and others touched by it in some way. O'Neill's own abortion story lends credibility.
O'Neill says the consequences of abortion include anger, depression, low self-esteem, infertility, a string of destructive relationships, eating disorders, and suicidal thoughts. She includes pertinent Scripture and offers many first-person accounts of abortion and healing.
Her chattiness and plugs for her workbook and video grow tiresome, but this does not negate the potential healing power of the book.
"The opportunities we have to lift each other up in prayer and compassion," she writes, "will be the catalyst to healing and change from the cycle of loss to the circle of life."
BEYOND JABEZ: Expanding Your Borders
Bruce Wilkinson with Brian Smith
Multnomah,
208 pp., $16.99
More of the Bestseller

Fans of The Prayer of Jabez (9.3 million copies sold) are the audience for this fifth-anniversary follow-up.
Bruce Wilkinson offers many personal examples of the effectiveness of the Jabez prayer, and numerous anecdotes from those changed by it. He also shares some of the misconceptions that he feels surrounded the first book and encourages readers to "rekindle the habit" of praying the once obscure Jabez prayer.
Wilkinson's account of how his influence has spread presents a built-in incongruity, given his stress on humility. He nevertheless details the successes of his ministry work, including meetings with African presidents, forming a film production company, and teaching the poor in Swaziland how to feed themselves.
Readers may find it difficult to relate to anecdotes of how giving and receiving Mont Blanc pens is evidence of God at work. They must also be prepared for excerpts from Wilkinson's other Jabez spinoff books and mentions of his merchandise.
Cindy Crosby is the author of By Willoway Brook: Exploring the Landscape of Prayer (Paraclete, 2003).
Related Elsewhere:
Gilead: A Novel is available from Christianbook.com and other book retailers.
Our sister publication Books & Culture has a longer review of the novel.
More information, including an excerpt, is available from the publisher.
The Scandal of the Evangelical Conscience is available from Christianbook.com and other book retailers.
Our sister publication Books & Culture has an excerpt from the book.
More information is available from the publisher.
You're Not Alone: Healing Through God's Grace After Abortion is available from Christianbook.com and other book retailers.
More information is available from the publisher.
More about Jennifer O'Neil, including photos, her speaking schedule, and ministries is available from her website.
Beyond Jabez: Expanding Your Borders is available from Christianbook.com and other book retailers.
More information, including a chapter exceprt, is available from the publisher.
Christianity Today's cover story on Bruce Wilkinson focused on his work in Africa.
More about Bruce Wilkinson is available from his Breakthrough Series website.
Our Books & Culture Corner weekly reviews books. More reviews and interviews are available from our Book page, as well as our 2004 Book Awards page.
Have something to add about this? See something we missed? Share your feedback here.
Our digital archives are a work in progress. Let us know if corrections need to be made.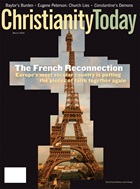 This article is from the March 2005 issue.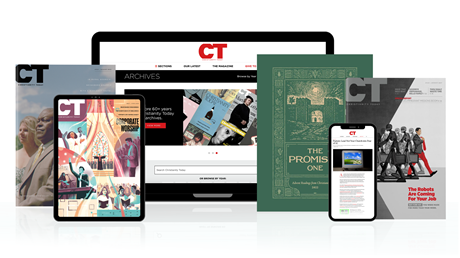 Subscribe to Christianity Today and get access to this article plus 65+ years of archives.
Home delivery of CT magazine
Complete access to articles on ChristianityToday.com
Over 120 years of magazine archives plus full access to all of CT's online archives
Subscribe Now
Bookmarks
Bookmarks