The highlight film was not invented by ESPN, but the network has enshrined it as an evening ritual all across America. Fans tune in to Sports Center day after day to hear the announcer sum up a 3-hour match in two sentences as they watch a clip of a home run, a touchdown pass, or a last-second three-point shot.
This is site-bite television at its purest, an attempt to grab and heighten interest in sports so viewers will watch ESPN more and more. Unfortunately, this type of viewing can become a nasty habit that, in the end, sabotages any meaningful engagement with sports.
Spend enough time watching highlight films, and you'll soon be watching games for those "moments." You find yourself increasingly bored with every other part of the game. You'll multitask or wander off getting chores done—only to rush back into the living room to catch the instant replay of one of those "moments." It turns us (okay, me) into fourth-quarter junkies. Since most crucial plays happen at the end of games, why bother watching the first three quarters, or even the whole fourth quarter? Why not just tune in at the two-minute warning?
That's like reading the last chapter of a P.D. James mystery to discover the murderer. But the point of a James novel is not just unraveling the mystery but the conflicts and character development along the way. What we've forgotten in the site-bite age, is that every athletic contest is a story.
Take baseball, a story that evolves over nine innings. The characters are introduced as each team goes through the batting order for the first time. Like a good novel, the conflicts are introduced simultaneously: Conflicts between pitchers and batters, fielders and the elements, batters and their own worse habits, and so on. Only as the game unfolds does it become clear which of these is the main conflict. The plot is not resolved until the last out, and only then can we look back and discern the arc of the game.
And there are also stories within stories. Every inning has a story line, as does every at bat. And there are stories outside these stories, series and seasons and entire careers, all being plotted out pitch by pitch.
When compared to this reality, the highlight reel is an absurdity. It cannot, by its nature, let the game's story unfold at its natural pace. Like a truncated reading of a mystery, this will never be able to reveal to us anything beyond the satisfaction of superficial curiosity, and actually so misrepresents what athletics is about that is undermines sports.
In the highlight film, we see a hobbling Kirk Gibson limp up to the plate, and with two outs in the bottom of the ninth hit a game winning home run against the Oakland Athletics in the first game of the 1988 World Series. We see Gibson pump his fists in triumph and his team greet him joyfully at home plate. It's like popping a piece of candy, tasty but finally unsatisfying.
But if you had watched it as a story, you would have seen the Dodgers break out to a quick 2-0 lead in the bottom of the first, only to be silenced the next inning by a Jose Canseco grand slam. The Dodgers were held to but four hits over the next seven innings, managing to squeeze but one more run. When reliever Dennis Eckersley stepped on to the mound in the ninth, you would have sensed an air of doom in the Dodger dugout.
Had you been following the larger story, you would have known Eckersley had just come off a brilliant championship series against Boston, allowing but 1 hit and no earned runs in four closer appearances. You would have known that Gibson had, in the National League championship, batted a paltry .154. And now he could barely take a decent batter's stance, let alone swing with any rhythm, having spent the entire game on the bench stretching and massaging himself just to be able to walk with a limp.
And then, and only then, would this at bat begin to reveal something. Two quick strikes—you just don't fall behind a pitcher like Eckersley and expect to do anything. But a patient and crafty Gibson manages to work the count back to 3-2. You sit amazed that he was able to do that much. And then comes the backdoor slider, and the unbalanced swing, that final flick of the wrist, and then the voice of CBS announcer Jack Buck: "Gibson … swings! And a fly ball to deep right field! This is gonna be a home run! Unbelievable! A home run for Gibson! And the Dodgers have won the game, 5-4! I don't believe what I just saw! … I don't believe what I just saw!"
It seems trivial to suggest that such moments point to the biblical truth that "with God all things are possible"—as if Gibson or the Dodgers are symbols of the divine (well, maybe to a Dodger fan). Neither am I suggesting (certainly not as a Giants fan) that God helped Gibson hit that home run to teach us all a lesson about never giving up.
But it is nonetheless true that such moments are transcendent. If you had sat through that entire game, and had experienced something of that season, you would have known that this homerun was a great moment, yes, but one in a long story—not an allegory nor morality tale. As such it helped all of us watching experience something deep and true. So yes, to not put too fine a point on it, Gibson's homerun, was very much a signal of biblical hope.
To be sure, not every game has hall-of-fame drama, but every game has a story, and stories within and outside that story. Even games where the conflict is resolved in the opening chapters by a scoring onslaught--even these are dramas about character in the face of certain defeat.
For those who have eyes to see—the patience to watch something longer than a highlight film—they'll see a story unfold, and invariably a story that points to something beyond what goes on down on the field.
Mark Galli is managing editor of Christianity Today.
Related Elsewhere:
More about the 1988 World Series is available from Major League Baseball.
The video of that series is available from Amazon.com.
Galli's previous Play Ball columns include
The Grace of Sports | If Christ can't be found in sports, he can't be found the modern world. (March 4, 2005)
Baseball Isn't Entertainment | The sooner we stop thinking sports are about the spectators, the more enjoyable the games will be. (Feb. 25, 2005)
Rooting for T.O. | Why Terrell Owens irritates most of us most of the time. (Feb. 11, 2005)
Freedom Between the Goal Posts | Sports is much more important than our culture lets on (Feb. 4, 2005)
Salt and Light in the Arena | It's going to take more than a few good Christians to clean up sports. (Feb. 18, 2005)
To learn about Christian athletes in sports, or for daily, sporty devotionals, our sports channel offers that and more.
Play Ball
From 2005 to 2007, "Play Ball" examined the relationship of sports and faith: sports is important precisely because it is a form of play, that is, a manifestation of the Sabbath. Contributors included Mark Galli, Collin Hansen, Mark Moring, and others.
Previous Play Ball Columns: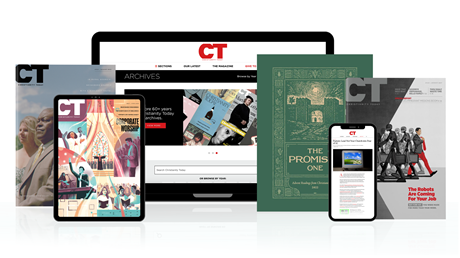 Annual & Monthly subscriptions available.
Print & Digital Issues of CT magazine
Complete access to every article on ChristianityToday.com
Unlimited access to 65+ years of CT's online archives
Member-only special issues
Subscribe
Spectating As a Spiritual Discipline
Spectating As a Spiritual Discipline