true
"Watching Good Night, and Good Luck is like seeing the pages of Life magazine, circa 1954, come to life on the screen," raves Stefan Ulstein (Christianity Today Movies). "George Clooney's original and powerful vision of Edward R. Murrow's confrontation with Senator Joe McCarthy is a work of art."
I agree with Ulstein, and so do other Christian film critics: this is a riveting production. Clooney isn't just another celebrity who fancies himself as a director. Here he has choreographed the most tightly wound suspense film about telling the truth since Michael Mann's Oscar-nominated The Insider.
Clooney gets fine performances from an all-star cast, including Robert Downey Jr., Jeff Daniels, Ray Wise (Twin Peaks), and the radiant Patricia Clarkson (Pieces of April, The Station Agent). He does some solid acting himself. But make no mistake: the movie belongs to David Strathairn, who delivers an intense and riveting performance as Murrow himself, the newsman who set new standards for journalistic integrity.
Of course, any film of this nature begs the question: Is it entirely accurate to history? You'll find different opinions The New York Times, The Washington Post, and Slate. But as thought-provoking entertainment, it's firing on all cynlinders, inspiring us to be vigilant, to seek out the truth of a matter, and not to merely accept what authority figures tell us.
Ulstein says the film "will be particularly interesting to the politically and historically sophisticated, but anyone with a basic knowledge of the McCarthy era should be able to follow it. Those in positions of leadership in churches and other ministries will see it as a cautionary tale: Don't let anyone else do your thinking for you. The truth is the thing. Cherish it and defend it."
Harry Forbes (Catholic News Service) says the movie "should educate a new generation about how [Murrow] … bravely took on [McCarthy's] witch-hunting tactics. … Clooney's tribute to a TV golden-age legend is well deserved, especially in this age of superficial, sound-bite reporting."
"The subject matter is interesting and the message quite pointed," agrees Chris Monroe (Christian Spotlight). But he concludes that "overall the film was not entirely captivating."
Mainstream critics are raving about the film, saying that Strathairn might be on his way to an Oscar nomination.
Elizabethtown

needs some renovation

True love. Attractive young people. A soundtrack full of classic rock and fresh new pop music. A sense of humor. These are the building blocks of a Cameron Crowe film. He's made this combination work in several audience favorites, from Say Anything to Singles to Jerry Maguire to Almost Famous. After misfiring with a mixed-up thriller called Vanilla Sky, Crowe has now gone back to what he does best. The result is Elizabethtown. Is he back on top his game?

Not quite. While most mainstream film critics are praising Elizabethtown for serving up some memorable sequences, many of them agree that the film is severely flawed … even though the negative early reviews provoked Crowe to do a last-minute re-edit of the film.

Elizabethtown is the story of an audacious young professional who hits rock bottom and learns hard lessons about family through a series of emotional epiphanies. In an ironic twist, Drew Baylor (Orlando Bloom) is saved from a suicide attempt when he hears about his father's death. On the flight to join his mourning family, Baylor meets a sexy flight attendant (Kirsten Dunst), and they fall in love just as his life becomes entangled in family dramas.

Christian critics share mixed responses, praising Crowe's obvious convictions about family values, but criticizing his storytelling skills.

"It's that kind of goose bump-inducing marriage of film and music that fans have come to expect from Cameron Crowe's movies," says Lisa Ann Cockrel (Christianity Today Movies). But she concludes, "The ideas that drive Elizabethtown are of the most ideal and worthwhile sort. Where the movie stumbles isn't so much in substance, as in emphasis. … I can't tell whether the love story is interrupting the flow of the family story or vice versa."

David DiCerto (Catholic News Service) calls it a "sentimental, though not wholly satisfying, romantic comedy-drama which paradoxically uses death to celebrate life. … The movie's baggy script and cutesy dialogue are surmounted by the movie's genial message that life, though full of risk, is ultimately worth living."

"Beyond the film's cool soundtrack and intriguing aesthetic, it tackles important issues such as recovering from failure and coping with the loss of a loved one," says Bob Smithouser (Plugged In). "It discourages denial, wants audiences to hang tough and take risks, and recommends that we rely on family for our safety net. … It makes you want to call home while there's still a home to call." He also cautions viewers about "ambiguous sexual ethics and a few choice words."

Christian Hamaker (Crosswalk) says this "light but satisfying meditation on despair, failure, and family ties proves to be an enjoyable two hours. … A film that dwells on the importance of parental influence and suggests that worldly pursuits can be empty has something to say. And hopefully a generationthat hasinherited an ethic of materialism and career 'fulfillment' … will be ready to hear it."

Cliff Vaughn (Ethics Daily) calls Crowe "one of the best writer-directors working in Hollywood. That's why Elizabethtown is both doubly disappointing and still understandable. Disappointing because it just never finds its rhythm, and understandable because Crowe isn't a cookie-cutter creator and misfires are the price his genius must pay."

Jonathan Wooten (Christian Spotlight) thinks the lead actor is part of the problem. "[Bloom] lacks the charisma necessary to carry a character-driven film. He and Kirsten Dunst do make a good on screen couple though, and this is a genuinely sweet love story. … Hopefully, like with Almost Famous, we will eventually be blessed with a different director's cut."
Domino

falls flat

Manohla Dargis of The New York Times says that Tony Scott's Domino "has to its great credit absolutely no social value outside of a feverish will to entertain, though that might prove tricky, since its assaultive wild style seems designed to repulse as well as attract."

Christian film critics would say they're repulsed by the film, rather than attracted to it.

Domino is an action movie loosely based—very loosely—on a true story about a bounty hunter named Domino Harvey who came from London and went to work in South Central Los Angeles. It's basically a genre film, scripted by Richard Kelly, who wrote Donnie Darko, a film that's become a cult favorite even amongst Christian film buffs. Following Harvey's descent into a violent and degrading world, where she embraces violent and sexually degrading tactics to complete her missions, it's likely that it will be heralded as a story of "female empowerment." But it's closer to the mark to say that the film entertains audiences with the shameful antics of an unprincipled woman.

It's also worth noting that while the film celebrates Harvey as a hero, the real Domino Harvey (who makes a brief appearance, tongue firmly in her cheek) was charged with drug trafficking after struggling with addiction for more than a decade. After this film was packaged and ready for theaters, she was found dead in a bathtub, with toxic levels of painkillers in her body. A sad end to a pathetic story … one that isn't included in this film.

Peter T. Chattaway (Christianity Today Movies) says, "As a popular media artifact that is, itself, grounded in other popular media artifacts, Domino is so ironic and self-conscious that, at times, you wonder if Scott is mocking himself as much as his characters. In one scene, one of Walken's assistants (Mena Suvari) says of him, 'He has the attention span of a ferret on crystal meth,' and that's as good a description of this film's own jittery, hyperkinetic, can't-sit-still aesthetic as any."

Conclusion? "No doubt an interesting story could be told about her life, but this standard-issue assault on the senses isn't it."

Marcus Yoars (Plugged In) says, "Show, don't tell. It's one of the guiding rules of creating art. Apparently, director Tony Scott believes in doing both—in excess. … The result is a dark, grubby environment full of depraved characters and a ridiculous plot only made more senseless through its unwarranted violence, sex and profanity."

Harry Forbes (Catholic News Service) says, "Tony Scott's nonstop camera moves, quick cutting and pretentious lighting effects make for a disjointed, confusing, ugly and hardly funny mess."

Most mainstream critics are knocking Domino down.
Nine Lives

, numerous raves

It's nine big screen stories for the price of one in director Rodrigo García's Nine Lives.

Garcia's film follows the lives of nine women through realistic vignettes about their differing lives. Mainstream critics are powerfully impressed, saying that Garcia's movie is "a quantum leap better than its forerunners"—Things You Can Tell Just by Looking at Her and Ten Tiny Love Stories.

Carolyn Arends (Christianity Today Movies) says, "There are twenty names on the poster for Nine Lives, and they represent a remarkably strong ensemble of talented actors. Director/writer Rodrigo Garcia … seems to have no trouble attracting gifted people to his projects, and his new film captures such uniformly moving and believable performances, it's easy to see why."

She adds, "Occasionally I found myself longing for some plot development or the articulation of an idea that would tie all of the chapters of Nine Lives together. Yet I was ultimately frustrated by the film's few attempts to express an overt overarching philosophy." But that doesn't spoil the experience. "Here is a film chock full of astonishing performances, inventive cinematography and superbly crafted writing. It is, in a word, transcendent. And yet it leaves me dissatisfied because I suspect it aims to tell me that there is no transcendence at all, only a reality exclusively of our own making. Watching Nine Lives had me tense, engaged, sometimes disgusted, sometimes moved, and always interested."

Harry Forbes (Catholic News Service) says, "Here you have nine movies for the price of one, and though not all are equally good, each is worthy, and several are outstanding. … Garcia has fashioned a thoughtful—and often sad—meditation on mankind's interconnection. … Garcia's dialogue has extraordinary naturalness about it, which, together with the perfectly judged performances, surmount the occasional slow patches. … Though its quiet power won't be to every taste, 'Nine Lives' feels like the stuff of life, warts and all."
This
Fog

should lift quickly

Director Rupert Wainwright's remake of a popular John Carpenter horror film stars Maggie Grace, one of the actresses making a name for herself on TV's popular prime-time series "Lost." Here, she's apparently lost again … lost in The Fog. (You didn't think I could resist that one, did you?)

Apparently, the whole film has lost its way. That's the consensus of the few critics who saw the movie in time to publish an opening-day review. The studio did its best to keep critics from seeing this waste of celluloid, and sure enough, once the reviewers got in, the word got out.

Need to know more? It's about a town engulfed in a deadly fog that conceals the mist-erious spirits of people who died at sea. The spirits are back for revenge (surprise, surprise), and vaporous mayhem ensues.

David DiCerto (Catholic News Service) writes, "Directed by Rupert Wainwright, the new version pretty closely follows the original's soggy B-movie lead, but despite slicker special effects and a bigger budget, the film is mist-ifyingly less suspenseful this time around. You may just want to let this Fog roll out."

Tom Neven (Plugged In) says, "If there's anything positive to say about this otherwise-sorry revisiting of the story … it's that it foregoes the worst of the slasher elements. … The casual sexuality remains, though, as does the confused spirituality and foul language, making this vaporous offering cold, damp and dark despite its notched-down MPAA rating."

A fan of the original, Lori Souder (Christian Spotlight) says, "I cannot recommend this movie. Many parts seemed thrown in for effect, like an extra crispy corpse and teens partying in bikinis. The end did not make sense. Somehow it went from a revenge/ghost movie to a romantic reincarnation story. All I can say is, 'huh?'"

More reviews of recent releases

Wallace & Gromit: The Curse of the Were-Rabbit: Andrew Coffin (World) says the film "is delightful from start to finish, introducing some charming new characters to the series and mostly remaining true to the tone of Mr. Park's beloved short films. … The only drawback is the noticeable increase in modestly off-color humor."

Keith Howland (Christian Spotlight) says that "90 minutes does not suit Wallace and Gromit quite as well as 30 minutes. Their earlier adventures were told with considerable thrift, whereas this story seems unnecessarily protracted. Further, in stretching the scenario to feature length, the writers opted to broaden the scope of its humor. … One expects jokes involving double entendre, belching, and underwear from Shrek, not from Wallace and Gromit. … It is as though Wallace and Gromit have lost some of their innocence, and there was never any need for them to lose it."

Everything Is Illuminated: Ron Reed (Christianity Today) says that director Liev Schreiber's film "may find an audience among the generation whose defining films include quirky, quasi-absurd character stories like Napoleon Dynamite or Garden State." And he concludes, "There is wonderfully off-kilter comedy, to be sure, as well as serious grappling with Ukraine's uneasy anti-Semitic legacy, but somehow it plays more as an unevenness of tone than it does as a dazzling collision of opposite energies. And the whimsical magic realism that was woven through the book is seen here only in occasional (wonderful) touches."

In Her Shoes: Christian Hamaker (Crosswalk) writes, "Depicting the strains and constraints of family relationships, In Her Shoes asks us to root for familial happiness and the virtues of responsibility and acceptance. It's enough to break down the defenses of the most hardened viewer, leaving a warm glow after the film's chilly start."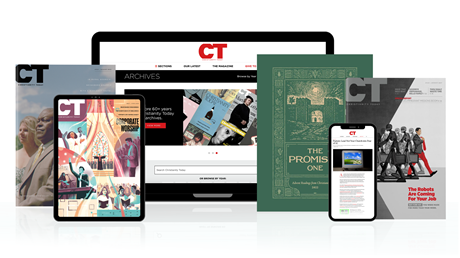 Subscribe to Christianity Today and get access to this article plus 65+ years of archives.
Home delivery of CT magazine
Complete access to articles on ChristianityToday.com
Over 120 years of magazine archives plus full access to all of CT's online archives
Subscribe Now
George Clooney Has a Good Night
George Clooney Has a Good Night