Between Two Worlds: The Inner Lives of Children of Divorce
Elizabeth Marquardt
A generation of children of divorce has grown up. They have a story to tell. It's not the story you might find in books like E. Mavis Hetherington and John Kelly's For Better or For Worse: Divorce Reconsidered, suggesting that divorce is not so bad for kids. It is also quite unlike cheery children's books like To & Fro, Fast & Slow, describing a child who goes back and forth from her dad's hip city apartment to her mother's idyllic country home.
According to Elizabeth Marquardt, being a child of divorce is more like being a football, kicked back and forth between two estranged parents and the worlds they inhabit with their conflicting rules, standards, and secrets. This is a heavy burden to bear, even in the "best" of divorces—a burden that shapes lives in subtle and pronounced ways. As the "little adults" in their families, these children understood that their role was to protect their parents by keeping silent, whether it was about long, lonely hours spent in empty apartments, dad's new girlfriend, or the sexual abuse that occasionally occurs in blended families.
In Between Two Worlds: The Inner Lives of Children of Divorce, these adult children finally speak. Marquardt, herself a child of divorce and an affiliate scholar at the Institute for American Values, draws from her own experiences and a study that she conducted with sociologist Norval Glenn, in which they surveyed 1,500 adult children from divorced and intact families and then interviewed 70 of them at length. They focused on college graduates because they wanted to understand how these reasonably successful adults—often cited as proof that divorce could be innocuous—had been affected.
Between Two Worlds is illuminating for what it conveys about divorce, but it is equally striking for what it says about marriage: that the couple's essential task is to make one home from their two conflicting selves, creating an ideal context for a child's spiritual and emotional growth. In intact families, this struggle goes largely unnoticed by the children. After divorce the conflict no longer rests on the parents' shoulders but takes root in the heart of the child.
Many of these children carried their conflicted hearts to church, sat alone in the back pew, and tried to make sense of it all. An overwhelming majority of interviewees said that religious leaders did not reach out to them. This was perhaps indicative of the larger societal trend to focus on parents instead of children.
"If our parents could not stay together, we needed and deserved to grow up in a society that faced up squarely to our loss," Marquardt writes, "that refused to engage in happy talk, that resisted the temptation to call children resilient in order to defend adult decisions."
The greatest strength of this book is also a liability: the multitude of quotes create texture and depth but occasionally clog the flow of Marquardt's lucid prose. Still, Between Two Worlds is an excellent resource for pastors, parents, therapists, adult children of divorce, and divorced adults. If nothing else, it can help our society better understand and protect our weakest members: those children who appear so deceptively mature that we decide, quite tragically, to look the other way.
Jenny Schroedel, a monthly columnist forBoundless Webzine, lives and writes in Chicago.
Related Elsewhere:
Between Two Worlds is available from Amazon.com and other book retailers.
BetweenTwoWorlds.org has extensive information about the book, including full survey data and the author's blog.
The Institute for American Values has an audio presentation on Marquardt's book, Marquardt's annotated bibliography of books on children of divorce, a report by Marquardt on college women's dating habits, an essay on college men's dating attitudes, and other items.
Article continues below
The publisher has more information on the book, including an excerpt.
More articles on children of divorce from Christianity Today and our sister publications includes:
Coping with Christmas | For adult children of divorced parents, the holidays aren't as happy as they are supposed to be. Author Jen Abbas has some advice. (Christianity Today, Dec. 22, 2004)
The Children's Story of Divorce | Liberation is the dominant theme in the adult literature on divorce. Children's books tell a different story. (Books & Culture, Sep/Oct 1997)
Children of Divorce | If your parents' marriage failed and you're worried yours might do the same, here are steps to calm the fears (Marriage Partnership, Spring 2000)
What Children of Divorce Really Think | And how you can help (Christian Reader, May/June 1997)
More articles on divorce are available in our family hot issues section.
For book lovers, our 2005 CT book awards are available online, along with our book awards for 2004, 2003, 2002, 2001, 2000, 1999, 1998, and 1997, as well as our Books of the Twentieth Century. For other coverage or reviews, see our Books archive and the weekly Books & Culture Corner.
Books & Culture Corner and Books & Culture's Book of the Week, from Christianity Today sister publication Books & Culture: A Christian Review (want a free trial issue?), appears regularly on Tuesdays at Christianity Today. Earlier editions include:
Heavenly Real Estate | A geography of art in New York at the midpoint of the 20th century. (Oct. 18, 2005)
Narnia Etc. | A chronicle of reading. (Oct. 11, 2005)
How Wide the Divide? | A proposal for compromise between "value evangelicals" and "legal secularists" on church-state issues. (Sept. 13, 2005)
Poet with Three Heads Talks with King Solomon | Conversation touches on Hebrew parallelism, marriage, and the making of many books. (Aug. 30, 2005)
With God on Our Side | David McCullough's account of the pivotal year 1776 has resonance for Americans in 2005. (July 19, 2005)
The Rich Are Different—and Not So Different—from Us | Think you're burned out on memoirs? Read this book. (June 28, 2005)
A Grief Observed | Exploring the valley of the shadow in two literary lives. (June 13, 2005)
The Mind and Soul of Combat | Perhaps war really is hell. (June 07, 2005)
The Universal Language | If Latin died in our mouths, we'd just stop talking. (May 24, 2005)
At Home in the Dark | The first new book of poems in almost twenty years from Rod Jellema. (May 17, 2005)
"Taken Up in Glory" | The Ascension has been forgotten in many Protestant churches, jettisoning an essential part of the Christian story. (May 10, 2005)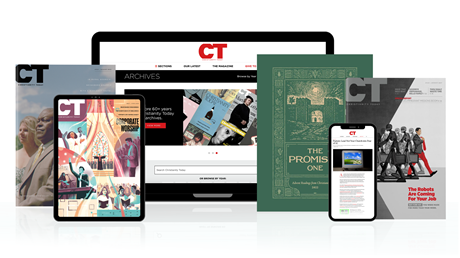 Subscribe to Christianity Today and get access to this article plus 65+ years of archives.
Home delivery of CT magazine
Complete access to articles on ChristianityToday.com
Over 120 years of magazine archives plus full access to all of CT's online archives
Subscribe Now
Dissecting Divorce
Dissecting Divorce