| | |
| --- | --- |
| | • |
Though President Hugo Chavez last week ordered New Tribes Mission (NTM) to leave Venezuela, the mission reports it hasn't received an official expulsion order and says it won't leave on media reports alone.
U.S. Ambassador William Brownfield has asked Chavez's government to reconsider its plan. Brownfield denied that NTM missionaries are CIA spies, as Chavez claimed in a nationally televised speech on October 12. At that event, Chavez announced NTM's imminent expulsion from Venezuela, where it has ministered among indigenous peoples since 1946. Chavez did not set a date for the expulsion, but said he would give the missionaries time to "gather their stuff."
The U.S. ambassador has offered to mediate discussions between NTM and Venezuela.
The expulsion order was also made by Liborio Guarulla, governor of Amazonas state, where NTM primarily ministers. NTM's spokesperson, Nita Zelenak, said that NTM has not received formal papers from the state's governor or the national government.
NTM Venezuela field director Chuck Marshall said that army soldiers came to one NTM family's home in Amazonas state to ask them to leave. The missionary asked for the soldiers' written authorization, but the soldiers had none and left. Should Venezuelan officials present NTM workers with formal papers to leave, "We would ask our people to comply," Marshall said.
The Sanford, Florida-based New Tribes Mission is an evangelical church-planting and Bible-translating agency that ministers among unreached people groups in Latin America, West Africa, and Southeast Asia. Worldwide, the mission has 3,200 workers, including 160 in Venezuela.
NTM's Venezuela ministry includes 30 Venezuelans. The rest of NTM's 160 workers are from the United States, Canada, England, Australia, Denmark, Colombia, and the Bahamas, spokesperson Nita Zelenak said.
Since Chavez's comments, NTM leaders in Venezuela have appeared on national media, including the prominent television network GloboVision, which interviewed NTM leader Marcos Brito and American NTM worker Tim Fyock last week.
In Venezuela's congress, NTM has friends and enemies. National Assembly lawmaker Vestalia de Araujo called the move to expel the mission unconstitutional, "given that due right to defense hasn't been granted,"reported Nueva Prensa of Ciudad Guayana, Venezuela. The lawmaker called for the National Assembly to investigate NTM's presence and actions in Venezuela to determine whether the group should be expelled.
"New Tribes' expulsion from our land should not be carried out … without putting into practice a basic principle of Christianity—the chance for each person to demonstrate his beliefs in public or private through education and other practices," de Araujo said.
A perennial enemy of American Christian missions work in Latin America, sociologist and former Venezuelan congressman Alexander Luzardo told Caracas's El Universal newspaper that Chavez's decision to expel New Tribes is an act of justice that restores rights to indigenous communities. "This group, comprised of religious people from the United States and Canada, carried out mission work with a colonial character that is incompatible with the constitution," he told the paper.
In 1987, Luzardo chaired a commission that considered a Ministry of Education move to close a New Tribes academy in southern Venezuela "for irregularities and for attacks that the Indians' ancestral values suffered," El Universal reported.
Meanwhile, among those decrying Chavez's intent to expel NTM are Venezuela's Indians, on whose behalf Chavez claimed to be acting. Among the evangelicals speaking to the press is community leader Domingo Gonzalez, a Wayuu Indian who has planted 50 churches in Amazonas, where NTM ministers. Gonzalez, who also works with NTM, told the Associated Press, "Why don't they ask (the Indian communities) … if they've really been abused? … The indigenous Venezuelans need to be heard, not to be spoken for." Government leaders, he added, are "the ones who really harm and oppress them."
The Associated Press also interviewed José Kayupare, a Puinare Indian who countered Chavez's assertions. NTM helped communities combat malaria and other diseases, sometimes even flying sick indigenous people to get medical help when the government abandoned them, he noted. Throwing out the mission would hurt poor indigenous communities, he said.
The Evangelical Council of Venezuela issued a communiqué supporting NTM at a special meeting called Friday. In the communiqué, the council reminded the government that Venezuela's constitution guarantees presumption of innocence and called for the government to open an investigation that follows due process. The council also asked for the government to show any evidence it may have that NTM is engaged in illicit activity.
Sam Olson, the council's president, is concerned that Chavez's move is the first step in a larger plan. He fears the worst for isolated indigenous communities should NTM workers indeed be deported. He said the indigenous tribes will be left unassisted in terms of medicine, transportation, and other support. And if the foreigners are forced to exit, Venezuelan citizens working with NTM may be punished as well.
"I realize that the impact in the area will be great as this is just the beginning of the area's 'liberation' from all evangelization," Olson wrote in an e-mail. "One of the Venezuelan pastors who has worked in San Fernando de Apure founding scores of churches wept yesterday as he described the atropello [abuse] of his Venezuelan missionaries from the area."
Related Elsewhere:
See our earlier coverage, "Venezuela to Expel New Tribes Mission."
Some blame the explusion on Pat Robertson's recent comments on Chavez.
The New Tribes Mission website may have more updates over the weekend. Google News will track newspaper reports, but readers who understand Spanish will find Google News's Argentina site more informative.
Christianity Today's earlier coverage of New Tribes Mission includes articles on Martin and Gracia Burnham and the Panama hostages. Christianity Today sister publication Today's Christian recently published missionary daughter Joanna Harris's account of a mission compound invasion in Colombia.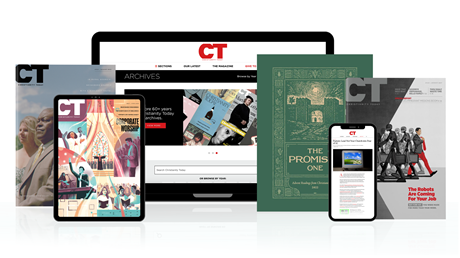 Subscribe to Christianity Today and get access to this article plus 65+ years of archives.
Home delivery of CT magazine
Complete access to articles on ChristianityToday.com
Over 120 years of magazine archives plus full access to all of CT's online archives
Subscribe Now
Venezuela Debates New Tribes Mission Expulsion Order
Venezuela Debates New Tribes Mission Expulsion Order