true
Sisters. Can't live with 'em. Can't live without 'em.
And there you have the thesis for Curtis Hanson's latest movie starring Cameron Diaz as the trampy wreck of a sister, Maggie, and Toni Collette as the frumpy (by Hollywood standards) goody-two-shoes of a sister, Rose, who alternately suffer each other and, with the help of a long-lost grandmother played by Shirley MacLaine, recognize their abiding love and need for each other.
I see you sitting there, taking out the box labeled "chick flick," poised to toss this one in. But before you do that, remember that Hanson's most recent movies include 8 Mile, Wonder Boys, and LA Confidential. Add producer Ridley Scott (Gladiator, Black Hawk Down, Kingdom of Heaven) to the mix, and it's not the kind of pedigree one would expect to produce an estrogen-driven hug-fest. And indeed, while the story is about relationships between women, the narrative is a study of family dynamics that's worthy of attention whether you're a chick into flicks or not.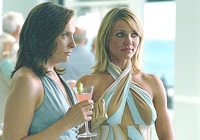 The story, based on a best-selling novel of the same name by Jennifer Weiner, explores a messy time in the relationship between Maggie and Rose, two sisters with very different, but equally unsatisfying, lives with nothing in common—except their shoe size. In the opening sequence, their personalities are juxtaposed via their sex lives as Maggie has a tryst in a bathroom stall with a guy whose name she doesn't quite remember and Rose sleeps with her boss and dreams of marriage. Their evenings collide when Maggie gets drunk and Rose is called to chauffeur her home. As Rose says, having a man in her bed is unusual—bailing out her little sister, drunk or otherwise in need of help, is not.
Thanks to a wickedly annoying stepmother, Maggie gets kicked out of her father's house and ends up on Rose's couch. We see the sisters in action: Rose is responsible, heading off to work as a high-powered attorney and prodding Maggie to get a job. Maggie loafs around, confident that the good looks that she's coasted on thus far will continue to provide for her. Tensions rise, and when Maggie betrays Rose by sleeping with the aforementioned boss, it provokes a short but brutal fight between the sisters.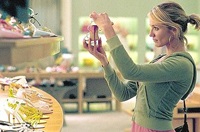 After being banished by Rose, Maggie heads to Florida to find the grandmother she never knew—until recently—she had. Upon arrival, she finds Ella (Shirley MacLaine) very much alive and living in a retirement community. MacLaine is pitch-perfect in her role as a woman harboring a secret and no small sense of guilt for her absence in Maggie and Rose's lives. She can better convey complex emotions with one piercing glance than most actresses can with a page of dialogue.
Maggie and Ella circle around each other and eventually fall into a rhythm that finds Maggie redeeming herself with a regular job and engaging the lives of her now fellow retirement community residents—all of whom provide comic relief in spades. Meanwhile, back in Philly, Rose quits her job and takes up dog walking. It's a move that begs the question: how does she pay her bills on this new salary? But the audience is willing to make the stretch as her character struggles to grapple with her bland life—pointedly typified by the scores of beautiful shoes she owns but never wears.
A romance develops with another guy from Rose's office (now her former office), but the unresolved issues with her sister threaten to ruin the relationship when she's unable to explain the reasons for her growing angst—missing Maggie—to her suitor. She fears that if she told Simon (Mark Feuerstein) about what Maggie did to cause the falling out, he would hate her. And despite her own anger and frustration with her sister, Rose wouldn't be able to handle it if he hated Maggie. Such are the tangled emotions these sisters harbor for one another.
Ella eventually discerns that Maggie and Rose have had a falling out and does a bit of meddling in order to facilitate a reunion. Overall, the narrative takes a conventional arch with a nice and tidy resolution at the end, but the storytelling itself is full of space that is unconventional in popular filmmaking. Hanson uses music sparingly and rather than spell it all out, the script allows the audience to gradually piece together the back stories of the main characters—which includes the death of Maggie and Rose's mentally ill mother. The result is a Hollywood movie that feels real; one that engages the tear ducts and the mind.
Talk About It
Discussion starters
What hopes (and conversely, what fears) do you think motivated Maggie to shun responsibility?


Rose told Simon, "Without Maggie, I don't make sense." What do you think she meant by that?


How should one deal with a perpetually delinquent sibling? Did you disagree with Rose's actions at any point? Why or why not?


What does this story tell you about dealing with family conflicts? About patience? About unconditional love?


The Family Corner
For parents to consider
In Her Shoes is rated PG-13 for thematic material, language and some sexual content. Diaz spends much of the movie in skimpy bathing suits and short skirts. The sex scenes aren't explicit, but there is quite a bit of sexual and profane language.
Copyright © 2005 Christianity Today. Click for reprint information.
What Other Critics Are Saying
compiled by Jeffrey Overstreet
from Film Forum, 10/13/05
Cameron Diaz is earning the best reviews of her career for her performance in director Curtis Hanson's In Her Shoes, and Hanson continues to inspire admiration for his versatility.
Diaz plays Maggie, whose relationship with her sister Rose (Toni Colette of The Sixth Sense) breaks down due to their drastically different lifestyles. Banished from her sister's home, Maggie drives to Florida and becomes reacquainted with their estranged grandmother (Shirley MacLaine). Increasingly emotional developments ensue.
Harry Forbes (Catholic News Service) says, "The underlying bond between these two very different sisters is affecting. … If the Jewish milieu isn't entirely convincing, director Curtis Hanson's unabashedly sentimental film … eventually imparts good messages about family and forgiveness, with a morally sound, feel-good conclusion. Chick flick or not, men should have no trouble responding to the very human elements of the story."
Christian Hamaker (Crosswalk) notes "a standout performance from Cameron Diaz," and concludes that the film's resolution is "enough to break down the defenses of the most hardened viewer, leaving a warm glow after the film's chilly start."
Christopher Lyon (Plugged In) says, "In Her Shoes is a chick flick in the best and worst senses of that shorthand. It's a movie about relationships in which the characters talk and talk and talk. Significant moments involve those characters learning to accept themselves, learning to trust each other, and, you know, 'growing.' Removing all doubt, it's a story about sisters that involves betrayal, the death of a significant loved one and, well, shoes! But, of course, not all chick flicks are created equal. This one is definitely a mixed bag both artistically and in the messages it delivers."
He says the "big messages" are "positive," but there are also misleading perspectives on sex.
Mainstream critics are mostly positive about the film.
from Film Forum, 10/20/05
Christian Hamaker (Crosswalk) writes, "Depicting the strains and constraints of family relationships, In Her Shoes asks us to root for familial happiness and the virtues of responsibility and acceptance. It's enough to break down the defenses of the most hardened viewer, leaving a warm glow after the film's chilly start."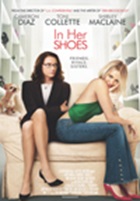 Browse All Movie Reviews By: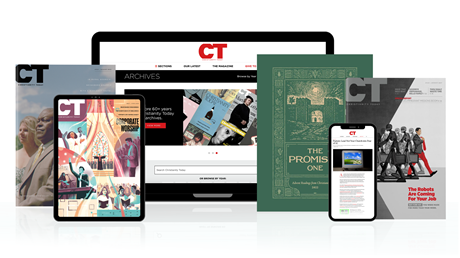 Subscribe to Christianity Today and get access to this article plus 65+ years of archives.
Home delivery of CT magazine
Complete access to articles on ChristianityToday.com
Over 120 years of magazine archives plus full access to all of CT's online archives
Subscribe Now
In Her Shoes
In Her Shoes