true
David Taylor and his best friend, Charles Frank, are the future of Atlanta's historic New Revelations Church. On Sunday mornings, David leads the choir and congregation in worship at the church his father founded. He's the pride of his father, Pastor Fred Taylor (Clifton Powell), and his mother. But when his mother dies unexpectedly and his father's church responsibilities keep him from making it to the hospital, David feels like his heavenly and earthly fathers have let him down.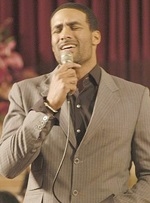 Fifteen years later, David's only connection to his youthful faith is the large, diamond-encrusted cross hanging between his well-toned pecs. And he's now using the voice that once led worship on sultry, seductive R&B. When David (played first by Michael Pagan, then Boris Kodjoe) finds out that his father is sick, he puts his R&B career on hold to help guide the future of the church he loves. But while he's been gone, Charles (Idris Elba) has been serving faithfully. Charles, now married to David's cousin Charlene (Nona Gaye), has his own plans for the church, and some big dreams for himself.
It all adds up to a twist on Jesus' parable of The Prodigal Son (Luke 15:11-32). Here, the story leaves the flannelgraph board for the big screen in a modern-day adaptation that's rife with real-life conflict, careerism, church politics and more than a hint of romance.
The Gospel is a solid retelling of the parable, and that's partly because it's a drama rather than a comedy. That fact alone makes it a refreshing change from recent portrayals of African-Americans, and particularly African-American Christians—as was the case in The Fighting Temptations, which, interestingly, starred Cuba Gooding; his younger brother Omar plays a key role in this film. The Gospel is a more universal story, and it has more respect for the role of the church in people's lives. There's no cartoonish choir directing here, a la The Fighting Temptations. But more importantly, it's a universal story about church people, but not one that only church folks can understand. It's situated in an African-American church, but it could apply to any similar situation.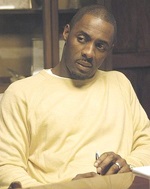 There are several strong performances here, particularly from Aloma Wright, who plays Miss Ernestine, the loyal church secretary who represents the many women who hold together ministries like New Revelations. Miss Ernestine is the voice of reason who keeps David from running away and helps Charles see that his ego is out of control. Powell, as David, does a nice job of portraying a loving-but-weary man who has imperfectly balanced the needs of church and family. Gaye's Charlene has a tense, calculated strength, and her emotive expressions subtly but effectively convey the sources of tension in her marriage and her struggle between her loyalties to her husband and her cousin. Kodjoe's David is stone-faced but adequate, and manages to look fairly convincing singing gospel music. Omar Gooding, who plays David's make-it-happen manager, has a wheel-and-deal ambition and a nice comedic sense. Tamyra Gray (American Idol) plays Rain, a strong-but-vulnerable single parent.
The film takes the interesting approach of having two actors play the oft-maligned "older brother" character. While Elba's Charles is over-performed, eventually becoming more comic than sinister, Donnie McClurkin's portrayal of Minister Terrance Hunter is sympathetic. Minister Hunter shows the neglected element of the older brother's personality: That of a humble, faithful servant who is genuinely surprised to discover he's not next in line for leadership. His struggle to decide whether he should move to another local megachurch—and his frustration with Frank's self-promotion—are believable and sensitive. Hezekiah Walker plays the church's choir director, and cameos by Martha Munizzi, Fred Hammond and Yolanda Adams add star power—and some great performances—without disrupting the story line.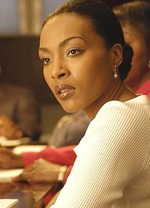 Writer/director Rob Hardy (Trois, Pandora's Box) and producer Will Packer (Trois) bring a hip-hop influenced sensibility to their editing, making use of rapid cutting to establish history and give a sense of movement to scenes. For example, the film opens with scenes from the church's present juxtaposed with sepia-toned photos of the church's past, letting us know about the importance of this historic church. Similar shots of dancing, exuberance and joy demonstrate the similarity between David's church background and the club scene he becomes a part of. Flashbacks and repeated visual themes—for example, the way major characters handle their Bibles, or the way Charles sits at his desk between his Bible and a copy of Upscale magazine—are used to subtly develop character. Establishment shots and cross-cutting are used both to give sense of place and to move the story along. Repeated lines of dialogue also give the sense of a story that comes full circle. Each character's story ends redemptively, but in ways that are unexpected.
Still, the film falls briefly into a typical trap of making the overdrawn villain the person concerned with personal holiness. Charles asks whether an R&B singer whose hit single is called "Undress Your Man" should be leading the choir. His motives are clearly impure, and Pastor Taylor rightly puts him in his place by suggesting church might be more about being good than simply looking good. Fortunately, David's eventual love interest Rain calls him on being "Mr. 'Undress Your Man' by night and Servant of the Lord by Day." She asks him to think through his motivations for singing in the choir.
All in all, The Gospel is a more-than-fine movie—the kind of movie Christians who like to complain about Hollywood should support, and the kind of film that may also appeal to people who aren't interested in church. There are real, developed characters here, a number of interesting storylines, resolutions that are realistic and faith affirming, and a lot of good music.
Talk About It
Discussion starters
Pastor Taylor struggles to balance his responsibility to the church with his responsibility to his family. How can churches help their leaders live more balanced lives?


David tends to run away from his problems. What's the best way to respond when you face pain or an unexpected setback?


Ministers Terrance Hunter and Charles Frank are both afraid that their years of faithful service to the church may go unrecognized. Are they right to feel this way? What's good about how each character responds? What's not so good?


Charles says that the church can't preach prosperity unless it also looks the part. Is he right or wrong? Should churches preach prosperity?


When it comes to ministry, what does a healthy sense of ambition look like? What's the difference between God-given big dreams and self-promotion?
The Family Corner
For parents to consider
The Gospel is rated PG for thematic elements, suggestive material and mild language. An early scene of David's performance at a club is fairly sensual, but pretty tame compared to videos one might see on MTV or BET. David wakes up next to a groupie in one scene, and there's occasionally some frank talk. But the movie portrays clean, healthy romance and has strongly pro-abstinence and pro-marriage messages. Mature preteens and teens will be fine.
Copyright © 2005 Christianity Today. Click for reprint information.
Article continues below
What Other Critics Are Saying
compiled by Jeffrey Overstreet
from Film Forum, 10/13/05
Director Rob Hardy, previously credited as the director of a "sexual thriller" trilogy that "plays like soft-core porn," has much richer material in this PG-rated story about David Taylor (Boris Kodjoe), who turns "prodigal" and becomes a rock star. When his single "Let Me Undress You" makes him famous, he learns that his father (Clifton Powell), an Atlanta preacher, is dying, and must decide what to do about the troubles brewing at the church back home. Can you guess what's coming? That's right—a benefit concert.
Tom Neven (Plugged In) writes, "Pastor Taylor opens a sermon with, 'The God I serve is an awesome God.' This, in turn, is an awesome film. It has been a long time since such a clear presentation of the gospel, in both word and deed, has appeared on the big screen. Best of all, this gospel message is woven into a compelling story of realistic, flawed human beings who know they need God's grace. There's nary a plaster saint in sight, and there's no moral merely tacked onto the end of this story; it's lived throughout.
And the music! Anyone whose toe is not tapping by the end simply can't hear."
Rosemarie Ute Hoffman (Christian Spotlight) says, "Hardy … has done a brilliant job in making art imitate life. He skillfully removes the veil from our eyes as he exposes each layer—the inner-workings of church, the complicated relationships in the midst of church family, the humanness of spiritual leaders, and how they often confuse progression for spotlight."
David DiCerto (Catholic News Service) says, "You wouldn't expect a soulful reimagining of the New Testament prodigal son parable from a filmmaker whose credits include mostly erotic thrillers. But that's what director Rob Hardy has crafted … an elevating, if melodramatic, redemption tale that raises the roof as it lifts your spirit."
But he adds, "From a dramatic standpoint, however, the movie could have used less hand-clapping and more story and character development. Dynamic though they are, the gospel performances begin to feel like padding for an undernourished script."
DiCerto's reservations about the film's artistry is echoed in many mainstream reviews, and the film is being poorly received by most secular publications.
Laura Kern (New York Times) says, "Set against a lively, music-filled African-American church, The Gospel … endeavors to be a powerful tale of faith and forgiveness, but in the end fails to capture even the slightest essence of spirituality and religious belief, or to provide any real insight into its characters' conflicts, desires and motivations."
More mainstream film reviews of the film are posted here.
from Film Forum, 01/12/06
Mike Furches (Hollywood Jesus) writes, "Why did the church not get behind this film and support it as they have virtually most other 'religious' film of recent years? I was troubled by that and still am, especially when considering that this is a rather thought provoking retelling of the Prodigal Son out of the Gospel of Luke. While the story is contemporized, the reality of it is that the story is just as thought provoking as ever and addresses various spiritual themes that one would think the church would support.
"Are there easy answers to that question? I don't think so, one of the most obvious, which I would hope is not true, is that because the movie is centered around the black church . . . ."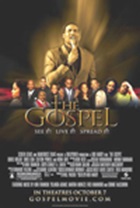 Browse All Movie Reviews By: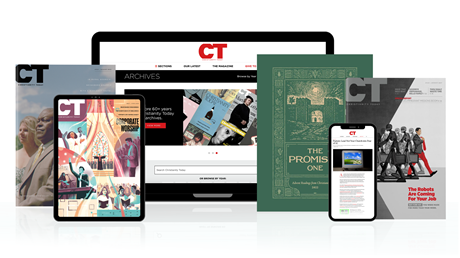 Subscribe to Christianity Today and get access to this article plus 65+ years of archives.
Home delivery of CT magazine
Complete access to articles on ChristianityToday.com
Over 120 years of magazine archives plus full access to all of CT's online archives
Subscribe Now
The Gospel
The Gospel