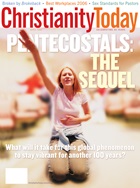 This article is from the April 2006 issue. Subscribers can read all of CT's digital archives.
JESUS WENT TO JERUSALEM to announce the Good News to the people of that city. And Jesus knew that he was going to put a choice before them: Will you be my disciple, or will you be my executioner? There is no middle ground here. Jesus went to Jerusalem to put people in a situation where they had to say yes or no. That is the great drama of Jesus' passion: He had to wait upon how people were going to respond.
Henri J. M. Nouwen, "A Spirituality of Waiting," The Weavings Reader
I'D ALWAYS KNOWN, in one place in my throat, how Jesus must have cried in the garden—crying not to die, because there was no fear of death, and not to leave his friends, because he walked alone, and not to suffer, because the blood and bruises and thorns were part of his perfection—but crying because he could not find his Father's face, because when he would suffer all that he could bear, the pain of every person, living and dead, in that dark moment, there was really nobody there.
Paul Shepherd, More Like Not Running Away: A Novel
IN THE CROSS IS SALVATION, in the Cross is life, in the Cross is protection from our enemies, in the Cross is infusion of heavenly sweetness, in the Cross is strength of mind, in the Cross is joy of spirit, in the Cross is the height of virtue, in the Cross is perfection of sanctity. There is no salvation of the soul, nor hope of everlasting life, but in the Cross.
Thomas á Kempis, The Imitation of Christ
HE DIED, but he vanquished death; in himself, he put an end to what we feared; he took it upon himself, and he vanquished it; as a mighty hunter, he captured and slew the lion.
Where is death? Seek it in Christ, for it exists no longer; but it did exist, and now it is dead. O life, O death of death! Be of good heart; ...
1
Classic & Contemporary Excerpts from April 01, 2006
Classic & Contemporary Excerpts from April 01, 2006