Today's Top Five
1. Taylor University students, staff in fatal accident
Classes have been cancelled at Taylor University after four students and a school employee were killed in a car crash last night. The school says that the weekend's planned inauguration of former American Bible Society president Eugene Habecker as president will continue with some schedule revisions.
2. Evangelicals and others will protest Darfur violence
As major rallies are planned for Sunday in Washington, D.C., and 17 other cities against the violence in Darfur, Sudan, The Washington Post reports on conflict within the Save Darfur Coalition. "Tensions have arisen, in particular, between evangelical Christians and immigrants from Darfur, whose population is almost entirely Muslim and deeply suspicious of missionary activity," writes Alan Cooperman. "Organizers rushed this week to invite two Darfurians to address the rally after Sudanese immigrants objected that the original list of speakers included eight Western Christians, seven Jews, four politicians and assorted celebrities—but no Muslims and no one from Darfur."
3. Evangelical political groups still mostly quiet on immigration
The other big rally planned in the next few days is Monday's "Day Without Immigrants" — a work stoppage and boycott that is opposed by Roman Catholic leaders who have been prominent in other pro-immigrant demonstrations. Meanwhile, evangelical groups known for political activity are still remarkably silent on the issue, to the dismay of both sides of the debate. Family Research Council held a panel discussion today with a surprising diversity of opinions. Tom McClusky, vice president of government affairs, told The Denver Post that the group is "trying to find common ground without losing any of our main principles," but that it may not take a position after the panel meeting.
USA Today notes that evangelical leaders are having to walk a fine line. On one hand, "64% of white evangelicals agreed with the statement, 'Immigrants today are a burden on our country because they take our jobs, housing and health care.'" On the other hand, as University of Florida religion professor Manuel Vasquez rightly explained to the paper, "In many ways, conservatives see immigrants from Latin America bringing values that they would like to regain: values of family, gender roles that are very well-defined, an ethic of hard work. So they see a kind of an ally in this kind of immigration."
4. Theater warns that film is "Mormon, not Christian"
After receiving complaints from viewers of States of Grace, a film advertised as "a quantum leap forward for Christian cinema" and featuring music by gospel artist Kirk Franklin, employees at the Horton Plaza 14 Theater in San Diego were told to warn future patrons. Here's how it went for one moviegoer, according to the Daily Herald of Provo, Utah:
"Are you Christian?" the girl at the ticket counter asked.
[Armand] Mauss was surprised but responded in the affirmative. It was her next statement that surprised him.
"She responded, 'Well you need to know that this film, it's being advertised as a Christian film, but it's really a Mormon film.' "
Indeed, it is a Mormon film: The main characters in it are in fact Mormon missionaries. But the implication that Mormons aren't Christians was enough to elicit a small protest outside the theater. It disbanded after film director Richard Dutcher asked them to stop. Steven Greenstreet, another Mormon filmmaker who had joined the protest, told the Herald, "I was kind of riled up and everyone else was kind of riled up. But I guess that's kind of the point of the protest—I guess the way we were approaching it wasn't the most Christian way. We decided it would look better to turn the other cheek."
5. Editor of Christianity calls for end of evangelical
Our last Weblog posting had many (too many) article links, but no commentary to tease out some of the more interesting articles. Pity: There's a lot of interesting items in there. Among them: an editorial in the evangelical magazine Christianity—somewhat akin to a British version of Christianity Today—suggesting an end to the word evangelical. Editor John Buckeridge writes,
In the past evangelical stood for four key values:
• a commitment to the authority and centrality of scripture,
• a call to personal faith and repentance,
• the centrality of Christ's death as our substitute,
• putting faith into action through evangelism and social action.
Now to the unchurched and people of other faiths—evangelical is increasingly shorthand for: right-wing US politics, an arrogant loud mouth who refuses to listen to other people's opinions, men in grey suits who attempt to crowbar authorised version scripture verses into every situation, or 'happy-clappy' simpletons who gullibly swallow whatever their tub thumping minister tells them to believe. … Isn't it time to choose a new word that sums up our e-identity and commitment to following Jesus but puts distance between us and the damaging negatives?
Buckeridge notes that Evangelical Alliance head Joel Edwards "argues that we need to rehabilitate the word, that evangelical is too rich and precious a word to drop." But he worries "that the tide has gone out." A New York Times article earlier this month hinted that some evangelical leaders have been whispering these concerns in private rooms, but Buckeridge seems to be among the first proclaiming them from the housetops.
Quote of the day:
"In an overwhelmingly Christian country, it may seem strange that Christian rock even exists as a niche genre; if rock better reflected American demographics, then secular rock would be the niche."
New York Times pop music critic Kelefa Sanneh, discussing MercyMe's success.
More articles
Education | Sexual ethics | Life ethics | Sudan | Politics | Immigration | Missions & ministry | Missions & ministry in Africa | Church life | Pentecostalism at 100 | Interfaith relations | Crime and abuse | Arts and entertainment | Books | Orlando's Holy Land Experience
Right-wing legal groups have mixed record in court | Dozens of lawsuits filed by right-wing legal groups are now pending before various federal courts around the country, seeking exemptions from school nondiscrimination policies (Bay Area Reporter, gay newspaper)


In storm over gay books, a principal holds ground | Today, two sets of parents plan to file suit in US District Court in Boston against the principal, the superintendent, and other school officials (The Boston Globe)


When parents' values conflict with public schools | No matter how a school chooses to deal with sexual issues, it promotes certain values -- values that some parents will fervently welcome and that others will just as fervently reject (Jeff Jacoby, The Boston Globe)


Let the science begin | Now that a state judge has ruled in no uncertain terms that California's stem cell institute, approved overwhelmingly in the 2004 election, is perfectly legal, voters might expect that the scientific research will finally begin. They would be mistaken (Editorial, Los Angeles Times)


"We never say no" | The right-to-die movement abandons pretense (Wesley J. Smith, The Weekly Standard)


Groups plan rally on Mall to protest Darfur violence | Bush administration is urged to intervene in Sudan (The Washington Post)


U.S. options on Darfur are running out | The U.S. has few options for containing the carnage in Sudan if there is no agreement by Sunday's deadline for peace talks to conclude (The New York Times)


Sudan open to discussing U.N. help | The Sudanese government opposes a U.N. takeover of peacekeeping operations in Darfur but is willing to discuss how the world body can help if a peace deal is reached to end the three-year conflict, a senior U.N. official said (Associated Press)


Radical Islam—globalization for losers | Bin Laden's call to open a new front in Sudan highlights some underappreciated aspects of the jihadist mission (Jonah Goldberg, Los Angeles Times)


On the march against genocide | Small numbers or not, the march is likely to be the biggest protest since both the Bush administration and the United States Holocaust Museum called the killings in Darfur, in western Sudan, by its right name of genocide (Suzanne Fields, The Washington Times)


Political evangelicals feel push to take sides on immigration | Groups such as the Family Research Council face internal rifts over the issue. Meanwhile, Focus on the Family has said it won't weigh in (The Denver Post)


Religious communities at odds on immigration | Although Roman Catholic and mainline Protestant leaders are voicing strong support for undocumented immigrants, recent survey data suggest that their flocks are increasingly uneasy about immigration trends. And evangelicals are proving to be divided along ethnic lines (USA Today)


Tending to the flock | Faith-based salon seeks urban renewal (The Boston Globe)


Church-led clinic to serve uninsured | Organizers of Compasion Rockwood hope to care for up to 300 patients in two days (The Oregonian)


Religion Today: Father Joe's orphanage | Father Joe has come home to the place he picked for his eternal rest — a burial niche on a barren hill, looking down on the orphanage he founded two decades ago (Associated Press)


Missions & ministry in Africa:
Pentecostals mark 100 years of worship | Today, Pentecostals claim more than half a billion adherents around the world. It's one of the fastest-growing social movements ever, and one that has had a profound impact on even mainstream religions (All Things Considered, NPR)


The roots of Pentecost | Pentecostalism as a religious movement is 100 years old. But it is named for an event, the Pentecost, that most Christian churches recognize and celebrate. In the Bible, the book of Acts describes the descent of the Holy Spirit (All Things Considered, NPR)


Nagaland BJP Chief on ban on conversion | Nagaland BJP President and Parliamentary Secretary MC Konyak categorically said that "imposition of ban on conversion is unacceptable to the minorities" and further said such imposition was going against the Constitutional tenets and spirit of democracy in the country (NEPS, India)


Religious leaders hold interfaith meeting | Religious leaders from a broad swath of worldwide faiths met Wednesday at Georgetown University, marking the first time the International Prayer for Peace has been held in the United States since it was started 20 years ago by Pope John Paul II (Associated Press)


Rabbi enters Falwell's bastion and issues plea for tolerance | Addressing one of the country's most influential Christian fundamentalist colleges this week, the leader of America's largest synagogue movement highlighted areas of common concern while calling for mutual respect and toleration of diversity (Forward, Jewish newspaper)


Gov't: Criticism of papal silence on Holocaust 'unprecedented' | Sources in Jerusalem said it is still too early to tell whether the statements made Tuesday by Father Pierbattista Pizzaballa, Custos of the Holy Land, reflect a change in Vatican policy about the silence of Pope Pius XII during the Holocaust (Haaretz, Tel Aviv)


7 charged for dismantling campus pro-life display | Northern Kentucky University professor Sally Jacobsen and six students face misdemeanor charges of criminal mischief and theft by unlawful taking, prosecutor Justin Verst said (Associated Press)


'Peter, Paul, and Mary Magdalene' | Religion scholar Bart D. Ehrman, who chairs the Department of Religious Studies at the University of North Carolina, talks about his new book, Peter, Paul, and Mary Magdalene: The Followers of Jesus in History and Legend (Fresh Air, NPR)


'Sanctuary': Images from the house that shelters the soul | Jason Miccolo Johnson's Soul Sanctuary is a new book of photographs from black churches in big cities and small towns across the American landscape (The Washington Post)


Pushed into a corner | An interview with Eyal Press, author of Absolute Convictions: My Father, a City, and the Conflict that Divided America, about abortion and its historically complex relationship with America (The American Prospect)


Orlando's Holy Land Experience:
Holy Land Experience might be safe from tax man | House gives initial approval to exemption for theme park (The Orlando Sentinel)


Update: House approves Holy Land exemption (The Orlando Sentinel, second item)


Related Elsewhere:
Suggest links and stories by sending e-mail to weblog@christianitytoday.com
See our past Weblog updates:
April 27a | 19
April 12 | 11 | 7
March 31 | 30 | 28
March 24 | 24 | 23 | 21
March 17 | 16 | 15
March 10b | 10a | 8
March 3 | 2 | 1
Weblog
Launched in 1999, Christianity Today's Weblog was not just one of the first religion-oriented weblogs, but one of the first published by a media organization. (Hence its rather bland title.) Mostly compiled by then-online editor Ted Olsen, Weblog rounded up religion news and opinion pieces from publications around the world. As Christianity Today's website grew, it launched other blogs. Olsen took on management responsibilities, and the Weblog feature as such was mothballed. But CT's efforts to round up important news and opinion from around the web continues, especially on our Gleanings feature.
Ted Olsen is Christianity Today's executive editor. He wrote the magazine's Weblog—a collection of news and opinion articles from mainstream news sources around the world—from 1999 to 2006. In 2004, the magazine launched Weblog in Print, which looks for unexpected connections and trends in articles appearing in the mainstream press. The column was later renamed "Tidings" and ran until 2007.
Previous Weblog Columns: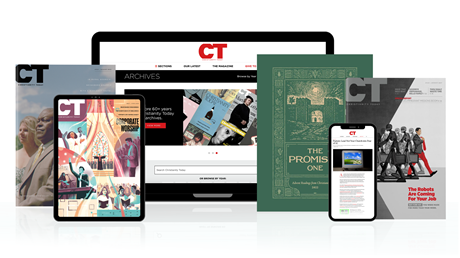 Annual & Monthly subscriptions available.
Print & Digital Issues of CT magazine
Complete access to every article on ChristianityToday.com
Unlimited access to 65+ years of CT's online archives
Member-only special issues
Subscribe
Five Dead, Four Injured in Fatal Taylor University Crash
Five Dead, Four Injured in Fatal Taylor University Crash