Today's Top Five
1. Morning-after contraceptive back on the table
The Food and Drug Administration is planning to reopen discussions with the manufacturer of Plan B, while debate continues on whether it's a contraceptive or an abortifacient (pro-life critics say it prohibits embryonic implantation in the uterus). Talks are only beginning, but it appears that FDA officials want the "morning-after pill" available without a prescription—but only to women over 18.
2. What did Naveed Haq believe and when did he believe it?
"Naveed Haq, now widely portrayed as a Muslim American so angry at Israel that he shot up a Jewish charity in Seattle, had recently converted to Christianity," The Seattle Post-Intelligencer reported yesterday. The article went on say that the suspect in the Jewish Federation shootings fell away from Christianity as well, but it adds an interesting twist to a story that captures the tension between religions in America.
3. Greg Boyd: "America is not the light of the world"
Greg Boyd may be the black sheep of evangelicals for his opinion that the church needs to keep its hands out of politics, a New York Times profile suggests. The Times quotes Boyd saying, "When the church wins the culture wars, it inevitably loses," in a six-part series he delivered from the pulpit. His remarks have unsurprisingly angered some parishioners: 1,000 of his 5,000 parishioners reportedly left over the series. The article doesn't make much of Boyd's theological controversies or whether his promotion of open theism cost the church any members, but it would have made an interesting comparison. Leadership's blog "Out of Ur" has excerpts from Boyd's The Myth of a Christian Nation (part 1 | 2), if you're interested. The Times links to audio files.
4. Mel-tdown
After the success of The Passion of The Christ, Mel Gibson gained a lot of fans among an evangelicals who may have not warmed up to the actor in his Lethal Weapon days. Gibson may lose some of those very fans, though, after he spewed anti-Semitic insults to L.A. police while being arrested for drunk driving.
5. Cutthroat competition. Mimicking "idols." Ah, gospel music at its finest.
American Idol has been converted before—but nothing like this. The "Gospel Dream," which pits future gospel artists against each other in a bid to receive a recording contract, is in its second season on the Gospel Music Channel.
Quote of the day
"He's been killed! Maybe a dingo got my boy!"
—The Genesis 37 account of Jacob mourning the death of Joseph, as told in the second volume of the "Aussie Bible" series (fair dinkum!). The first volume, the Gospels, sold 100,000 copies in the land down under.
More articles
Contraceptives | Abortion | Stem cell research | Evolution and intelligent design | Gay marriage | Politics | Middle East | Religious freedom | Church and state | Church life | Evangelism | Catholicism | Sex abuse | Financial scandal | Entertainment | Mel Gibson | People | Other articles of interest
Foes rally against stem cell initiative | Mixing religious fervor with scientific skepticism, opponents of a proposed constitutional amendment to protect embryonic stem cell research gathered for the first in a series of rallies across Missouri. (Associated Press)


A pox on stem cell research | Medical progress has stirred religious and moral objections throughout history — objections that were overcome as the benefits of medical advances became overwhelmingly obvious. (Deborah Blum, The New York Times)


Evolution and intelligent design:
Gay-marriage advocates grapple with their next course of action  |Like civil-rights crusaders of the 1960s, champions of gay rights have long looked to the courts to grant them what they believed they couldn't get elsewhere. (The Seattle Times)


Groups target state's proposed amendment on same-sex marriage | Scores of advocacy groups are mustering their troops for a referendum on a proposed state constitutional amendment that would ban same-sex marriage in Virginia. (The Virginian-Pilot)


Same-Sex Marriage Wins by Losing | What the New York and Washington opinions share is a heartless lack of concern for the rights of the hundreds of thousands of children being raised by same-sex couples.  (Dan Savage, The New York Times)


Dispatches from Lebanon's sectarian lines | Some Christians in this town north of the Lebanese capital don't want a cease-fire: They want to see Hezbollah beaten first. (Associated Press)


Pope appeals for Middle East cease-fire | Pope Benedict XVI appealed Sunday for an immediate cease-fire in the Middle East, hours after the deadliest attack in nearly three weeks of fighting between Israel and Hezbollah guerrillas. (Associated Press)


A Frantic Rush Overwhelms a Lebanese Border Town | Thousands of people have flocked to Rmeish, a Lebanese town one mile from the Israel border, apparently believing they would be safer there because it is largely Christian. (The New York Times)


Shiite pilgrimage leads to church | On perilous border, Lebanese Christians take in Muslims. (The Washington Post)


Bolivia keeps Catholicism in schools | President Evo Morales has backed off a proposal to remove Roman Catholic instruction from Bolivia's schools, easing a dispute with church officials over his plan to place greater emphasis on Indian faiths. (Associated Press)


China church demolition leads to clash | Police clashed with 3,000 Christians protesting the forced demolition of a partially built church in eastern China, leaving four people with serious injuries, a human rights group said Monday. (Associated Press)


Also: China confirms church demolition | China confirmed it had torn down a newly built Christian church that it said was built without approval, and it arrested two people in the eastern city of Hangzhou who were involved in the construction. (Reuters)


Families challenging religious influence in Delaware schools | A battle rages over the level to which religion can be accommodated in a Delaware school district. (The New York Times)


Kent school Bible club dispute becomes a federal case | Grumbling over the Christians-only membership plan for a bible club has now erupted into a full-scale federal case. (The Seattle Post-Intelligencer)


Catholic women face excommunication | Eight women will proclaim themselves priests in an upcoming ceremony that won't be recognized by the Catholic church, which has a 2,000-year tradition of an all-male priesthood. (Associated Press)


Reclaiming the feminine spirit in the Catholic priesthood | N.Va. woman is among 12 to receive an ordination not recognized by church. (The Washington Post)


Monks plead not guilty to sex charges | Four monks pleaded not guilty to charges alleging a boy was sexually assaulted at a Texas monastery that draws thousands of visitors every year. (Associated Press)


Priest is sentenced in sex assault of a teenager | A 62-year-old Catholic priest was sentenced to four years in state prison for the sexual assault of a 15-year-old boy nearly two decades ago (The Boston Globe)


Minister's sexual assault trial set to begin this week | Wife struggles to lead church as tithes, attendance dwindle (The Dallas Morning News)


Auditors say priest took $1.4 million before ouster | A Roman Catholic priest with a taste for the high life helped himself to $1.4 million in church funds in the roughly six years before his ouster. (The New York Times)


Also: Audit reveals priest's account of spending | An audit of the $1.4 million turned up missing while the Rev. Michael Jude Fay ran St. John Roman Catholic Church gave parishioners the first explanation from Father Fay himself. (The New York Times)


Man on a mission to root out false prophets | For as long as anybody can remember, spiritual con-artists have ripped off the faithful, preying on the sick, the elderly, the lonely and the desperate. (The Lexington Herald-Leader)


Singers reach for a higher-powered 'Idol' | Dozens come to D.C. for a shot at 'gospel dream' talent show. (The Washington Post)


Thousands worship, then rock out at Creation Festival | Roughly 22,000 Christians prayed, rocked out, networked and maybe even checked out the baptismal pool in the dust bowl known as the Gorge Amphitheatre. (Seattle Post-Intelligencer)


Prayers of healing for burn victim | Choir member still in critical condition one day after her boyfriend doused her with gasoline and set her ablaze. (The Washington Post)


At a Georgetown church, a display of repentance | Police commander asks for pardon for a racially insensitive remark he made in a community meeting. (The Washington Post)


Reggie's (whole) story | Before his death, the "Minister of Defense" came to the realization that blending faith with pro sports and commerce might not be good for religion. (Tom Krattenmaker, USA Today)


Our Lady of Discord | The founder of Domino's Pizza, Thomas S. Monaghan, has brought that same sense of mission to turn a lone Michigan pizza joint into a multibillion-dollar global brand. to the task of giving his pizza fortune away. (The New York Times)


Related Elsewhere:
Suggest links and stories by sending e-mail to weblog@christianitytoday.com
See our past Weblog updates:
July 28 | 27 | 26
July 21 | 19
July 14 | 13 | 12b | 12a | 10
July 7 | 6 | 5 | 3
June 29b | 29a | 28
June 23 | 22 | 21
June 16 | 15 | 14 | 13b | 13
Weblog
Launched in 1999, Christianity Today's Weblog was not just one of the first religion-oriented weblogs, but one of the first published by a media organization. (Hence its rather bland title.) Mostly compiled by then-online editor Ted Olsen, Weblog rounded up religion news and opinion pieces from publications around the world. As Christianity Today's website grew, it launched other blogs. Olsen took on management responsibilities, and the Weblog feature as such was mothballed. But CT's efforts to round up important news and opinion from around the web continues, especially on our Gleanings feature.
Ted Olsen is Christianity Today's executive editor. He wrote the magazine's Weblog—a collection of news and opinion articles from mainstream news sources around the world—from 1999 to 2006. In 2004, the magazine launched Weblog in Print, which looks for unexpected connections and trends in articles appearing in the mainstream press. The column was later renamed "Tidings" and ran until 2007.
Previous Weblog Columns: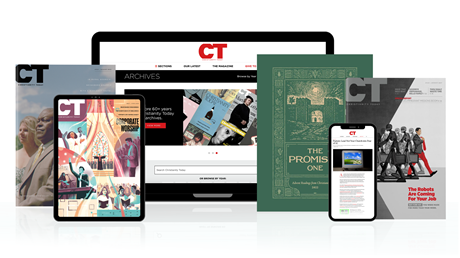 Annual & Monthly subscriptions available.
Print & Digital Issues of CT magazine
Complete access to every article on ChristianityToday.com
Unlimited access to 65+ years of CT's online archives
Member-only special issues
Subscribe
Back to Plan B
Back to Plan B